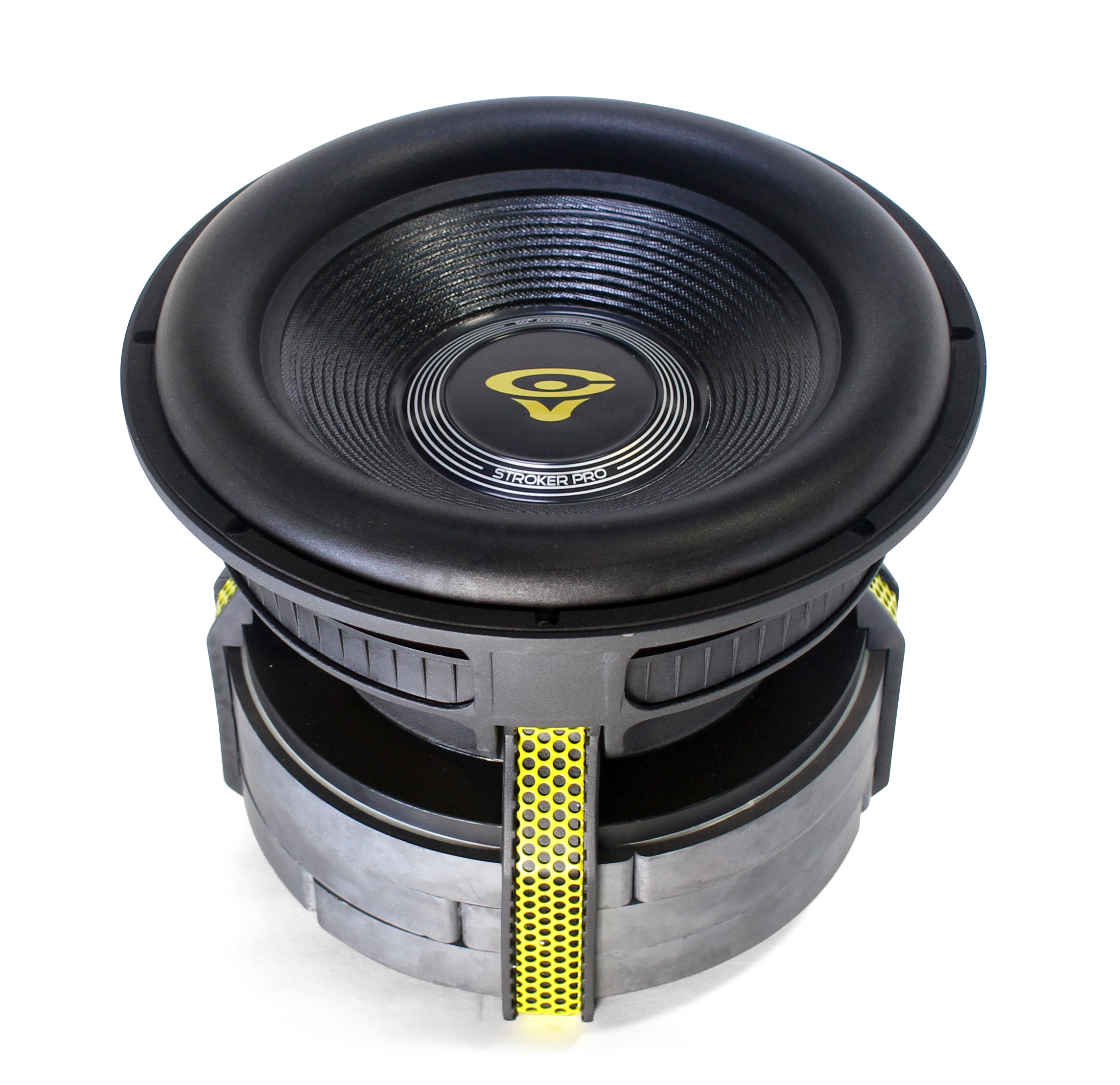 Anyone who's spent any time in SPL contest lanes is familiar with the legendary Cerwin-Vega Mobile Stroker Pro woofers. As one of the first woofers designed specifically to compete at the highest levels of the SPL wars, the Stroker Pro set new performance standards, along with some world-record SPL numbers.
To commemorate Cerwin-Vega's 60th anniversary, the Stroker Pro woofers have been redesigned and upgraded to an intimidating package. Available in 12 and 15 inch versions, the new Stroker Pro woofers are built to withstand incredible power under competition conditions, but still be useful for weekend warriors who want to listen to music when they're not competing. We wanted to hear one of these behemoths for ourselves, so the kind folks over at Cerwin-Vega Mobile sent us an SPRO122D. As the model number implies, this is a 12-inch dual two ohm coil woofer, with a suggested retail price of $1,749.99.

FEATURES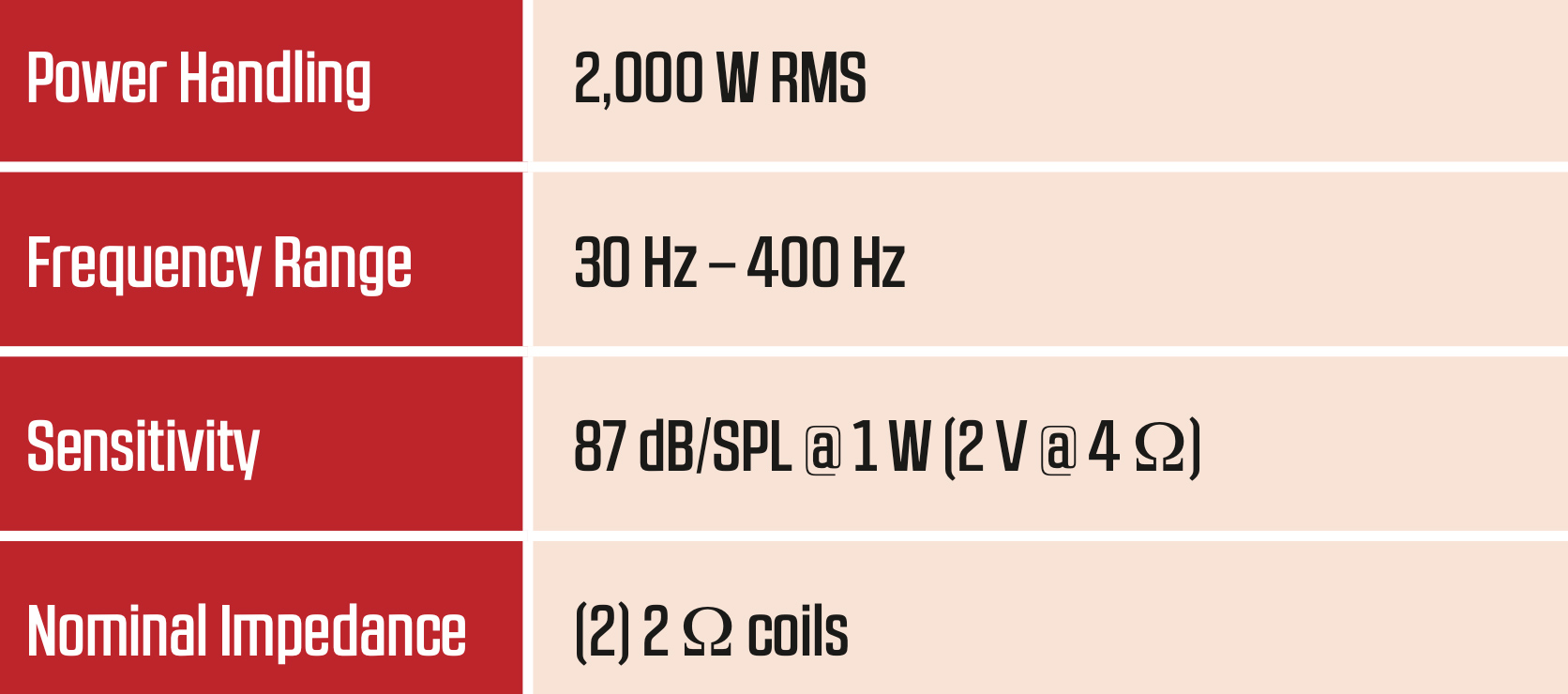 SPL contesting is all about pressure. The more a woofer system can compress the air inside the vehicle, the higher the sound pressure level reading will be. While it sounds pretty simple, getting an electromechanical transducer to continue to build pressure as power increases is actually quite a complex challenge.
Because a woofer cone is driven by an electrical current flowing through a coil of wire in a magnetic gap, back pressure on the cone (air resistance to compression) can cause a woofer to stop moving long before it reaches its mechanical xMax limit. When this happens, adding more power does nothing more than overheat the voice coil. Serious SPL contesters call this condition "running out of Bl."
To keep the woofer moving outward and increasing pressure, it needs to have plenty of magnetic energy. The focus of that energy also needs to be very controlled in the voice coil gap, and the length of wire in the gap at any given time needs to be maximized. Put these parameters together and you come up with a specification known as Bl product, or force factor.
When talking force factor, the Stroker Pro woofers have it in spades, thanks to a huge magnetic motor assembly that weighs over 40 pounds and measures more than four inches tall and 10 inches in diameter. That motor drives a four-inch diameter, eight layer flat-wound copper voice coil, giving these woofers the force factor required to build some serious pressure.
The SPRO122D is built on an industrial strength cast aluminum basket, and the high performance triple stacked magnet motor assembly is attached to the basket with bolts and adhesive. The voice coil is seriously overhung to aid in cooling and improve reliability under extreme conditions. The lower end of the moving assembly is located accurately through a linear dual spider design that provides excellent control and maximum cone excursion. On the top side of the woofer, a high strength, ribbed and treated semi-pressed paper cone is used and finished off with a stamped aluminum dust cap. To ensure maximum current transfer, the woofer comes with non-removable eight-gauge copper cables, which are internally connected to the heavy duty woven tinsel leads. Yes, this thing is made for some serious action.


LISTENING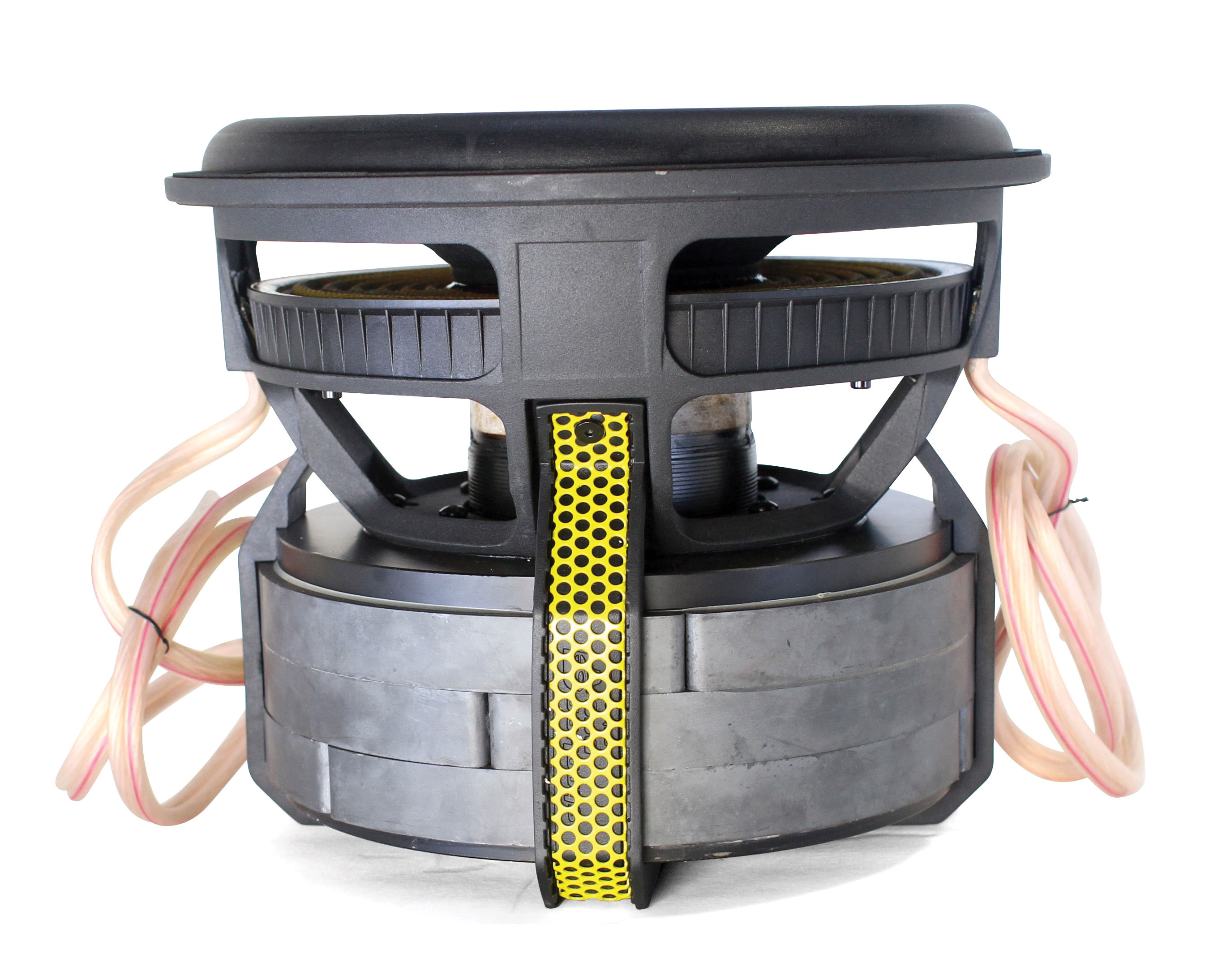 By now some of you may be thinking, "Great. It's a cool woofer, but I don't do much SPL contesting." Well, thanks to the engineering team's forethought when designing the monstrous Stroker Pro woofers, they're also pretty musical.
You see, all that Bl product gives these woofers excellent cone control, and allows them to work well in a wide range of vented or bandpass enclosures. For my listening, I mount the SPRO122D in a two-cubic-foot enclosure tuned to about 38 Hz. After listening to it for a while, I'm fairly impressed with how good it actually sounds. The bottom end is strong and tight, with very good attack and control. While the sound isn't quite as articulate as a true sound quality woofer, this one has the advantage of being able to play as loud as I care to turn it up. And that's always a lot of fun.
If you decide that you need the ability to play loud and still enjoy your music at normal levels, this could be a great choice. Just be aware that these are not highly efficient woofers, and you are going to need some serious power to make them work.

ON THE BENCH
I move the woofer into the lab and measure the Thiele-Small parameters. My data confirms everything I heard, and the parameters indicate a strong preference for vented or bandpass enclosures. You really wouldn't want to choke off this woofer in a sealed box. It worked just fine for me in a two cubic foot enclosure, but if you have the room, bigger would be better.
CONCLUSION
Whether you are a serious SPL contestant, a warrior in the weekend SPL wars, or just a fanatic who likes it really loud from time to time, the Cerwin-Vega Mobile Stroker Pro woofers should be on your short list of products that will get you the performance you want. Sure, these woofers aren't cheap, but in a twist of an old adage, SPL costs money. How loud do you want to go?