Over on the left coast, the beautiful city of Los Angeles is home to Absolute USA. These folks manufacture a wide variety of mobile audio products and are expanding into the home audio market as well with home speakers. Recently they sent us one of their amplifiers and a subwoofer to check out, so here's what we found.
The Absolute 4VI-4000 amplifier is the largest four-channel amplifier in their "Vicious" line. Rated at 120 watts per channel into four ohms, and 160 watts per channel into two ohms, the 4VI-4000 is a fairly large Class AB amplifier, measuring almost 18-inches long, 10.5-inches wide and about 2.5-inches tall. The heatsink comes in a nice brushed aluminum finish with the Absolute logo illuminated in blue when the amp is operating. It's also fairly well loaded with features, including controls for variable bass boost, 4/3/2 channel operation, variable high- and low-pass filters, and adjustable phase controls for front and rear channels. The 4VI-4000 also includes speaker level input signal capability with signal sensing turn on, and pre-amp outputs for connecting additional amplifiers. Inside the amp I found eight complimentary pairs of bipolar output devices, drawing energy from a bank of four 4700µF capacitors. The PWM power supply draws from four 3300µF caps, and a 2.25-inch fan draws in cool air from each end of the amp, then forces it out between the underside of the PCB and the heatsink. As evidence by the four-gauge power connections and three 30A fuses, this is a big, powerful four-channel amplifier – you need to make sure your full range speaker system can handle the considerable output. Unfortunately, time constraints didn't allow a full test of the 4VI-4000 amplifier before press time.
Moving on to the subwoofer Absolute sent us, the fully chrome-plated unit has virtually every possible surface covered in shiny chrome or brushed aluminum. Known as a VI-2000.4, the 12-inch woofer is a dual voice coil model, featuring a pair of four ohm coils, rated at a total of 1,000 watts. Absolute also makes a dual six ohm version of this woofer called the VI2000.6.
Looking at it from the top down, the woofer is built on a cast aluminum basket, and uses a solid one-piece stamped aluminum cone, finished with a brushed look. Although the website claims the woofer uses a multi-layer high density foam surround, the product I received came with a more durable wide rubber surround connected to the basket and the periphery of the cone with special adhesives. I suppose this is a prime example of the phrase "Specifications subject to change without notice."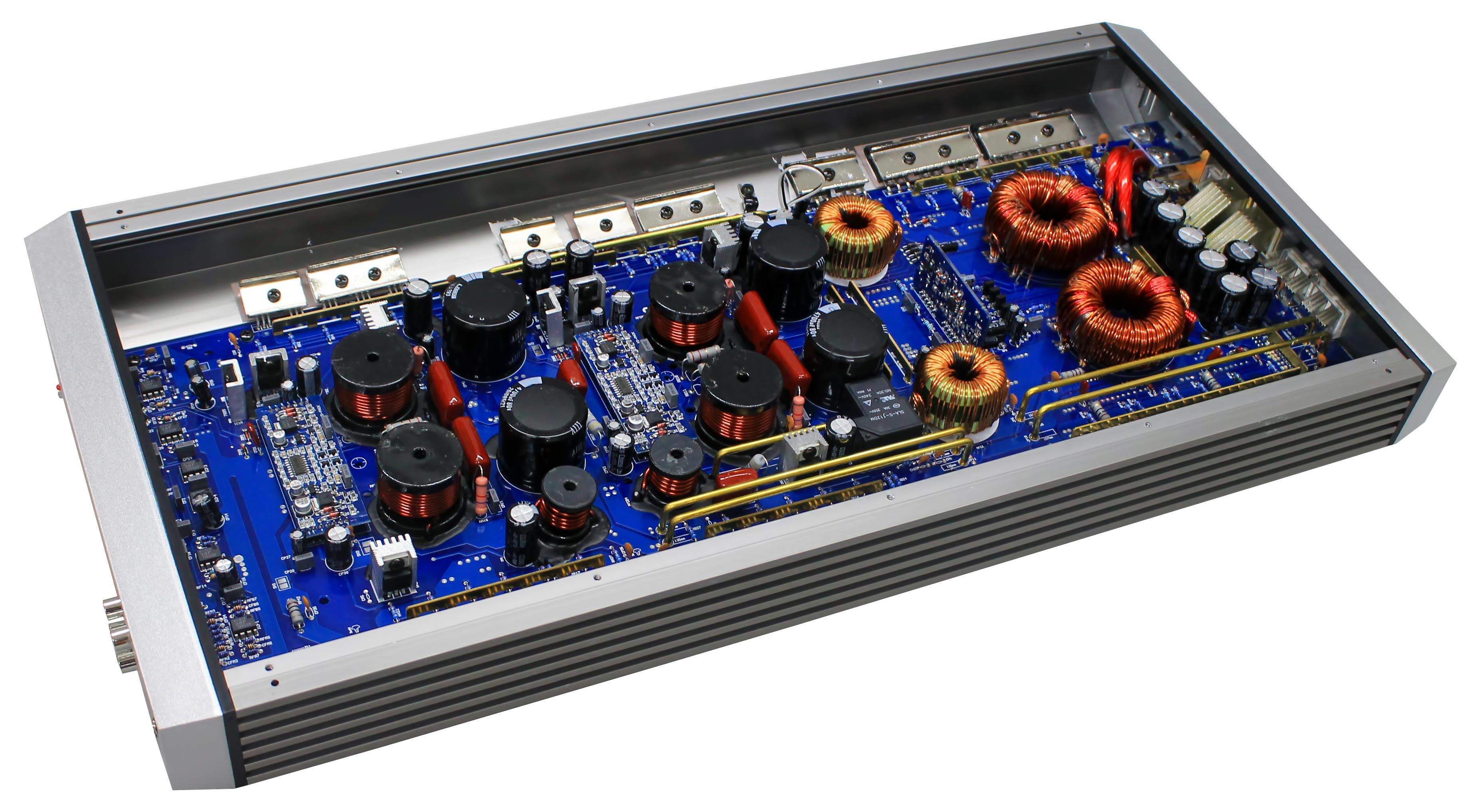 On the business side of the woofer, a 100 ounce strontium magnet motor assembly provides the required magnetic flux in the voice coil gap. Like everything else on this woofer, the backside of the motor is polished and chrome plated. The edges of the magnet are covered with – what else (?!) – a chrome plated mesh cover.
The coils themselves are four layer units measuring 2.5 inches in diameter and wound on "BASV" formers. BASV is a black aluminum material that uses a high temperature "SV" adhesive designed to work at temperatures up to 356°F. This results in a voice coil assembly that will not only tolerate high temperatures, but also dissipate the heat quickly for improved reliability under extreme conditions. The spider is a linear type, designed for high excursion capability. Electrical signal is supplied to the woofer coils using two pairs of spring loaded terminals that accept up to 10-gauge cable. And of course, there is a chrome plated trim ring included!
The VI-2000.4 also comes with a full one year warranty.
Listening
I have a chance to do some listening to the woofer before press time, and thanks to the information provided, I learn the woofer can be used in both sealed and vented applications. For my listening, I choose a 1.75-cubic-foot box that can easily be switched to sealed or vented modes. In the vented configuration, the tuning is 38 Hz.
I begin with the enclosure sealed, and note that it was slightly larger than what Absolute considers optimal. In the sealed box, the woofer has a tight and well-defined bottom end, with good musicality and plenty of output even with lower power levels. Lower registers (below 50 Hz) are strong and provide a sense of authority. I like the sound of the woofer in the sealed enclosure, and I don't think the extra 0.25 cubic feet hurt the sound one bit.
Switching the box to vented mode completely changes the character and sound of the woofer. Now the system has prodigious output levels even at very modest power levels. It lost much of the accuracy and tight crisp bass that I appreciated in the sealed mode. But if your tastes lean more towards higher output and you don't mind giving up some accuracy to get it, you may prefer the vented mode. And there's nothing wrong with having a woofer than can do both!
On The Bench
After my listening I am very curious to find out what the specs look like, so the next morning I connect the VI-2000.4 to my Klippel analyzer and measure the parameters with the voice coils connected in parallel, since that is by far the most common way to run a dual four ohm coil woofer. The resulting data shows that the woofer does indeed prefer a sealed enclosure, which my listening experience agrees with. The woofer I received did not come with any sort of manual or box building parameters, but there are some basic suggestions on the Absolute website as well as a tech support help desk connection.
Measured Thiele-Small Parameters
Absolute VI-2000.4 (coils in parallel)
Revc = 1.694 ohm
FO = 23.52 Hz
Sd = 0.0514 M²
Vas = 84.76 L
Cms = 0.226 mm/N
Mmd = 189.336 g
Mms = 202.531 g
BL = 8.712 T·M
Qms = 6.396
Qes = 0.668
Qts = 0.605
Levc = 1.469 mH
No = 0.159 %
SPLo = 84.2 dB
EBP = 35.2
Quick Tech Specs

| | |
| --- | --- |
| Power Handling | 1,000 W RMS / 2000W Peak |
| Frequency Range | 30 - 500 Hz |
| Sensitivity | 84.2 dB/SPL @ 1.0 W/1 M |
| Nominal Impedance | 4 ohm per coil |
Conclusion
The Absolute VI-2000.4 is a good looking subwoofer with plenty of output and good sound quality potential. Or if you prefer, you can use the maximum bling, chrome-plated woofer to simply attract a lot of attention – something it's sure to do if you put it in a vented enclosure.
No matter which way you choose to use it, for about $200 it's a plenty of woofer for the money. For more information on this and other Absolute products, visit them online at www.absoluteusa.com