Photos by Jeremy Alan Glover (@jagimaging)
---
The debates between FWD aficionados versus the world will never die. Sure some people jump camps but most Honda guys are front-drive for life. The AWD and RWD guys will mock the FWD but the FWD guys know with a proper suspension and an LSD, the nuances of FWD start to disappear. Phrases like torque-steer and under-steer became as rare as a internet dating profile pic that matched reality. When it comes to EK Civics, they are pretty dangerous on the track with only a cage and coilovers but the one we unearthed at Overdosed Performance was that and much more.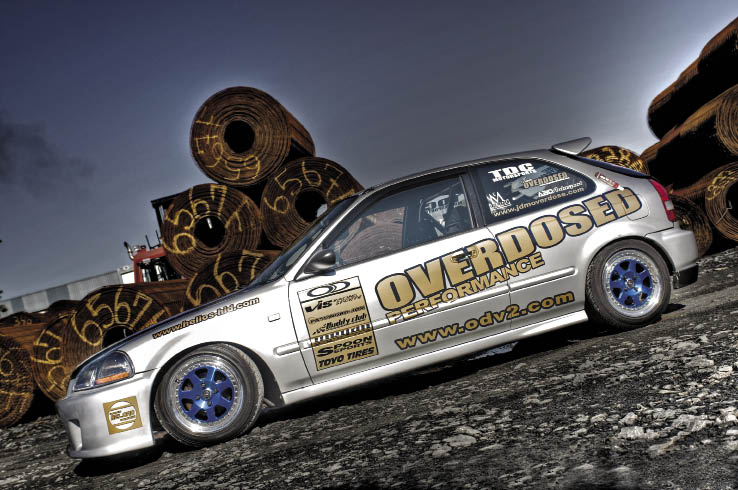 Owner Christos Tsoraidis of Laval, QC knows a thing or two about making these EKs a menace on the track and this example is only one of many by Overdosed Performance. Starting with a K20A2 engine swap, Tsoraidis knew there was easy power to be made with K-series. Using HASport mounts, the freshly rebuilt K was sleeved into the engine bay. The fuel system was amped up with a BDL rail, AEM fuel pressure regulator and some bigger injectors. The intake air is brought in by a Fujita5 short-ram that meets up with an RBC intake manifold. The exhaust gases are excused quicktime by a DC Sports 4-2-1 header and a BuddyClub Pro-Spec exhaust. The high-revving motor is now chilled by a Fluidyne radiator capped with a Spoon Sports cap. The Hondata K-Pro ensures all of the new parts play nice with each other and wreck shop.
To stay planted during track events and lose some weight to free-up torque, Tsoraidis added a bunch of gear. A Seibon carbon fiber hood caps off the K-series along with a wide-mouth front grille to work with the Backyard Special front bumper.
A ViS carbon hatch was added along with a CTR roof spoiler and Spoon aero mirrors. The lighting also was brought into the new millennium with Helios 5000K headlights and a European Civic Type-R rear fog light.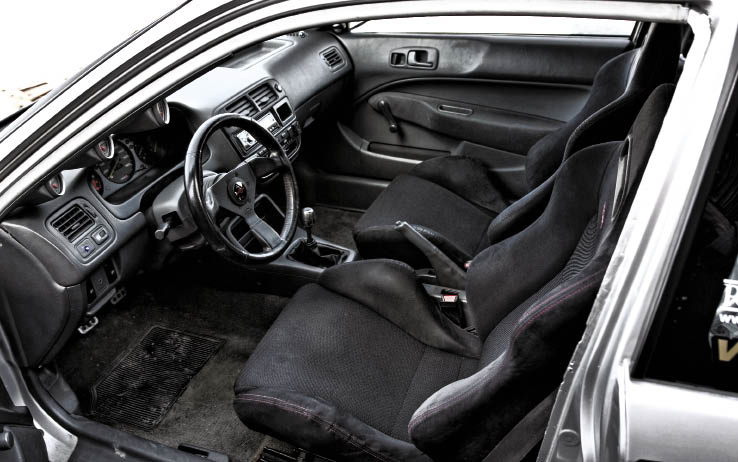 Inside the EK erases all doubts that this car is useful on the street. Sure it has wipers and turn signals and even a plate, however a completely gutted and caged interior means that it is one noisy and stiff experience. They lifted some parts from the JDM Civic Type-R including: gauge cluster, SiR cup holder and shift boot. Then they jacked some JDM DC2 Recaro from the Honda Integra Type-R black with red stitching. Some accessories complete the look with a Password JDM Ti knob, Personal Neo Grinta wheel and Stewart Warner gauges stuffed in an Auto Meter triple pod.
The footwork and chassis obviously received a load of attention. The Auto Power roll bar fortifies the frame and EM Racing supplied a load of the braces including: C-pillar bar, triangular pillar bar, triangular trunk brace, rear strut brace and trunk floor bar. There is also a Password: JDM 3-point strut brace. On the suspension side a set of D2 coilovers were added for their high degree of adjustability using a 12Kg/10Kg combo. Megan Racing stepped in to supply: front and rear upper camber kits along with bushings and lower rear tie bar. Then Skunk2 was contacted to ship out some lower control arms which are stronger and lighter than the originals.
The lightweight Civic is grounded by a set of rubber that has an unyielding grip on the track. Running Rotas on the street, Tsoraidis opted for SSR RP-F Pros in Anodized Green measuring 15x7-inches wrapped in Toyo R888 205/50R15 R-Comps. The brakes are fairly conservative since this car now weighs nothing. Only Brembo OE-style rotors were added with Hawk HP Plus pads and SS lines.
This street-legal (well sort of) Civic can be found on streets of Laval, QC usually heading to a racetrack. Whether it is Ste Eustache, Tremblant or ICAR at Mirabel, this 3-door tears a new one when stacked up against larger displacement bullies. A quick ride for sure, we finally caught it and made it famous.
---
ESSENTIALS
Owner: Christos Tsoraidis
Location: Laval, QC
Vehicle: 1996 Honda Civic CX

ENGINE
Honda 2.0L K20A2 inline-4
ENGINE MODIFICATIONS
HASport EKK2 Motor Mount Kit
HYBRID RACING Stage 1 Axles
HYBRID RACING Fuel Lines
BDL Industries Fuel rail
AEM Fuel Pressure Regulator
RBC Intake Manifold
FUJITA Short Ram Intake
DC Sports 4-2-1 Race Header
Buddy Club Pro Spec Cat-Back Exhaust
JDM DC5R Valve Cover
Password:JDM Cooling Plate
Fluidyne Radiator
Spoon Sports Radiator Cap
Buddy Club Oil Cap
Neuspeed Short Shifter
ENGINE MANAGEMENT
HONDATA K-Pro Engine Management
WHEELS, TIRES, BRAKES
Street:
ROTA J-MAG 15x7-inch
Yokohama S-Drive tires 185/55R15
Race:
SSR RP-F Pro 15"x7" Anodized Green
Toyo R888 in 205/50R15
Brembo OE-style rotors
Hawk HP Plus pads
SUSPENSION
Password:JDM 3-Point Front Strut Brace
EM Racing Quick Release C-Pillar Bar
EM Racing Triangular Pillar Bar
EM Racing Rear Strut Brace
EM Racing Triangular Trunk Bar
EM Racing Trunk Floor Bar
D2 Full Coilovers (12k Front / 10k Rear)
Megan Racing Front Upper Camber Kit
Megan Racing Rear Upper Camber Kit
Skunk2 Racing Rear Lower Control Arms
Megan Racing Rear Lower Tie-Bar
Megan Racing Trailing Arm Bushings
Brembo Rotors
Hawk HP Plus Brake Pads
INTERIOR
JDM CTR Gauge Cluster
JDM SiR Cup Holder
Password:JDM Titanium Shift Knob
JDM CTR Shift Boot
Autometer Triple Pillar Pod
Stewart Warner Oil Pressure Guage
Stewart Warner Oil Temperature Guage
Stewart Warner Volt Guage
PERSONAL Neo Grinta Steering Wheel
JDM DC2R RECARO Seats, Black w/Red Stitch
Autopower 4-Point Race Roll Bar
PHOTO GALLERY