Written by Dave MacKinnon | Photos by Icon Media
Every once in a while, we stumble across a die-hard enthusiast at a car show, and we know their attitude and ride is a perfect fit for PAS. This 2009 Mercedes Benz C63 AMG Sedan is the pride and joy of Miss Jamie Liu, or perhaps more of a weapon mass destruction at car shows. Liu has extensive experience in the show scene, having owned a widebody Mercedes SL, McLaren SLR, Maybach 62, Ferrari 360, CLS 55, E55, Hummer H1, a BMW 735, a turbocharged S2000 and a Honda Civic that she describes as simply a "race car." Let us walk you through the hand-picked modifications she's made to her Benz.
This particular build never seems to end. Less than one week before the photo shoot, the car took on a complete transformation. She went from a stealthy PPG Ferrari-based Grigio Medio grey, to the awesome matte pearl red vinyl wrap you see here. The crew at Impressive Wrap in El Monte, CA took care of business by installing it in less than two days. Liu then set the car up with custom matte black badges and adorned the car with its new name – GT 666. The carbon trunk and rear diffuser from VIS were left partially exposed to make sure everyone knows Liu is serious about her mods. What do we mean? The car sports a custom all-metal widebody treatment from RDB LA, while the front and rear bumpers and side vents were taken from a Black Series. A Seibon hood is also all carbon.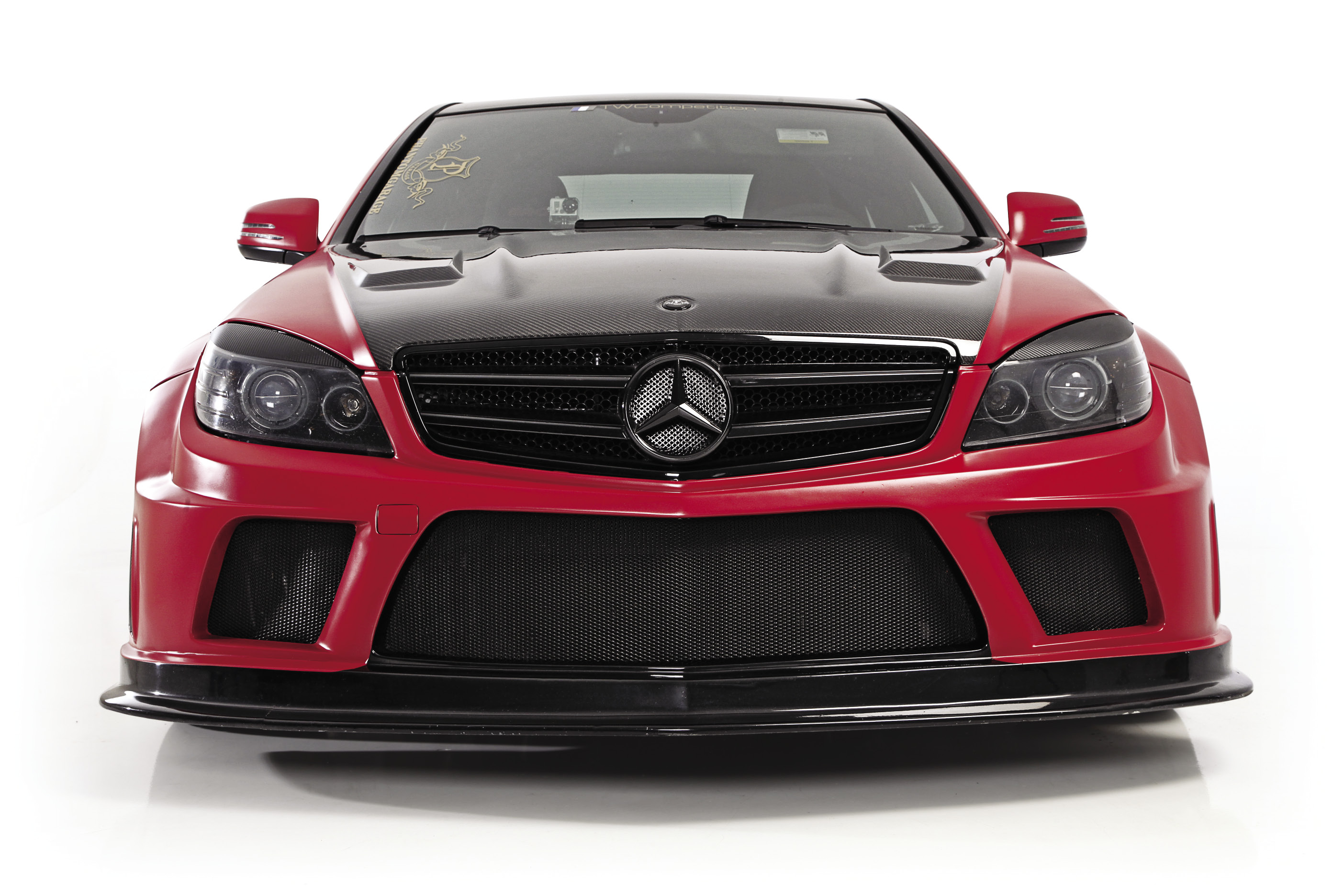 The car rolls on ultra-sexy AG Avant Garde F210 wheels. The center portion of the three-piece wheels are plated in 24 kt gold while the outer lip is matte black. They're all 19-inches with 9.5 fronts and 12.5 rears, wrapped in Hankook Ventus tires. The Merc already comes with huge brakes so the calipers were left alone, but the rotors were replaced with Benzworks two-piece drilled and slotted rotors. A set of CKS Suspension coilovers let the car get down and dirty.
Liu is a real goer. A look under the hood reveals the mighty 6.3L beast which is force fed with oxygen and fuel by a pair of Nitrous Express systems. The car runs a 100 hp direct port wet system and 75-shot single fogger. Thanks to the hard work of Phantom Garage, rear wheel power hits 630+ hp and is just shy of 600 lb-ft of torque. Seems like a perfect level of power for a daily driver. Additional under-hood goodies include Euro spec air boxes, a GruppeM ram air system, BenzWorkz throttle body and ECU tuning by OE Tuning. BenzWorkz long tube headers feed a tweaked-out AMG system to ensure this beast can breathe.
| | |
| --- | --- |
| | |
Beauty is more than skin deep and if you open the door to the Merc, you'll see what we mean. The interior was treated to diamond-stitched Nova Suede by Top Stitch Upholstery. Devincorp Machine Works supplied the shift knob, phone holder, iPad holder and a one-off watch holder, all in sexy machined aluminum. For entertainment in musical form, Liu turned to Custom Dimensions for a very unique audio system. Floor pods were constructed for the front seats to house a JL Audio CleanSweep CL441dsp OEM interface and a CL-SSI Signal summing interface on the drivers side. A pair of Hertz amplifiers sit on the passenger side. The false floor pods are illuminated with red LEDs and topped with glass for a tough, durable look. The four-channel amp powers Focal component speakers in the front and rear of the vehicle. The front stage is based around a three-way 165 KRX3 component set, while a two-way 165 KRX2 set takes care of music from the trunk of the car when it's on display. The amplifiers are kept cool thanks to thick copper plates and a liquid cooling system that were put together by Devincorp. A single JL Audio 12W7AE subwoofer fires forward into the car through the ski pass-through.
The car features a custom Linux based PC with its own web server to connect and log on to the GT63.car website to see pictures and video of the car and its construction. There is a Sony PlayStation 3 that feeds signals to a 22-inch SAVV monitor in the rear seat and three SAVV Monitors on the trunk lid, while the entire trunk is even finished in more red-stitched suede. A five-Farad DB Link capacitor helps feed the amps through XS Power cables.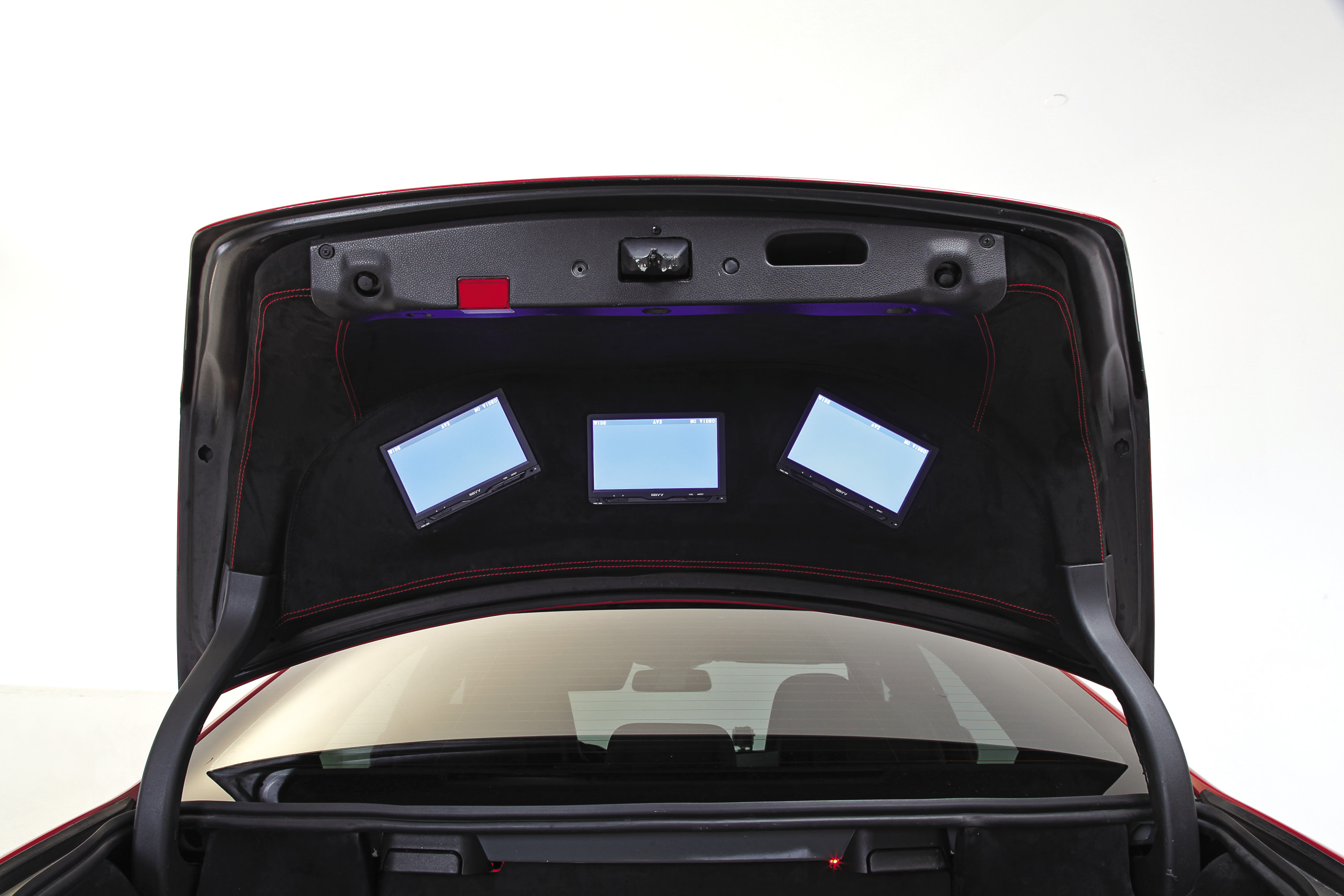 | | |
| --- | --- |
| | |
A motorized tray extends from under the parcel shelf of the Merc and reveals insight into Liu's other hobby. In the drawer is a Glock handgun that Liu put together with parts from GlockWorx and GlockStore, an extra magazine of ammo and a folding tactical knife. For further entertainment, a spare Apple iPad is also safely tucked in there. Liu has to be one fun girl at a party, don't you think?
So why not buy a C63 Black Series? Liu always likes to mess with her cars, including wheels (sometimes multiple sets), paint, wraps, or anything else she could think of - she decided to get the AMG version and treat it to her own style. We think it's a great choice for someone who attends car shows, as the Merc took Best Mercedes honors at Autocon, Best Female Ride at HIN and second place overall at Spocom. She loves tweaking and modding and the rest of her time is spent with her team-mates in TWC and Heavy Hitters. She credits the latter with helping expose her to the competition side of the car world.
So what's next? A big brake kit is on order and her final plan is to strip it down and see what it will run at the track before moving on to the next ride. Looks like we may have found our source for unlimited cover cars…

ESSENTIALS
Vehicle: 2009 Mercedes-Benz C63 AMG
Driver: Jamie Liu
Club Affiliation: TW Competition
Engine: 6.3L V8
Horsepower: 630+ whp
Torque: 600 lb-ft
ENGINE MODIFICATIONS
Tuned ECU (by OE Tuning)
Nitrous Supply with direct port and wet single fogger
GruppeM carbon ram air system
Euro-spec air boxes
BenzWorkz catch can, throttle body
Nitrous Express fuel pressure regulator, fuel pump
EXHAUST
AMG factory modified exhaust
BenzWorkz long tube headers, down-pipe
DRIVETRAIN
OE Tuning tuned transmission
AMG P2 package LSD
CHASSIS / SUSPENSION
BenzWorkz 24 kt gold plated strut bar
CKS suspensions coilovers
WHEELS / TIRES / BRAKES
AG Avant Garde F210 three-piece 24kt gold plated wheels - 19 x 9.5 (f), 19 x 12.5 (r)
Hankook Ventus Tires - 255/35 R19 (f), 305/30 R19 (r)
AMG C63 calipers
BenzWorkz two-piece lightweight factory replacements rotors
EXTERIOR
Matte Pearl Red vinyl wrap
RDB LA custom all-metal widebody
Black Series front and rear bumpers, side vents
RevoZport carbon fiber front lip
Seibon carbon fiber hood
VIS carbon CSL trunk and diffuser
Painted interior of head lights
Spec D tail lights
STM Solar Transmission huper optik ceramic tint
INTERIOR
Nova Suede diamond stitch interior (by Top Stitch Upholstery)
Custom billet iPhone , iPad, 360-degree camera mount, 22" LED TV holder and billet shift knob, stainless steel milled one-off watch holder (by Devincorp Machine Works)
Floor pods (x2)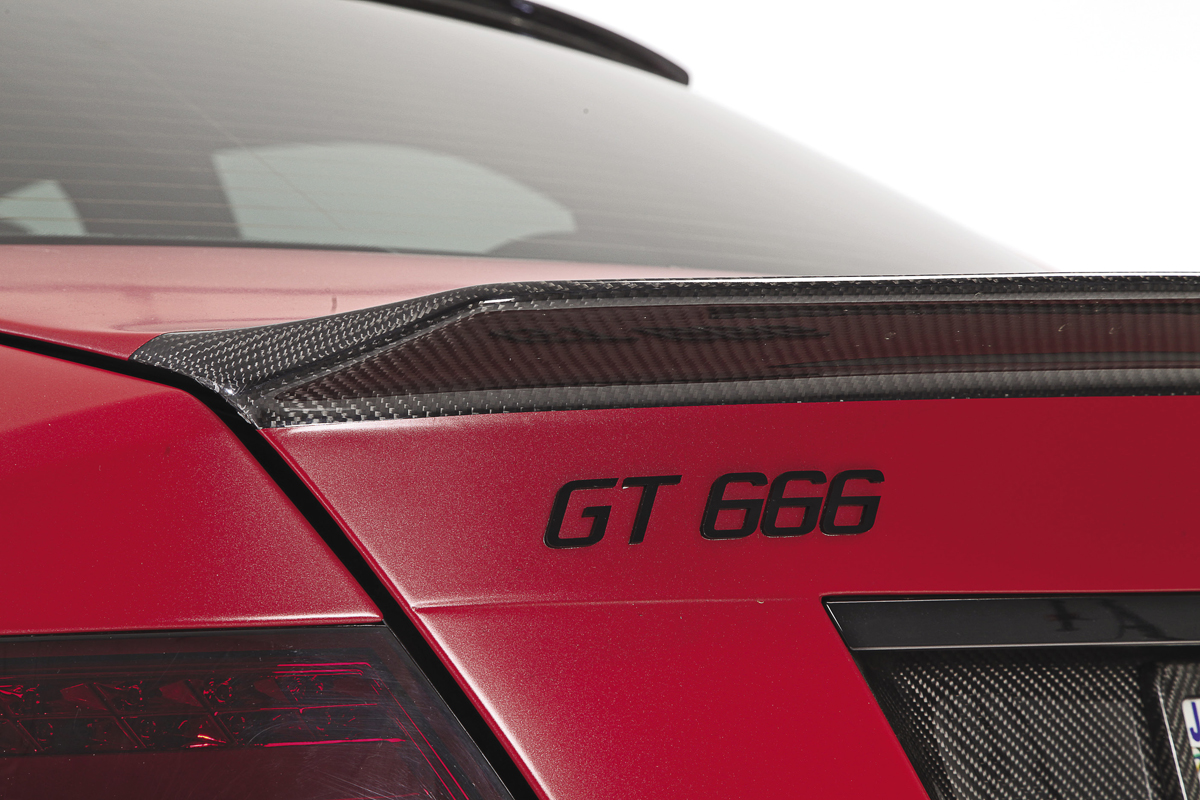 AUDIO / MOBILE ELECTRONICS
JL Audio CleanSweep CL441dsp OEM interface, CL-SSI Signal summing interface, 12W7AE Subwoofer
Hertz four-channel amplifiers (x2)
Focal three-way 165 KRX3 and two-way 165 KRX2 component set
SAVV 22-inch LED monitor, seven-inch monitors (x3)
Sony Playstation 3
Corsair water cooling system
Devincorp custom machined thick large copper plates
Custom Linux based PC system
DB Link five-Farad capacitor
XS Power cable
SPONSORS
Prestige Marketing , Top Stitch Upholstery, Custom Dimensions, Macuzzi , RDB LA, BenzWorkz, OE Tuning, NS Nitrous Supply, BLK Diamond, TW Competition, Seibon, STM, Avant Garde Wheels, Promax Motorsports, Impressive Wrap