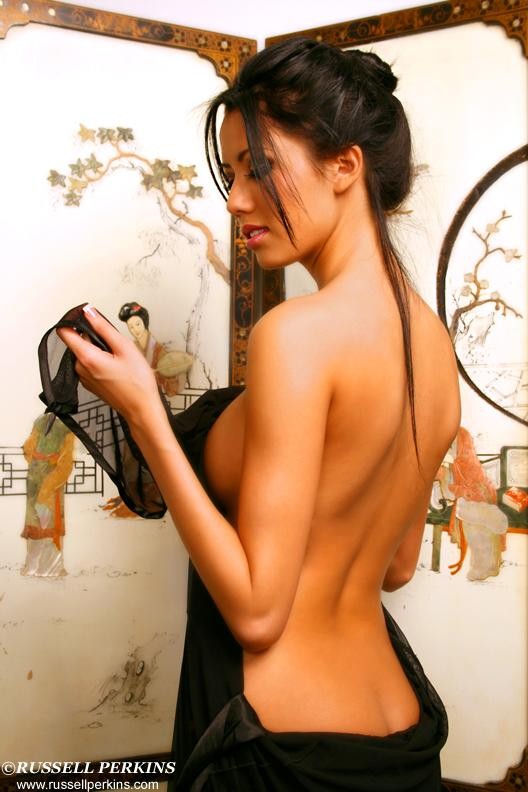 The Essentials:
Company: Russell Perkins Photography
Location: San Francisco Bay Area
Telephone: 707.696.6233
Email: This email address is being protected from spambots. You need JavaScript enabled to view it.
Website: www.russellperkins.com
Twitter: www.twitter.com/russell_perkins
PASNATION Username: Gbiscuit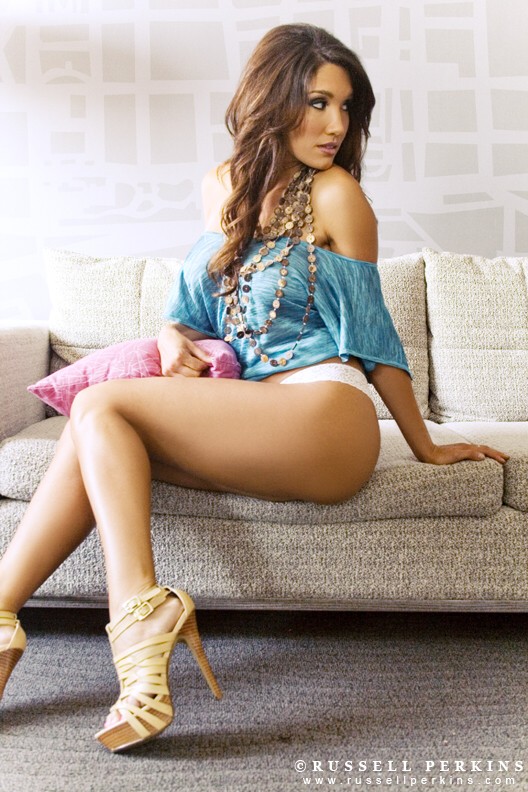 The Interview
PAS: Who are you?
Russell Perkins: To all of my models, it's "Russy", but to the rest of ya, it's Russell Perkins. I'm 6' 1" and tons of fun (couldn't resist saying that!). I'm a very driven, passionate, yet laid back all American guy, who loves to laugh as well as make other folks laugh by being a goofball when feelin' saucy :) I'm a Creative Director in the video games industry during the week and a Photographer specializing in model photography on a part time basis, although it is quickly becoming a second full time gig.
PAS: Where are you from?
Russell Perkins: Originally, I'm from Petaluma in the Bay Area, but I've lived all over the Bay, so I usually just say that I'm from the Bay Area. Currently, I reside in Reno, the biggest little city in the world!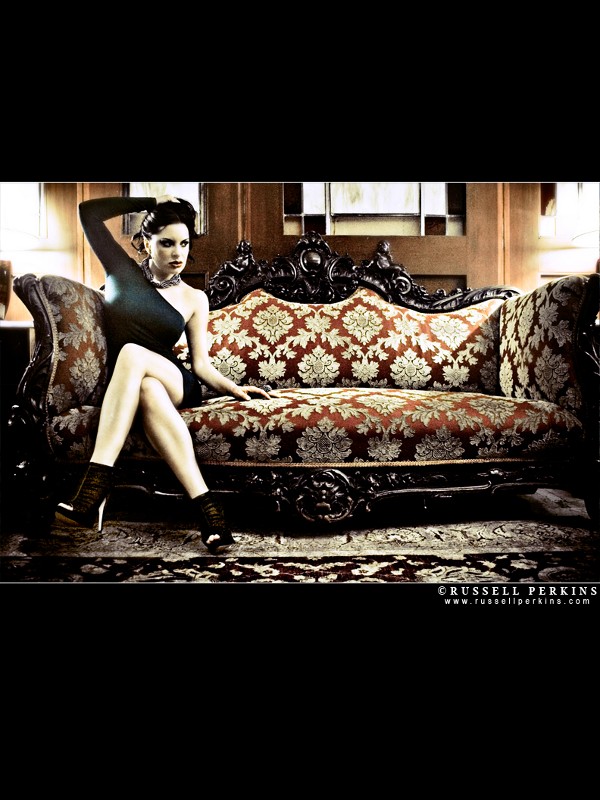 PAS: Did you go to school to study photography?
Russell Perkins: Actually I did not! I went to school to major in 3D Modeling & Animation.
PAS: How did you get into photography?
Russell Perkins: I took a Photography class as an elective working with 35mm film in college and at that time, I worked for Outback Steakhouse as a Waiter, which was a terrific place to snag people for my homework assignments. I've always been fascinated with people in general, both visually as well as psychologically, so most of my work centered on all kinds of folks who were kind enough to be my "model" for a day and get free pics out of it. Looking at my work from that time period, it was a miracle that ANYONE wanted me to take their picture - it must've been out of pity! Word of mouth then began to spread and it wasn't long before I was taking photos for friends of friends and so forth.
PAS: How long have you been a photographer?
Russell Perkins: It's almost been a decade! Wow time has indeed blasted by. I should put together a "10 Year Anniversary" shoot next year…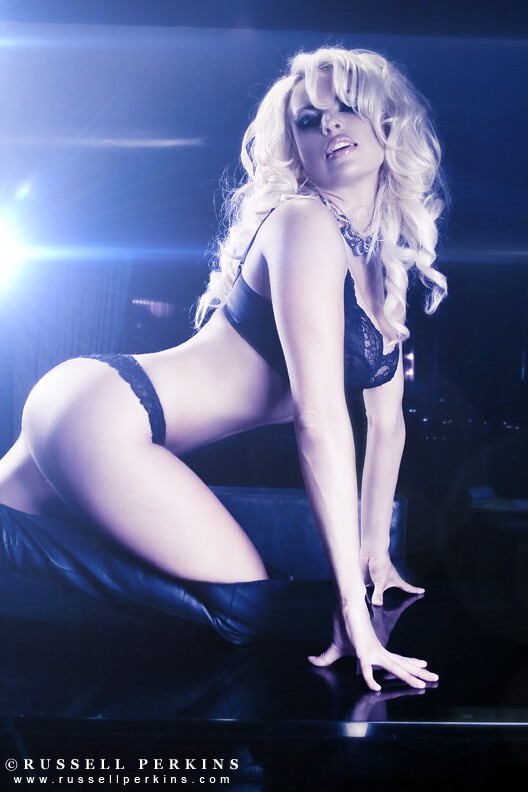 PAS: How would you describe your style?
Russell Perkins: This is an interesting question. I consider myself a student of Photography in that since it is an art form, the ways to approach any given shoot are nearly infinite. I'm constantly inspired by works from other Photographers in the industry, which cause me to want to strive to present myself as a "Photography Chameleon" if you will. One day, I'll shoot something very glamorous that you'd expect out of Maxim or Victoria's Secret, while other times, I'll shoot a theme reminiscent of the 1950's pinup or an editorial set that perhaps tells a story. I suppose overall, my style could be described as "idealized sexy" in that no matter what the approach or theme, the goal is to have a final image that perfects the visual appeal we all as society strive so hard to manifest in our daily lives.
PAS: What sort of equipment and software do you use?
Russell Perkins: You can't go wrong with Canon or Nikon. Personally, I've just ended up using Canon products since that's what I started out using and have had terrific success with. Other than my cameras, I use soft boxes, ring flashes, Fresnel lights, and THE SUN (cue epic music). Oh and reflectors…lots and lots of reflectors! For all of my editing, there can be ONLY ONE Photoshop!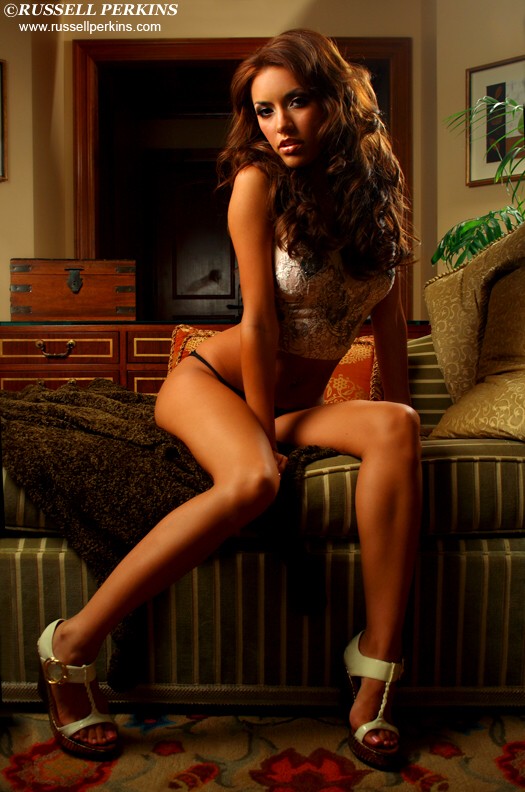 PAS: Where is your favorite location to shoot pictures?
Russell Perkins: I love to shoot at locations that contain unique textures and lighting setups! Both elements provide an important supportive role to the model and what she's wearing as well as the mood she evokes in her facial performance. Photography has taught me to find the beauty in places that I'd normally scoff at or pay no attention to.
PAS: Are you a MAC or PC user?
Russell Perkins: "I'm a Photographer who shoots hot models and I'm a PC" – take THAT elitist MAC users HA-HAAAAAA! You know, just to go off on a mini nerd tangent, technically, a PC IS a MAC since "PC" is an acronym for "Personal Computer"…so does that mean that MAC is marketing itself against itself? [insert Neo "woah" quote here] I've used both Windows and the many pussy cat operating systems Apple has released – both have their pluses and minuses, but I'm mainly a PC dude….although I will totally admit that Apple's marketing/advertising department has done a BRILLIANT job. As a side note – I do swear allegiance to the Apple iPhone….LOVE IT. As a fellow UI Designer, my hat not only goes off to the UI Team at Apple; I bow down to them on my knees kissing their feet at the tremendous execution of their UI phone design!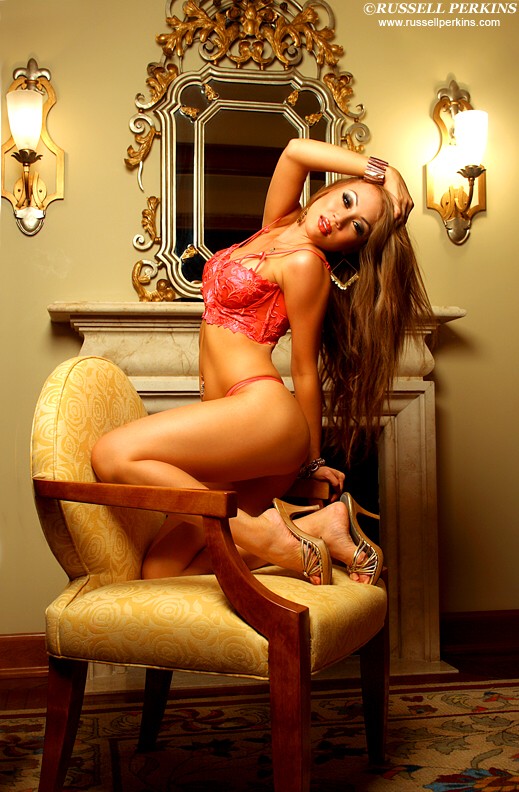 PAS: What has been your most memorable assignment or vehicle/model to work with?
Russell Perkins: It's difficult to pick just one as one of the unique aspects regarding photographing models is the personal information that gets disclosed. Society forgets that these incredibly hot models are normal people with normal problems just like you and me. One model had eye surgery due to a detached retina that wasn't successful and as a result, she has cataracts and swollen red irritation around her eye. Naturally, she was VERY self conscious about it and almost stopped modeling entirely. I convinced her to come out and shoot with me for a couple of days and edited one of the pics late at night while she slept. In the morning, I surprised her with the edited shot of her eye looking normal and she started to cry at the sight of seeing herself look normal. As a result, she's jumped back into modeling and is doing very well for herself. There are many stories I could tell that I get joy in the purest sense from because in creating "perfection", you must first bond with a person's imperfection. Once they trust in you, they reveal what truly is beautiful about them and that's where the sweet spot is in my job – to visually enhance the human connection we have made.
The most memorable vehicle I have worked with is none other than my very own Infiniti G35 Coupe! There is….no equal. ;)
PAS: What would you say to other enthusiast photographers out there who aspire to become a great photographer?
Russell Perkins: Never give up, never surrender! Don't be afraid to creatively challenge yourself. Study various approaches that inspire you; look at how the colors, lighting setup, composition, etc. are all setup in such a way that guides your eyes around the photograph; There IS a method to the madness. You're welcome to contact me on the contact section of my website www.russellperkins.com with any Photography questions you may have. Happy Shooting!