Photography by Elliott Powell (@_elliottpowell_)
---
A look into the racing careers and campaigns of time attack's most popular power couple.
When discussing a couple that is equally successful, you often hear the term "power couple," and that is the perfect term to describe the duo behind Apex Garage. One half of the team is Kevin Parlett, the driver of the 650 horsepower #44 Time Attack Infiniti G35, who was born into drag racing and spent time as a kid building and racing RC cars. The other half is Savanna Little, the driver of the 500 horsepower #916 Endurance Nissan LS350Z, who went from show jumping horses internationally, to being a model, to a race car driver. Believe it or not, the two met a the track during the first Global Time Attack Pro Series race in New Orleans in 2015. At the time, Little was just about to start her build process on the Z, and wanted to come check out the racing to see what she was getting into first hand. Parlett ran into Little as she was checking out his car in the BC Racing both and the rest was history.
Fast forward to the spring of 2018. In an effort to build their program and provide the best possible outlet for their sponsors, Parlett and Little created Apex Garage. Apex Garage serves as their umbrella for all the various race cars and programs - essentially a grassroots effort at building a brand around their racing endeavors. "We have always been very honest and open about our racing program, which has humanized us quite a bit, and has created a trust with our fans that most pro teams don't expose themselves to, say the couple when asked about Apex Garage. "This allows us to share the good, the bad and the ugly with our fan base, and really gives a true perspective of what we do. We post a lot about technical things on the cars, what we are doing between races, how-to videos, and of course race-recap videos for each event."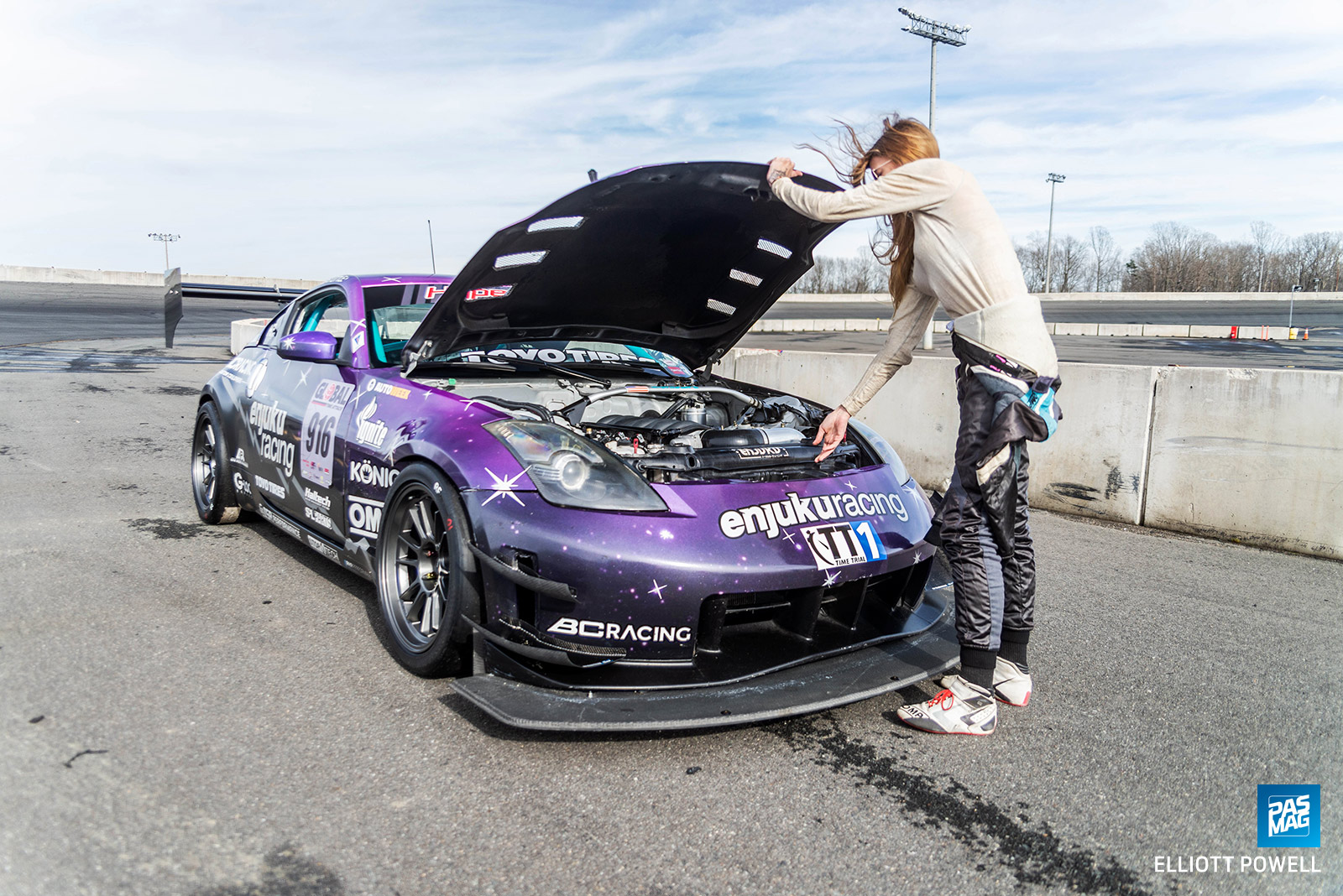 Little chose the 350Z as her platform because it was the more affordable alternative to the 370Z, the car that she once worked alongside as an umbrella girl with the Nissan 370Z racing team. During her time as a model, Little fell in love with motorsports and wanted to learn to race, but couldn't afford to pay someone to build a race car for her. Because of this, she had to learn to be as self sufficient as possible, and after working at HP Logic for a while, and following the owner and mechanic around, she started to learn to wrench on her own car. This experience over time taught her to solve her own problems at the track. From day one Little knew that she wanted to build a sleek Japanese sports car with a cammed V8 producing around 500 horsepower with a lot of aero, a lot of tire, and with no driver aids, and that is exactly what she did.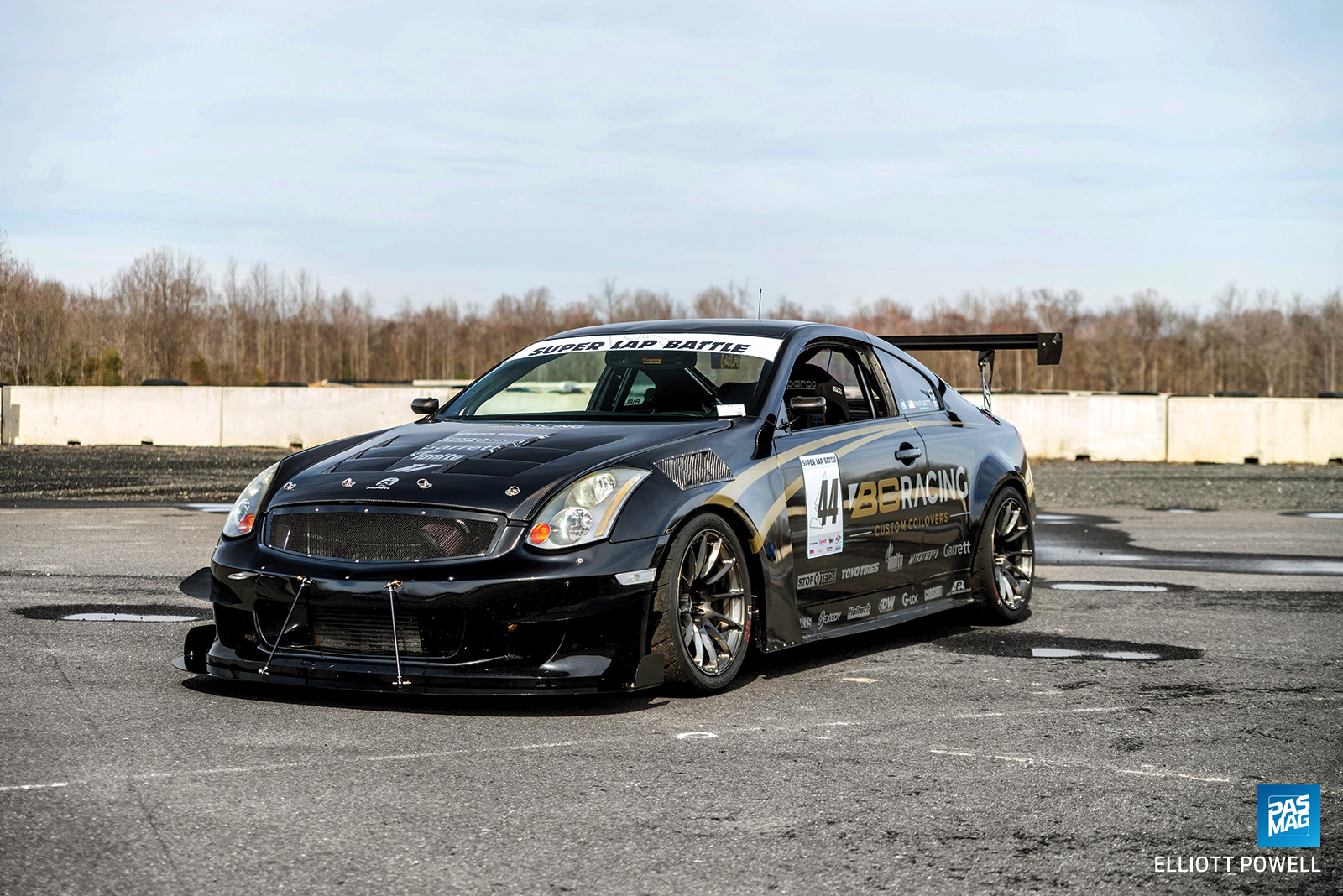 Parlett, on the other hand, decided to go the Infiniti route. What started originally as his daily driver G35 coupe in college slowly grew to become an autocross car, and eventually a full time attack car. He knew that he wanted to stay true to the VQ power plant, and ended up building a single turbo version of the VQ35DE Rev-Up engine. While running Ignite Racing Fuel 114 octane, the car makes around 650 horsepower. Parlett also knew that it would be a challenge to run the G35 at the highest level of competition, as its weight at 3,075 pounds was still considered heavy when compared to competitors that were running much lighter cars with similar power figures, but he knew what he wanted to do and didn't back down. This build has truly been a grassroots effort since day one and still is to this day. Parlett has never had a crew, or fellow friends that lend a hand in the garage or at the track. It's has been a one man show for many years, but now with Little by his side it's a two-car, two-person show.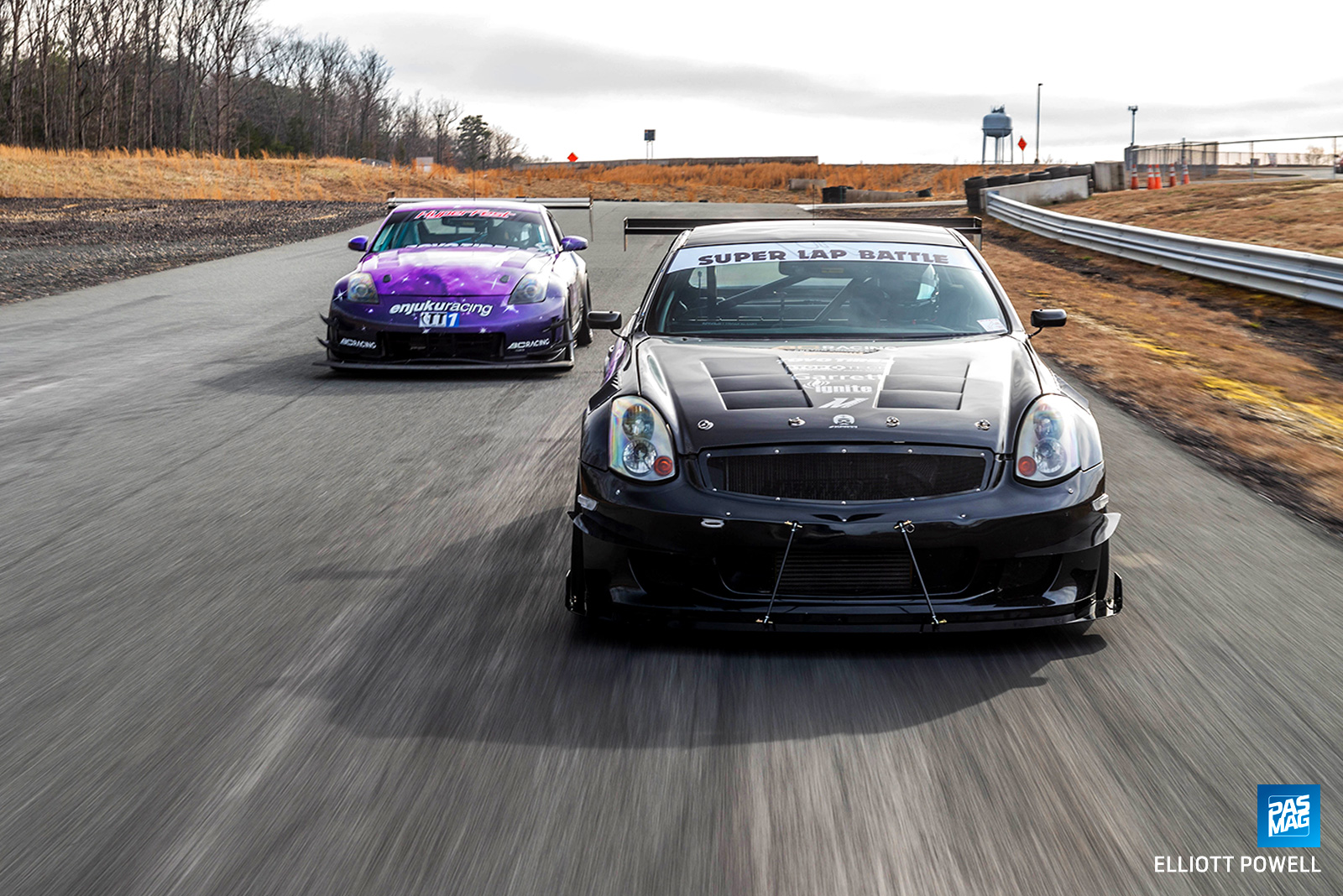 As a racing power couple, Parlett and Little have taken different paths in their careers, but the similarity in their passion and drive is undeniable. Parlett has done this for quite a while, and in that time has come to enjoy the crew chief aspect and wrenching just as much as the racing. His experience working for pro race teams in PWC, IMSA and Trans Am have taught him a love for the sport beyond just driving. Little's career has had a trajectory seldom seen in any form of motorsport. Her drive to get faster every weekend mixed with her unbelievable marketing prowess has skyrocketed her from building her daily driver three years ago to becoming one of the most prominent names in the sport!
Together, their determination is unparalleled. Any single privateer team or even shop-based time attack team would struggle to collectively travel to more time attack races than Apex Garage. Just this past season alone, they put over 43,000 miles on their truck towing to races. The entire Apex Garage team is just the two of them - no friends, no family, just a two-person, two-car operation every weekend. Typically they both drive for twelve hours a day, and sleep in their trailer at rest stops just to make it to as many races as possible. These two are as die-hard as it gets.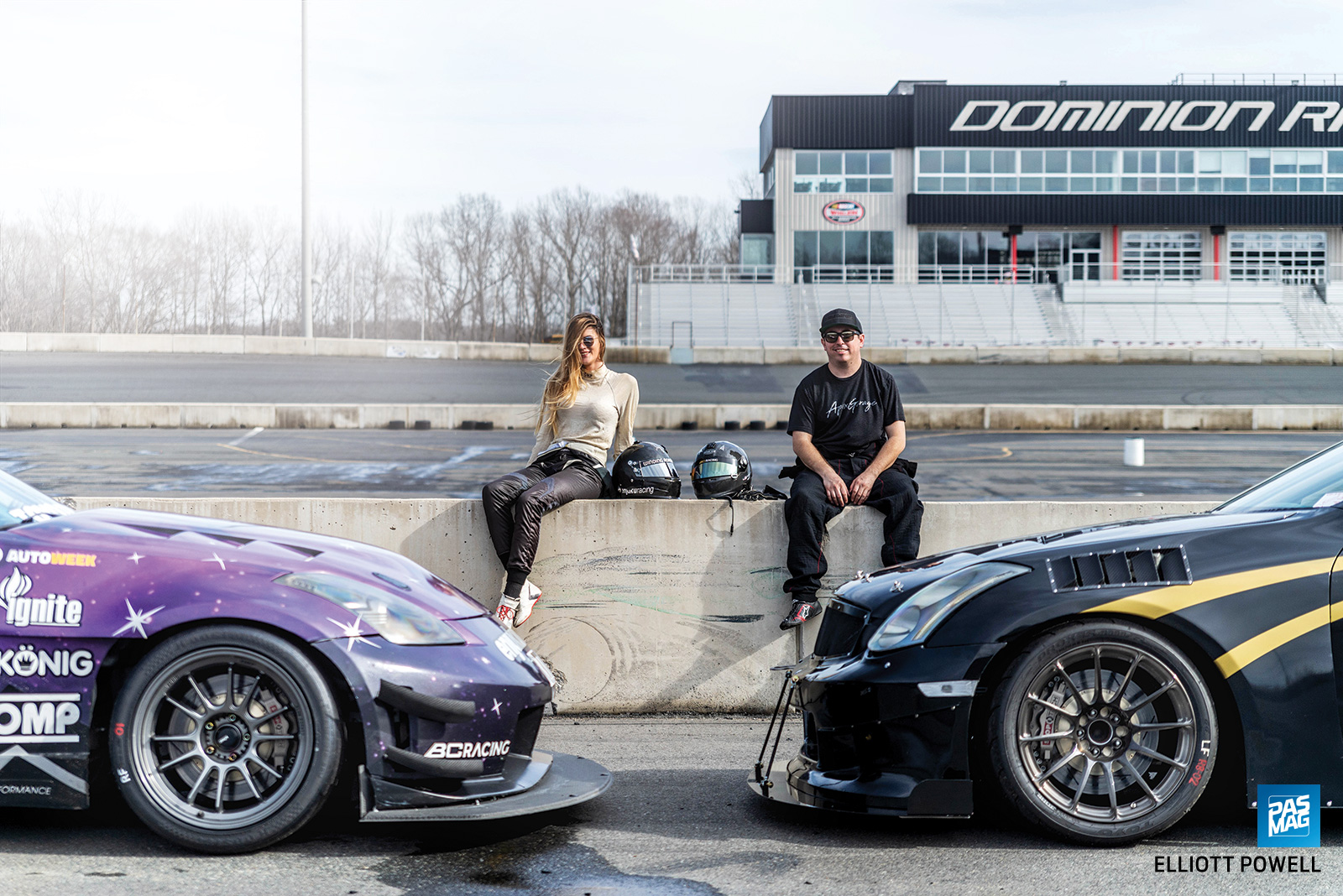 Before we concluded our time with them, we had to ask one final question: Who is faster? Obviously this is a hot topic between them. "Kevin thinks he's faster than Savanna, and Savanna know's she's faster than Kevin - and we are both right," they answer, laughing. "Kevin's G35 is faster, and therefore, in the results Kevin is faster. Having said that, if you look at the data - which we do non-stop - Savanna is clearly getting more out of her car, and driving it better than Kevin drives his. Now having said that, we go kart a lot, and we are almost identical everywhere we go with Savanna often edging Kevin on the fastest lap, but with Kevin usually finishing ahead. But 2019 will be the year where we really find out, as we will finally be driving the same car on the same weekends with our new two-car program in the American Endurance Racing series. So, you may have to follow up with us at the end of the season for a decisive answer!"
Of course, we will be following up with the Apex Garage team whenever possible. If you're looking to see the inner workings of Apex Garage, or what it takes to plan and maintain a full season of competitive racing as a duo, be sure to check out Apex Garage on social media channels, or check them out on the grid at various time attack events! We wish you both all the best.
Kevin Parlett and Savanna Little are featured in PASMAG #154. Click HERE to order.
---

ESSENTIALS
Owner: Savanna Little
Vehile: 2008 Nissan 350Z
Location: Charlotte Hall, MD
Engine: Chevrolet LS3 6.2L V8
Horsepower: 500 whp
Torque: 460 lb-ft
Facebook: /SavannaLittleRacing
Instagram: @savannalittleracing
ENGINE
Chevrolet LS3 engine swap
Chevy Racing ASA camshaft
Deatschwerks injectors
Holley EFI (fuel rails, FPR, manifold)
Haltech (Elite 2500 ECU, engine harness)
EXHAUST
ISR Performance LSX swap long tube headers
Waldorf Stainless custom NASCAR boom tube side-exit exhaut
DRIVETRAIN
ISR Performance LSX adapter plate
Fidanza custom flywheel
Exedy (Hyper twin disc clutch, pressure plate)
Driveshaft Shop aluminum driveshaft
OS Giken Super Lock Type X LSD
WHEELS / TIRES / BRAKES
Konig HyperGram wheels - 18x10.5 +25 (f/r)
Toyo Tires Proxes RR front tires - 295/35/18
Hoosier A7 rear tires - 315/35/18
StopTech (custom Trophy brake kit, 14-inch aero rotors)
Gloc Brakes racing pads
CHASSIS / SUSPENSION
Enjuku Racing custom roll cage
BC Racing ZR 3-way custom valved coilovers
Swift springs
SPL Parts (suspension arms, bushings)
Hotchkis adjustable front sway bar
EXTERIOR
AJ Hartman Aero custom carbon fiber front aero
APR GT-1000 chassis-mounted spoiler
Seibon (carbon fiber hood, carbon fiber hatch)
Custom front fenders
Apex Garage custom rear diffuser
Chase Graphics livery vinyl wrap by Redline Design
INTERIOR
OMP (HTE-R carbon seat, seat rails, 6-point harness)
Grip Royal Royal King steering wheel
Custom suede wrapped dash
AIM Sports (MXG dash/data logger, Smart Cam video recorder)
Racing Radios in-car communication system
Wilwood pedal assembly
ISR Performance shift knob
SafeCrat fire suppression system
CoolShirt driver cooling system
SPONSORS
Enjuku Racing
BC Racing
ISR Performance
HP Logic
Konig Wheels
Toyo Tires
StopTech
OMP Racing
Haltech
Exedy USA
AIM Sports
APR Performance
Bub Fab Industries
SPL Parts
GLOC Brakes
Deatschwerks
Redline Design
Chase Graphics
Grip Royal
AJ Hartman Aero
Ignite Racing Fuel
Hyperfest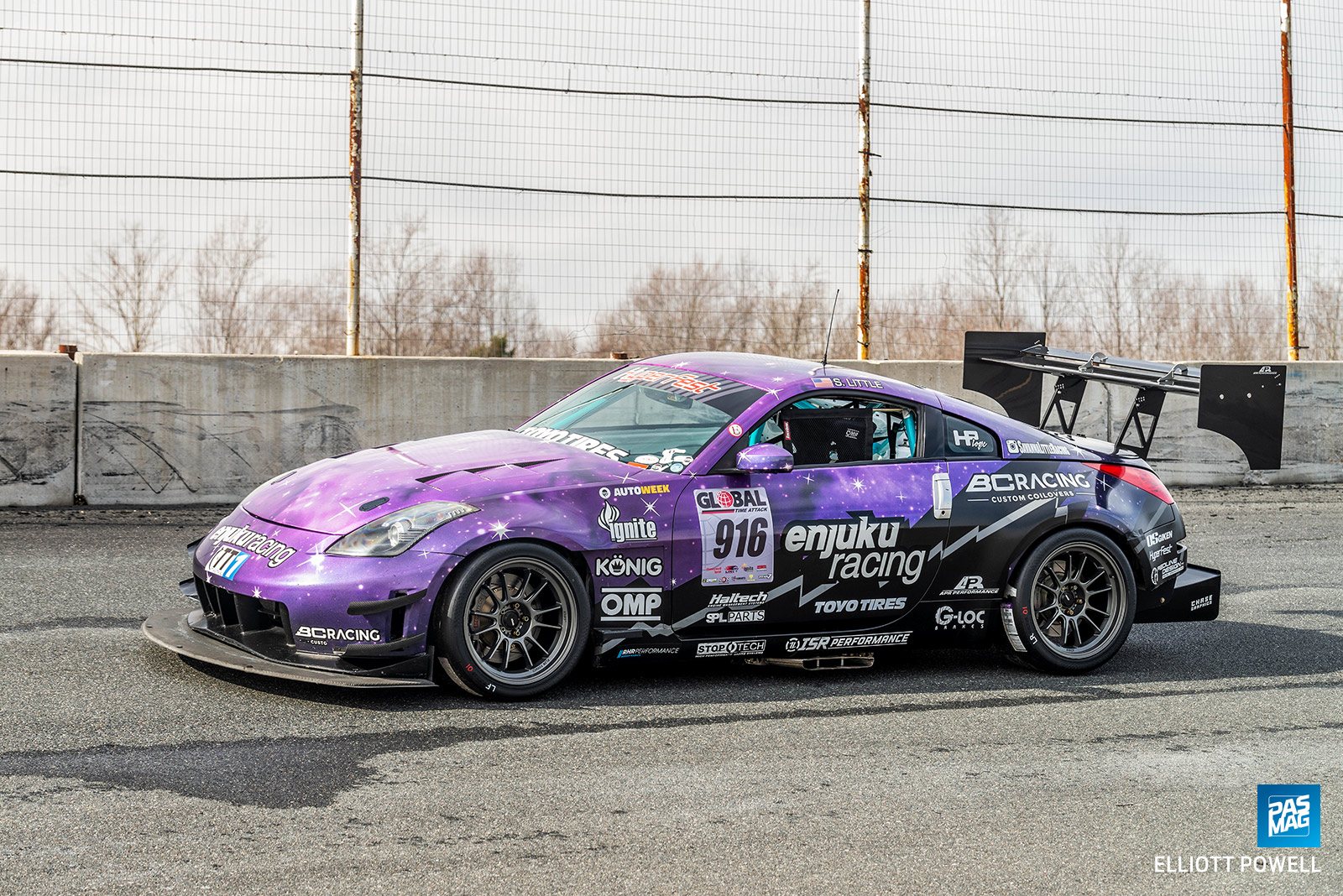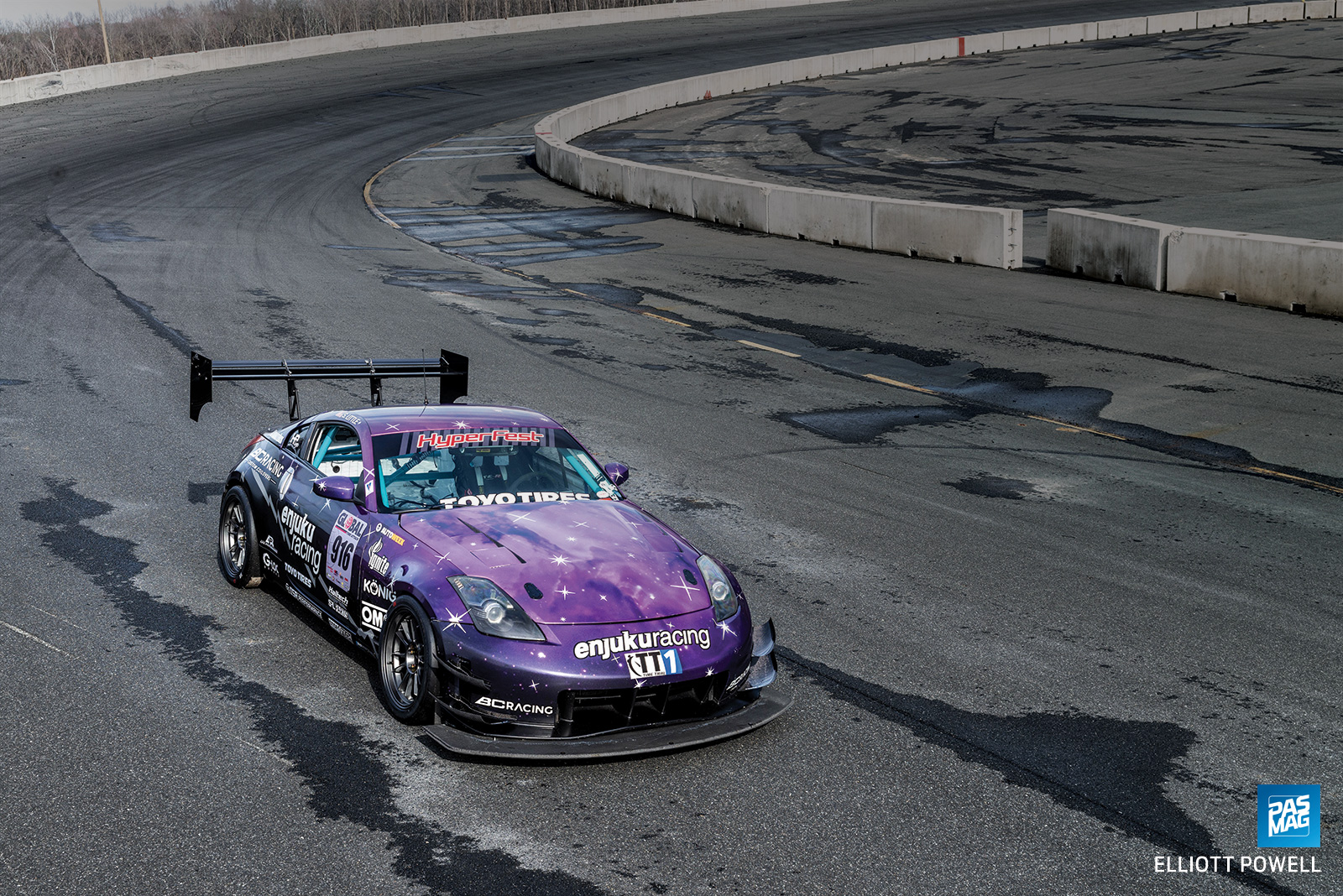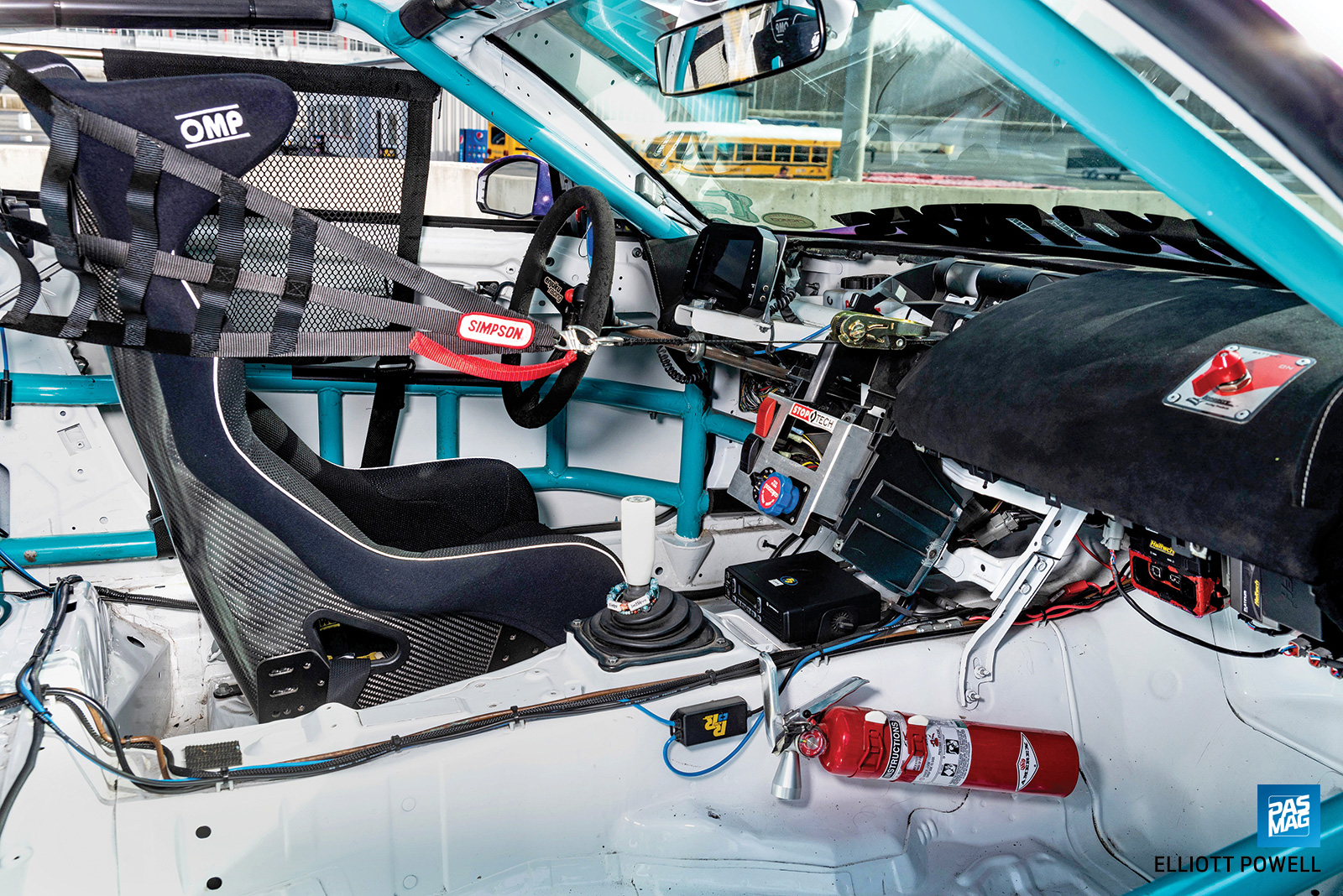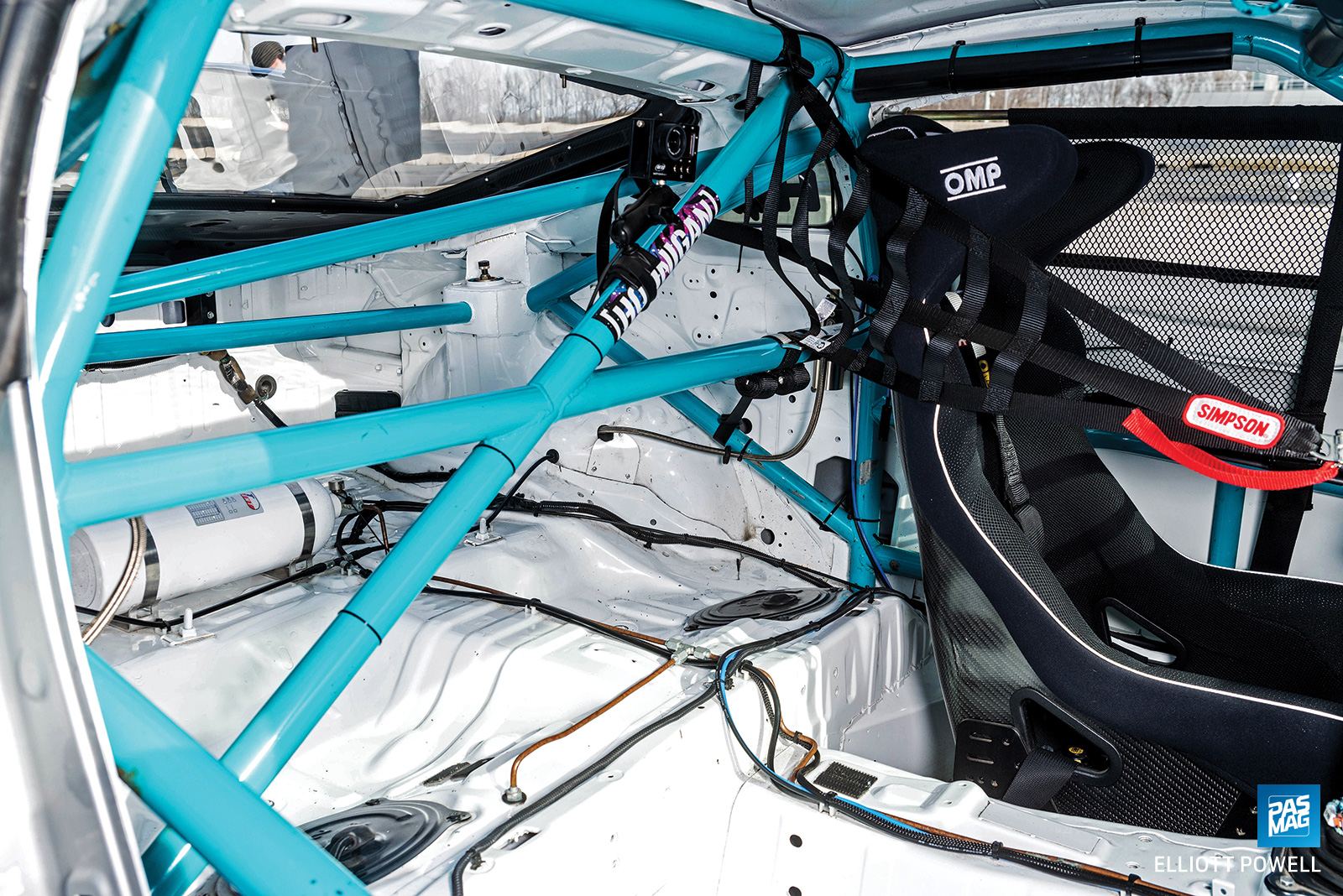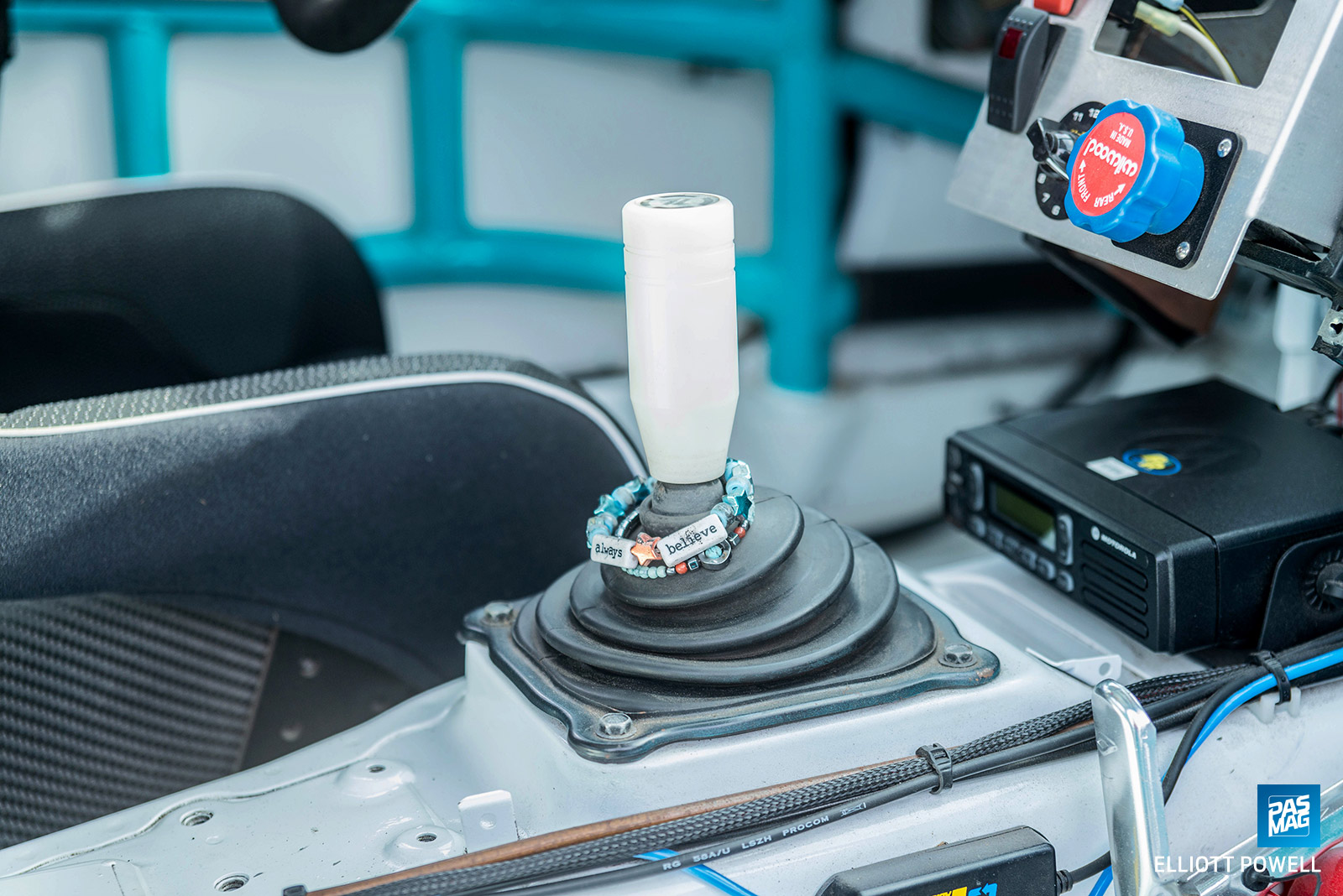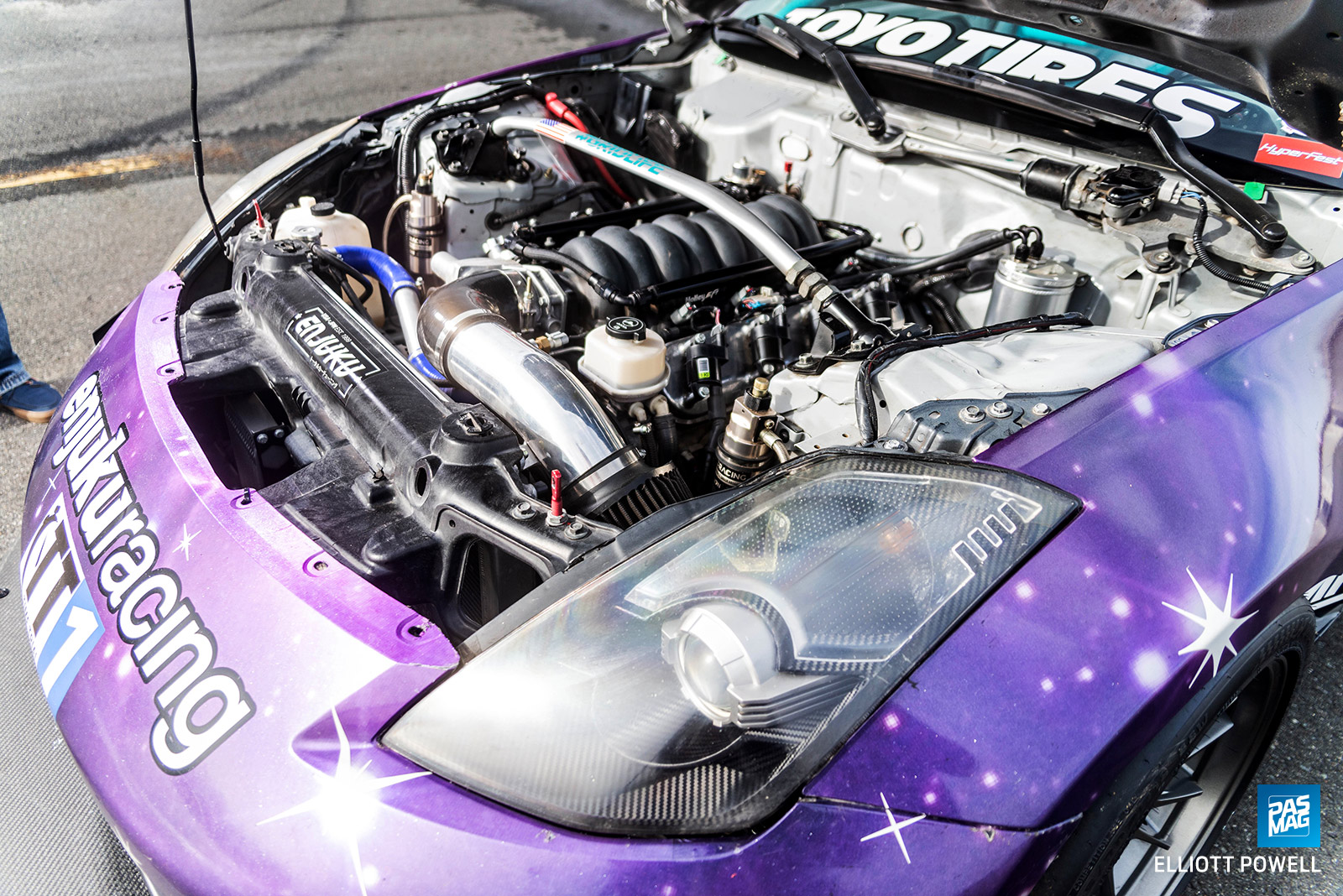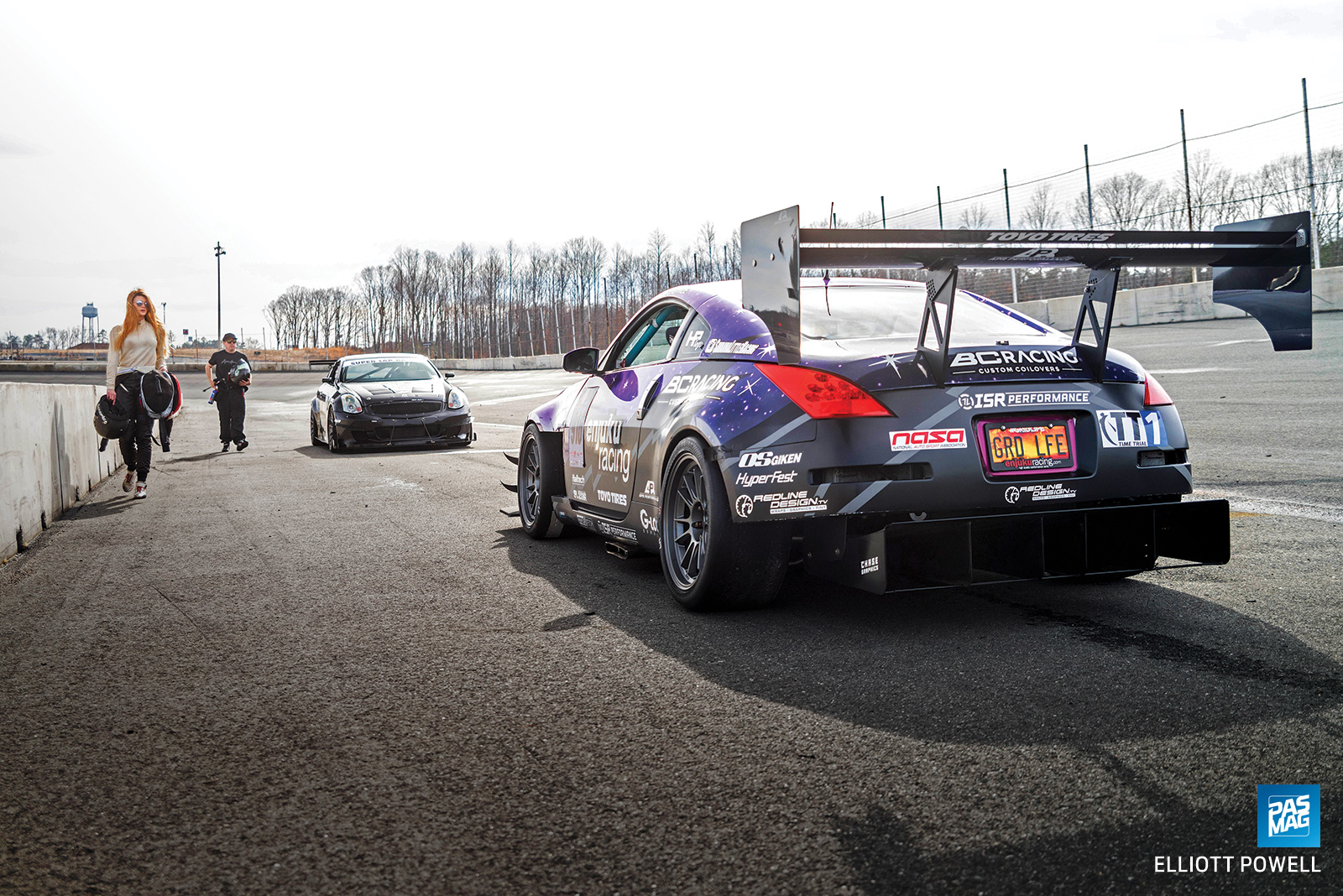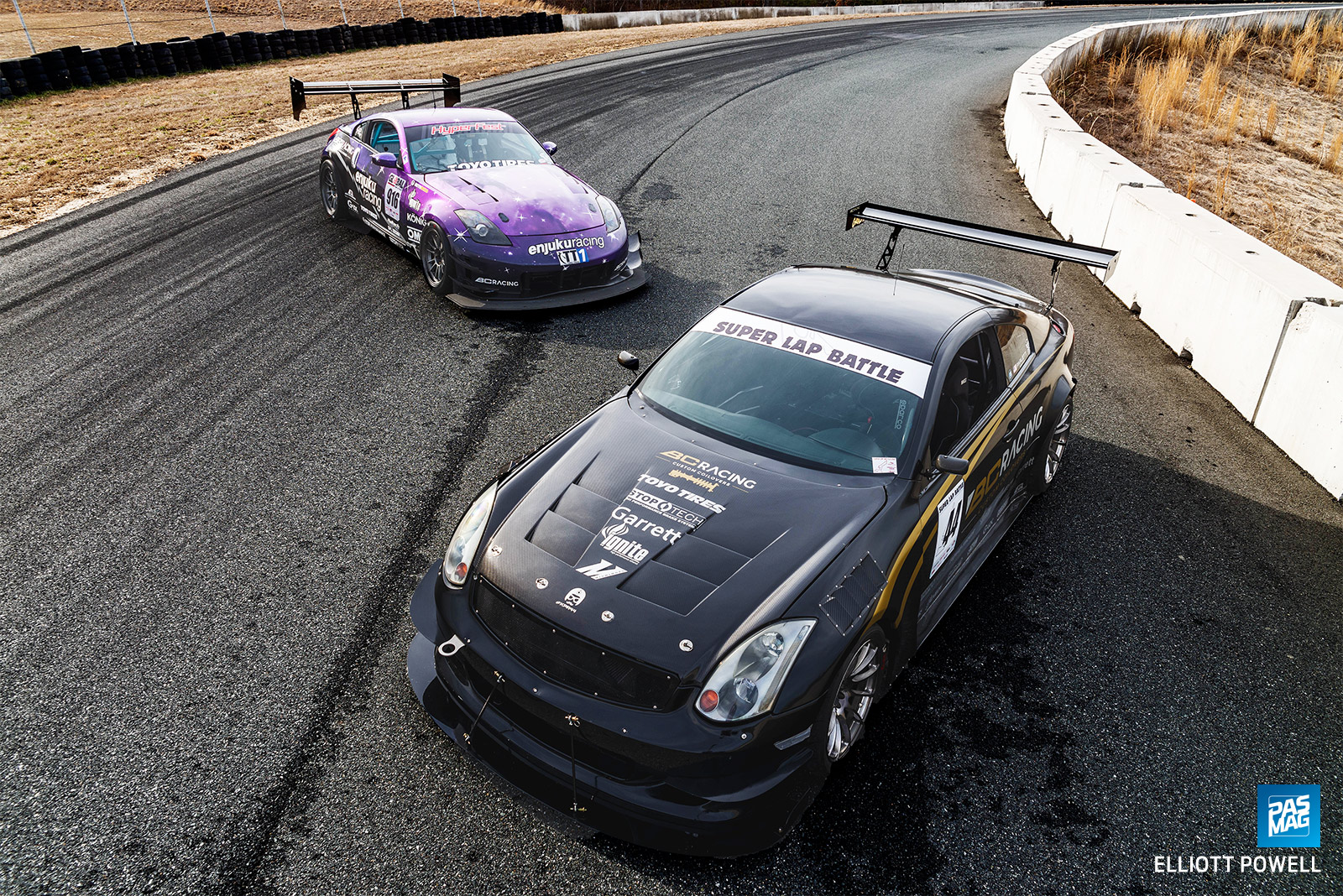 ---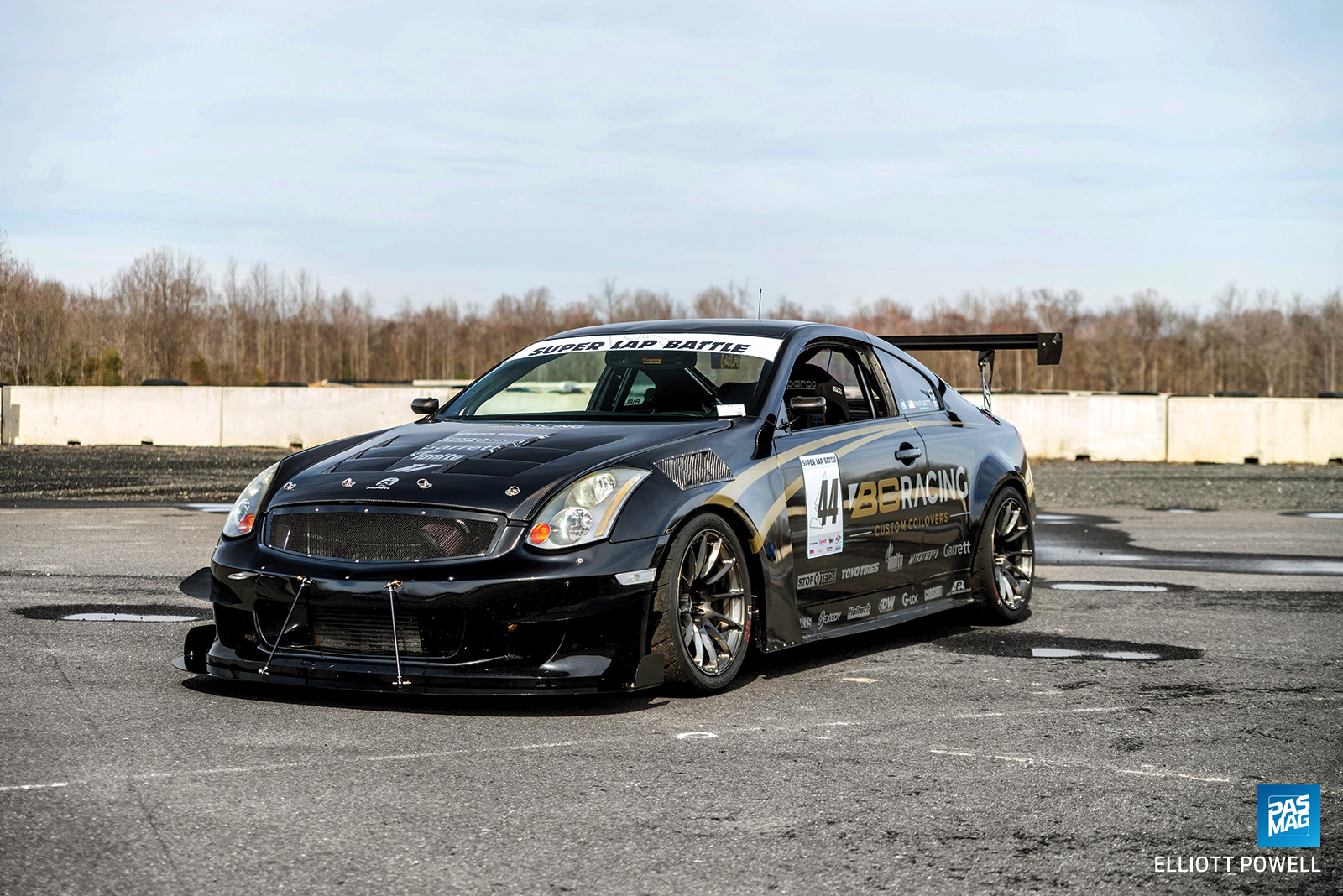 ESSENTIALS
Owner: Kevin Parlett
Vehicle: 2005 Infiniti G35
Location: Charlotte Hall, MD
Engine: Nissan VQ35DE Rev-Up 3.5L V6
Horsepower: 650 whp
Torque: 650 lb-ft
Facebook: /KParlettRacing
Instagram: @kparlettracing
ENGINE
11.9:1 Built High Compression VQ35 Rev-Up engine
Turbo by Garrett (GTX 3584RS Gen 2 turbo, V-band 1.21 housing)
JE Pistons JWT custom spec coated VQ35 Rev-Up 96mm high compression pistons
Jim Wolf Tech (VQ35 Rev-Up C10 intake cam set, RZ1 exhaust cam set, VQ35 Rev-Up valve springs)
Brian Crower (+1mm intake and exhaust valves, titanium retainer kit)
Turbosmart (BOV, wastegate)
Deatschwerks (1500cc injectors, 400lph fuel pump)
King (main bearings, rod bearings)
ARP studs
AAM oil pan spacer kit
Haltech Elite ECU
Cosworth (intake manifold, high volume fuel rail kit)
Setrab 13-row oil cooler kit
Mishimoto (radiator, thermostat)
Nissan Pathfinder coolant mod
ATI Super Damper
Momentum (solid engine and transmission mounts, headers)
ATL (fuel cell, bladder, surge tank)
EXHAUST
Vibrant custom single exhaust
DRIVETRAIN
Exedy twin disc Hypermetalic clutch
OS Giken dual core race specific differential
Driveshaft Shop Level 5 axles
B&M short shifter
WHEELS / TIRES / BRAKES
BC Forged RS40 wheels - 18x10 +20 (f), 18x11 +5 ®
BC Forged RS43 wheels - 18x10 +20 (f), 18x11 +5 ®
Toyo Tires Proxes R888R tires
StopTech Trophy Series (6-piston front brake calipers, 4-piston rear calipers, 14-inch front rotors, 13.25-inch rotors)
G-Loc R16/R12 racing pads
CHASSIS / SUSPENSION
BC Racing ZR 3-way race coilovers
SPL (front V3 UCAs, solid lower front arm bushings, shock mounts, solid front compression rod bushings, front outer tie rod ends, solid rear knuckle monoball bushings, solid differentian mount bushings, solid subframe bushings, rear camber links, rear traction arms, adjustable endlinks)
Hotchkis front sway bar
EXTERIOR
APR Performance 72-inch GT-250 carbon fiber rear wing
Seibon carbon fiber hood
KPR Custom (front splitter, canards, rear diffuser)
Professional Awesome front splitter diffusers
Spage Sport carbon fiber fender vents
Strafe Kuruma Z poly front bumper
Bingz custom (widebody, fenders, side skirts)
Project Kics R40 lug nuts
INTERIOR
AIM MXS digital dash
Tom Pallatin Motorsports roll cage
Driven Steering 13.5-inch suede steering wheel
Sparco (Pro ADV racing seat, quick-release, 6-point harness)
NRG short steering wheel hub adapter
SPONSORS
BC Racing
Mishimoto
Toyo Tires
Ignite Racing
Garrett Advancing Motion
StopTech Brakes
HP Logic
BC Forged
Haltech
SPL Parts
APR Performance
Exedy Clutches
Deatschwerks
Coolshirt
G-Loc Brake Pads