Photography by Icon Media, Gene Tjin, Jacob Leveton, Phillip Awad, Shaun Keenan, & Neil Tjin
---
Special edition, limited edition, collector's edition – these are all terms that can be used in just about any enthusiast circle to signify something that sticks out from the average and everyday. Auto enthusiasts can add one more to their repertoire: Tjin Edition. Of all the vehicles at SEMA, show goers always seem to point out which vehicles Neil Tjin and his crew have applied their super clean design language to.
So, how exactly does one come to build an average of six standout SEMA vehicles a year, plus have his own tour that does almost 40 stops all over the States? Somehow Neil was able to sit still for a while to chat with us, and we got some great answers to those questions and more.

PASMAG: How did it all begin? When did you start thinking "Hey you know what? I want do something with cars"?
Neil Tjin: It started in the mid '90s. I was in high school, wasn't really into cars all that much. I was more into sports. In '95, I bought an Eagle Vision and it was the first car at my high school with 17-inch wheels. I bought TSW Stealths, the five-spoke wheel. It wasn't lowered; it was just wheels and tires on a big four-door sedan. People were like, "Oh, what are 17s?"
| | |
| --- | --- |
| | |
I got into cars and met my wife around the same time in '95. I saved up, bought that first car and then I was able to save up for a used Acura Legend. I went a little bit more into the bling stuff; put some chrome MHT splits on it. I graduated high school, got into college and was able to sell the Legend and lease my first car, which was my Acura 3.2 TL. That is the car that put us on the map. It's the one that we painted yellow, had VeilSide parts, a roll cage, M3 mirrors and a Saleen wing. It just started as a hobby for us. We liked having a nice car. Even now, 18 years later, we're all about having a nice car than anything else.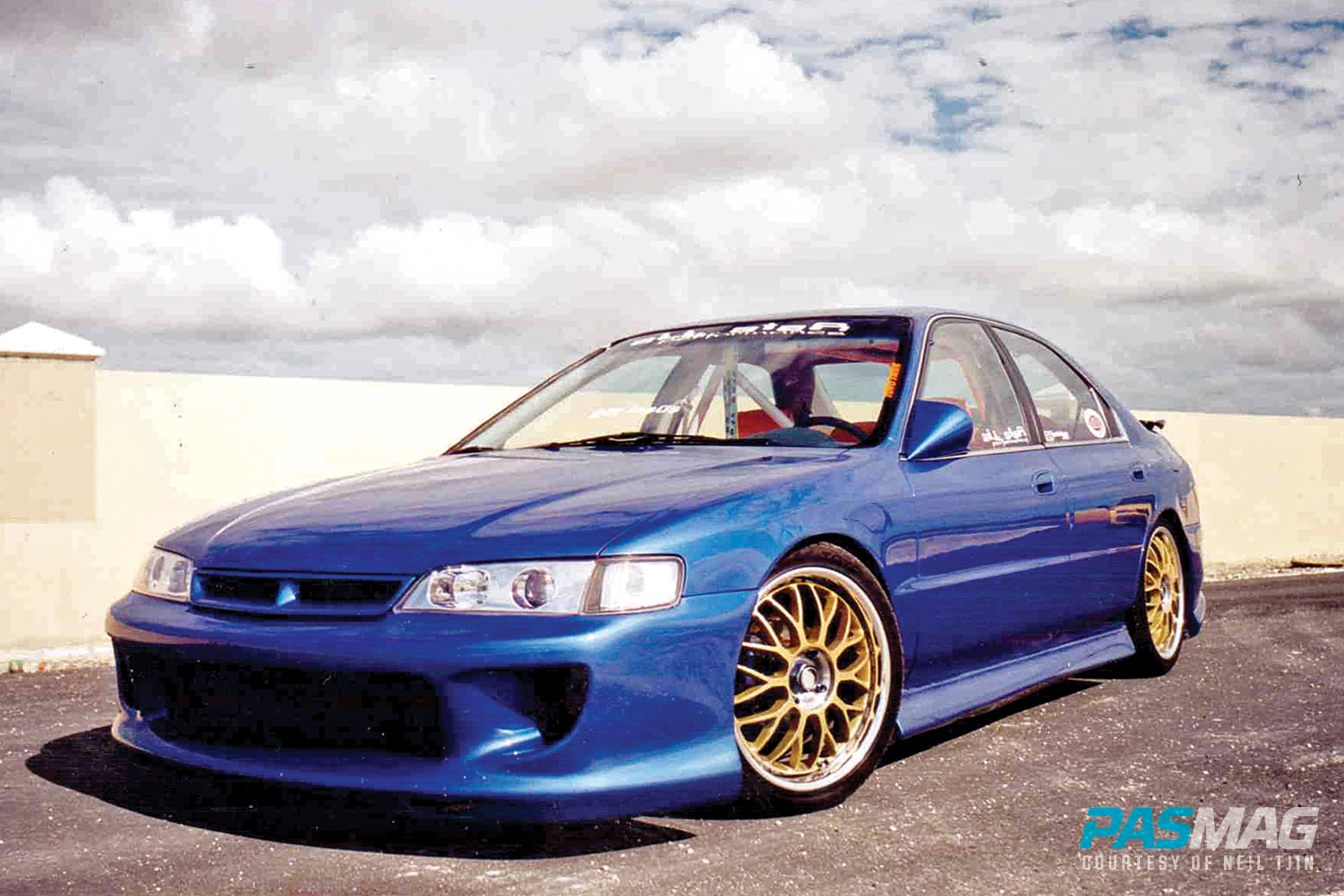 PASMAG: What came before Tjin Edition?
Before Tjin Edition, our team was named All Star. We just started going to shows. There were no trailers in the '90s. We drove to Chicago, Philadelphia, New Jersey – we drove all over the East Coast and people started recognizing. That's when brands like Toyo and Meguiar's took notice. We had stuff that wasn't even in the States yet. We were rocking Advan, Bomex and VeilSide in the mid to late '90s.
My TL was featured in a bunch of magazines, which was unheard of in the '90s as an East Coast car. Then we got job offers working in the industry. I was the Marketing Director at Toucan Industries back in the day. That started my love of marketing and working with other people and sending out products.
That opened the door to get into SEMA. My wife's Accord was one of the first East Coast show cars taken to SEMA in '99. That was a huge accomplishment for us. Bomex shipped Mei's car from Florida to Vegas, so that gave us a foot in at SEMA, and we've been going since then.

PASMAG: When did you make the move from Florida to Cali? How did that impact your journey?
In 2003, I moved to California with my wife. My brother followed there a year later. I was offered a position at HCI (Hot Compacts & Imports Magazine). They were looking for an editor, and so I was their editor for roughly eight years. Moving to California changed everything.
Just before I moved, I met the marketing department at Scion and we got a tC in late 2002. It was one of the first tCs to hit the States, and that was my first OEM build. We actually built the car in Florida and shipped it out for SEMA in 2003. In 2006, we started working with GM and Honda. In 2010, we started working for Ford. It went from there.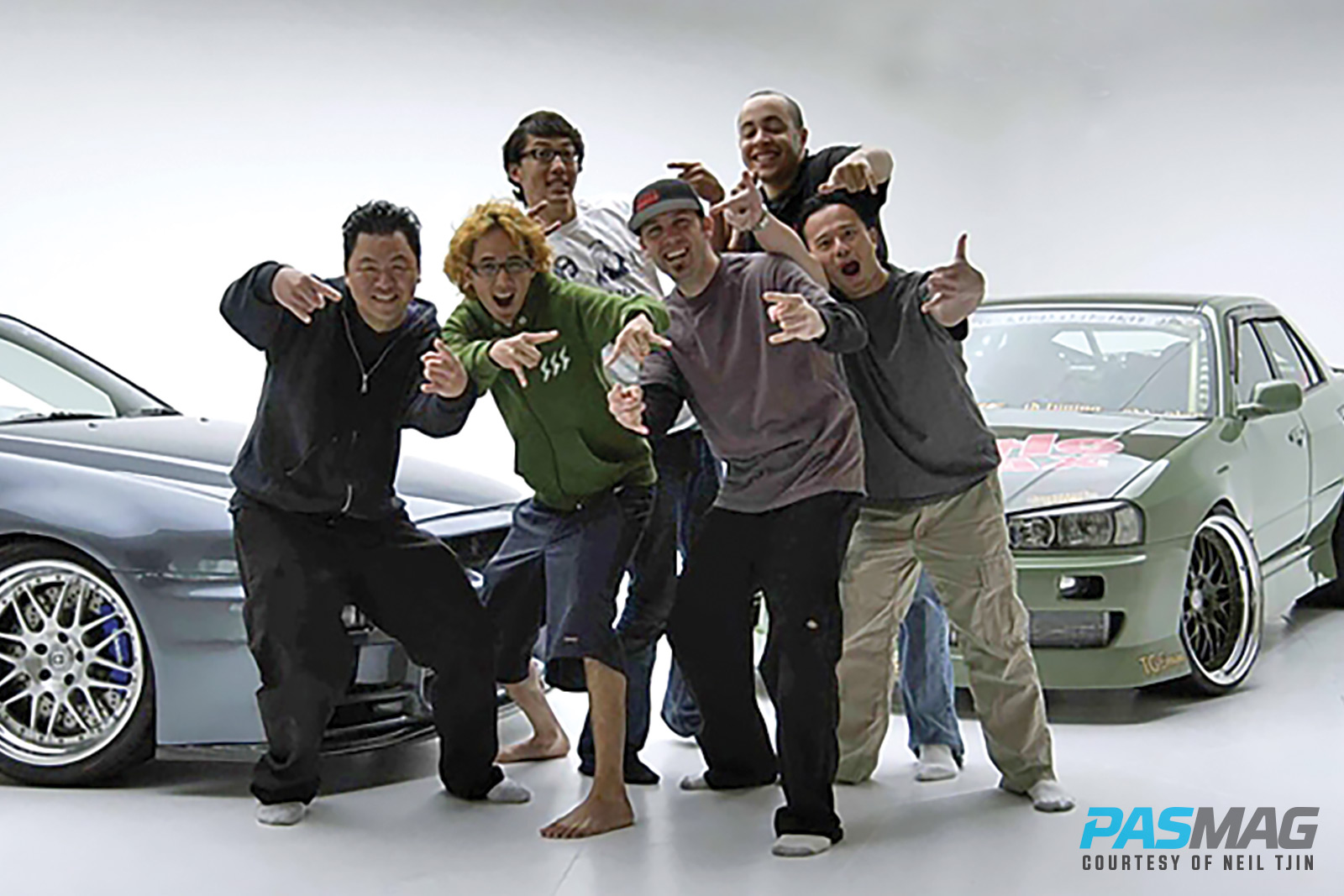 I started to work for myself. I had kids and I was into car building, so that's when I started Tjin Edition. We had the Road Show in conjunction with Turtle Wax from 2005 to 2009. It wasn't as full-scale as it is now.

PASMAG: It wasn't called the Tjin Edition Roadshow back then, correct?
No, when it started in '05/'06, it was called the "Get Waxed Tour." Then in '07 it became the Tjin Edition Roadshow, but the first three years were still infancy years. In 2010, it hit full stride.
This will be our 10th year on the road with the tour. Last year we started West Coast, a second tour, so we have the West Coast tour, which does about 15 to 20 events, and we have the National tour, that does 20-plus events.

PASMAG: You can always tell a Tjin Edition from other builds. What's your design philosophy or signature style?
Our style is pretty clean. One thing you'll notice is solid colors. We've done some metallics, but we've always stepped outside the box with color. The two widebodies we did this year were metal because we have a metal fabricator, but we've always gone really clean and simple. We used to do a lot of Bomex, we've done some VeilSide and then we went away from body kits for a while to very simple lip kits. It all plays a factor.
Like I said, in the beginning, it was about loud and bright. When the OEM builds started in 2006, it came down to more solid monotone colors, and then always cool wheels. The two biggest things with us are paint and wheels. I think that makes or breaks a car. I think we've painted probably 100 cars in the last 11 years. I don't think I've ever owned an unpainted car.
PASMAG: Before the car is shipped off to SEMA, what's the process in designing a Tjin Edition vehicle?
On the way home from SEMA, we were already thinking about next year. I want to build a new Mustang next year, so I studied every Mustang, inside and out. It's basically my homework; see what's been done and hasn't been done. Then I go to my family and the team and we talk about ideas, what color wasn't there, what wheels weren't used, what suspension wasn't used, etc. Then you put up a proposal together for Ford, you pitch your design. There were no raspberry ones. There was nothing that really stood out with lightweight racing wheels. There was nothing with polished brakes. So, we'll put that together and, if Ford likes it, we'll sit with the Ford design team if we're fortunate enough to be chosen to build a car for them.

PASMAG: What's your favorite build to date?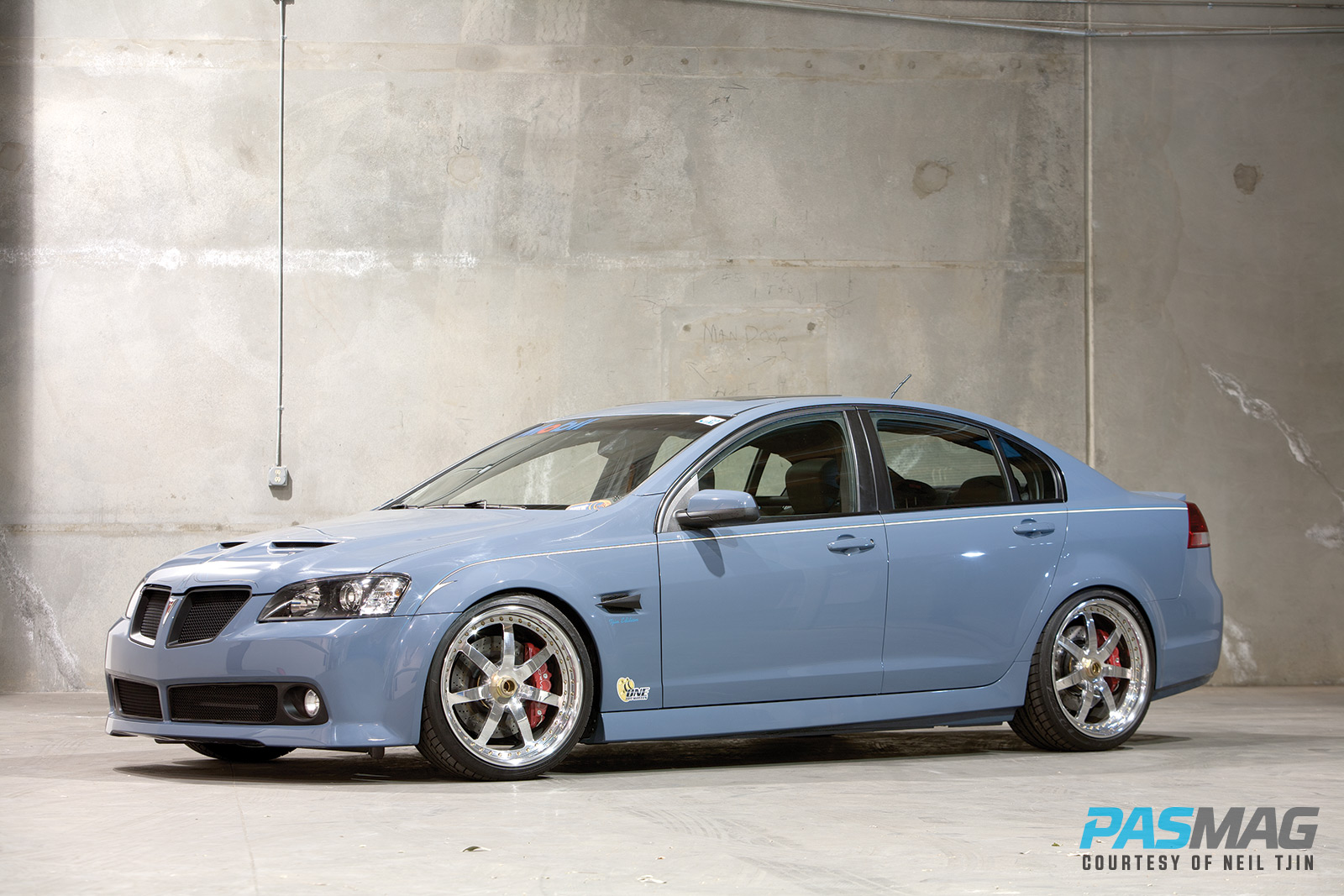 Probably my G8, which I had in 2008. It was supercharged, had Corvette brakes, one-lug wheels and air suspension. I regret selling it. I didn't get to drive it much because it was on tour. It had a Vortech-supercharged 560-horsepower V8. It only had like 700 miles. It was on tour for 16 months and by the end I got an offer to sell it. So, I'd have to say that and the F-150 are my favorites.

PASMAG: Which accomplishments are you most proud of?
I've been pretty lucky. I was a SEMA Person of the Year in 2005, which was wild because I was so young in my career. That, or the other big thing would be design. We've won four GM Design Awards, four Ford Design Awards and a couple Mothers Design Awards.

PASMAG: How did your partnership with UTI come into play?
In 2009, my green Camaro won the Best of Show GM award. We met UTI at the L.A. Auto Show. They used my green car and liked it, so we started talking.
I just formed a relationship with Ford that year and I was like, "Hey, maybe I can get you a dollar car." I'd never done that before with Ford, but UTI put a proposal together for the Fiesta ST that we ended up building for Ford in 2010.
Their marketing director, Mark, and I put together a really good sweepstakes program. We've done bike sweepstakes before with Michael Jordan, but I've never done a car sweepstakes. We put the Fiesta on tour with us and got really good numbers for the sweepstakes program. We've done a Mustang, a Fiesta, a Tacoma, and the Focus.
PASMAG: What are your favorite shows to visit when you are on the on the Roadshow tour?
We do a lot, but I would say the Wekfest shows are really good. We do New Jersey, Chicago, San Francisco, and L.A. NUROTAG has been really good. They do a show in Miami, up and down the East Coast and out here as well.
The fun ones are the meets. We do the Torque Meet show with UTI on the UTI campuses, and we do Orlando - which is my old stomping ground, Chicago and Arizona. Those three are really cool because they're more of a meet, and you get to interact with students. Those are three of our favorites, but we do so many.

PASMAG: Do you have any mentors, idols or inspirations that drove you to build cars?
There are many people who have helped us. We are very fortunate. My wife Mei, who I have been with for 19 years. My brother Gene, who has been by my side since the first day we started playing with cars. My dad, for giving us the opportunity to start our own company at 16, Star Performance. And we have a really good team locally, led by Adam Carpenter from Unique Fabrication and Denny Huang from Huang Duang Enterprise. With these guys who help us get the job done, we never miss a deadline.

PASMAG: Do you have any advice for anyone looking to break into the world of automotive customization building and all that good stuff?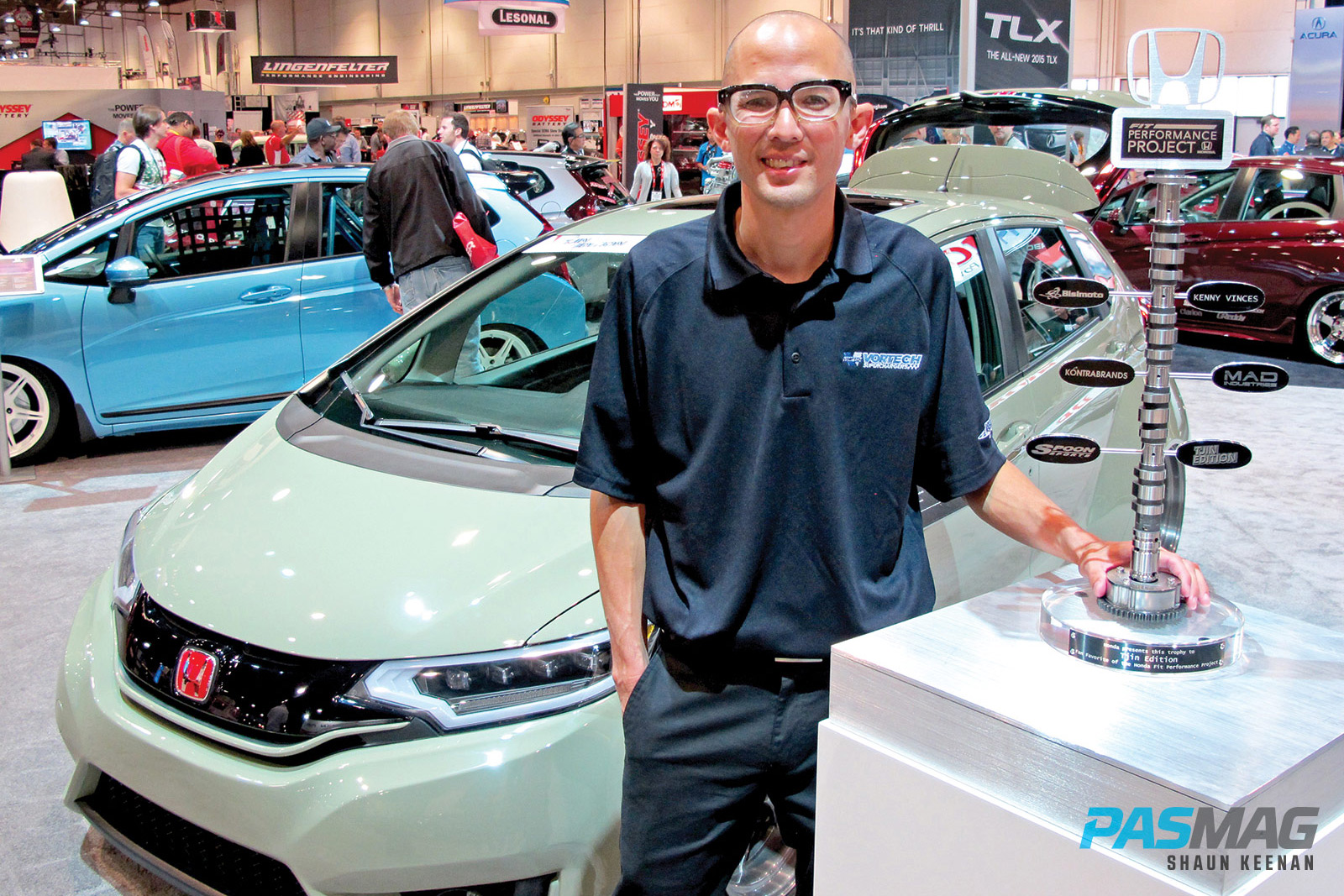 The biggest thing I tell people is: do it for yourself. This industry is opinion-based. Be up front because everyone knows everyone. It might not seem like it because it's such a big industry. Just stay honest. It takes time, it takes money and it takes some lucky breaks. Talk to people and do your homework, like I still do. It's been 18 years and I still do my homework. Go to SEMA, study, meet people, talk to people, be yourself and, at the end of the day, just build what you like. Who cares what others think? You're not going to please everybody.