Written by Dave Pankew Photos By: Race Engineering | 15 July 2010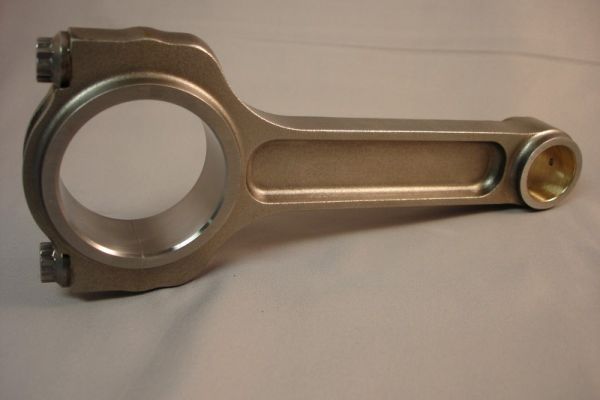 You've got all of the right bolt-ons, upgraded the turbo and thrown more boost at your engine than it was designed for.  The motor makes some good jam, but how long before detonation or stress catches up with your stock pistons and rods?  For survivability, many tuners beef up engine internals then lower the compression in turbo cars to allow more boost pressure.  More boost, bigger explosion, more power, everyone knows how that works.  Now, some are bucking that trend and exceeding 10:1 compression to develop even more punishing horsepower.
The effect of all that new muscle is more stress on the internals.  Connecting rods deal with the punishment of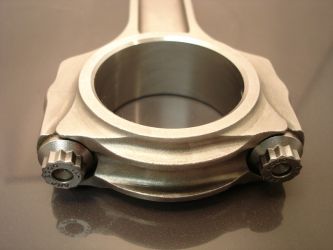 absorbing downward forces, then try and stay together when the piston reaches TDC when the crank pulls it all down, in effect trying to pull the rod apart.  Rod strength is more critical than most believe.
There are plenty of rods on the market and spending the money wisely is smart.  Cheap becomes very expensive when rods break.  Race Engineering realized there was a need for stronger billet connecting rods at a price point more racers could afford.  The mission was simple:  be as good if not better than the competition, yet be affordable.  With that goal, they hit the R&D facility and began making prototypes.
"We are introducing a new concept in connecting rods" says owner Bob Koch.   "Currently we have targeted the Mitsubishi engine and are releasing other apps later this year."
The current design is aimed directly at the venerable 4G63 motor. The second generation Turbo-4 has been used in a variety of cars including: Eagle Talon, Mitsubishi Eclipse and the Mitsubishi Evolutions 1-9.  Race Engineering rods are geared towards the higher horsepower 4G63 and EVO engines.
R.E. billet rods are CNC machined from 4340 Chrome moly for strength and durability.   Because all surfaces are 100% machined, this removes failure inducing stress risers.  This is a critical difference between forgings and billets and is responsible for much of the added cost.
Rod bolts and cap design are critical to rod strength.  In an unheard of engineering breakthrough, Race Engineering has integrated massive 7/16-inch capscrews into the Mitsubishi series.  Not only are the bolts larger than any other brand, they are the superior ARP 2000 series.  The sheer size alone affords superior durability without the need for exotic, costly alloys.   Note these 7/16" bolts torque to 85 ft. pounds… compare that with the normal 45 pound specs for 3/8" ARP 2000 bolts and you'll understand the difference.  Actually, this is rocket science.  Optional Custom Age ARP bolts are also available.  You can't get any tougher than this.
Caps are double ribbed and include 4 reinforcement ribs which add strength and prevent big end distortion (you want to keep the big end as round as possible while under load).  Rounded foot pads at the parting line mating surface (where the cap meets the fork) further increase strength and better distribute clamping loads…all in all, an improved design.
The stronger I-beam platform includes chamfered parting lines for ease of assembly and saves the engine builder additional handwork.  The rod includes premium Ampco 45 bronze alloy bushings and wrist pin oiling.  All this at around a $200 savings when compared to other brands of 4 cylinder billets.  A stronger rod and a lower price….mission accomplished!
Race Engineering is developing billets for other less popular applications.  Lower volumes do not warrant the huge expense of dies, which are necessary to manufacture less expensive forged rods.   This is a win/win for the enthusiast.  A high-end billet rod at a user friendly, lower price.  Combined with Race Engineering's piston lines and other engine internals, they have your next motor build covered.  As is the case with their new billet rods, when they see a need, they will make the hard-to-find easy to get.

Source:
Race Engineering
Mitsubishi Billet Connecting Rods
www.raceeng.com