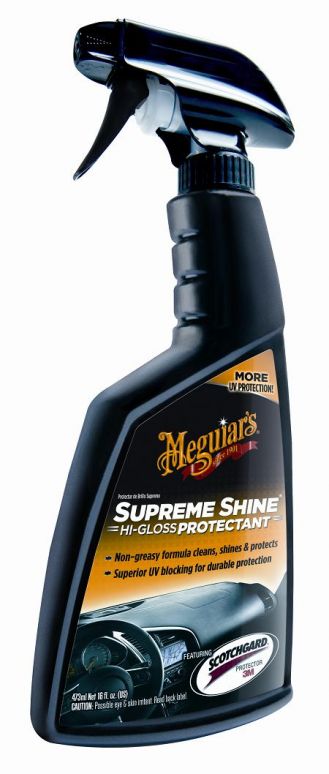 True car guys can all agree on the need to protect dash, trim and rubber surfaces from harmful UV rays and while some may like a natural sheen, many prefer an eye-popping, glistening shine. Meguiar's®, the world leader in surface care technology, introduced today its new and improved 2010 Supreme Shine™ Hi-Gloss Protectant.
Now formulated with Scotchgard™ Protector, it offers enthusiasts high shine protection to help keep vinyl, rubber and plastic surfaces looking like new. Perfect for those who can't get enough shine, this premium protectant creates a rich, lasting, high gloss shine that dries almost instantly without creating a greasy feel or appearance. The formula's enhanced UV blockers help defend against sun damage that can cause fading, cracking and discoloration.
Meguiar's Supreme Shine Hi-Gloss Protectant comes in an easy mist on and wipe off spray or premium, plush lint-free wipe.  Both provide outstanding protection from the elements, quickly transforming the appearance of dashboards, trim, door panels, plastic bumpers and tires.