Written by Dave Pankew | 21 May 2010
Each and every year, PAS Editors Dave Pankew and PASMAG STAFF round up a list of their favorite sites on the web. In 2010 we have a great mix of enthusiast forums, event coverage sites, social networking and streaming media sites. We aimed to have a solid cross section of different geographical locations and multiple platforms. Without further delay here are the top websites with some of the largest member bases and traffic around:
---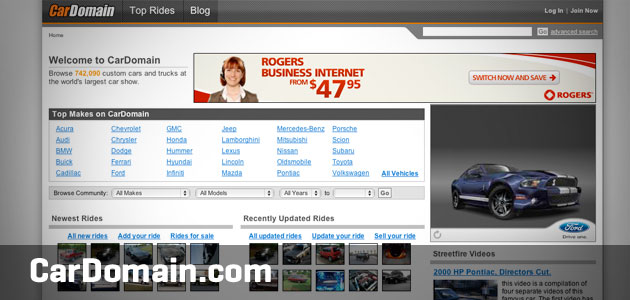 Established: 2000
Members: 1.3 million
Member Profile: For the person who likes cars and has a beginner to intermediate amount of knowledge. Not for those interested in tech discussions, for those who want to feast on pictures of many makes and models, make comments and interact with other users.
Quick Facts: The largest online-car community is like the MySpace for cars!
The Goods: Cardomain.com is the definitive source for social networking in the automotive culture. Each user creases a customized page and is able to upload photos, videos and specifications of their pride and joy parked in the driveway. Other users are able to view and comment on the vehicle and the owner is given an opportunity to respond. Think of it as an online car meet or car show where even some top cars are awarded prizes by way of an online voting system. However, CarDomain.com isn't just the "MySpace" of the car world… it is a full fledged media outlet e-zine as well! The Car Domain crew, led by Editor-in-Chief Robert Einaudi scours the globe for coverage of leading events and hot rides. Beyond the usual content by Car Domain staffers and freelancers, you'll find some cool industry blogs on the site by industry heavyweights like  Ben Schaffer of Bulletproof Automotive to name drop.
---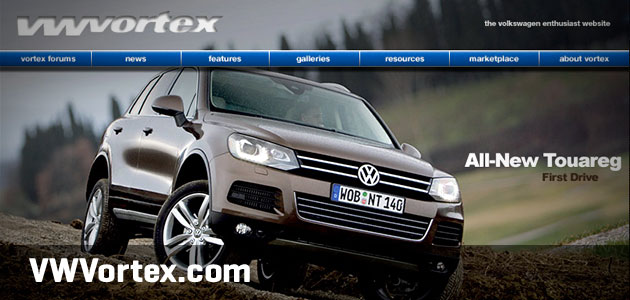 www.VWVortex.com
Established: 1997
Members: 600,000+
Member Profile: Members here are die hard German car fans, who are not super interested in other makes. Most users have sound knowledge of VW and Audi products as well as a good understanding of other makes and models making for some great discussions.
Quick Facts: The largest one-make specific enthusiast website covers everything under the VW umbrella.
The Goods: When it comes to one-make enthusiast websites, VWVortex.com is the hands-down winner. The site gets 120 million hits each month from 600,000 unique users! With the success of cars like the: New Beetle, Passatt, Jetta, Golf, GTI and R32 plus Audi's A4, S4 and TT, Volkswagen and Audi guys come here to get their fix. Since 1997 the VWVortex.com World Wide Website has been the definitive and progressive online source for the latest information on Volkswagen brands. VW Vortex bills themselves as being devoted to all enthusiasts of Volkswagen and their brands: Audi, Lamborghini, Bentley, Seat and Skoda. But for the most part it is all about the tuner friendly Golf and Jetta. There is a load of solid technical information here and users can learn a lot by using the search function. Additionally, they have a killer classified section that is so massive that its fierce competition drives prices down. Factory alloys can be had for as little as $20 each and trim panels can be as low as $5 bucks! If you love all things VW AG, then this is the place to be and they also feature a frequently updated splash page with news items and articles. When huge Vee-Dub events like Waterfest and H2O come around each year, the Vortex serves as central command with all kinds of convoys, planning and special promotions going on.
---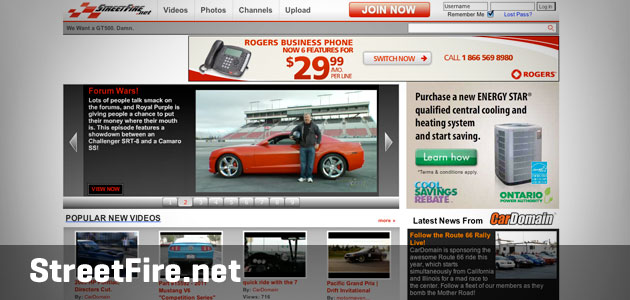 Established: 2002
Quick Facts: With the management of Car Domain and the staff of Super Street teaming up this automotive video site is the benchmark on the internet.
The Goods: Streetfire was long the place to be if you wanted to see everything from underground racing and stunting videos all the way to professional motorsports. Their video upload tools were popular even before YouTube. When the Car Domain group purchased the company, they promptly brought on the staff who used to run Super Street magazine and althought they are no longer there, the influence lives on. The dream combination has made Streetfire.net not just a place for amateur video but now for a unique flavor of video'zine not found that covers the market like nowhere else. It's where we get our fix and highly recommend it.
---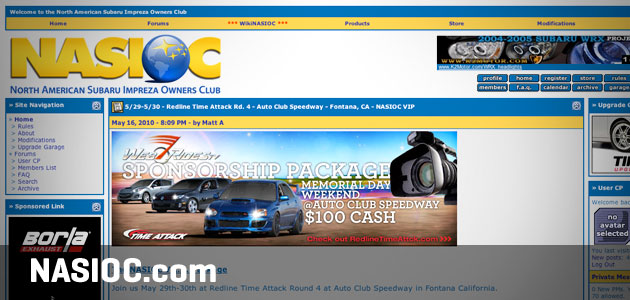 (North America Subaru Impreza Owners Club)
Established: 1999
Members: 238,466
Member Profile: Many members are fairly new to the Subaru platform because the WRX & STi came so late to the Import party. Practical owners that want to drive their Subaru all year round, go fast without all of the extra weight of appearance upgrades or audio.
Quick Facts: Although the WRX and STi are the most popular Subaru models, NASIOC is home to all shapes and sizes of Subaru performance.
The Goods: As one of the newer enthusiast sites on our list, NASIOC.com (North America Subaru Impreza Owners Club) was born from one single car, the Subaru Impreza 2.5RS and quickly shifted gears for the WRX soon after. Sure other owners were interested and had related websites, but when this site stormed on the scene it was mostly about WRX owners tackling the world. Today, Subaru has many exciting models that congregate at NASIOC.com such as the: WRX265, STi, Legacy GT and Forester GT. There are some serious enthusiasts here bent on making their Subarus faster than anything out on the road including their rivals, the Mitsubishi Evo. Once focused mainly on the forums themselves, NASIOC has branched out to include content such as photos and videos of events, new test drives and product reviews. It is the destination for Subaru owners' period and works closely with print publication SubieSport from time to time. When it comes to technical knowledge and informed debates, the members here offer great discussion. Naturally when it comes to classified and discounts from sponsors, it pays to be a member. Members also benefit from items like the Wikipedia-structured Wiki NASIOC area that features key information on every Subaru make, model and detailed history info. Another extremely innovative area of the site is the PRoN link that offers a video recap of things going on at the site – it is addictive!
---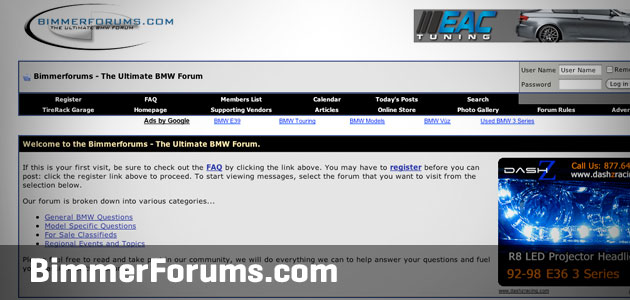 Established: 2000
Members: 215,783
Member Profile: Many upscale members who are both educated and affluent. Some members are modding older models on a budget but many of them are into the latest models with the latest technology without the cheap knock-off parts.
Quick Facts: For fans of the roundel, this is the place for some of the best information, classifieds and news.
The Goods: As the definitive source for all things BMW, BimmerForums.com has carved its way to a very high ranking position worldwide. With 215,783 members, the site has a cult-like following amongst fans of the German-made brand. The amount of information contained in various posts is staggering, with over a million threads on some categories like M-cars. Even platforms categories such as the 7-series, which is dead on other BMW forums is booming at BimmerForums with around a quarter million posts! Self-described as "The Ultimate BMW Forum," the community truly covers the entire gamut of owning the Ultimate Driving Machine. From technical discussions to tips on how to care for interior and exterior, there is a boatload of advice on nearly any subject. Then there is its classified section divided up into several sub-sections that total over 1-million posts. Whether you seek troubleshooting tips, BMW parts and accessories or even an entire vehicle, this is the place to be.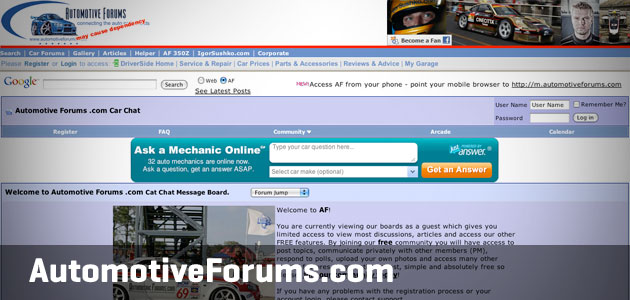 Established: 2000
Members: 550,000
Member Profile: Not for in-depth technical knowledge or discussion so members are your average driver.. Members are usually there just to socialize and talk general car stuff or ask about a problem with their car.
Quick Facts: The largest auto-related forum on the web with a home for every enthusiast.
The Goods: Conceived in 2000 by a then 15-year old internet entrepreneur, Automotiveforums.com is home to almost every car forum possible. Owned by Igor Sushko of the Ukraine, this US-educated self-made millionaire now races professionally in the Super Taikyu series of Japan. Sushko also turned the US touring car world on its ear when in 2006 he campaigned not one, but two Nissan Skyline R34 N1 endurance cars in the Speed Word Challenge. Known for including a forum for every possible make and model including the Ford Pinto, there are some great technical conversations and track relation forums on the site as well. There are even forums for scale models and for racing slot cars and RC cars. In 2005, AutomotiveForums.com went on a departure for the world of forums to include Automotive Articles an area of the site that delivers content to its readers with email updates. There are new product reviews, events, car features and of course the 'Racing and Beyond' section where Sushko chronicles his racing lifestyle. It is an interested read for sure, seeing how this 22-year old success story struggled through the ranks to get a seat in one of the most prestigious series around.
---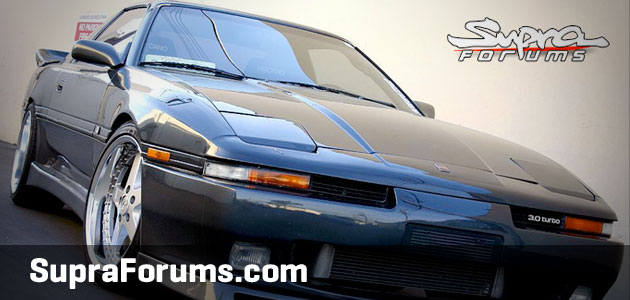 Established: 2000
Members: 45,111
Member Profile: These owners are no BS type of enthusiast. They crave horsepower and will not compromise with knock-off parts. They also don't tolerate new members running their mouth or not using the search function.
Quick Fact: Home to some of the fastest Supras and 2JZ-powered rides on the planet!
The Goods: Over the first three generations of Supra, the Toyota-built sports car garnered serious attention, but was really lacking respect on the street. When the MKIV debuted in 1993, the tuning world went wild realizing the 2JZ-engine was seriously sand-bagged. As the horsepower of Supras in the US steadily increased, so did the popularity of SupraForums.com a vault of information of all things Supra and its legendary inline-6 motor, the 2JZ. During our visit to the site, there were 431 members browsing which is a solid mid-day number. The regions have been sub-divided for news and events as well so you can connect with Supra owners in your own backyard. There are 10 geographic divisions between the US and Canada as well as members from Australia and Europe. The technical information is impressive and the discussions are all divided between MKII, MKIII and MKIV. In addition to the cars many members are on here with 2JZ powered vehicles, which ranges from AE86s to Mustangs!
---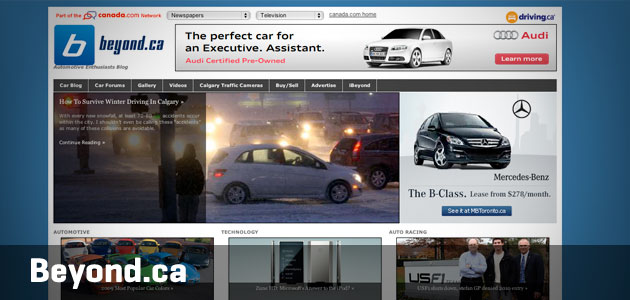 Established: 1999
Members: 125,200
Member Profile: The members are your average car people. They like cars but are far from experts and are attracted to Beyond because everyone there is laid back until the drama starts.
Quick Fact: Canada's largest automotive enthusiast website
The Goods: What started out as a small Canadian enthusiast-driven site is now a powerhouse of over 100,000 members. These members are well connected to the scene, but are more car fans than hardcore gear heads. However, there is a wealth of great discussion on these sites. Additionally, they offer some great content on their splash page. Despite being Canada's largest automotive-related community, the big claim to fame came in 2007 when the site helped apprehended a hit and run driver. As the perp fled the scene of a major accident, photos were taken and posted within minutes on Beyond.ca and internet justice was done. The accused was arrested and charged all because members cared enough to not let him get away with it. Owned!
---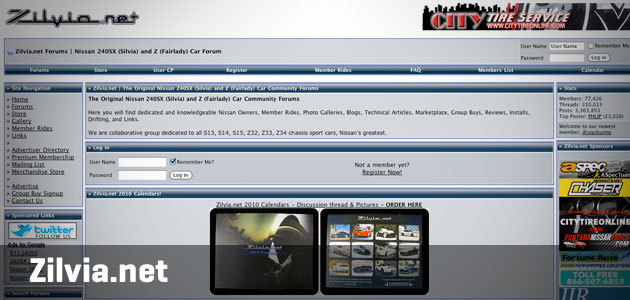 www.Zilvia.net
Established: 2000
Members: 62,761
Member Profile: Hardcore guys who "keep it real" by emulating dori-style or spo-com or Bosozuku. They aren't interested in other makes and some times even hate on their own like the 300ZX and Skyline. Younger crowd, tech savvy who are all about their 240.
Quick Fact: The leading authority on Nissan S-chassis cars with a few Z-cars onboard.
The Goods: Since drifting hit the North American tuner scene hard, the popularity of Nissan S-Chassis cars has gone ballistic. The price of used S13s has tripled and even the rustiest heap will sell for $2,000 making the need for parts and knowledge very critical. Many owners have turned to Zilvia.net, more accurately 62, 761 of them in fact. They all gather online to meet the needs of their trusty, yet aging Nissans. Even though the site includes Z-car content and owners, the main focus is on Nissan 240s from 1989-1998 both S13 and S14. There are also a few S12s lurking around and the odd rare S15 owner slipping in under the radar. With a great list of 16 site sponsors, there are all kinds of parts hook-ups and discounts. Plus in the classified section, there is a huge selection of rare OEM, JDM and aftermarket goodies.
---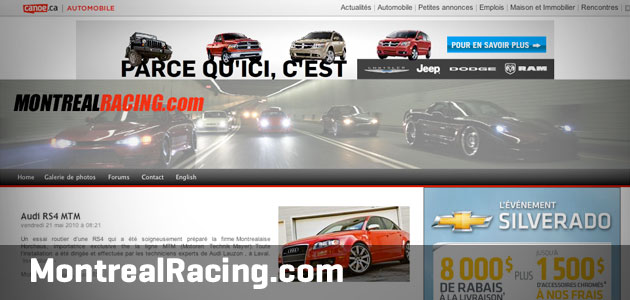 Established: 2001
Members: 54,968
Member Profile. Definitely some hardcore car guys on here, several of whom are pro drifters in Drift Mania. Mostly French-Canadian members, they do speak English and will share great technical knowledge.
Quick Facts: Some of the most hardcore tuners in Canada with Drift Mania stars online.
The Goods: At one time Canada's party capitol of Montreal had more professional motorsports events than any other city. They played host to F1, NASCAR, IRL, Speed World Challenge, 360 Challenge, Drift Mania, Redline Time Attack, professional ice racing and more. No other city can boast that kind of record and it's all because the enthusiasts in Montreal and the Canadian province of Quebec are the more passionate in the world. MontrealRacing.com is reflective of that with over 100,000 members, making it the place to be for those seeking to spread their automotive passion. For event info, technical discussion or a massive classified section it is truly a one stop shop. Although MontrealRacing.com is based in French-speaking Quebec, the majority of the posts are in English, albeit some broken English on occasions. But the entire vibe there is fun and professional, plus you can learn a lot from just hanging around. Considering many professional racers hang out there too, including many professional Drift Mania drivers providing a wealth of information and technical know-how at every turn.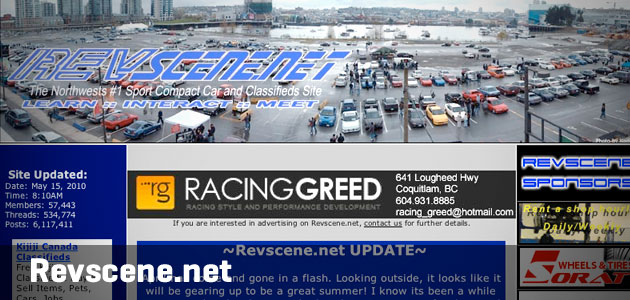 Established: 2000
Members: 54,871
Member Profile: These members are serious about their Import cars and rep the West Coast of Canada to the core. They are mostly part of the large Asian community there that have a love of cars that is ingrained in the culture itself.
Quick Facts: High-end car owners discuss the lifestyle of everything fast on four wheels.
The Goods: In the Pacific Northwest and Vancouver area there are some serious cars running the streets. Oddly enough, they never are seen by the general public since many other magazines rarely go there! Every time we find ourselves in the Pacific Northwest we find all kinds of crazy cars from drift to VIP rides and Revscene.com is a great place to find them all. The Classified section is composed of 15 individual sections with all kinds of cars and parts, but also offers off topic info on items like Real Estate and Fashion! With more of a lean towards car culture and lifestyle than hardcore tech and gear heads, this forum is all about everything on four wheels. The forum even has sections to discuss clubbing, music and technical discussions on computers, cell phones and various gadgets that many of us tuners are known to play with. With 54,747 members, there is no shortage of personalities to interact with. The sites motto is "learn interact, meet," and members maintain it's a great place to hang out, meet new friends and organize upcoming meets and events.
---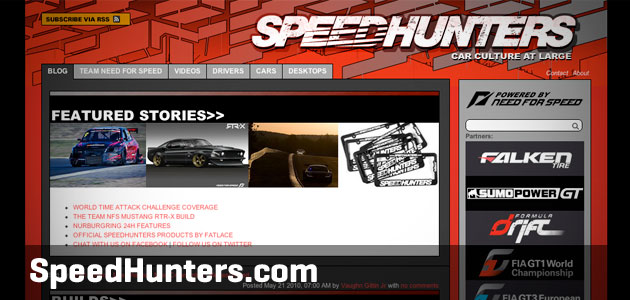 Established: 2006
Quick Facts: A great source for Sport Compact tuning news from around the world with stunning photography and video.
The Goods: Many media outlets can't afford to travel around the World these days but EA Games can. Yes that's right the gaming giant that created the successful Need for Speed franchise is also the parent company of SpeedHunters.com. Their resources mean that they can hire some of the best photographers and writers in the industry. Speedhunters.com is like a live version of all of the insane cars and cities you might see in a Need for Speed game. With race events, meets and shows from here and overseas you will get your fix of the events happening at home and be amazed at what is going on around the world.
---
-2FAST2PHOTOGRAPH-
Established: 2003
Members: 18,377
Member Profile: GTRC'ers are serious about their right hand drive Skylines. They have had to jump though flaming hoops to keep these cars insured, legal and safe on Canadian roads and maintain a high standard of integrity.
Quick Facts: For all things Skyline R32, R33, R34 and a bit of R35. A wealth of technical information with great tips on importation, legalese and insurance for these cars
The Goods: In 2004, the Nissan Skyline R32 GT-R was eligible for import into Canada under the 15 year rule. These classics are in amazing shape with no rust, very low mileage and perfect maintenance due to tight Japanese safety and emissions laws. GTRC started out as a tiny group and had meets back in the day with under 10 cars! Today, there are thousands of Skylines, Silvias, Fairladys, Cefiros, Stageas and more exciting JDM vehicles in Canada and GTRC is their discussion hub. As the unofficial home to many JDM imports and RB-swapped vehicles, the member database includes the majority of owners here and attracts members from other countries with its well-moderated no nonsense forum. There are also many great vendors on there of new and used JDM, which are very hard to find in some cases.
---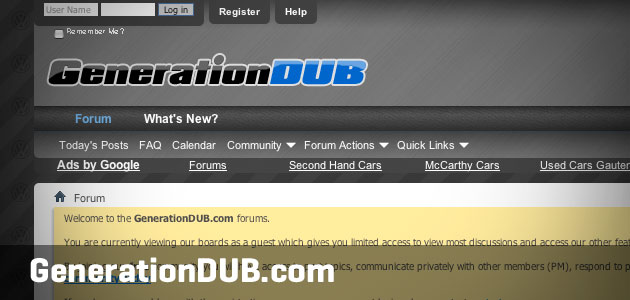 Established: 2003
Members: 5,781
Quick Facts: The Canadian perspective for all VW and Audi models with a great social feel.
The Goods: The US has VW Vortex and Canada has GenerationDUB.com, a collection of serious VW AG Enthusiasts. There are the usual discussion forums and busy classified sections to keep these rides on the road, many of which are over 20 years old! There are many great swaps and 1980s and 90s classics on here all the way on up to single digit drag cars calling this place home. GenerationDUB is also very organized when it comes to meets and events, not to mention many of their members make the trek down to Waterfest along with the PAS Waterfest Kruise. They have been valued partners of PASMAG for years and will continue to be so.
---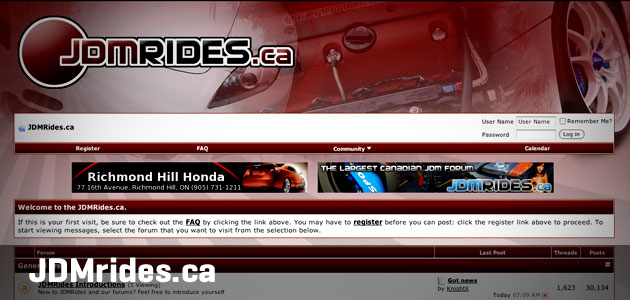 Established: 2004
Members: 11,678
Member Profile: JDMrides guys are not big on other makes and do not associate with rival Honda forums. Many of the OGs cars are very fast swapped and turbo'ed Hondas that are not to be messed with.
Quick Facts: Honda and more Honda. Some of the most hardcore Honda heads on the scene reside in the Toronto area and many of them frequent these boards.
The Goods: In a short time, JDM Rides was able to capture the attention of the Honda crowd based in southern Ontario. The scene for Honda / Acura in this area is huge and these cars never became passé. JDMrides is host to great technical discussions and ridiculous amounts of classified goods. The parent company Teknotik is a well respected Honda tuner and parts supplier that goes out and proves it at the track. On any given track day you will see their shop cars and customers cars out in force and they are not to be underestimated.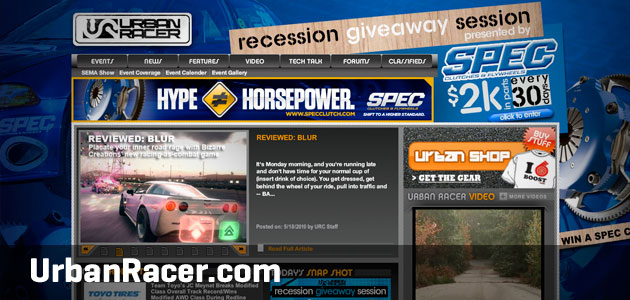 Established: 1999
Quick Facts: At one time was the standard in Sport Compact event coverage still has solid content and even exclusives
The Goods: Back in the peak of the Sport Compact frenzy, Urban Racer was at every single event. Today, they have a network of freelancers and have focused on other areas of the business. Urban Racer has some great connection which allows them to pick up world exclusives and cutting-edge news releases. Although they were heavily involved in drag racing at one point, they have rebounded nicely to cover other areas of the Sport Compact world after it literally fell off the radar of many tuners.
---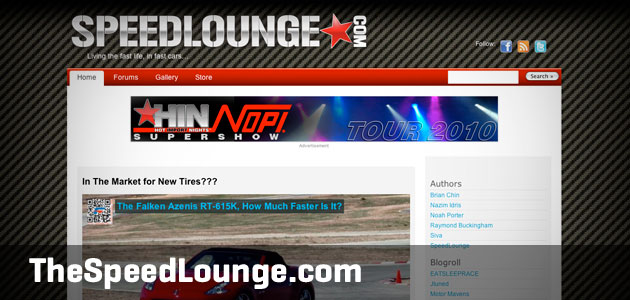 Established: 2005
Quick Facts: Run by hardcore OG drag racers the Speed Lounge is almost like a family business who report on the latest happenings in the Sport Compact world
The Goods: With a good amount of content covering events, news and features, the Speed Lounge is one of those places for readers to keep it real. The staff delivering the content are serious enthusiast who have been around for a long time and will stay Sport Compact fans. Their following on the east coast is solid and they can show their support by scooping up some of their EAT, SLEEP, RACE gear. Site owners have also built some very influential cars over the years featured in magazines the world over.
---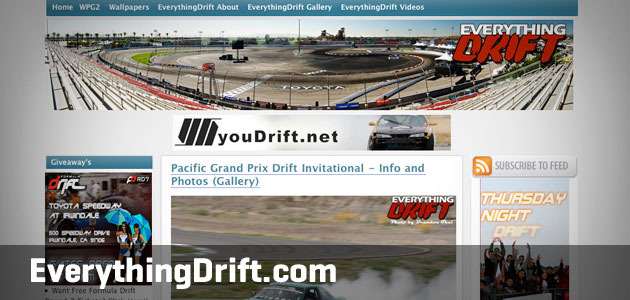 Established: 2005
Members: N/A
Quick Facts: From the Amateurs to the pros, Everything Drift has got your fix.
The Goods: With a solid following, our very own freelancer Jacob Leveton has committed his time to the fans of EverythingDrift.com. He travels the country following drifting from a serious enthusiast perspective. Everything is captured with stunning photos and great video of all kinds of events from the drift days, to the Pro Ams to Formula D, D1, XDC and the Drift Mania series in Canada.
---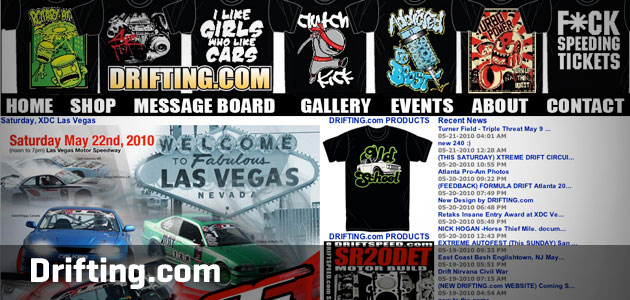 Established: 2001
Quick Facts: Lots of coverage of drifting events with a great drifting forum frequented by the pros and the most hardcore guys out there
The Goods: If you want to learn more about drifting or want to get into, Drifting.com is the perfect place to start. The forum users on here are serious and newbs can learn a lot just by reading. The coverage comes in the forum of some killer photos from a network of photographers. The Drifting.com store is one of the better merchandizing efforts with sick t-shirt designs, DVDs and all instructional videos.
---
Established: 2003
Members: 15,888
Member Profile: Very loyal to the Mazda brand and can meet all their needs with their products. Owners may have MazdaSpeed3 for literally everything but also may have Mazda5 for the wife and kids or perhaps a Mazda6 for business.
Quick Facts: Canada's best selling car has attracted a large group of diverse enthusiasts.
The Goods: You may have a general question or concern about your Mazda3 and it will easily be answered by the knowledgeable members here.  However, if you question is more in depth such as tuning or a turbo install, the forums at TorontoMazda3.com have you covered. There are all kinds of topics there from sticky door locks to the serious stuff that happens on the dyno. Owners of the site are enthusiasts and owners of these cars, so they are passionate about keeping the forums entertaining and informative. Regular meets keep the community together and keep these popular cars reliable and fast.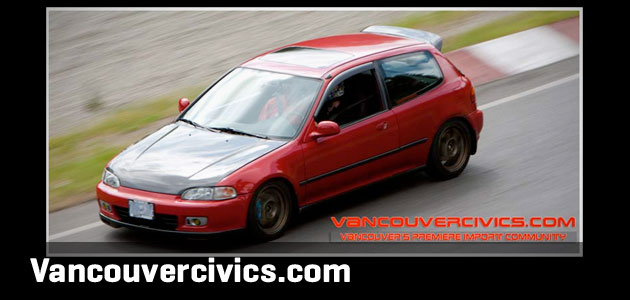 Established: 2002
Members: 18,790
Member Profile: Much like their Toronto counterparts, these guys are not casual about their Hondas. They are serious and they are H-badge for life proving it on the track
Quick Facts: The bubble back lives in numbers here and this is a gathering of the hardest core Civic owners on the west coast.
The Goods: VancouverCivics.com has grown into a sizable community with a busy forum boast almost 20,000 members. AT the size of a small city, you will find all kinds of interesting personalities here. Whether it is the: jaded OG guy, the piss and vinegar noob or the knowledgeable and easy to deal with vendor, they are all here. Although many Civics may have some mild mods out there, make no mistake; there are some serious cars on here. From full drag setup turbo Civics to outrageously styled JDM creations, the owners showcase a car every month in a great feature car layout. With loads of knowledge and a great classified section, if you own a Honda or Acura from the Vancouver coast all the way to the interior, this is a great community to side with.
---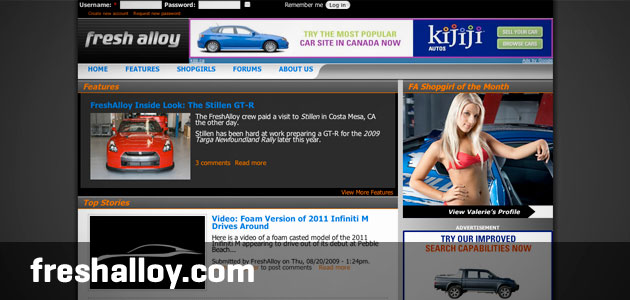 Established: 1999
Members: 38,628
Member Profile: Mostly mature owners with Nissans and Inifnitis that are interested in other makes and models as well.
Quick Facts: Once renowned as the largest Nissan and Infiniti resource, Fresh Alloy has really opened up to other automakers and added loads of news and video.
The Goods: Back in the early 2000's Fresh Alloy was the place to be for Nissan and Infiniti tuning and news. The operation was structured like a company with a Business Manager, Salesmen and an Editor In-Chief. It appeared as if they would be the standard for Nissan news considering their close ties with the company. Well, over the years a lot of competition has arrived with the popularity of the 240 and the Z but they have still held their ground as a major player.  They have expanded their scope to included more videos and even have some skin in there with the 'Shop Girl of the Month' feature. We have to hand it to them for sticking around and staying current for 11 years.
---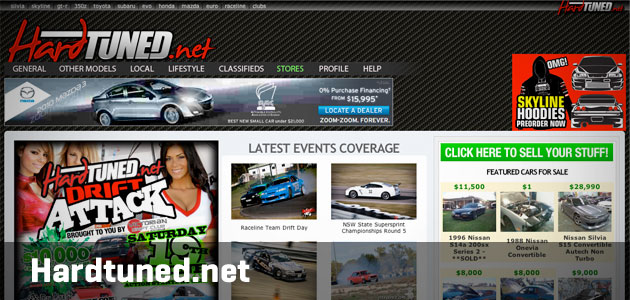 Established: 2000
Members: 55,809
Member Profile: Serious Japanese car gearheads in a hub of tuning madness, Australia
Quick Facts: If you want to go fast on the track or down the strip, this is definitely the place to learn from the pros.
The Goods: Let's face it, the Sport Compact craze is pretty new here. Sure people were tinkering with Import cars in the 1980s and 1990s but it didn't start blowing up until hits like Gran Turismo for Playstation and Fast'n'Furious made it huge. However, in Australia, they had been tweaking cars like the Skyline, WRX and Evo before we ever saw them here. So sites like hardtuned.net has been a valuable resource for many enthusiasts in North America when these cars finally arrived. In Canada, the ties with Australia are even closer sine it is an English speaking country that have been tuning many of the cars that are flooding the Canadian scene under the 15 year import rule. There is a lot to learn here at this site but remember to check your ego at the door, these are seasoned tuners who know their stuff and will not tolerate trolling.
---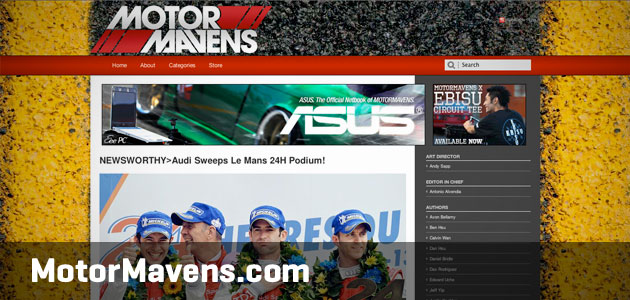 www.MotorMavens.com
Established: 2008
Quick Facts: Some of the best free content you can find from all over the globe. Hip and current approach.
The Goods: With some of the best photographers from around the world, theses guys have worked for all of the major media outlets and are now doing it for themselves. There are a number of OGs that helped create the scene we all enjoy contributing to this site from all over the world. They have shooters in North America, Europe, Scandinavia and all over Asia and cover all kinds of popular Motorsports, shows and meets for our generation. With stunning photography and accurate event coverage, the Motor Mavens guys do the blog-style news deliver better than anyone else. Having all of this cutting-edge content for free on the web is incredible and they maintain delivering their product for free.
---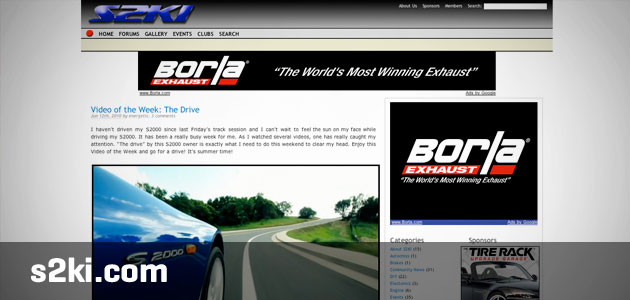 www.s2ki.com
Established: 2000
Members: 91,461
Member Profile: Dedicated to the H-badge but a decidedly different crowd than Civic, Integra or Accord fans. A more mature and often educated crowd, many of who are very tech savvy .
Quick Facts: If you own an S2K, this is the place to be, huge membership, huge classifieds and it's not owned by one of the big corporations, yet.
The Goods: With the S2000 dipping below a $10,000 retail value, this has become the new Miata. The only difference is, the Honda S2000 needs nothing to tear up a road course and hang with the big dogs. With 240hp on tap, lightweight parts and an advanced suspension with external reservoirs the car is great out of the box but the users over at S2Ki have done some outrageous modifications to their AP1s and AP2s. There are users here with superchargers, turbos, carbon widebodies, hardtop and full out race and time attack builds. Sure there are some casual areas but there is also serious technical discussions and debates ongoing inside these forums. If you own one of these cars, all the info you ever needed is at your fingertips and for picking up parts and accessories, it beats any other S2K site.
2FAST2PHOTOGRAPH
www.maxbimmer.com
Established: 2001
Members: 17,561
Member Profile: BMW fans to the core with knowledge of all BMW platforms with a heavy emphasis E30, E36 and E46
Quick Facts: A well travelled forums with BMW nuts galore. A sight that respects other platforms and will give credit where credit is due to other makes and models
The Goods: What started as a small group of BMW enthusiast has grown into a substantial community of all kinds of personalities. The regular meets and cruises are well attended and speaking from first-hand experience a lot of fun. Some groups of members are pretty hardcore pulling random stunts like driving 18 hours to the Tail of the Dragon in North Carolina, tearing it up for a day and then driving home. The main page features all BMW-centric news happening around the world and the latest releases and spy shots on upcoming models. The classifieds are fast paced and some great car deals pop up there on rare and tastefully modded models. If you can't find it there, then the vendors have new and used parts galore.
---
2FAST2PHOTOGRAPH

Son240SX.org
Established: 2002
Members: 13,502
Member Profile: Younger crowd with mostly inexpensive rides and a handful of mods that think the 240SX is the best platform to start with.
Quick Facts: SON has undergone some recent changes over the past few years, more recently merging with other forums to bring the Nissan community together.
The Goods: The fate of the 240SX is alive and well in Southern Ontario. Cars that are literally on their last legs after years of winter driving have been brought back to life and given an upgraded status. There are many entry level guys here doing it on a budget but there are also season veterans doing it right, with all genuine parts. When a track day pops up many of these warrior S-chassis car come out in numbers. The inexpensive chassis and widely-available SR20 motors mean that these are cheap cars to drift and race. The experience here is more geared to the younger crowd spouting internet vernacular, face palms a loads of net acronyms. When it comes to event organization, classifieds and technical know-how there are some great resources here.
---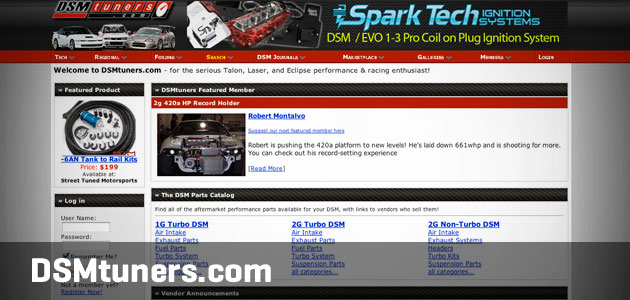 www.dsmtuners.com
Established: 2001
Members: 116,275
Member Profile: An aging crowd who quite often have a DSM versus the world mentality, especially Honda.
Quick Facts: A meeting of the minds to keep these aging sport compacts on the road buyt any means necessary.
The Goods: Once renowned as a very dangerous street cars, the DSM (Mitsubishi Eclipse and Eagle Talon) were fast right out of the box. With around 200hp and All Wheel Drive, these low-slung coupes ruled the streets for many years needing only handful of upgrades to launch them several car lengths pas cars with double the horsepower. Affordable and easy to work on, if you were into Sport Compacts in the 1990's you feared these cars and if you didn't you probably owned one. Since the car ceased production in 1998, the years have seen the numbers of these cars dwindle as they succumb to rust, accidents and catastrophic failures. But at DSMTuners.com the legends live on because of the passion they share and the ability to help each other out with problems and tuning to keep these cars on the road.
---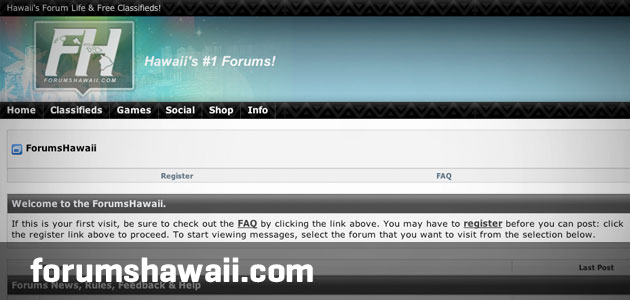 www.forumshawaii.com
Established: 2002
Members: 33,715
Member Profile: A hardcore group of Hawaii islanders who, when they aren't surfing are car crazy.
Quick Facts: A tight knit community in a small group of islands crazy about cars, events and socializing
The Goods: Tuning in Hawaii is interesting due to its geography. Its halfway between California and the Japan and as such has many car enthusiasts either visiting or residing there. The interesting influence has spilled over to create a huge car scene. Since, it is on an island, HawaiiForums has kind of captured the whole of the island scene there without outside influence. But make no mistake, there are some serious cars here that make power and others wither super rare JDM parts on them. The classified section is a solid place to pick up the deals and the socializing area is well travelled for everything from relat5ionship advice to hard-core clubbing.
---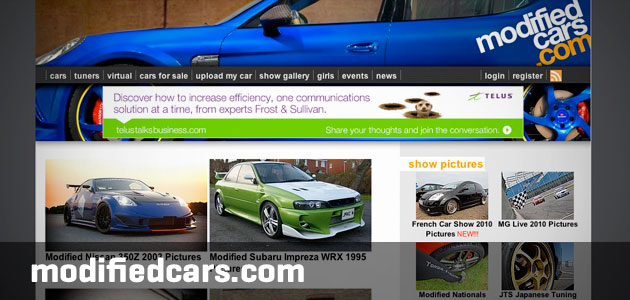 Established: 1999
Members: 33,715
Member Profile: A hardcore group of Hawaii islanders who, when they aren't surfing are car crazy.
Quick Facts: A Euro-centric look at some of our favourite cars both overseas and in North America
The Goods: Designed around the popular blog-style, modifiedcars.com has all the latest news from the tuning world and a great link between enthusiasts. With press releases of the latest creations from the world's tuning shops all the way to enthusiasts rides, this is the place. Modifiedcars.com also has a serious classified section with show cars available for sale. If you are interested in the latest world tuning news from Konigsegg to Kia, this is the place.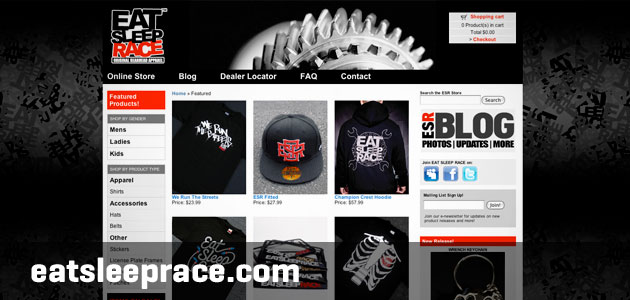 www.eatsleeprace.com
Established: 2003
Quick Facts: This site is run and visited by most hardcore group of OG Sport Compact tuners on the East Coast.
The Goods: With some of the most hardcore tuners on the scene, EATSLEEPRACE.com is just what the name implies. These guys will stop at nothing to make their cars go fast and have jumped though flaming hoops to stay street legal. Whether it is on the street or on the track, the guys are mostly from the tri-state area but have promoted their brand and their scene with some great merchandise. As self-described, shoe addicts their style has carried over to their unique line of t-shirts and merchandise to represent, the scene. The site also is a portal fro news form the tuning world, event coverage and some great blogging from the guys that actually go out there and do it, rather than just talk about it behind a keyboard.
---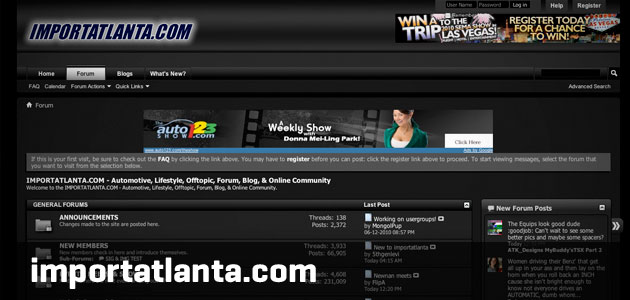 Established: 2001
Members: 46,111
Member Profile: All contributors in part of the huge ATL subculture perpetuated by unique music, cars and fashion
Quick Facts: If it happens in the ATL and it is fast, it is definitely a part of this websites.
The Goods: When you think of the fastest cars in the country, you might think of the biggest cities New York, LA, Miami and Chicago but in the ATL the block is hot and some seriosuly fast import call this city home in the dirty south. With loads of brands calling this place home, Import Atlanta has become the unofficial home for many makes and models making it a unique community that is no just one make. With several clubs and vendors claling this place home, it is certainly full of traffic and there is plenty to see and do while you are here. Since it is not specifically into one make and the technology behind it, the tech discussions are more scarce but its a chill place to hang and discuss what everyone there is all about...cars.