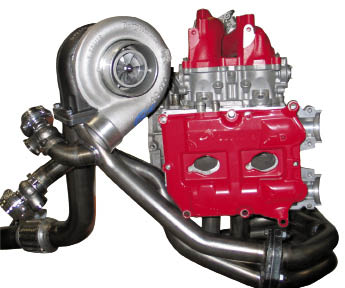 Full-Race Gen2 Twinscroll Turbo Kit
Full-Race took their legendary Twinscroll Subaru turbokit and updated it for 2009. The Gen2 Twinscroll kit combines early turbo spool with Full-Race's impeccable welding/fabrication for an exceptionally broad powerband with huge area-under-the-curve. Whether you are road racing, drag racing or building a street weapon daily driver, the Gen2 kits are custom specced to suit any application. Available with twin Tial MVS wastegates and your choice of a twinscroll BorgWarner Airwerks turbocharger or a twinscroll Garrett GT ball bearing turbocharger. Headers include Full-Race's lifetime warranty against cracking. Fits 08+ STi, 05+ LGT and 04-07 WRX/STIs.
---
AMS Front Mount Intercooler
The AMS Mitsubishi Lancer Evolution X Front Mount Intercooler is a direct bolt on utilizing your stock piping and mounting points with purpose built cast end tanks for the Evolution 10. This intercooler has over 80% more internal flow area than its stock counterpart. The AMS stock Evolution 10 gained 10whp over the stock core just by bolting it on, without even re-tuning the ECU! AMS has tested many intercooler cores before finding the best performing core available. The bar and plate style core is 12.4 tall, 20 wide and 3.625 inches thick flowing 1,250 cfm. The same durable, race proven intercooler core is used on the record setting AMS Time Attack EVO, proven efficient to 650 whp.
---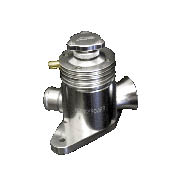 Agency Power Adjustable Blow Off Valve
Agency Power has developed this fully adjustable and configurable blow off valve for the 2008 Subaru WRX. The BOV body, flange, and adapters are CNC machined 6061 aluminum. Each component is anodized in your choice of blue, red or silver. Internally, the valve uses a piston and spring design to hold the boost pressure. The steel coil spring has been tested to hold up to 40psi of pressure. The piston is made out of a durable brass which includes a Delrin washer to provide efficient movement inside the valve body. The valves top adjustment knob features a laser engraved AP logo, which can be turned to stiffen or loosen the spring. A locking collar is included which is made in stainless steel.
---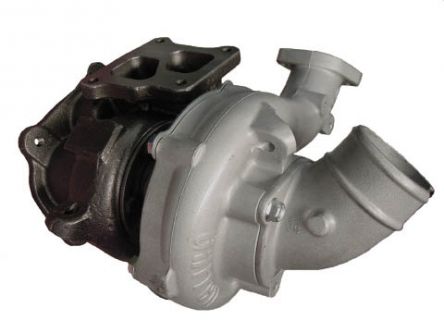 Garrett Turbo Upgrade
Ready to take your Evo X to the next level? The Garrett Evo X TurboUpgrade allows you to push your AWD, rally-bred monster up to an estimated 475 HP with the Garrett GT3071R or a tire smoking estimated 525 HP with the Garrett GT3076R. Each turbo has been meticulously designed to be a bolt-on upgrade with no fabrication, cutting or welding required. The Garrett Evo X Turbo Upgrade features a specially designed twin-scroll turbine housing that mates up directly to the Evo X's stock exhaust manifold as well as the stock exhaust down pipe to allow for aftermarket exhausts to be used without worrying about fitment.
Read on for More Products
---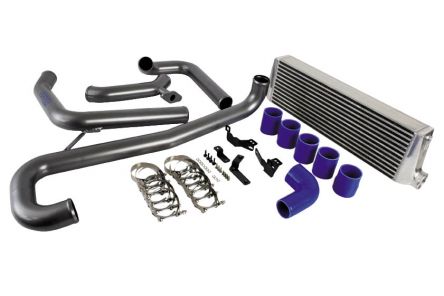 COBB Front Mount Kit
COBB Tuning is proud to announce the release of the all new Front Mount Intercooler (FMIC) system for the 2007-08 MazdaSpeed 3. The factory top mounted intercooler can easily be over worked and over heated due to its smaller size. In return, the intake air temperatures rise causing a loss in power. Replacing the factory intercooler with the COBB Tuning Front Mount Intercooler will ensure your engine is receiving the coolest possible air, allowing you to enjoy more power that is also much more consistent. Also by moving the intercooler to the front bumper airflow is improved, reducing heat soak.
---
GReddy Twin Turbo TD06SH-20G for Nissan 370Z
Expanding on the GReddy line of Tuner Turbo Kits. The stage 2 turbo kits feature main ingredients for big horsepower: larger turbochargers, intercoolers and racing downpipes. But they also keep cost down by leaving fuel upgrades up to the individual tuner, so depending on how extreme they want to go, the tuner has more options for tuning (Optional pre-programmed Ultimate kits will also be available for "home tuners".) These Tuner Kits retain GReddy's exceptional fitment, construction and quality, while supplying trick pieces like external wastegate dump-pipes and etc. for the 370Z twin TD06-20G kit.
---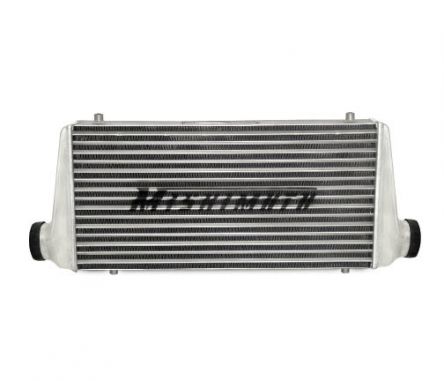 Mishimoto M Line Universal Inetercoolers
The Mishimoto M Line universal front mount intercoolers are constructed of 6061 aluminum and tig welded to perfection. Sleek and stylish, the high performance M Line universal intercooler will give the perfect cooling capacity needed for smaller turbo applications. The Mishimoto M Line intercooler comes in aluminum (MMINT-UM) and aluminum coated all black for the stylish sleeper look (MMINT-UMB). Our staff of avid racing enthusiasts understands exactly what drivers are looking for in parts.
---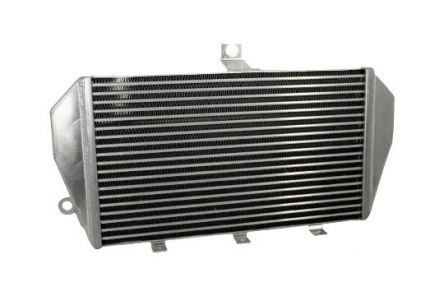 Griffin Custom Made Intercoolers
Griffin Thermal Products now offers several different types of intercoolers for many different applications. Currently, Griffin is custom building intercooler setups for the import market including; Front Mount Drift, V Mount Time Attack, WRX Top Mount, and OEM replacements. Griffin's process utilizes the most advanced materials to provide the most possible cooling. Micro Extruded tube is used because of its thermal efficiency and superior strength. The intercoolers are completely made in-house at Griffin in South Carolina. This process allows them to be super efficient and custom built to fit any make and model.
Read on for More Products
---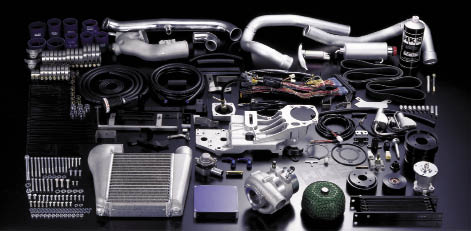 HKS GT Supercharger
HKS raises the performance bar by giving you a choice of premium-quality turbo or supercharger forced-induction systems. For supercharger aficionados, the introduction of the HKS GT Supercharger line provides OEM-level engineering quality, combined with best-in-class reliability, efficiency and quiet operation. Performance delivery is linear from any speed as a result of the GT Supercharger's Torque Response Traction Drive system. The HKS GT Supercharger has undergone extensive testing, including thousands of miles of endurance tests in Japan and the U.S., to validate durability and efficiency. This has earned the GT Supercharger Kits for the Nissan 350Z, Infiniti G35 Coupe and FX35 an Executive Order with the California Air Resources Board (CARB) for 50-state legality.
---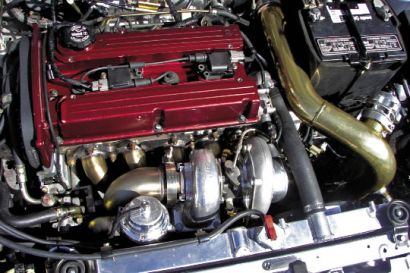 PeakBoost Turbo Kit - High Volume Solution
The only top mount EVO8/9 turbo system setup not only places the turbo up top for easy turbo changes and maintenance, it also utilizes longer runners to maintain top end torque and reduce manifold backpressure, making it the High Volume Solution for your power needs up to 850whp.Whether your building your EVO for the street, time attack, or drag, 400whp to 1000whp, PeakBoost can custom tailor your turbo system to fit all your performance and style needs.
---
OBX Bolt-on Turbo Kits
OBX Racing Sports is pleased to annouce a full line of direct bolt on turbo kits for popular import and domestic applications. Each turbo kit features a specific turbo for optimal power increase without sacrificing engine reliability. In addition, all major components included each kit are backed by OBX's lifetime warranty guarantee against manufacturing defects.
---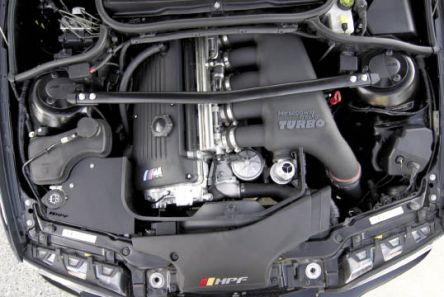 Horsepower Freaks E46 M3 Turbo Kit
The Horse Power Freaks E46 M3 kits are designed to be 100% reliable, 100% daily drivable and 100% brutally fast. The kits are available in 3 stages: Stage 1 (732hp), Stage 2 (769hp) and Stage 3 (1,000hp). The turbo systems are daily drivable and have improved fuel economy when driven within the legal limits. These kits were designed for customers around the world to use in their daily driver yet still be able to perform beyond the limits of most supercars on the track.
Read on for More Products
---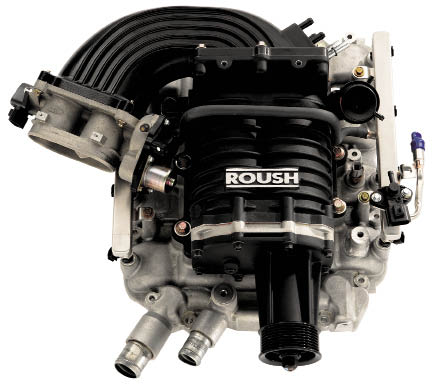 Roush Performance ROUSHcharger
Roush Performance, America's leading powertrain engineering group, has added an additional 30 horsepower to their legendary ROUSHcharger system for the Ford Mustang GT; this increases the output of this supercharger system to a total of 445 horsepower under the hood.
---
Precision Turbo turbocharger
Looking for the ultimate in performance and reliability? Search no further than Precision Turbo's new lineup of turbochargers featuring PTE's billet compressor wheels. With newly designed aerodynamics, these wheels will provide even higher efficiency, faster transient response, awesome power, higher boost pressures (with less heat), and weight slightly less than a cast wheel of the same size. With turbochargers ranging from 450 horsepower up to over 2,600 horsepower, Precision Turbo has you covered.
---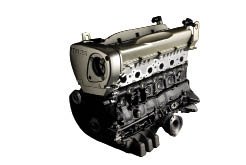 edo performance RB26DETT BNR-34 N1 NUR-SPEC Engine
The Nissan Nur Spec RB26DETT engine is designed to produce 450 horsepower and beyond with its strengthened internals. Its internals are stronger than the regular RB26 engine unit. The main difference of this Nur Spec engine is that it has strengthened cylinder block, pistons, oil pump and water pump and precision balance connecting rods over the regular RB26 unit. This unit has 2568cc displacement, 86mm x 73.7mm (Bore x Stroke) and 8:5:1 compression ratio. This N1 engine had won numbers of competitive races. Only limited units are produced by Nissan and all units always fell to the hands of professional race teams.
---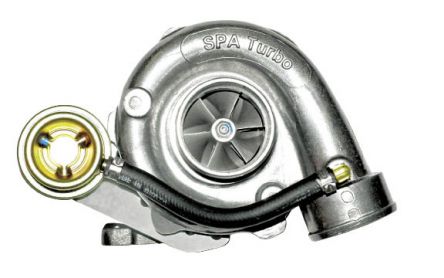 SPA Turbochargers
SPA Turbo builds high quality turbocharging components which are backed by 20 years of experience and a worldwide reputation. SPA turbochargers, like their manifolds, are made from premium grade alloys, and come with a one year limited warranty. SPA turbos perform to the highest performance standards and have nearly a two decade track record as proof of their enduring quality. Whatever your forced induction needs, SPA is confident you will find a turbo in their line up that will surpass your expectations.
Read on for More Products
---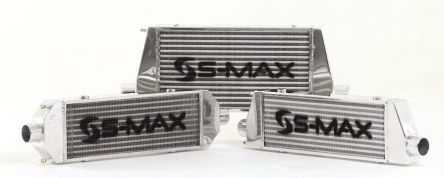 S-Max Intercoolers
S-Max Intercoolers' patented integrated aluminum coil design captures the chilling power of expanding CO2 or Nitrous Oxide gases right inside the core for superior cooling. Unlike spray bars, which dissipate cooling power on the surface of the intercooler, all Speed Max Performance systems cool from the inside out, chilling the entire unit. The chilling gases are purged via a hard line, away from the engine bay, leaving no risk of intake contamination. S-Max's tube and fin design also offers superior air flow and virtually no pressure drop compared to bar and plate models, which means more overall boost. You can cool charge air at a standstill, with no ambient air flow, perfect for drag racers.
---
STs turbo Nissan 350Z Remote Mount Turbo Kit
STS Turbo has released a new Nissan 350Z Remote Mount Turbo System. Dyno tests show the STS single turbo system able to safely boost the 350Z VQ35 V6 actual rear wheel horsepower numbers by 60%! With power gain like this, easy bolt-on installation, and a full 1-year factory warranty, who could resist experiencing STS turbocharged innovation? Video footage of the STS 350Z is available on the company website where you can see and hear the incredible STS Remote Mount Turbo system in action or turn to PAS Magazine as they continue tune their Project 350Z with the same impressive kit!
---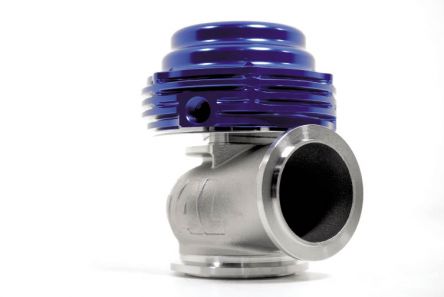 TiAL MV-S Wastegate
TiAL has upgraded their F38 wastegate to the new MV-S. Small was on TiAL's mind when they developed this new ultra compact wastegate. It stands only 3.7 inches in height vs. the current F38 at 4.85 inches. Other features include 3 bottom pressure ports for easy install – no rotation needed to clear other engine components, and two top mount pressure ports, one of which can be rotated 6 different ways. The two top ports make it easy to use with boost controllers such as the NLR AMS 500 and 1000. No more bolts or gaskets and all configurations are leaded fuel safe. TiAL also altered the way the diaphragm sits so it is virtually impossible to pinch. Spring pressures from .3 bar (4.35psi) to 1.7 bar (24.65psi) are available.
---
Tomei ARMS M7760 Turbocharger
The ARMS M7760 is the largest bolt-on turbo possible that the engineers can fit into the limited space of the EJ engine. Despite the size, the internals of the turbocharger speaks other wise; extracting the most and finest efficiency from its design. The end result is a turbo that maintains the best characteristics of the EJ engine with the added benefit of an extended power band to the high RPM region. The ARMS turbo upgrade is a crucial step in tuning the EJ as it grants a large increase to the overall performance level of the WRX.
Read on for More Products
---
STILLEN 350Z/G35 Supercharger
The foundation of the Stillen kit is a twin-screw supercharger used by OEM's around the world. The internal high efficiency air to water intercooler design allows for more power and torque via a greatly reduced inlet charge temperature. This design also eliminates complex and cluttered intercooler piping Our kits use an internal bypass valve, which minimizes parasitic loss. This results in a 30% to 66% increase in useable power boosting output to 410hp with the stage 3 kit. The 350Z will require additional hood clearance. We offer paintable fiberglass and carbon fiber replacement hoods for these vehicles.
---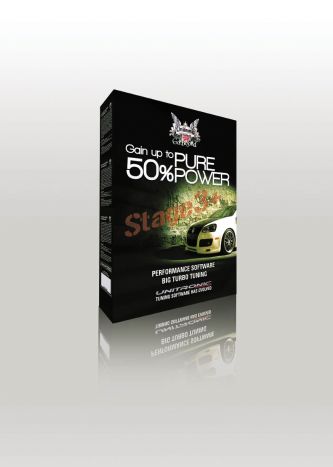 Unitronic Stage 3 Big Turbo Software
Unitronic Stage 3 Big Turbo software allows you to extract huge power from your turbo car by using larger turbo's and injectors. Build your own kit or get a bolt-on one, follow Unitronic's guidance and be ready to rock hard. Retain your stock drivability, and enjoy the power of a Ferrari. Extract your car's full potential and takes advantage of your modifications. The ultimate in reliability and performance engineering, Unitronic is the only software you will ever need!
---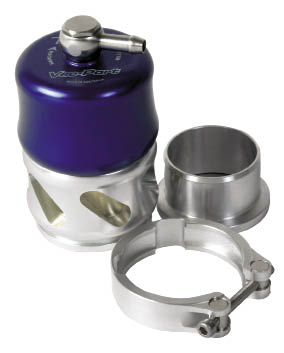 Turbosmart USA Vee Port
Re-designed from the ground up, the new Turbosmart Vee-Port offers high flow capabilities in a lighter, more compact package. Engineered to suit most turbocharged applications, the Vee-Port is ideal for custom installs in tight spots and for those seeking a weight advantage. Unique high flow ports and new piston design provides quicker response and better sealing capabilities. This product is available in standard (blue) or sleeper (black). Like all Turbosmart BOVs, the Vee Port is manufactured in Sydney, Australia under strict quality control.
Read on for More Products
---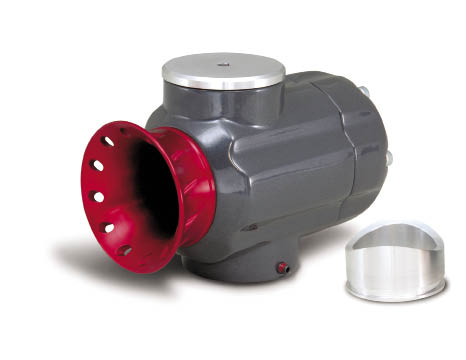 Turbonetics Blow Off valve
This exclusive blow-off valve features a dual cross tunnel discharge system with various discharge designs. You can use one or two GT-K inspired horns to vent the pressurized air directly to atmosphere for that extra loud discharge. Without the horn, you can recirculate for tuning purposes and quieter operation. Compressor surging is a problem no more! Turbonetics exclusive plenum design allows the valve to stay shut air-tight when it senses boost. The valve opens up without hesitation when the unit senses vacuum. This is the ultimate blow-off valve for your turbocharged setup!
---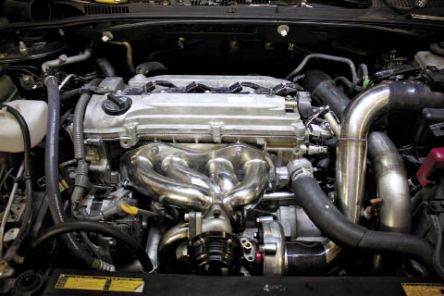 TurboKits.com Turbo Systems
TurboKits.Com is poised to launch a new breed of turbo systems for the Toyota/Scion 2.4L 2AZ-FE Motors. TurboKits.com is offering ready to install packages for the 05+ Scion tC, 08+ Scion xB, 09+ Corolla XRS, 09+ Matrix XRS. Their expertise in turbo charging existing Toyota models (Celica, MR2, Matrix, Corolla) has aided us in developing refined systems for optimum performance and reliability. The components include high quality Cast Stainless Tubular manifold, T3/T04E Turbo, Wastegate, BOV, Injectors, Fuel Management with brand names like Turbonetics, AEM, Mishimoto and more.
---
Vortech Supercharging Systems
Vortech Engineering has introduced high-output (HO) charge cooled supercharging systems for 2009 5.7L/6.1L Hemi V8 Dodge and Chrysler automobiles. The addition of the new V-3 Si-Trim centrifugal supercharger will increase crankshaft power up to 560 HP with additional torque up to 510 lb.ft. at 6.5 PSI. on 91 octane pump gasoline (SRT 8 systems).
---
Weapon R Intercooler Pipe Kits
The WR Intercooler Pipe Kit is made of AL6061 Aluminum and then bent from a CNC mandrel bender, 3-ply hi-pressure silicone hoses and hardware for easy installation. Weapon R has experienced quicker turbo responses and an average increase of 8-13whp gain on a properly tuned vehicle. Applications are available for Mitsubishi EVO 8, EVO 9, and coming soon EVO 10. Also available for MazdaSpeed Protégé and Neon SRT-4 applications.
Read on for More Products
---
SPA TURBO MANIFOLDS
SPA Turbo manifolds are cast from some of the strongest, most durable alloys available in the market. Built to withstand the highest temperatures generated by today's turbocharged systems, SPA Turbo manifolds have proven themselves in race tracks around the globe and come with a limited lifetime warranty for your peace of mind. Because of our global reach, we have one of the widest selections of turbo manifolds in the world, including hard to find applications, and we are constantly adding more. Please check back with us for upcoming models. We also welcome custom orders.
---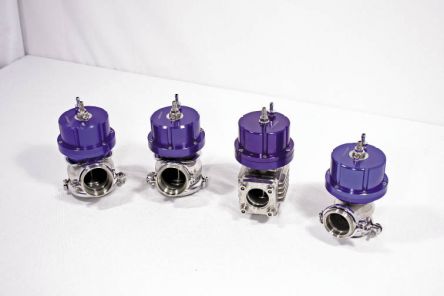 XO2 Racing Wastegate
The XO2 Racing wastegate is offere in 38mm, 44mm, 46mm, 50mm and 60mm applications. All XO2 Racing wategates feature accurate boost control and high-quality fit and finish. With an attractive appearance and great performance value, XO2 wastegates are fully adjustable with different spring settings.
www.XO2racing.com