AG Suspension
AG Kit Performance
The AG Kit Performance reduces the center of gravity of your vehicle, improves handling, braking and steering response; reduces aerodynamic drag, body roll and stance. AG Suspension is an official SEMA Member and a manufacturer approved by TUV.
Air Runner
Essential Series, ACC air suspension x ACCUAIR E-level
The ACC's "Essential E-LEVEL Series" combines two of the most important aspects in order to complement luxury images. The first one is the ACC's air suspension systems providing the best possible ride quality in the market. The other, the E-level system, which allows most accurate 3 pre-set height control available. This high quality air suspension system can adjust simply and accurately. Choose from 4 different types of air suspension to match driving style.
Solo Werks
S1 Coilover
The Solo Werks S1 Coilover systems are designed for the driving enthusiast that demands a comfortable yet sporty ride at a lowered level, tuned in the spirit of an OEM Sport Suspension - with adjustable height. Constructed using heavy gold zinc plated coilover strut bodies and precision machined aluminum perches; the S1 provides a durable platform to get your lowering handled properly. This suspension is available for Audi, VW and BMW.
B&G Suspension
S2K Sport Suspension Kits
B&G Sport suspension lowering kits are designed for enthusiasts who desire a fully-engineered suspension kit utilizing experience, technology and the finest-quality components available. Each S2K kit is ISO and TUV certified and the result of 150 years of spring and 40 years of shock design and manufacturing expertise. S2K kits average a 1.6-inch drop in the front and rear. Kits are available for Audi, Volkswagen and other European and domestic vehicles and backed by warranty.
BILSTEIN
B12 Suspension Kits
The shock experts from BILSTEIN have teamed up with the EIBACH spring experts resulting in the new BILSTEIN B12 lowering suspension systems. B12 Pro-Kit provides precise handling with superb comfort while lowering your vehicle up to 40mm. B12 Sportline delivers more aggressive handling with quick response and lowers your vehicle up to 50mm. The B12 is available for a wide range of import and domestic applications.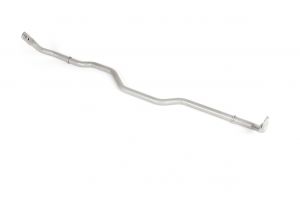 Stabila
Golf R / TT / 4 motion Rear Swaybar
Available for all Mk5/6 R/TT/4 Motion vehicles, this 2 way position adjustable solid rear sway-bar is just what your VW or Audi is missing. With solid OE construction, forged ends and durable gloss silver powder-coat finish, this bar will stand up to anything you throw at it. Install is extremely simple and all necessary hardware and instructions are included. Say no to roll!
D2 Racing
RS Coilover System
The RS Coilovers offer 36 levels of damping and rebound adjustment, separate height/preload adjustments and pillow-ball camber plates or aluminum top mounts. With over 300 applications and recent releases including 12+ Honda Civic, 11+ Scion tC, 04-06 Infiniti G35X, 07+ Infiniti G37X, 11+ Hyundai Sonata, 11+ Kia Optima, 13+ Subaru BRZ and 13+ Scion FR-S.
Truhart
Sport Shocks & Lowering Springs
Truhart Street shocks have a shorter piston/body and are performance valved with NOK seals, matched perfectly to Truhart lowering springs providing a 2.0-2.5" of lowering. The springs are available for most Honda/Acura applications.
Apex Suspension Systems
Apex Coil Springs
If you've never heard of Apex Suspension Systems, consider this your introduction. It all began in Holland; manufacturing coil springs for Group A Touring cars. Owners of street and track vehicles alike are now able to benefit from Apex's race-proven designs.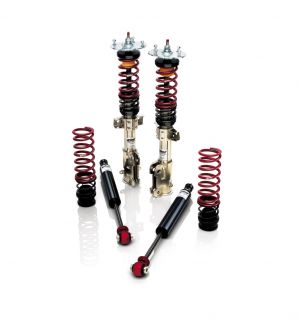 Eibach
Multi-Pro R1 Coilovers
performance-suspension.eibach.com

For the ultimate in tunable suspension performance, Eibach has developed Multi-Pro coil-overs, specially tuned spring/damper units that allow you to extract the last ounce of cornering power from your late model performance car. The Coil-Over design lets you precisely tune the corner weights for optimum handling balance, and are perfect for the club racers or drivers who demand the high performance handling and optimal ride quality for which Eibach is famous.
Energy Suspension
Chrysler LX Platform Performance Polyurethane Bushings
The current Charger and Challenger are iconic in today's modern muscle car arena, but Energy Suspension has found room for improvement on these LX vehicles. Polyurethane components squeeze every ounce of potential from the suspension and drivetrain with sway-bar, control arm, rack and pinion, sub-frame and differential bushings offers greater stability, improved handling and superior transfer of power to the rear wheels.
ISIS [I-sis]
Complete Suspension Arm Package for Nissan 240sx 89-94 S13
All ISIS products are thoroughly tested on vehicles on and off the track prior to being released to the public to make sure we get it right the first time. As a result, we pass our savings onto our consumers – not many companies that produce an inexpensive product even know what they are selling. At the end of the day, ISIS Performance offers products that fill a void in the sport compact industry: we blend quality with affordability, guaranteed.
Function and Form
TYPE TWO suspension
Function and Form TYPE TWO suspension is equipped with 32 levels of damping adjustment, and height adjustability. It is designed to give you a great ride at low ride heights. The TYPE TWO suspension uses only high quality materials for performance and durability and is available for several Volkswagen and Audi applications.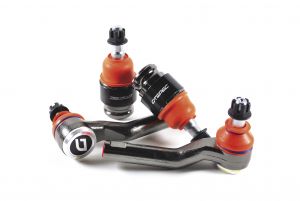 GTSPEC
Front Ball Joints and Tie Rod Ends for All Impreza
With the GTSPEC Roll Center/Bump Steer kit install, correct alignment geometry is regained and stress on the suspension components will be reduced. Our roll center kit will also produce a reduction in bump steer, re-alignment of camber/caster, increase stability, improvement in steering feel and response, and reduction in under steer. While other kits on the market are cast, the GTSPEC Roll Center/Bump kit is forged; known to last under harsh driving conditions.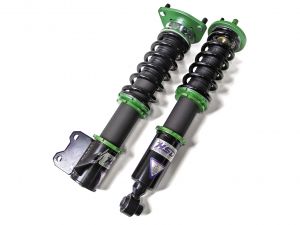 HSD
HR Series Coilovers
With large-diameter mono-tube type dampers feature a 44 mm. internal piston size on most models and 15-step damping adjustment. For strut models, the damper is inverted for greater strength and reduced un-sprung weight. Our coilovers feature high-grade pillow-ball top mounts at the front, with camber adjustment on strut-type models and height is adjusted by the movable base bracket.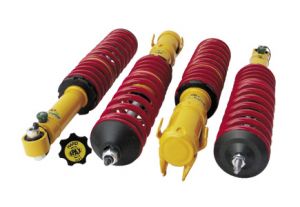 SPAX
Coilover Suspension
Sixteen quality inspectors monitor every stage of the production process. Every SPAX manufactured unit is tested on a computer controlled Dynamometer to certify quality and performance. All SPAX manufactured dampers are powder coated and oven baked to guarantee "second to none" quality of finish.


Ksport
GT-Pro Coilovers
ksportusa.com
Ksport GT Pro Coilovers feature an oversized 55mm inverted Mono-tube shock body for increased performance. The main benefit of an inverted tube is the shock oil is moved further away from the hub and brakes which reduces internal temperatures dramatically which offers higher performance and durability. Ride height adjustable lower mounts retain maximum shock travel, metal pillow-ball mounts add strength and steering responsiveness, 36 levels damping adjustment and camber adjustability on front is standard.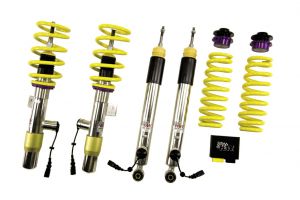 KW Suspensions
Dynamic Damping Control (DDC) Coil-Overs for VW and BMW Applications
Utilizing patented Variant 3-valve technology for a premium ride quality and performance, KW Suspensions' new DDC coil-overs allow dampening rates to be controlled/changed remotely thanks to an electronically-controlled proportioning valve that regulates the flow of oil and provides varying dampening rates via the factory OEM controls or an illuminated dash-mounted button to switch from Comfort, Sport and Sport Plus dampening modes. An optional W-LAN module is available to allow users to use the innovative KW DDC APP for Apple devices.
M7 JAPAN
Super Street Performance Damper Kit
M7 Super Street performance damper kit is designed for drivers seeking improved handling both on the street and the track. Includes both ride height and 35-level damping force adjustments to allow the driver to dial in the suspension for various surface conditions. M7's highest-quality performance damper is proven on circuit in GT racing, drifting and drag racing.
Drop Engineering
Adjustable Coilover Kit for Nissan 240SX S13 (1989-1994)
The Drop Engineering Nissan 240SX S13 Coilover Kit is precision manufactured utilizing state-of-the-art materials and hardware to provide the highest levels of performance. Each system has flawless bolt-on installation and is backed by an excellent lifetime warranty. Ride height is fully and easily adjustable with the included spanner wrenches. The 8kg front and 6kg rear-spring rates make for an aggressive setup perfect for any modded S13.
Blitz
Damper ZZ-R
Blitz Damper ZZ-R is a single mono-tube design coilover with a 32-way adjustable damper rates. They include aluminum upper mounts to achieve better handling and precise control. With a wide range of adjustment, driving performance and ride comfort are maintained at the highest level even at low speeds and at any driving conditions.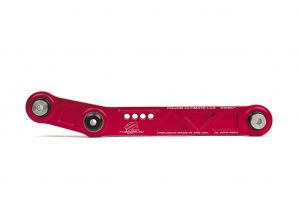 PASSWORD:JDM
Ultimate Rear LCA
Password:JDM's Ultimate Rear LCA are made of light-weight, 7075-T651 Aerospace aluminum and uses an innovative spherical bearing system which allows proper angular misalignment without binding up causing fatigue and premature failure like polyurethane or rubber bushings. With 4 sway-bars mounting provisions and a bronze bushing on the shock mounting point, this allows for heavy sway bars letting you run softer spring rates for the ultimate ride quality without compromising performance.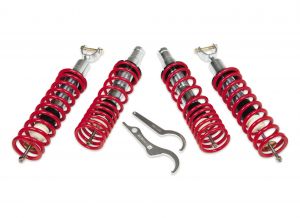 Raceland
Honda Civic Coilover Kit
This coilover kit will be offered alongside the Raceland Civic EP3 coilover kit to allow Honda Civic owners more options when it comes to their suspension needs. The threaded and blue zinc plated shock bodies allow for ride height to be adjusted 1-3 inches lower than OEM and the hard anodized aluminum spring seats ensure that height adjustments are made easy. The Civic coilover kit takes advantage of matched spring rates and shock valving to ensure there is a perfect balance of performance and street comfort.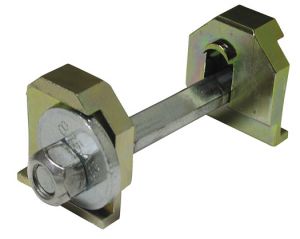 SPC Performance
Front & Rear Alignment Kits for 2006+ Lexus IS
Correct the camber up to ±1.5° on the Lexus IS with this SPC adjustable ball joint by simply pressing the OE ball joint out of the upper control arm , press in the receiver plate, install the adjustable ball joint and dial in your camber. This greased-for-life ball joint maintains OE reliability and adds adjustability. It saves tires and improves fuel mileage when you get camber back to specification on both modified and stock vehicles.
STILLEN
Scion FRZ / Subaru BRZ Sway-Bars
STILLEN sway-bars are made with high strength aircraft grade steel for maximum torsional strength and durability. STILLEN sway-bars are rigorously tested before going to market both in the STILLEN R&D facilities and on the road. The result of the testing and R&D is a sway bar that adds to the overall balance of the vehicle and helps maintain maximum tire contact with the road.
TEIN
Street Advance Coilovers
Developed to provide a sporty ride feeling and aggressive stance, along with a wide-range dampening force adjustment using our new "Advance Needle" technology, gives the driver a much more noticeable feel in damping force change. The shortened shell case design provides optimum damper stroke at lower than standard vehicle ride height. Vehicle ride height is adjustable via the ZT coated threaded sleeve. Updated internal components and external coatings increase durability and product life.
Universal Air Suspension
Air Suspension Kit
We manufacture our patented air springs designed for vehicle applications in our facility in Southern California. Simply replacing the springs with our air springs will allow for on the fly height adjustment. With over 400 different vehicle applications, surely we will have the application to fit your vehicle. With road testing over 195,000 miles, the system is engineered for reliability.
WHITELINE
Suspension Components
WHITELINE utilizes a range of sophisticated testing and data logging tools by an engineering group of enthusiasts who are trained to activate more grip. WHITELINE's version of stability control includes an array of adjustable sway bars, bracing, alignment correction kits, and feature their world renowned Synthetic Elastomer Bushings with a lifetime warranty.