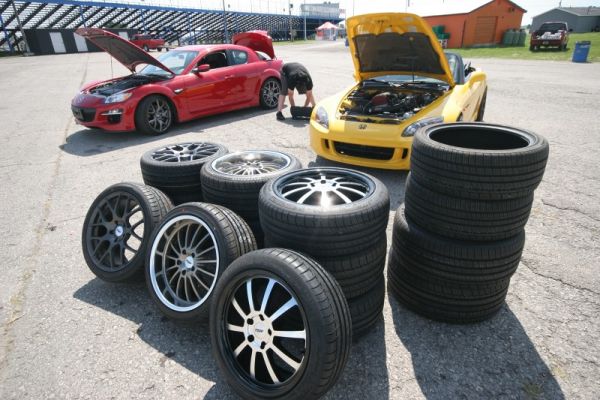 As a follow-up to our successful Part I of the PAS Ultra High Performance Tire Test 2010 we now have results. On the second track day we tested four tires on two cars but two are still yet to be released to market! Until they are ready here are the reviews from the Kumho Zetum ZU37 on the TSW Strip wheels and the Michelin Pilot Sport 2 tires mounted on the TSW Willow wheels. We packed up out Toyota FJ Cruiser courtesy of Toyota Canada and headed out to Toronto Motorsports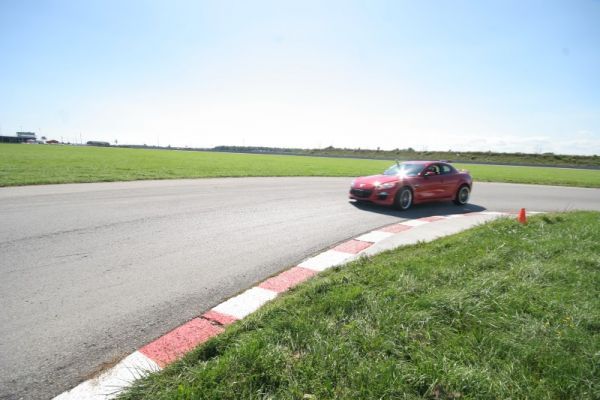 Kumho Zetum ZU37
340-AA-A
Made in Korea
225/45R18
Y-Speed Rated (186mph or 300km/h)
Tested on Mazda RX-8
In recent years, Korean tire manufacturers have really stormed onto the scene with affordable tires that actually performed well. They have some solid aftermarket options and have even made inroads in getting their products fitted as OEM equipment (and not just KDM cars). Kumho has brought a great variety of products to market and have also had some unusual firsts, such as red-tire smoke and even a lavender scented tire. However, we only care about their well-rounded performance line-up from all season to semi-slick and everything in between. The Ecsta line has really brought a lot of praise Kumho's way and the new Zetum replaces the legendary Supra with the ZU37 and the 712 designs. This tire is billed as a solid choice from racers all the way to spirited street drivers and we got this first look to test it out on performance car.
The test car was a 2011 Mazda RX-8 Special Edition with sticky rubber to begin with. The car is equipped with 19s but we wanted to review a more common size, which happen to be 18s. We chose a modest OEM width for the RX-8 a 225/45R18 wrapped around a set of TSW Strip alloy wheels. With deep treaded grooves the Zetum is excellent at evacuating water when we encountered it. On the road, the tire is quiet and taught with minimal squeal under spirited street driving. The tire provided sharp turn in with adequate grip for the modest size we selected. The wide shoulder block provided more grip while the tire was under load around long sweepers.
At the track we mounted the tire to our RX-8 tester and hit the twisties. After we got a bit of heat into the tire, we opened it up to see how it would handle overall. The turn-in was precise and the sidewall had decent stiffness. With the traction control disabled we were able to get a bit looser with the RX-8 to see where the tire would yield. While cornering, the tire squealed but it occurred well before it lost grip. The tendency for most OEM cars is to understeer, and we corrected any plowing with more throttle and a bit less steering angle. After several laps you could feel the Kumho starting to be out of its ideal heat range where any more pushing it would require an R-Comp.
In the end, we liked the Zetum and found it to be a formidable competition much like the Supra. With a 340 wear rating you will get solid dry grip out of this tire but decent life at the same time. Sometimes you can't always have both, but with the new Zetum the rating is in the realm of providing just that. With a wide range of sizes, modest pricing and high performance, this is an option you should consider for your next purchase.
Michelin Pilot Sport PS2
220-AA-A
Made in Germany
225/45R18 & 255/40R18
Y-Speed Rated (186mph or 300km/h)
Tested on Mazda RX-8
One of the most well respected tires on the market has been the Michelin Pilot Sport series. With Michelin's efforts in Formula One in past years, the company continually pushed the boundaries of performance. The technology filtered down to their Pilot Sport line which has grown to several different designs. The Pilot Sport Line includes: The Pilot Sport, Pilot Sport PS2, Pilot Sport 3, the Pilot Sport A/S Plus and the halo product the Pilot Sport Cup.
For our purposes, we thought the Pilot Sport PS2 would be ideal for our market with its performance traits. The PS2 is also very livable on the street with excellent road characteristics. Having driven on the previous Pilot Sports for many years, we can attest to their longevity and performance on different road conditions. We wanted to take a look at how they stacked up to out great impressions of the last generation. With that we mounted them on a set of TSW Willow alloys and bolted them up to our test RX-8.
The fairly modest tread pattern should fool you into thinking this is an everyday tire. The 220-AA-A rating means this tire grips hard and will wear slightly faster than your average tire. Performance drivers might opt for something lower than 200, but this PS2 is a very capable tire that will yield more life than some of those fancy DOT race tires. During spirited driving, the Michelin PS2 bit hard into the corners and you could almost hear the aggressive compound clawing at the pavement. It didn't squeal or protest like you might expect from a street tire, either. After days of tearing it up, the tire performed well over everyday surfaces and loads of rain one weekend.
On track, the tire was a pleasure to drive. It bit hard on initial turn in and you could get on the throttle harder and earlier. After several hot laps, the heat made the PS2 performance taper off, but it occurred later than one might expect. We heated the tire up to over 60°C (130°F) after the hot laps and it was still maintaining some grip and the tread was not destroyed or chunked. As expected, the PS2 can handle a beating at the track and drive you home safely like few other tires. The PS2 is a solid 3-season performer that speaks volumes about getting what you pay for.
You can't go wrong with a Michelin product if you can afford it. They may not have the name in the tuner side of motorsports but at the top level they are legendary. For Sport sedans, luxury cars and exotics the Michelin Pilot line is all about performance and practicality. Just ask any Murcielago or Viper ACR owner who got them as standard equipment!


---
---
SPECIAL THANKS:
Kumho Tire
Zetum ZU37 Tires
www.kumhotire.ca

Toyota Canada
FJ Cruiser Support Vehicle
www.toyota.ca

Michelin Tire
Pilot Sport PS2 Tires
www.michelin.ca

TSW Wheels
Strip & Willow Alloys
www.tswwheels.com

Toronto Motorsports Park
Road Course & Drag Strip
www.torontomotorsportspark.com

Second Time Around Tire
Installation & Balancing
www.tirestires.com
Stance Factory
Installation & Balancing
www.stancefactory.com
Can-Alignment
Alignment and Corner Balancing
www.can-alignment.com
SPC Performance
S2000 Camber Ball Joints
www.spcperformance.com

V-Box Performance Meter
www.vboxusa.com