Written by Randi Bentia | Photos by Mike Brochu
Armed with a killer smile, bangin' body and seductive stare, we simply couldn't resist a photo shoot with the adorable Nina Carla. This flirtatious Filipina had cover model written all over her right from the start, as her army of Myspace fans (us included) are credited for Nina's skyrocketing popularity. Her killer curves were first discovered online thanks to the steamy photos found on her Myspace account and she credits all of her online admirers for her start. This internet vixen's career as a model quickly took off from there, as various websites, magazines and events all began contacting this California cutie. Known to speak her mind and always tell it like it is, we simply couldn't wait for some 1-on-1 time with this confident and sexy sweetheart.
---
THE ESSENTIALS:
Birth date: September 9
Sign of the Zodiac: Virgo
Measurements: 34 / 23 / 35
Nationality: Filipina
Hometown: San Francisco, CA
Turn-ons: Intelligence, optimism, driven personality
Turn-offs: Disrespectful and judgmental people
Pet Peeves: Bad hygiene
Hair & Makeup by Valerie JC & Gaby Ramos
---
PAS: How long have you been modeling?
Nina Carla: I've been modeling for just over one year.
PAS: What's the best part of being a model?
Nina Carla: I'd have to say traveling to different places. It's also a great outlet for me to express my inner seductress (winks).
PAS: Describe yourself in three words.
Nina Carla: Happy, optimistic, loving.
PAS: What got you interested in modeling?
Nina Carla: I love seeing beautiful ladies posing in magazines. It's amazing to see the different curves and shapes your body can make just by posing different angles. I decided to take some pictures of myself to see the different shapes and curves my body could make too.
PAS: We're sure glad you decided to share those curves with us. What are some of your modeling highlights so far?
Nina Carla: It's always fun to do print work for magazines; plus I really enjoy performing in front of a crowd.
PAS: Any dislikes about modeling?
Nina Carla: My dislikes would is definitely unpacking after all the trips I go on for work. I usually don't unpack until I have to pack again (laughs). It's not a good habit, I know!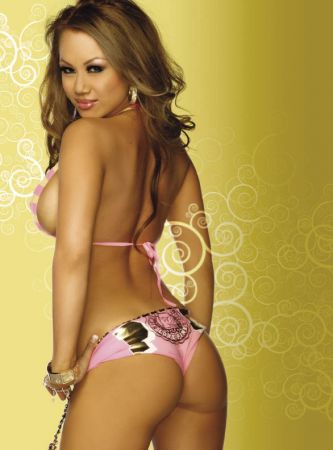 PAS: Well if you ever need some company on these exotic trips, feel free to invite us. What is the strangest photo shoot that you've done?
Nina Carla: Most models probably have dealt with a weird photographer or a strange photo shoot atmosphere at some point. They can make you feel uncomfortable, but after a while you get over it… unless they are really strange in a creepy kinda way.
PAS: What are the best and worst traits about yourself?
Nina Carla: My best would have to be that I'm very goal oriented and extremely hardworking. My worst trait would be being impatient sometimes and that I overwork myself. Seriously, I over work myself to death!
PAS: Can you tell us about your first kiss?
Nina Carla: Wow, you guys really know how to dig up the dirt huh? My first real kiss happened when I was already in my third year of high school… I was such a late bloomer. I do really miss the young and innocent young love days though.
PAS: Have any of your fantasies become reality?
Nina Carla: Not yet actually, I'm still working on it. But let's just say I have a very vivid imagination!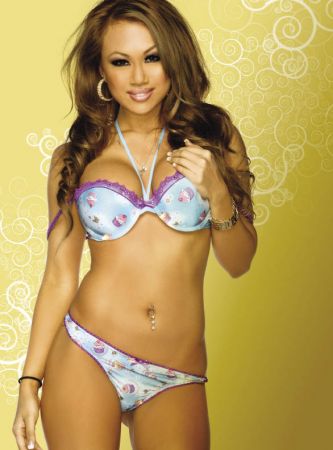 PAS: What is your best physical feature?
Nina Carla: I like my butt and also my lips. Which part do you like? (winks)
PAS: Do you have any pets?
Nina Carla: I am an animal fanatic! I have a little dog named Zia. She's my firstborn baby. I like anything furry as long as it doesn't bite.
PAS: What is your favorite pastime?
Nina Carla: I love watching movies, trying new food and restaurants and dancing.
PAS: What frightens you the most?
Nina Carla: I am afraid of the dark, ghosts, and dislike
yucky bugs.
PAS: What is your idea of perfect happiness?
Nina Carla: I'd say laying in the sun on a beautiful tropical beach, sippin' a nice cold drink in my super sexy bathing suit with a cute guy and my dog.
PAS: What three items would you take with you to a deserted island?
Nina Carla: My iPod, cell phone, and flip flops.
PAS: What is your favourite type of food?
Nina Carla: I love to eat! I love sushi the most, fruits, Jamba Juice, and fried foods (so bad for you!).
PAS: What is your dream car?
Nina Carla: I want a white Mercedes-Benz SL65 AMG… such a sexy car.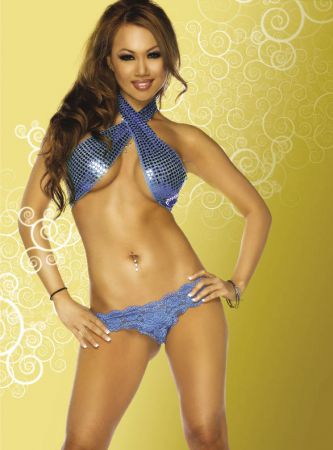 PAS: Who are your heroes in real-life?
Nina Carla: My dad, I swear he can build anything out of nothing!
PAS: What is the sexiest thing about a man?
Nina Carla: There is nothing sexier than a man who knows who he is. Confidence (not cockiness) is definitely the key.
PAS: How do you seduce a guy?
Nina Carla: Look into his eyes and whisper "I want you" as I slowly move in closer and closer to him. When it comes to seduction, actions definitely speak louder than words.
PAS: What is your motto?
Nina Carla: Live life to the fullest!
PAS: What quality do you like most in a man?
Nina Carla: Responsible, caring, confident, and intelligent, a little sense of humor won't hurt. I love to laugh.
PAS: What quality do you like most in a woman?
Nina Carla: Women are definitely sexier creatures. I have to admit that I would check out a lady before I would a guy.
PAS: Tell us about any upcoming projects of yours?
Nina Carla: My website www.ninacarla.com is launching very soon! Stay tuned for that!
PAS: Do you have any shout outs or last words?
Nina Carla: Much love to the team at PAS Magazine, you fellas are amazing to work with and special thanks to my fans out there, you guys rock!
{yoogallery src=[/images/phocagallery/1006Nina_Carla] width=[150]}