Birthday: November 5th
Height: 5'2"
Weight (lbs): 102
Measurements: 34B-26-34
Ethnicity/Nationality: Hispanic
Experience:
Playboy Golf Competition Winner

COEd Magazine Girl of the Week

Men's Humor Hottie of the Week

Spicy Magazine cover model

Gentlemen's VIP cover model
The Interview

Where are you from? And, are you currently living there? If not, where are you currently living?
I'm from Brooklyn, New York and that's where I'm currently living.
Does your personality match your Zodiac sign? Describe.
I'm a Scorpio and my sign does match my personality. I'm very determined, demanding and energetic - especially when it comes to business. Oh yeah, did I forget to mention that I'm sexy.
What would you say are your strengths as a model?
My biggest strength is my willingness to work extremely hard to be successful. I know that I'm not perfect and will never be - but I'm going to do all that I can to get as close to that point. Anyone who wants to be successful has to have the drive to do so and I have that drive.
What is your best beauty secret?
Rest. You have to be sure to get the most amount of rest possible because no one wants to be tired during the day and looking tired is even worse. Be sure to get all the sleep you can each day.
Where can we see you?
You can find me on my Facebook page, my manager's Facebook page and Model Mayhem. Outside of that I've appeared in work with Playboy, Spicy Magazine, Gentlemen's VIP magazine, CO Ed magazine and many websites and publications.
What are your future plans (long term goals)?
My goals are to become a full-fledged personality in the entertainment industry. I want to do such things as event hosting, acting, TV show hosting and anything else that will keep my image and brand in front of the public.
Do you drink? If so, what do you drink? If not, why do you not drink?
My favorite drinks are a Red Bull/Vodka combination or a Cranberry/Vodka.
What is the best present you received? What is the best present you gave?
The best present I have received was a simple date that included a walk, dinner and dancing. That's always the way to get me...something simple. My favorite gift was tickets to a Knicks game. He LOVED it.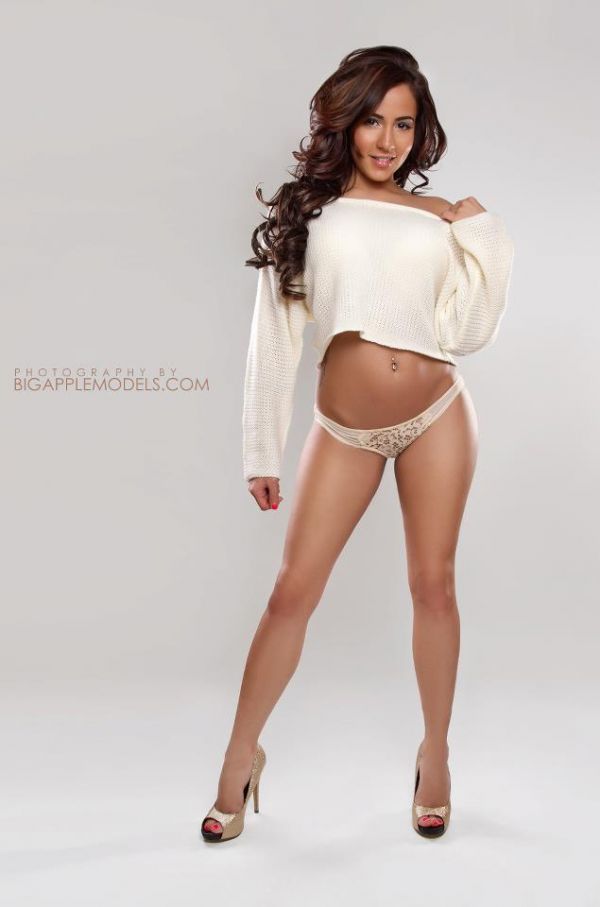 Where (restaurants) do you like to eat? What do you order? Why?
Any place that I can get sushi is the best. Healthy and tasty is the way to go.
What do you do on your spare time?
In my spare time I enjoy music, movies and reading; anything that allows me to escape reality from time to time.
How do you keep in such excellent shape? Explain your daily/exercise routine.
Cardio workouts mixed with circuit training. Burning off all the fat that's on your body is your way to go if you want to stay in shape. Then the weight lifting to follow tones everything up.
Are you big on first impressions? What do you first notice on a man?
First impressions are important because they tell a lot about the person. Not everything, but just enough to let me know if I want to continue or not. The first thing that I notice is his smile. If he is comfortable enough to show me the whites then that shows he has the confidence to date me.
What's on your travel itinerary? Are you planning to go to any events in the future and/or vacation with your family, friends or 'significant other'?
I travel back and forth to LA a lot. Other than that I enjoy relaxing at home.
How would you like your boyfriend to propose to you?
Somewhere private, just me and him. It also has to include a simple inside joke between us. Make me laugh and then I'll say yes.
Marriage song? What song would you like played on your wedding night? Why?
Haven't thought that far yet, but something that talks about enduring love.
Any shout-outs or last words?
I want to shout out all of the people that have supported me over the years.
My management team at the R&B Management Group and PASMAG for giving me this opportunity.