Written by Neal Jones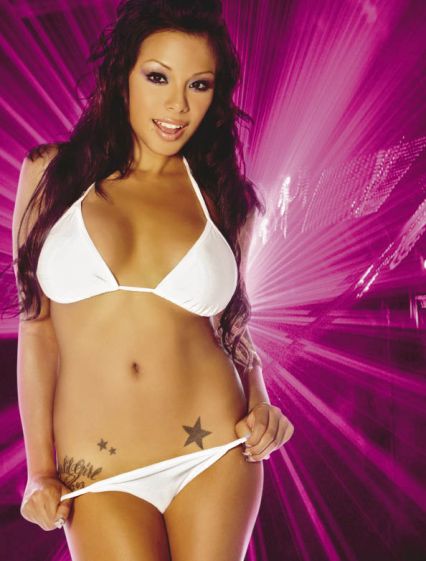 This month's cover girl definitely proves the saying, 'Great things come in small packages.' At 5' 1", Jeri Lee has everything you could possibly want in a tight, compact package. Her smoking hot body, warm smile and beautiful eyes almost seem too perfect for a mere mortal.
Lee, who has been modeling since she was a little girl, has made a tremendous impact with import enthusiasts across North America. Her sweet smile brightens every room she walks into; although I'm sure the guys who get caught looking by their girlfriend don't feel that way! Her exotic look and style can be traced to her half-Filipina and half-Mexican heritage. Since becoming a model, she has been in hot demand and has spiced up many shows and websites, including babeblvd.com. Her first big moment came when she was featured in a sport compact magazine back in 2004. She loves attending car shows and in 2006 she took the heat meter up a notch at the Panther Wheels display at SEMA.
While Lee likes to spend her down time relaxing on the couch, she keeps her beautiful figure in shape by hitting the clubs as well as go-go dancing. Lee may appear to be a sweet little package, but guys best be wary of her aggressive nature. This Orange County girl knows what she wants, and isn't afraid to take charge. And as for your cheesy pick-up lines, you better find another girl to try them out on because Lee isn't shy about letting you know what she thinks. Just ask some of the guys she's paint-brushed over the years for some of the stupid things men say!
Going through Lee's portfolio is enough to get even a dead man's heart pumping. While she has never done any nude posing, she has done some "implied" photo shoots and even went so far as to tell PAS that posing for Playboy one day could be a possibility. Makes you hate Hugh Hefner even more, doesn't it?
So keep your eyes peeled at the next sport compact show you attend as Lee could be there lighting up the stage or attracting hundreds of spectators to a booth, all hoping for the chance to get up close and personal with one of the hottest ladies to venture into a car show environment.
---
THE ESSENTIALS:
Birthdate : November 29
Sign of the Zodiac : Sagittarius
Measurements : 32-24-33 Nationality : ½ Filipina, ½ Mexican
Hometown : Orange County, CA
Turn-ons : Only HE knows…
Turn-offs : …and HE knows this too
---
PAS: Describe yourself in three words.
Jeri Lee: Short, Sweet, and Sexy.
PAS: How long have you been modeling?
Jeri Lee: I have been modeling since I was three years old. My mom got me started - went to auditions and did pageants. I started in acting and commercials as well.
PAS: What's the best part of being a model?
Jeri Lee: Everything!! I love it so much… it's my passion. Meeting new faces, working with good people, traveling, wine and dine, getting my face out all over the world… the whole works, it's fantastic.
PAS: What are some of your modeling highlights so far?
Jeri Lee: I have many highlights. Everything, from whether it's a photo shoot, or a magazine feature, to a music video production, to an energy drink promo… I can go on… I take everything in and I am happy with it all.
PAS: What is the strangest photo shoot that you've done?
Jeri Lee: All my shoots are unique and creative. Nothing's strange… well maybe wearing a neon-green two piece jacket and shorts, maybe too bright… RADIOACTIVE ENERGY DRINK – I LOVE YOU GUYS, I am just teasing!! Oh and a video shoot for Dave Navarro: I had to act like I was a psychotic person in front of the camera… that was fun.
PAS: What trait do you like most about yourself?
Jeri Lee: My smile and my stars.
PAS: What traits do you dislike most about yourself?
Jeri Lee: I don't have any… I love me.
PAS: Can you tell us about your first kiss?
Jeri Lee: Oh gosh, I was in 8th grade, and it was after school and we met behind a brick wall and we were talking, holding hands and he faced me and rushed me… I didn't know what the hell I was doing… I got so scared.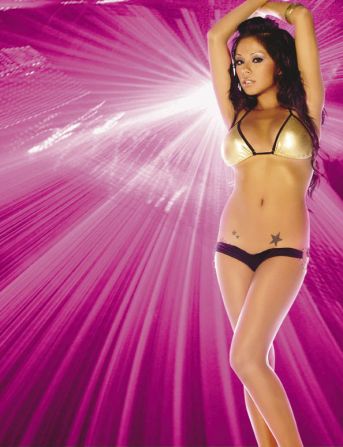 PAS: What is your top unfulfilled fantasy?
Jeri Lee: To be in bed with Angelina Jolie and Johnny Deep.
PAS: What is your idea of perfect happiness?
Jeri Lee: Nothing's perfect… but happiness for me is my family, and my bf, and my friends, and living a healthy life.
PAS: What three items would you take with you to a deserted island?
Jeri Lee: My Mom, my Alf, and bottles of water.
PAS: Is it ever okay to lie?
Jeri Lee: It's not good to lie… it just makes you a bad person.
PAS; What's your idea of perfect happiness?
Jeri Lee: Nothing's perfect… but happiness for me is my family, boyfriend and friends all living a healthy life.
PAS: What's the best prank you ever played on someone?
Jeri Lee: I guess using my soundboard and making crank calls to fans and guys who are in love with me. Everyone has done that and used my soundboard for prank calls.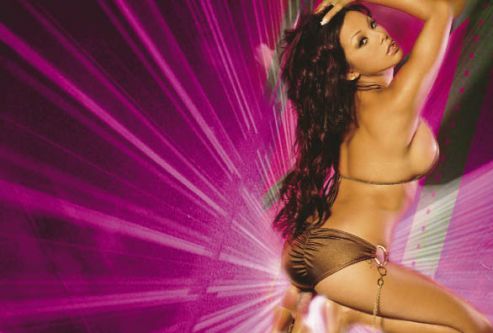 PAS: What was your worst childhood experience?
Jeri Lee: It was being the rebellious daughter and not caring about anything else besides myself… fighting and yelling and disobeying my family – not good! Those times were bad for me, I mean I was a teenager just growing up.
PAS: Have you posed in the nude? If so, how did it make you feel?
Jeri Lee: I have… First time that I did it I was really young, and my body wasn't that perfected yet, and I really didn't care for it, but now I am very pleased about it and do it for better model work.
PAS: What quality do you like most in a man?
Jeri Lee: Intelligence.
PAS: What quality do you like most in a woman?
Jeri Lee: Sexiness.
PAS: Do you have any shout outs or last words?
Jeri Lee: Thank you PAS MAG! Finally, better pictures from the last time we shot! Ha, ha! I love you guys, and the fans! All my respect and love go out to you guys and gals.
{yoogallery src=[/images/phocagallery/904Jeri_Lee] width=[150]}