Written by Daniel Ponzini | 12 January 2010
Page 1 of 2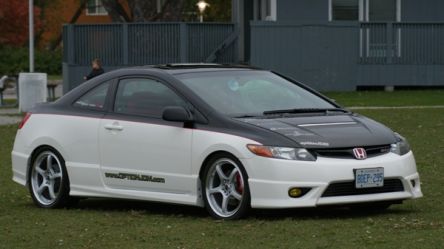 Location: Pickering, ON
Vehicle: 2006 Honda Civic Si Coupe
Power: est.200hp
Engine/Performance Info/Modifications: AEM Cold air intake, Skunk2 70mm exhaust, Buddy Club race header, Hondata intake manifold gasket, Exedy Stage 1 Clutch and 8lbs. Flywheel, TWM Short Shifter with Cable and Shifter Bushings. Hondata Flashpro and Password:JDM Power Chamber Intake.
Wheels & Tires Info/Modifications: Ray's 18" G-Games with Hankook R-Compound tires (225/40/18), Extreme Stop cross-drilled and slotted rotors with Hawk HPS brake pads all around.
Suspension Info/Modifications: Eibach lowering springs, Carbing front strut bar, Skunk2 rear lower tie bar, and Skunk2 rear camber arms (Gold).
Exterior Info/Modifications: Custom two tone paint job w/ red pinstripe done by CarAid Customs, bottom half championship white, top half Nighthawk Black Pearl, HFP skirt package all around, Seibon VS-II carbon fiber hood, smoked tail lights, yellow fog lights with Prolumen 3000K HID's, and Prolumen 8000K HID's for headlights.
Interior Info/Modifications: Recaro JDM DC2 red racing seats, Authentic JDM TypeR steering wheel, custom black suede headliner with all A, B and C pillars black vinyl with red stitching, red suede door panel and rear quarter panel inserts, red suede shift boot and arm rests, custom built gauge pod with i-Pod holder, custom built doors and rear dash for audio, Mugen pedal set, and Skunk2 weighted shift knob.
Audio/Multimedia Info/Modifications: Full Alpine Type-X audio system. 2x SWX-1243D Subwoofers, 2x PDX-1.1000 amplifiers. Three component sets, which include SPX-17PRO, SPX-13PRO in the front doors and a SPX-17REF mounted in the rear dash all running off a PDX-4.150 amplifier. An Alpine IVA-W205 head unit with Blackbird Navigation running the system. Custom built subwoofer enclosure wrapped in red suede with black suede trim. Custom door panels and rear dash to hold all component sets.
| | | |
| --- | --- | --- |
| | | |
PAS: How long have you been a car enthusiast?
Owner: For almost about 10 years now. I really got interested into the scene around the time I turned 13 years old.
PAS: What was the first vehicle you ever owed? Did you modify it? If so, what modifications were performed?
Owner: My first car was a 1994 Acura Integra LS. At 16 years old, it was hard to do the modifications I wanted to do being a high school student and all, but I was able to get 17" rims, cross drilled and slotted rotors, JDM TypeR transmission and clutch with a lightened flywheel, lowered with Koni yellows.
PAS: Are you a shop owner, work at a shop or have been previously? Describe your experience(s)
Owner: I used to work with Fifth Gear Auto Sound & Performance and more recently with Frankie at 20Hz Audio. I will still work on my car there from time to time and the guys there are a great help. I loved working in the industry too, but found for me that it was more of a hobby than a career. I'm still very involved but not to the level I previously was.
PAS: "All Show", "All Go" or both? Why?
Owner: I like to say both, but more "show" for the time being. This is my daily driver and for me to turbo or supercharge it would be pointless for me at this point. Right now I have my bolt-ons that add power to a great engine and once I get my flashpro with a few more bolt-ons I'll have plenty of power for a daily driven vehicle.
WHAT DO PAS EDITORS HAVE TO SAY ABOUT THIS RIDE?
With a combination of night hawk black pearl and championship white factory Honda paint colours, how can you go wrong? This car definitely has some true JDM feelings to it with a bunch of Type R parts borrowed from the Civic and Integra. With a deadly paint combination matched with JDM red Recaro's borrowed from an Integra Type R we choose Adam's car as the Top Reader Ride because its got a unique flow that you don't often on an 8th gen Civic. To get into PAS Mag, Adam needs to do a bit more engine mods and add some extra ponies to that k20 engine locked up in his daily driver.
Read on for More Reader Rides