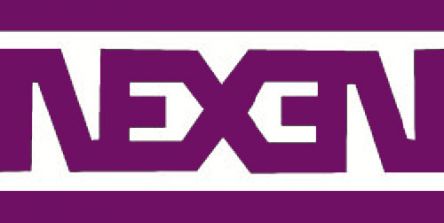 April 14, 2010 (Signal Hill, Calif.) – In his hometown of Long Beach, Kyle Mohan debuted the new colors of his 2009 Nexen / Mazdatrix Mazda RX-8 this past weekend in the first event of the 2010 Formula Drift Pro Championship season. The event marked his first event with not only new title sponsor Nexen Tire, but also Spider Energy Drink, Genius Tools, and Gatorz Precision Eyewear.
Making more power than ever before from its Mazdatrix-built 13B engine, Mohan laid down strong runs throughout practice and was full of confidence heading into qualifying. After laying down a safe run on his first pass to get into the field, he laid down a spectacular second run until he missed a downshift in the hairpin, causing him to straighten at the very end of the course. Because of that, Mohan would ultimately go against 2009 Formula Drift champion Chris Forsberg in the top-32.
"The car has never been better, and it was feeling really good throughout the weekend," said Mohan. "We really nailed the setup of the car, and with our new Nexen tires, I had a ton of confidence to keep my foot in it and really hang the car out. Long Beach is my favorite course and with all of our new sponsors, as well as everyone from Mazdatrix, and my family and friends there, I wanted to put on the best show we could."
Mohan followed Forsberg beautifully on the first run, burning the rubber from his Nexen N3000 tires, but made a minor steering adjustment in his second run, which was enough for the judges to advance Forsberg into the top-16.
"Chris is a champion, and he's a champion for a reason," said Mohan. "He's obviously a great driver and his car is one of the best in Formula Drift, which makes me proud that our team was able to put together a car that gave him a good run and that I was able to drive it right with him."
"The Streets of Long Beach was a great way for us to begin our involvement in Formula Drift," said Michael Meeiem, motorsports marketing director for Nexen Tire. "It was an awesome event and Kyle did everyone at Nexen Tire proud. We are looking forward to the next Formula Drift event at Road Atlanta, as well as the rest of the Formula Drift season."
About Kyle Mohan Racing
Based in Signal Hill, Calif., Kyle Mohan competes in the Formula Drift Pro Championship in the No.99 Nexen Tire / Mazdatrix Mazda RX-8, and in the Redline Time Attack in the No.99 Mazdatrix / Nexen Tire Mazda RX-7. KMR is supported by Nexen Tire, Mazdatrix, Genius Tools, Spider Energy Drink, Exedy, Mazdaspeed, Turbonetics, XXR, Mishimoto, Drop Mounts, Gatorz Precision Eyewear, EF1 Motorsports, AIT Racing, WPC, Kaaz, Racing Beat, F&L Racing Fuel, TCSportline, Idemitsu, Baker Precision, Mothers Polish and Haltech. For more information, visit www.kylemohanracing.com