Page 1 of 3

FIVE:AD
2013 Scion FR-S Aero Kit & Spoiler
fivead.net
Available through the FIVE:AD product line by Five Axis, the new FIVE:AD Scion FR-S aero kit and rear spoiler is designed in CAD and manufactured in OEM-grade polyurethane. The aero kit and spoiler are also available in pre-painted factory colors for an additional charge. FIVE:AD Scion aero kits are available at Scion dealerships throughout North America.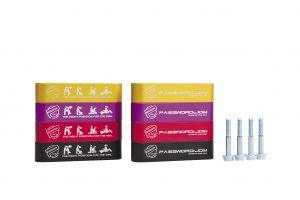 Password:JDM
Billet Aluminum Hood Riser Kit
passwordjdm.com

Eliminate hood clearance problems from engine swaps with this all-new Password:JDM Billet Aluminum Hood Riser Kit. Machined in-house in the USA and available in your choice of anodized black, gold, purple, or red fi nish, each spacer is laser-etched with the Password:JDM logo. Kit includes two hood risers and four zinc-plated hex bolts. This hood riser kit will raise the hood 3/4" for 1990-2001 Acura Integras and 1988-2000 Civics.

Chargespeed
Z33 Super GT Style Widebody
chargespeed.com

Since its establishment in 1986 in Osaka, Charge Speed has been Japan's top quality manufacturer of body kits, performance parts and other car accessories. The Charge Speed Super GT-style widebody kit for the Nissan 350Z (Z33) chassis includes the following parts: 110 mm longer nose, front bumper, side skirts, rear bumper, Super GT-style wide blister front fenders (20 mm wider on each side) and rear blister fenders (25 mm wider on each side).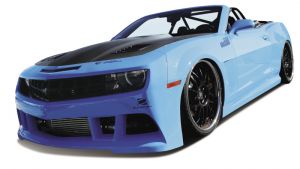 Extreme Dimensions
2010+ Chevrolet Camaro Tjin Edition 11-pc. Body Kit
extremedimensions.com

Extreme Dimensions, Inc. is proud to announce a new exclusive Tjin Edition 11-piece body kit for the 2010+ Chevrolet Camaro. Engineered for excellent fitment, finish and durability, this complete kit is available in Durafl ex and consists of the Tjin Edition front bumper, rear add-ons, side skirts, hood, rear spoiler and front fenders. To ensure authenticity of this product, please be sure to purchase this product from Extreme Dimensions or an authorized dealer.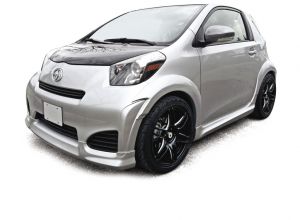 Ibherdesign
2012 Scion iQ Widebody Kit
ibherdesign.com

After the huge success of the standard "Party" body kit, Ibherdesign is spicing things up with the new "Party Wide" body kit that is sure to impress fans of Toyota's urban microcar. The Party Widebody kit consists of front and rear bumper spoilers (extensions), a set of side skirts, front and rear wide body fenders (with canards also available in real carbon fiber), hood wind deflector, air intake front grilles and sporty-look roof spoiler. Please note this kit is not 100% ready to fit on the Scion iQ as it was specifically designed for the European Toyota iQ model. It will require adjustment to be fitted on Scion iQ.