Written by Dave Pankew // Photos by RCH Designs | 29 April 2010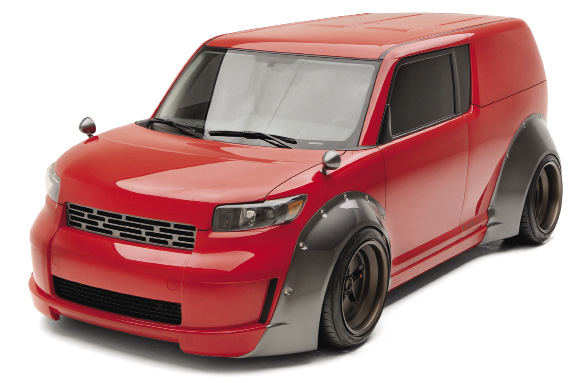 If you are serious player in this game, this car and the style that it represents should need no introduction. Built upon a strong trend in Japan, the Five Axis Scion xB DJ 2.0 integrates elements
Starting out his academic career as an Architect, Sumitomo's career path ran parallel with my loss of interest in Architecture in favour of Industrial Design, more specifically designing cars."
of the BoSoZuKu style. The cartoon-esque widebody classic cars, with outrageous racing themed stripes and negative offset wheels were once considered outcasts in the JDM tuning world. The BoSoZuKu signature was always ornamental exhausts exiting the rear of the car with unusual exhaust notes trumpeted from their bent pipes. The builder also needs no introduction, Troy Sumitomo and the Five Axis Design Team have been reinventing Scions since Scions were, well, invented!
Starting out his academic career as an Architect, Sumitomo's career path ran parallel with my loss of interest in Architecture in favour of Industrial Design, more specifically designing cars. It was this familiarity with his background that led to an instant respect for Sumitomo and the creations that are pumped out by his company, Five Axis.


Known for their long-standing relationship with Scion, Five Axis has picked up many partners along the way, including key audio player, Pioneer. The first collaboration they worked on resulted in a tuner magazine cover essentially putting Pioneer and Five Axis on the map with Scion going on to dominate the scene in the years following. Five Axis has produced several Scions and a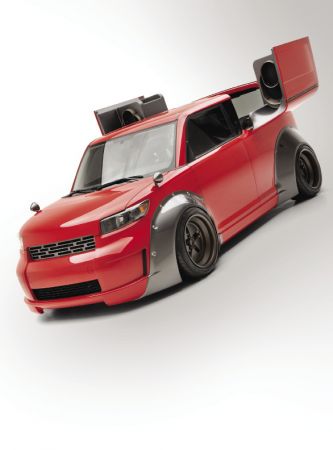 handful of Lexus builds for highly anticipated SEMA releases. What sets this particular xB apart from the majority of his projects is that it features their Five Axis Design aero kit that can be purchased through Five Axis as opposed to them all being prototypes.
The latest Five Axis Scion xB integrates the best of what's in. Style and sound with a huge helping of attitude, this Scion definitely had a presence amongst the competitors it was grouped with. Since the project was all about porting over the BoSoZuKu-style, the engine only received a Five Axis stainless steel exhaust with upturned tips. The balance of the engine is all Toyota's 2.4L 2AZ-FE lurking under the stubby hood.
The main focus of the build was on the extensive exterior modifications. Wide, low and full of functionality, the xB itself is virtually unrecognizable if it wasn't for the headlights. The crew got underway tearing into the shell to make a fully functional Pioneer DJ booth in the rear of vehicle. Unlike the legendary slide-out DJ gear from a past project, this one cracks open with motorized actuators to reveal a DJ booth and a booming system worthy of a night club. The Scion features custom 3-inch wide fender flares that are riveted to the body and accentuated with two-tone paint. Five Axis also custom modified their Five Axis Design 4-piece aero kit and integrated it with the flares before they drench the project in several coats of BASF Molten Lava Red paint.
To build upon the theme, Five Axis created a unique one off retro style wheel reminiscent of old school JDM wheels of the 70s and 80s . The OS:F wheel measures 18 x 10-inches in the front with a healthy 18 x 12-inch rear. True to form, the rubber is undersized to achieve that poked, stretched and hella flush look. Wheels were wrapped in Yokohama Advan 225/50R18s up front with 275/25R18s in the backyard. The ridiculous drop on the car is achieved with an Air Runner air suspension to lay some frame.
Inside the shell, Five Axis got to work to create a memorable SEMA build. The front of the interior remains relatively intact with a Sparco Champion Limited edition wheel, Chrono Road seats and a Pioneer AVIC-Z110BT headunit. Above the front seats lurks a Pioneer DJM 800 Digital DJ Mixer and twin CDJ 2000 Pro-Multi Players. The gear is mounted on motorized tray that slides out when the rear of the cabin opens up. Hinged on either side of the car on the beltline, the back pops open like a tool box.
Read on for Full Specs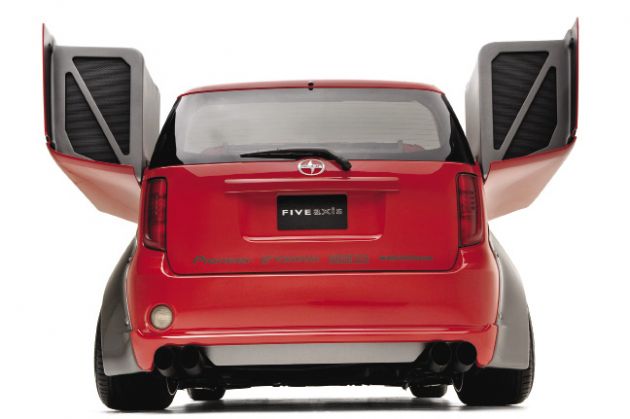 THE ESSENTIALS
Owner: Five Axis
Location: Huntington Beach, CA
Vehicle: 2010 Scion xB

ENGINE Toyota 2.4L 2AZ-FE

ENGINE MODIFICATIONS
Five Axis Unique Dual Exhaust

WHEELS, TIRES, BRAKES
FIVE: AD OS: F Deep Dish Wheels F: 18x10-inch R: 18x12-inch Yokohama Advan Sport Tires F: 225/50R18 R: 275/25R28 SUSPENSION Air Runner Air Bag Suspension EXTERIOR Five Axis Design 3" Fender Flares Five Axis Design 4 Piece Aero Kit (modified) BASF Custom Mixed Molten Lava Red Paint INTERIOR Custom DJ and Entertainment System Sparco Chrono Road Seats Sparco Champion Limited Edition AUDIO / MULTIMEDIA Pioneer AVIC-Z110BT Head Unit Pioneer 6¾-inch TS-D1720C Component Speakers Pioneer CDJ 2000 Professional Multi Players x2 Pioneer DJM 800 Digital DJ Mixer 2000W Custom Loudspeaker System SHOUTOUTS Five Axis Pioneer Scion Air Runner Suspension Yokohama Sparco USA
Inside each of the moving assemblies are DJ studio motors pumping the beats in this 2000W Pioneer sound system. Flanking either side of the rear cargo area are a battery of LED lights and disco balls creating a user-controlled light show behind the Plexiglas. To top it all off, the project even has its own backlit dance floor and smoke machine albeit only for one person to shake what they mamma gave 'em!
In our books, Five Axis can do no wrong. Toyota obviously thinks the same way since they have entrusted him with many Scion and Lexus projects over the years. The BoSoZuKu xB might not have the critical acclaim of say, the Five Axis Project IS-F but we get this project Troy. This build here is a bold statement of how they have been customizing in Japan for decades and how pudda pudda vans patrol around Yokohama to this day.