23 May 2013
Page 2 of 2
Inside the car, passengers are treated to a full-wealth of luxury. Optional lace Toyota Celsior seat trimmings and leather/suede seats are just the beginning. Rear passengers can enjoy reclining and massaging units built right into the seat. For the driver, controls are handled with a Silk Blaze gun grip steering wheel and shift knob, while a Dakota Digital air pressure gauge monitors each corner of the air suspension. The entire system is controlled from an iPod touch in the center console, or the Air Runner app, which can control the car wirelessly from anywhere.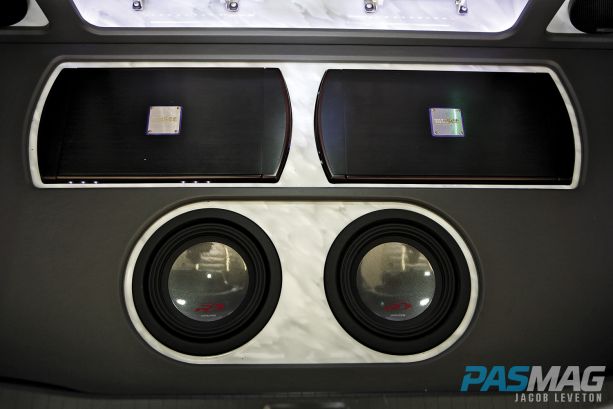 Entertainment is managed by an Alpine INA-W910 head unit and the rear entertainment is fed through a pair of Alpine TME M780 headrest TVs. When driving, the OEM navigation displays on the main screen and the entertainment is displayed in the rear of the car – the OE screen is taken over with entertainment only when parked. Bluetooth, steering wheel controls and rear audio controls are completely integrated into the whole system, allowing for seamless integration that is rarely seen at the tuner level.
Taking a look in the trunk, Beat Sonic Musee amps and subs provide the low-end punch while Alpine Type-X components provide the higher tones. All trunk components are expertly-installed with the help of Rich and Aaron from Car Tunes Kailua, while all panels in the trunk are custom airbrushed to look like marble.
Along with the fully-polished air suspension components, the entire trunk feels elegant and plush, yet still retains over 90 percent of the storage capacity as designed by Lexus. When the front head unit is powered off, the OEM navigation and audio system returns to the interior speakers and the trunk system remains idle, providing for a comfortable ride if needed.
Overall, Mak's attention to detail gives the car a look and feel of a top-end luxury car without sacrificing the luxurious features associated with the Lexus brand. Yet when out on the town, the car commands attention due to its low stance, aggressive wheel fitment and refined audio system. If we were President, we might hire Mak to build a fleet of cars with his heightened level of style, audio and class.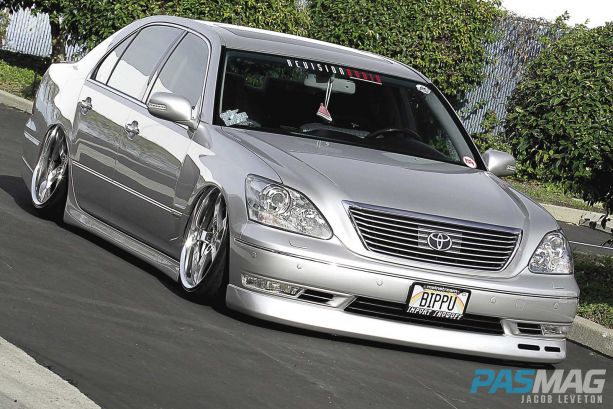 ESSENTIALS
Vehicle: 2005 Lexus LS430
Driver: Samson Mak
Team: Team Revision
Location: Honolulu, Hawaii
ENGINE
A'PEXi Japan grounding system
Blitz Japan throttle controller
Tom's Japan (carbon fiber air intake ducks, air filter)
TRD (gas, oil, radiator caps)
Anceltion carbon engine cover
Nintendo reservoir cover
EXHAUST
Tanabe Japan Medallion eR (tuned dual exhaust and tips)
CHASSIS / SUSPENSION
Air Runner (On the Ground series air suspension, stainless steel four-gallon tank, tank pressure gauge, pressure sender manifold, manual paddle switch with dual gauge)
Firestone DOT air lines
ACCUAIR (E-Level management system, remote control system, VU4 manifold, water trap)
VIAIR 380C air compressor (x2)
Nagisa Auto Japan (upper control camber arm (f/r), upper and lower arm (r), toe control arm (r), traction arm (r))
TOM's Japan (front upper strut tower bar, member brace (f/r), lower body spats(r), lower body brace (r))
TRD Japan (sway bars (f/r), urethane bushings)Optioned Out: 2005 Lexus LS430
WHEELS / TIRES / BRAKES
Work Equip E05 wheels – 20x10 (f), 20x11 (r)
Royal lug nuts
Hankook v12 EVO tires – 225/3 R20 (f), 245/25R20 (r)
Brembo GT brake kit (eight-piston calipers, 380 mm 2-pc. drilled rotors (f), four-piston calipers, 345 mm 2-pc. drilled rotors (r))
Goodridge stainless brake lines
EXTERIOR
Silk Blaze Japan (front lip, lip protector)
JDM Toyota Celsior (side skirts, rear lip, PCS radar cruise front grille, rear mark, headlights, fog lights, sunroof, rear windshield, side windows)
JDM Affection luxury rear emblem sticker
Toyota Avalon blinker mirror lens
Artisan Spirit Japan (front and lower fenders)
Admiration Japan (trunk and roof spoilers)
Valenti (parking, blinkers, puddle light mirror)
Custom (extra parking and brake combination light, side view mirrors w/ blinkers)
Philips Ultinon (6000k head light bulbs, 9006 6000k HID fog light conversion kit)
BeatSonic side-firing LED stripsOptioned Out: 2005 Lexus LS430
INTERIOR
Lexus factory-equipped Ultra Luxury option (suede interior, rear audio controls, rear fridge, reclining rear massage seats)
JDM Toyota Celsior (excellent lace seat covers, airbag, door sills, premium floor mats, foot rest, master/emergency key, trash can ETC unit housing, cellular phone kit)
Silk Blaze Japan (shift knob, gun grip steering wheel)
Luxis Luxury (pedals, dead pedal)
Junction Produce Recaro child seat
AccuAir e-level controller w/ light up LEDs
Dakota Digital air pressure gauge
Blitz throttle controller
Garax Japan (LED lights, dome light diamond housing)
Toyota first aid kit
AUDIO / MOBILE ELECTRONICS
Alpine (INA-W910 head unit, TME-M780 headrest monitors, Type R 8-in. subwoofers (x2), Type X Pro mid bass (x2), tweeters (x2))
BeatSonic Musee (four-channel amplifier, two-channel amplifier, added AUX adaptor)
Rydeen front camera
Optima Yellow Top battery
Stinger SR200 battery isolator
Tsunami (fuse holder, battery top terminal, 4-gauge wiring)
Monster Cable (main power wire, distribution block, 400 series and 300 series interconnects)
NAVTOOL RGB adaptor
AlumaPro 15-farad capacitor
SPONSORS
Air Sunner Air Suspension Systems, AccuAir Air Suspension, Work Wheels Japan, Work wheels USA, BeatSonic USA