23 May 2012
Page 1 of 3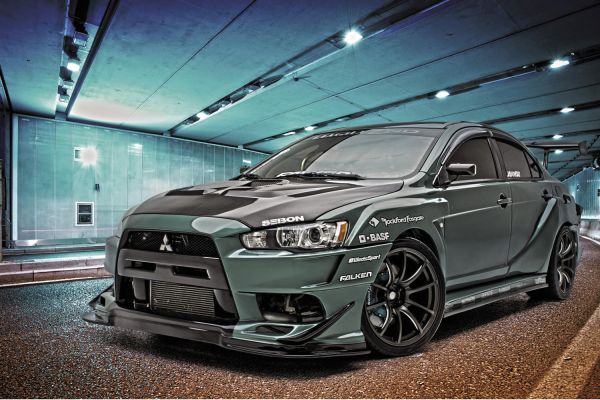 Fitted with a custom widebody, fully tuned engine and a booming system, it's evlyine to a T.
---
If there ever was a car to grace the pages of PAS that I wouldn't mind owning myself, let the record show this just might be it right here. So, hats off to you my brother from another mother, Jabowski (a.k.a. Jay Bhee) Estacio of San Diego, Calif. for your amazing 2008 Mitsubishi Lancer Evolution GSR.
From the five-speed manual transmission and custom High End widebody kit right down to the British Racing Green paint job and Rockford Punch in the trunk, I swear to you this is the car I drive in my recurring dream. The one where I destroy The Stig's power lap time around the Top Gear test track while jamming out to James May singing along to Daft Punk's One More Time in the seat next to me. I have to keep pinching myself because I too call her "Evyline" and even May's seat design is to a T. This month's cover story is giving me the creeps actually. All the more reason to read on.
"I chose this car because it had just come out when I bought it in January 2008," says Estacio, a RN at the UCSD Medical Center. "I was inspired by my friends and teammates to build this car and, since my previous cars were rear-wheel-drive, I wanted to try an all-wheel-drive car this time."
"It was one of the first Evo 10s running on the street around here," he says. Estacio's tuned 2006 Nissan 350 Z Touring Edition and 2002 Honda S2000 are well-known in the scene. As an established member of team auto concept elite, he understands what it takes to have a car that stands out in a sea of Southern California tuners.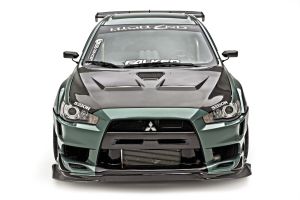 You see, the first iteration of this project received plenty of attention after it went through a whirlwind of upgrades to be ready for the 2008 SEMA Show where it was first spotted in the Eneos Oil booth. In 2009, Evyline was on display in the Samco Sports booth and, in 2010, it was Seibon Carbon's turn. Consistently raking in all kinds of media accolades and top awards, it has taken Estacio years to get it just right!
One look is enough to confirm just about everything but the kitchen sink has been thrown at it. In terms of looks, the already aggressive Evo 10 has been made over by Camarillo's High End Performance and none other than PJ Bonafacio. High End's custom wide body kit has built-in provisions for airflow and cooling via integrated splitters, lower chin spoiler, rocker panels and rear diffuser that looks killer with an Evo-R carbon fiber front bumper cover (center section) paired with matching Seibon Carbon vented hood and trunk. Ralliart taillights have been swapped in while further aerodynamic improvements come via Jun Auto mirrors, Mitsubishi wind deflectors, a Perrin shorty antenna and the large Voltex Type-V GT wing. Once High End Performance had finished outfitting the car, it was sent off to PJ Bonafacio's body shop where he personally shot it with BASF racing green paint.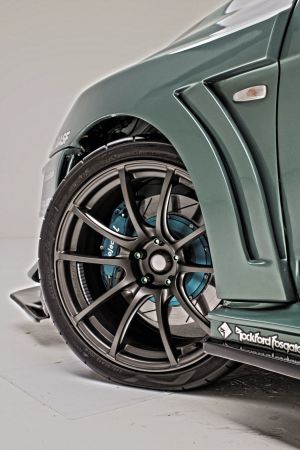 As you might expect, Mitsubishi's 4B11 turbocharged four-cylinder is substantially bolstered with many HKS parts to improve on the factory numbers. For starters, the stock turbo setup is replaced by a full GT kit consisting of a GT3240 turbine with an A/R 0.73 and new front and bypass pipes. A Racing Suction Reloaded intake kit, Type 2 intercooler, SSQV III blow-off valve and GTII 50 mm wastegate help on the air side while a HKS fuel rail, adjustable fuel pressure regulator, Top Feed 1,000 cc injectors and Super Fire racing spark plugs help out with fuel and spark. The raspy tone plays through a MXP test pipe resonator and stainless HKS Hi-Power twin exhaust.
Road Race Engineering in Santa Fe Springs is credited with the engine work, including fortifying the cylinder head with Cosworth MX1 grind camshafts and ARP studs, porting the OEM exhaust manifold and fitting the supporting cast of HKS turbo outlet pipes, suction pipes, oil lines, caps and other parts. An electronic valve controller and turbo timer are found in the cockpit for easy access to different programs. To help reduce parasitic loss for the engine and AWD drivetrain, the AC system has been removed thanks to a kit from AMS. The engine bay's clean show finish comes courtesy of gold-colored Dress Up Bolts and various custom carbon fiber covers and panels throughout.
The Evo MR comes with a twin-clutch SST automatic transmission with paddle shifters that would be just insane with this setup. But, as a driver, I love the fact the GSR's five-speed manual transmission is being put to good use here albeit with some major upgrades in the form of a six-puck race clutch kit and Prolite flywheel combination from ACT.