Written by Dave Pankew | 27 November 2009

Written by Dave Pankew | Photos By Jacob Leveton
The key to any successful project is to pace yourself, be consistent and reliable without overdoing it. You have to constantly push boundaries but not to the point of burning out or ending up in the loony bin. There are a few key players in the automotive aftermarket that continue to go hard and build hit after hit, yet somehow keep it all together without slipping. When they team up, only magic can happen. When we first heard about the K-Sport BMW located in their booth at SEMA, we didn't know what to expect. K-Sport vehicles in the past had been tight, but nothing too outrageous. What we stumbled upon was a super aggressive M3, that had all the right parts. We inquired about the build quality and tuning of the car. "Oh, Chris Bergemann from Horsepower Freaks is involved? Nuff said." I muttered. Owner Oscar Trevizo of El Monte, CA was quick to fill us in on the details behind the build.
"This car was a vision I had been building in my head for some time," stated Trevizo. "I knew that the E46 M3 would be a much better car turbocharged, but at the time no one was really doing any applications for the E46 M3." He then found the force fed experts at HorsepowerFreaks Inc. (HPF) who had been concocting turbo kits for the E46 M3 3.2L motor. At the same time, he had bumped into the owner of Asuka Design who build high-end aero parts for Japanese cars. "I met Brad, the owner of Asuka at a CVS Pharmacy shopping for car magazines. We started discussing his 16pc full carbon fiber 350Z Nissan. It looked Amazing! At that moment I knew Asuka had the potential to produce a body-kit for the European market."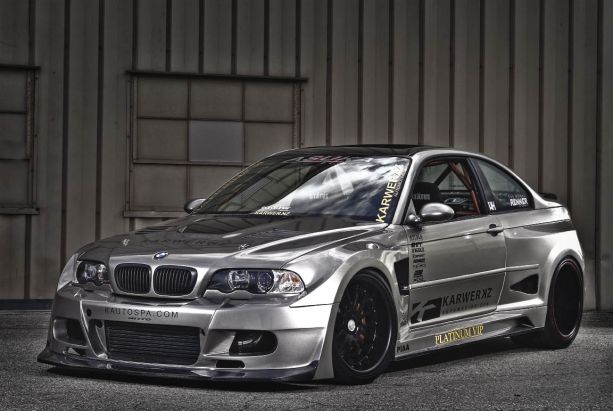 From there Trevizo's company Karwerkz Automotive Spa and Asuka teamed up to product the full carbon fiber widebody you see here. "The Asuka Design kit doesn't ask to be seen, it demands attention. There is a certain tone the kit evokes and it is also functional at the track."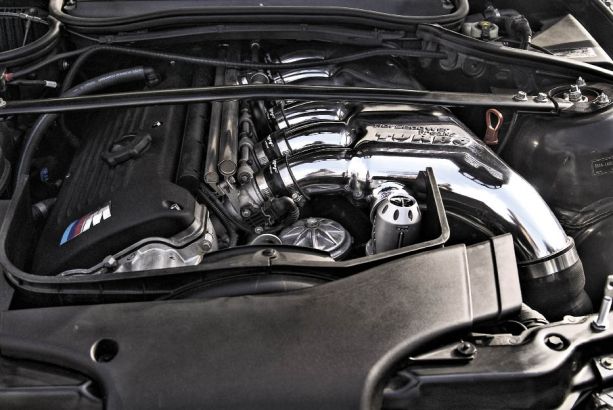 Meanwhile at Bimmerfest that year, HorsepowerFreaks had introduced their stage one turbo for the E46 M3. With 730hp it had no competition and Trevizo had to have it for his widebody M3. "I thought to myself, this must be a sign... My dream of a turbo for my widebody M3 is a reality. With massive amounts of horsepower, I knew they were having a hard time putting the power down. So I gave HorsepowerFreaks a call and soon after we were working on two of the most powerful E46 M3's that exist today. The HorsepowerFreaks M3 is a street and drag car, while my car is built for racing. I plan on participating in the Time Attack events in SoCal."
It isn't much of a secret how HorsepowerFreaks Inc. (HPF) kits make so much power with their turbo components. Starting with the Precision Turbo PT67, the snail is mated to a Steed Speed turbo manifold and connected to a network of piping. The chilled side feeds into an HPF front mount and is vented by twin HKS SSQVs before headed towards the HPF intake manifold. There is enough fuel provided by the the HPF 750cc injectors fed by twin pumps and regulated by an Aeromotive FPR. The hot side dumps into an Agency Power exhaust and the boost is regulated by a TiAL 44mm wastegate. An FJO water/methanol injection system is onboard integrated into the HPF manifold to eliminate detonation at high boost.
The tune is courtesy of HPF's version of the AEM EMS which is tailored perfectly for the turbo setup. The system includes: methanol control, four switched maps for pump gas, race fuel and methanol, all controlled from within the cabin. The HorsepowerFreaks unit integrates a knock warning siren inside cabin, controls the oil scavenge pump, manages boost and methanol activation. It features a safety methanol line pressure switch that drops to low boost when outside of set range to save the motor.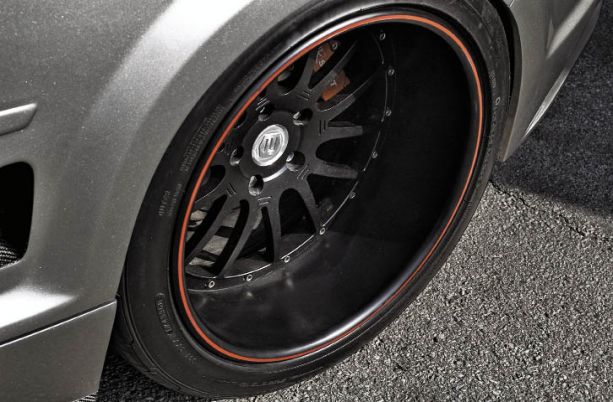 When it came to suspension and braking duties, Trevizo turned to K-Sport. They had M3 applications and we're willing to work with Trevizo to provide the setup that would extract the most out of their systems. A set of the K-Sport Kontrol Pro damper was selected for it's mono tube design and high adjustability. The UUC Motorwerks provided the camber arms in the rear to ensure the right stance. HPF added a brace to add to the rigidity of a car caged by Groma Fabrications. The already capable braking system got a shot in the arm with K-Sport's 14-inch drilled and slotted rotors clamped by 8-pistons up front and 6-pistons in the back.
The rolling gear is nothing short of intense when you look at the numbers. The Enkreuz Competition Series M7s measure 19x10.5-inches … in the front. Wrapped in a Nitto INVO 285/35-R19 the front wheel is eclipsed by the rear wheel, which is a shocking 13-inches wide wearing a stretched 345/30R19.
Like what you see? Want to build one of your own? Well Karwerkz can make that happen as they assembled a turn-key kit to turn your stock M3 into this street rocket. Depending on the horsepower you want to put down you are looking at between $130,000-$150,000 and since all of this gear is tested together, you know it works. ... And you know you want it!

ESSENTIALS
Owner: Oscar Trevizo
Location: El Monte, CA
Vehicle: 2003 BMW M3
Power: 633whp with 459lb-ft
ENGINE
HorsepowerFreaks built motor
Precision PT67 turbo
HorsepowerFreaks oil scavenge pump, HorsepowerFreaks oil feed and return lines
FJO methanol injection
K&N filter
HorsepowerFreaks cast aluminum high flow intake manifold
Walbro 255 inline pump + factory internal fuel pump
Aeromotive EFI fuel filter
HorsepowerFreaks intercooler
HorsepowerFreaks intercooler piping
HorsepowerFreaks/Venair 5 ply silicon couplers.
HKS Super sequential
TiAL 44mm V-band
750cc HPF high impedance injectors
Denso Iridium IXU24
ARP head studs
Steed Speed CNC'd steel ceramic coated 2 piece manifold with individual runners
HorsepowerFreaks magnesium plated steel
Agency Power SS exhaust
ENGINE MANAGEMENT
HPF/AEM engine management system
DRIVELINE
HorsepowerFreaks Stage 2 Clutch
WHEELS, TIRES, BRAKES
Enkreuz Competition series M7
19X10.5
19X13 rear
Finished in a flat black
Nitto INVO 285/35-R19 front and 345/30-R19 rear
K-Sport-Procomp Front Big Brake Kit 14" rotors w/ 8 piston
K-Sport-Procomp Rear Big Brake Kit 14" rotors w/ 6 piston
SUSPENSION
K-Sport-Kontrol Pro Damper System mono tube
HorsepowerFreaks Under brace
UUC Motorwerks adjustment rear control arms
EXTERIOR
Asuka Design carbon fiber body kit designed to create front and rear down force for high speed racing as well as comfortably fit 285's in the front and 345's in the rear.
Asuka Design carbon fiber
Asuka Design carbon fiber
Asuka Design carbon fiber both front and back
Asuka Design carbon fiber
Asuka Design carbon fiber
Crystalite cover protection
Asuka & Karwerkz Automotive Spa
Platinum VIP paint: Lamborghini titanium silver
Graphics done by Noendz Graphics
INTERIOR
NRG black suede racing 3spoke
AEM Six in One UEGO Wideband
AEM Boost gauge
Autotech Gauge Pod
Keyed race fuel switch
Methanol activation switch
Status Ring racing seats
Groma Fabrications 12-point custom roll-cage
SHOUTOUTS
HorsepowerFreaks
Asuka Design
Karwerkz
Nitto
Groma Fabrication
PIAA USA
NRG Innovations
NOENDZ Graphics
K-Sport
Crystalite
ENKRUEZ Wheels