Written by Budd Stanley. Translation Courtesy of Aaron Mai | 10 May 2016
In an industry packed full of egos and posers, Akira Nakai brings an element of cool that has been unmatched in the car business for quite some time. He is the James Dean of our time, never caught without a cigarette burning away between his fingers accompanied by a squinting emotionless stare that cuts right through you. He is a rebel within a passionate sorority – that of the Porsche-phile – who is either despised by the purists or worshiped by the trendsetters.
The founder of RAUH-Welt Begriff (RWB), Nakai-san has revolutionized Porsche tuning with polarizing authority and audacity. He takes one of the world's most beautiful and celebrated automotive icons and cranks the volume to 11, creating a visual impact like no other. The high-priced machinery that is put into Nakai-san's stead arrive as collector's items, but leave as numbered and named works of art. To own an RWB Porsche is akin to owning a priceless painting, only each RWB Porsche is as devoted to driving performance and pleasure as it is in its menacing looks. He is most comfortable in the shop, almost dancing around the highly prized and valuable machinery that he is about to radically alter. He swings power cords in the air, skips around the car and drops tools and cigarette lighters like a mob hit man after a kill shot. But he does it in his own little world, as though he is the only one in the room. In Nakai-san's world, the only things in the shop are the tools he wields and the car he creates. However, in reality, the shop is a theater, and Nakai-san is the focus of attention. He is a hard man to find. From his humble beginnings in his shop in Chiba Prefecture, Japan, he now jet sets around the world crafting his trade. We finally caught up with him in Palmerston North, New Zealand, where he was undertaking a twin build of two Porsche 964s. Nearly having to restrain the restless and enigmatic character, we sat down with Nakai-san to talk about where he came from, what drives him and what makes an RWB special.
First off, how did you become fascinated with Porsches?
First of all, I like Porsches, especially the classic Porsches. I first drove a Porsche 20 years ago and thought, 'Yeah, I would like to tune these!' Twenty years ago, they were expensive, but they were fast. That is where it all started. That was pretty much it.
What is "RAUH-Welt" and "Zweite Entwicklung"
Rauh-Welt comes from German. It basically means Rough World. Zweite Entwicklung basically means "Second Evolution," which is what I feel these Porsches undergo.
You are very focused on your work. What goes through your mind when you stare at the car you are working on?
I think about what has to happen, what kind of car it is, what the history of the car is and things like that. Initially, I look at what needs to be done, sometimes things need to be fixed before I can start work on them, too. Once I feel I understand the car, then I can begin working on it -- only when that happens though.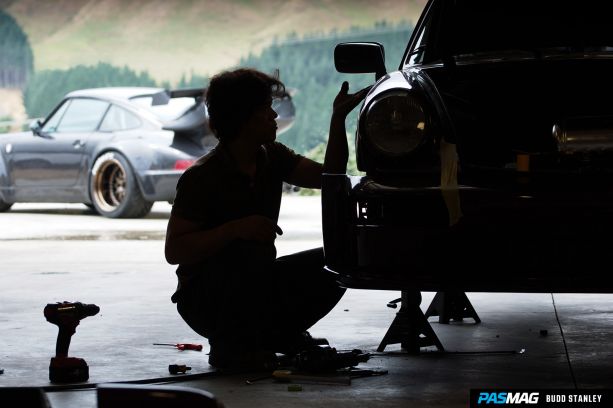 Nakai-san is a firm believer of "measure five times, cut once". As one would expect when cutting into a $100,000 Porsche.
What goes into naming each car, and what does that mean to you?
I don't get to name the car every time now, but when I do though, I take inspiration from many places in order to come up with the name. At the time, the location, good drinks or even something as simple as a song that played on the radio while I was working; the inspiration comes from many various places.
Would you call yourself an artist?
I don't consider myself to be an artist. Building is my passion; all the money I earn from my work gets turned straight back into cars. I put as much inspiration into each build as I possibly can. Every car is someone's treasure, so it is important that it looks fantastic and drives just as well.
Are the cars you design inspired from motorsports, style or a mixture of both?
Style. I get inspiration from the base car; I envision it in my head and from there comes the inspiration for the build. I don't build as if it's just my job, but rather I build it as if I owned it and was driving it for myself. That is how I build.
Where do you get your inspiration?
Actually, it just suddenly comes, you know? It comes while I'm working, while I'm drinking, or listening to the radio in my workshop. It just suddenly comes to me.
Do you have a process or routine you follow when building a new car?
There is no process that I follow, I go about it how I feel is best at the time. That is Rough World.
What does each car mean to you? Is it hard to create something and walk away from it?
Sometimes it is, but even if I feel sad, I always tell myself I will be back. That way, it isn't too much of an issue.
Is there one build that stands out in your mind from your time of building RWB Porsches?
Every build is memorable. Having the opportunity to live is memorable. I treat everyday as a precious moment.
Is every car fairly straightforward or does each offer their own challenge?
No two cars are the same; every car presents different challenges and things that have to be overcome. Never have I had two builds or cars that were the same in characteristic.
In your opinion, what would be your perfect or dream project?
This is a question I get asked a lot. Because I want to drive my favorite cars, for me it's what I am into at the time. So, at the moment for me it's Porsches. There is no such thing as perfection. We always strive to come as close as we possibly can to perfection, but this is something that nobody can attain. We produce cars that are close to perfection, but none are perfect. Don't you agree?
What should a potential RWB customer expect when employing your services?
Every Porsche is created specifically for that owner. The style, for example, like smooth fenders, or bolt-on fenders is chosen by them. The color is something we work together on. They give me a range of colors they are happy with and then I make a final decision on the body style and color based on their personality. Every car is completed and then given a special name. The cars are also given numbered plates to show their authenticity, every one has a serial number, and the RAUH-Welt logo printed onto it. Also, no two cars are the same, as every kit I fit goes on slightly different. Some kits twist a little and I have to adjust each one individually to make it sit right. It can't be done as a production line style of building.
How long does it take to build one car?
Well it depends, as currently the overseas market is so popular. Firstly, we receive the order and then manufacture the kit after payment is received. Each county is different, so everything is packaged up and sent on to where the buyer is. Once they receive the kit, they paint it along with the car. We decide on a schedule and then I go and build the car. It usually takes about three days, sometimes four days. If I am under the gun, I can build the car in two days. Something along those lines.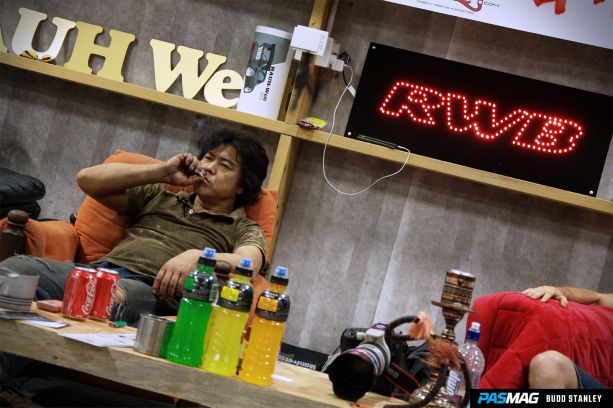 Nakai-san takes many breaks to smoke and eye up the work in question.
Why do you choose Work Wheels for all your cars?
Work Wheels have created special offsets just for me. I know the owner very well and I know they are strict with their testing and quality, so this is why I choose to use Work Wheels.
RWB is well known for running crazy offsets, what is the biggest offset you have used?
Yeah. So far, the biggest I have ever run is -100.
What advice do you have for amateurs who try to alter their own cars?
Don't be swayed by what others say! Do what you want to do and stick with it.
Does the constant travel take a toll on you? What drives you to keep doing this?
It's my passion; I tend not to think about how hard it is. When it is your passion, you do what you need to do.
If you could not build RWB cars, what career would you choose?
I have never thought about that.
How do you respond to those who think you destroy these cars with what you do?
Everyone is different; some like what I do and some don't like what I do. We will never all feel the same way about something. That is the beauty of life. Everyone has their own opinions. If 100 people or 200 people all say my work is good, then it's good. Even if only one out of those 200 were to say good things about my work, then that's also good. Whether people's opinions are good or bad, I welcome both; feedback is a good thing. Even if people say they don't like my work, it still makes me very happy. The fact that my work caught their attention, I am grateful for.
Are 911s your only focus, or will you work on other cars?
Right now, I am not interested in working on any other cars. Although, in saying that, I might wake up and feel inspired to build something for another model so you never know.
Where do you see RWB in 10 years? What does the future hold for you?
I never think about the future. I haven't given it any thought. I live in the here and now. I concentrate on what I am doing now and enjoy it as much as possible. At this stage, there will not be any new projects as the 997 shape and other modern Porsche bodies don't inspire me. I won't create a kit for a car just to make money, that isn't what it is about.
What happens to RWB when you stop building? Will it continue or is that the end of RWB?
When I am too old to build, then RWB will continue, however, there will not be any more cars built. I won't pass on the legacy to anyone to build them. I have built all the cars myself so far, and as it is my own passion, I would prefer that I build the first and last cars. RWB will continue with the RWB family though.
Please describe your New Zealand experience.
New Zealand has been a place that I can really relax while working. Being here has made me very, very happy.
What do you want customers to get out of owning a RWB Porsche?
The bottom line is that I want people to cherish their car and enjoy driving it, to look after it and actually use it, not just 'collect' them. There are people around who admire the cars, and some who don't like them, but the most important thing is how the car makes you feel. I want the car to make you happy when you drive it. I want many people to drive them. Tuned street cars are actually not a large amount of the whole number of cars present around the world. We all want to drive nicely-tuned cool cars, right?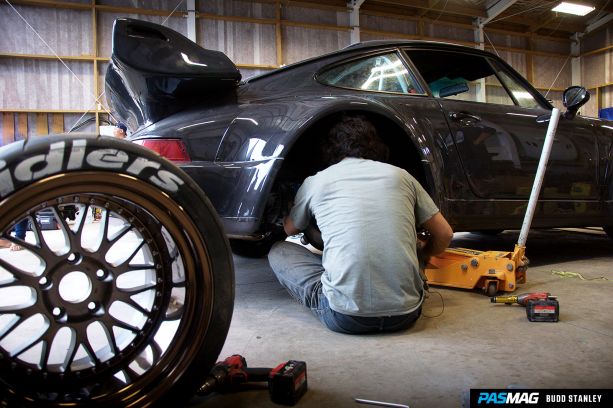 Left to his own devices, Nakai-san fine tunes suspension alignment.