Written by Daniel Ponzini | 01 April 2010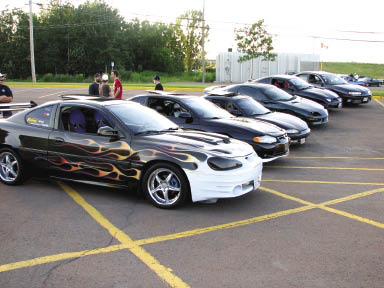 President / Founder:
Rick Sanders
Established:
2007
Website:
www.gmtunerz.ca and www.gmtunerz.com
Myspace:
www.myspace.com/gmtunerz
Twitter:
twitter.com/gmtunerz
PASNATION Team Username:
MrFreez or GM Tunerz
Locations / Chapters:
Halifax Nova Scotia Canada, Moncton New Brunswick Canada, and Kentucky USA
Number of Members:
90
Club / Team History:
The club was formed by Rick Sanders, a car enthusiast that loves GM cars. He figured thousands of other tuners must share the same hobby and passion for GM vehicles, thus the club was created. They enjoy meeting, tuning their rides, going to shows and hitting the track together. Started in 2007, Sanders was a member of other car clubs located in Quebec and Nova Scotia. After seeing how poorly organized the clubs were, Sanders aimed to create a specialty car club solely for GM vehicles. They are all really good friends that help each other when it comes to modifying their rides. Some members even work in the automotive industry and have a great depth of automotive knowledge to help the club.
Awards / Accomplishments / Media Coverage:
Their members have won a few best-in-class trophies from various car shows. They've been featured on the Nova Scotia Drag Racers Association Website (NSDRA) and on www.pasmag.com
Shows Attended:
They participate in many car shows throughout the summer and they even host their own show every year in
June.
Team Sponsors:
Halifax Auto Club, Webenergy Software, Engine Check Up, Miller Tire, Hard Drive Café, Specialized Automotive Services, WolfTech, and Sam's Seafood & Grill
Community Involvement:
Their annual car show donates its proceeds and accepts donations for a local food and furniture bank, plus they participate in parades.
Organized Meets / Membership:
Monthly coffee meets through winter season, weekly summer meets. To become a member you must have a GM vehicle and pay membership dues of $15 a year.
Future Plans:
GMtunerz plans to expand membership in all their chapters and to gain a stronger following in the USA.
Final Thoughts:
Although imports are more popular in the scene, a wicked Camaro, Corvette, Trans AM, GTO, or any muscle car can always draw a crowd too.