Written by David Miller | 10 November 2016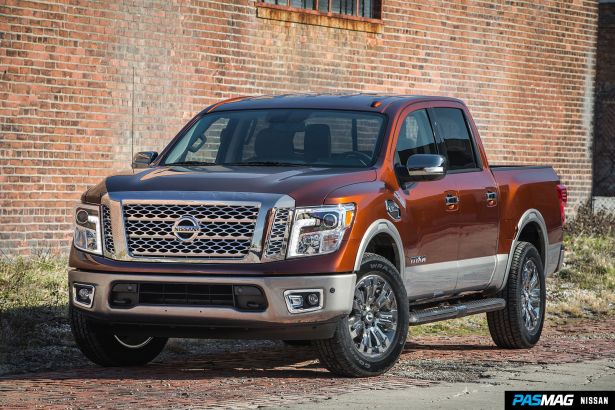 Trucks have never been outstanding sellers for Nissan, but they're hoping their three current offerings, the Titan half-ton, Titan XD gas and Titan XD diesel will make a dent in the lucrative full-size U.S. truck market.
On that score, year-to-date Titan sales are up 15.3 percent (through Sept. 30) over 2015, although at just under 11,000 units sold, it's not yet in the same league as the segment-leading Ford F-150 which had sold almost 600,000 copies in the same time period. A very, very long way to go indeed.
At any rate, the half-ton, which we will simply label as Titan, has the same width as the larger XD, but it gains in wheelbase (11.8 inches), overall length (14.6 inches) and height (2.8 inches). The same gas engine is used in both products – a 5.6-liter V-8 that cranks out 390 hp and 394 lb.-ft. of torque; while the XD gets another version in a Cummins 5.0-liter turbo diesel unit that lowers its hp to 310, yet ups the ante on torque at 555 lb.-ft. of it. In addition, it should be pointed out that Nissan is in the development stage of bringing in a V-6 engine option for Titan consumers.
There are two transmissions in play: a seven-speed automatic that works the gears for the V-8 and an Aisin six-speed automatic for the diesel. As for the beds, the Titan gets a 5.5-foot space, while the XD version gets more storage capacity with a 6.5-footer.
The Titan is a nice pickup that stands tall and generates an impact with a large perforated chrome front grille with available LED projector headlamps that mean business. Outside of its measurements, there are few styling differences to be found between the two. You have to look long and hard to see the hood variances; the slightest changes in the diesel are made to make room for its powertrain. Just note that each version has its own suspension, chassis and body parts.
In terms of payload, the gas version can hold up to 2,510 lbs., 500 more than its XD diesel counterpart. On the towing side, the diesel is rated at 12,010 lbs. and the gas version checks in at 10,970.
On the road, the XD diesel can get a bit sluggish to drive; while fuel economy in the gas versions isn't ideal with a recording of 13.3 miles per gallon on a recent press event. However, outside of those two annoyances, there isn't too many other issues with the Titan. Sure, it's not great to park or make complicated turns in, but what truck is?
With a starting price of $34,780 for the Titan and $36,290 for the Titan XD, Nissan is offering up great value for a pickup that can be that everyday workhorse, yet display the driving prowess of an SUV with seamless gear shifting. And if that's not enough, Nissan is tossing in a five-year / 100,000-mile bumper-to-bumper warranty that the company is billing as 'America's Best Truck Warranty'.
SPECIFICATIONS – 2017 Nissan Titan
BASE PRICE: $35,975 (Titan) / $37,485 Titan XD (incl. $1,195 destination)
ENGINE: 5.6L V8 (Titan & Titan XD gas) / Cummins 5.0L V8 turbo diesel (Titan XD diesel)
HORSEPOWER: 390 hp @ 5,800 rpm (Titan & Titan XD gas) /310 hp @ 3,200 rpm (Titan XD diesel)
TORQUE: 394 hp @ 4,000 rpm (Titan & Titan XD gas) /555 lb-ft. @ 1,600 rpm (Titan XD diesel)
CURB WEIGHT: 5,508 lb. (Titan, depending on trim) / 6,986-7,400 lb. (Titan XD)
CONFIGURATION: front engine, RWD or part-time 4WD
TRANSMISSION: seven-speed automatic (Titan & Titan XD gas) Aisin six-speed automatic (Titan XD diesel)
FUEL ECONOMY RATINGS (CITY / HWY. / COMB. MPG): 15 / 21 / 18 (Titan)
WARRANTY (MOS. / MILES): 60 / 100,000
ALTERNATIVES: Ram 1500, Ford F-Series, Chevrolet Silverado, GMC Sierra, Toyota Tundra