11 October 2016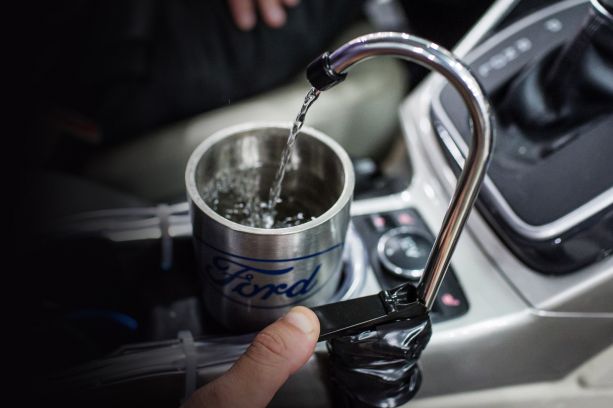 Kill All Water Bottles! Have you ever been driving along during a road trip thirsty and without water? The nearest stop along the highway isn't for miles, and your mouth is as dry as the desert sands passing by your windows. If the vision of Ford Powertrain Controls Engineer Doug Martin comes to fruition, that scenario could be a thing of the past for some.
Taking inspiration from a billboard in Peru that condensed water out of thin air for local residents, Martin decided that cars could do something similar. On-the-Go H20 is a system that recovers water from the condenser of an air conditioning system, pumps it through a 0.1-micron filter, and sends it to the cabin via a tap in the center console. The system is capable of producing an impressive two liters of water per hour when active, which is staggering when you consider that the water essentially comes out of thin air.
The idea, which is still in its prototype phase, is intended to benefit developing countries where there is a shortage of clean, drinkable water. The system is also designed to be able to filter unclean water, making it a multi-purpose system for producing drinkable water.
While originally intended for developing countries, we can certainly see creature comforts like this becoming a feature in regular passenger vehicles on North American shores, especially as self-driving autonomous cars gain popularity. We're just surprised they didn't call it the Ford Synk. #pasmag