20 July 2016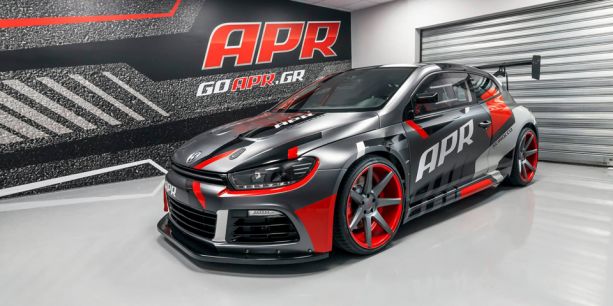 It might surprise some readers to learn that APR has a branch in Greece, but they do, and that's not the end of the surprises. Last November, the Greek APR division began working on their latest project, the Scirocco GT24. The Scirocco, which experienced its competition debut in GT24 form before its production counterpart hit the consumer market in 2008, was the subject of a transformation inside-and-out.
At first glance, the car looks wild. Bright red accents adorn the otherwise black and gray APR livery and color-scheme, and the same red fills the dish and lip of the equipped Vossen CV7s. Even the lettering of the Vossen center-caps is filled in red. The Scirocco's form is made even more striking with the liberal application of carbon fiber around the body kit, as well as with the help of big, aggressive spoilers in the front and rear.
Step inside the stripped-down cockpit of this 24-hour racing machine, and you're met with a continuation of the livery's theme with a bright red roll cage and similarly colored racing harnesses. The interior has been shaved down of all excess, save for the dashboard, and fitted with OMP racing seats.
All of that saved weight becomes even more potent when you tally up all of the performance add-ons. Bumping the power output to a respectable 377 horsepower with matching torque is a collaborative effort betweenAPR's stage 2 intake, cast downpipe, an advanced intercooler and their K04 ECU. Truly a work of art, this Scirocco GT24 may be the best thing to come out of Greece since democracy itself. #PASMAG