Written by PAS Staff | 16 September 2013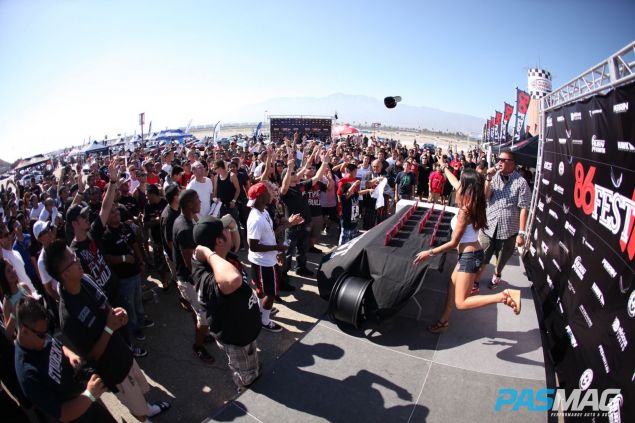 Written by Tom Stahler (Intro by Jordan Lenssen)
The brainchild of Antonio Alvendia and Kevin Tidewell, the roots of 86FEST date back to the 1990s and the AE86. Back then, while most people in the car scene were attending car shows and import drag racing, Alvendia and his friends were competing in SCCA autocross. He owned a front-wheel drive Toyota, but soon noticed the fastest guys had rear-wheel drives, so he hunted down his first AE86 – a 1985 Corolla GT-S hatch with a factory LSD, and let's just say the rest is history.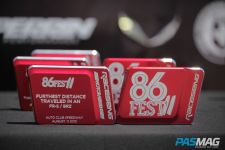 When the 86 platform was announced, Alvendia (of MotorMavens) and Kevin Tidwell (IWSTI) put their joint passions, vast AE86 knowledge and industry contacts together to brainstorm an event that celebrated those front-engine, rear-wheel-drive cars that brought them to where they were in the first place. With some help from Moto Miwa (Club4AG), and his experience in track events and autocross, 86FEST was born.
Some people might think 86FEST is just a carryover from the AE86 Festival in Japan, but the show in North America is truly original. Now entering its third year, 86FEST is anticipating its biggest event yet, which is hard to imagine considering the previous turnouts.
For 2013, 86FEST II presented by Turn14 Distribution took over Auto Club Speedway in Southern California, attracting more than 240 Scion FR-Ss and Subaru BRZs, 40 AE86 Corollas and over 4,000 enthusiasts. 86FEST wowed its attendees with a massive vendor village, consisting of over 80 companies offering the latest advances in aftermarket performance parts and accessories.
While a number of spectators gathered trackside to watch their friends participate in the 86FEST autocross experience, most attendees were in the vendor village busy shopping for parts and participating in the 86FEST Parts Raffle. For two years running, the 86FEST Raffle has remained the most popular element of the show, providing attendees with the chance to take home over $15,000 in performance parts and accessories from top name brands like Hawk Performance, HRE Wheels, Innovate Motorsports, Vortech Superchargers, GReddy and Jackson Racing, to name a few.
Daryl Sampson, Marketing Manager at Turn 14 Distribution, one of the nation's largest performance parts wholesale distributors, recognized how 86FEST offers a unique, large-scale event that gives brands the opportunity to connect to enthusiasts, taking a great deal of interest in 86FEST and the popularity of the 86 platform.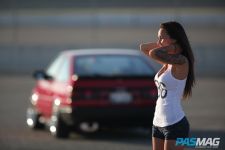 "We were really excited to brand our company within the 86 community and show support for our vendors – speed shops all over the nation who sell parts for these cars," Sampson said. "The show is fantastic, it's a really great crowd. There are a lot of knowledgeable enthusiasts who really define the lifestyle behind the car, but many are also getting involved in motorsports for the first time, creating the opportunity for companies to facilitate that experience."
Representing the official brake sponsor of 86FEST, Hawk Performance Marketing Manager Cody Currie said, "We knew we had to be involved [with 86FEST]. This is such an enthusiastic crowd – real car people – who understand the need to upgrade their brakes to improve their car's performance."
Hawk Communications Director, Carrie Fisher added, "We have so many applications for the FR-S, BRZ and all the older Toyotas that are popular with this growing market segment. We felt it was very important for the Hawk Performance brand to be involved and support this type of enthusiast event."
Thousands of prospective owners attended 86FEST with the sole purpose of experiencing the culture surrounding the car, researching the latest parts offerings and talking to current members of the community. Of the hundreds of owners who attended, many showed off their cars and participated in the autocross, while others purchased new upgrades at special, show-only prices.
Attendees shot tons of photos and videos, uploading thousands of them to their social circles and engaging in the social contests offered by many of the official sponsors.
If you don't already know how popular the 86/FR-S platform is from the number of magazine covers it has appeared on over the last year, the sheer number of parts and accessories available from every major aftermarket manufacturer are a great indication, especially given the car is just a little more than a year old.
Alvendia and Tidwell knew when Toyota and Subaru introduced the 86 platform that 86FEST would be popular, but they had no idea it would become this popular this soon.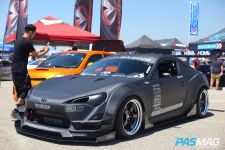 "Compared to its inaugural year, 86FEST has grown a lot," Alvendia said. "This time around, we were able to spread the event out a little more, so people weren't as closely packed in, and that has worked well. We wanted to spread the cars around so the car owners could easily interact with all the vendor that set up booths. I have been to automotive events all over the world, and our event has more [FR-Ss and BRZs] than I have ever seen in one spot."
Despite the distance, cars came from all over the United States, including race cars, track cars, show cars, enthusiast cars and every SEMA FR-S/BRZ.
Beyond the cars, vendors and models, there were also racing stars. Formula Drift pro driver Ken Gushi – the poster boy for Scion's FR-S print and TV campaigns – was in attendance for the second year in a row.
"Last year we really didn't know what to expect and, in the end, the result was really overwhelming and we decided to plan a greater presence this year," he said. "The crowds were great and we saw the overall support of the community for the FR-S/BRZ twins. So we knew that coming back to 86Fest this year would be that much bigger."
Gushi's team, GReddy Performance, had a great display as they brought out his race car and personal street car.
After the success of 86Fest II, it is clear this can't just be called a car meet. It is something that even general enthusiasts are circling on their calendars. The quality of on- and off-track competitions, the showcases and events throughout the weekend reveal a level of preparedness and execution from lessons learned.
Thankful for the fan support and amazing atmosphere, Alvendia said, "We look forward to growing this event and thank everyone for their suggestions, feedback, and participation in making 86Fest a success this year and for years to come!"