Written by Jeremy Alan Glover | Photos by: Jeremy Alan Glover | 19 December 2013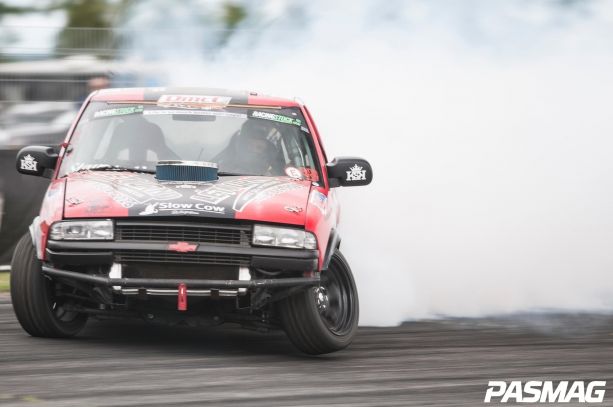 The fight for the 2013 DMCC Rookie of the Year ended up being pretty easy for Maxime Lemoine this past season. Not only did Max take the Rookie of the Year title, he also came within a few points of taking home the overall 2013 Championship. For those who do not know who Maxime Lemoine is, he is one of the nicest drivers you can meet at an event. Maxime is a crowd favourite for not only his driving style but because he is the first ever person to be drifting a Chevy S10 pick-up truck. We caught up with Max and asked him a few questions on just how this last season went.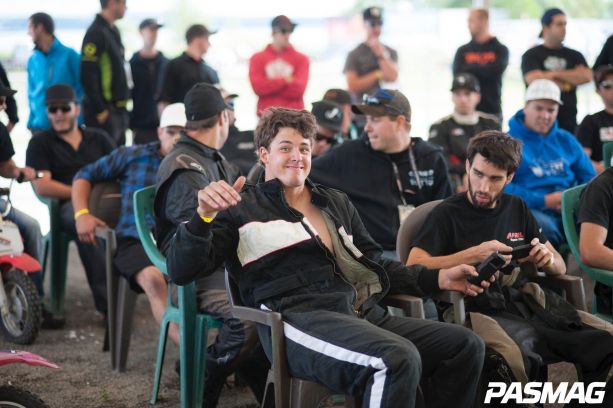 PASMAG: How was your first full DMCC season as a Pro?
Maxime Lemoine: My first year as a Pro was absolutely amazing. I learned to drive fast with the top guys and I loved it.
PASMAG: Who was your toughest competitor?
ML: I had two really tough competitors, Dave Briggs was one of them. His car has so much grip it is very impressive. The other driver was Pat Cyr. He is so fast out on the track that it makes it very hard to win against.
PASMAG: What were the highlights of the season?
ML: One of the best moments was during RD2 when I not only won the event but I also was able to beat Pat Cyr! Finishing 2nd in the championship in my rookie year was also a good highlight.
PASMAG: Any new sponsors for the next season?
ML: For now I do not have any new sponsors. I am always on the lookout for new companies to join the team.
PASMAG: Tell us about your car.
ML: It is a custom built Chevrolet S10 with a 454 crate engine. It is the only competitive drift truck out there right now.
PASMAG: Are you going to be changing cars for next season or will you be sticking with the same one?
ML: I would like to change cars but the budget won't seem to allow it, so I am still trying to decide what I will do.
PASMAG: What were your best results this year?
ML: I took home the win twice this year and 2nd in the overall championship.
PASMAG: What were some of the troubles you encountered this year?
ML: This year I had a few problems. I blew both the differential and the transmission once as well as I broke two shocks, but besides that it went pretty well.
PASMAG: Was it hard to adapt to the pro ranks?
ML: The only thing I found hard was the Qualification. There isn't any room for error. All of the drivers are very good so even if you have a perfect run you might only end up 5th or 6th on the grid.
PASMAG: Are there any people you would like to thank?
ML: I would like to thank all my friends, my family, the fans, and the media that have helped me every step of the way, and of course my sponsors who without their support this would not have been possible.
Max has a great attitude and you can tell he is truly there for the love of drifting. From doing wheelies on pit bikes to messing around with the Drift Posse, Max is always entertaining to watch. He will be in no doubt a contender for the 2014 DMCC Championship.
ESSENTIALS
Vehicle: Chevy S10
Driver: Max Lemoine
Team: KSK Drift Team
Built by: Max Lemoine, JP Gagnon, Ced Martel and Pakbo.
Engine: LSX 454
Horsepower: 650 hp
Torque: 600

ENGINE MODIFICATION: LSX crate engine that has been swapped to a carb set up. MSD ignition. Head and intake ported and polished.
EXHAUST: Custom exhaust set up with Long Tube headers and 1 '1/4 primary outlet
DRIVETRAIN: Quicktime bell housing. MCLoed Clutch Kit 10.5" RXT twin plate. Tremec TKO 600 Close ratio transmission.
CHASSIS / SUSPENSION: Complete mig welded Dom tube roll cage. Custom a-arm with QA1 coilovers on the front. Custom ladder bar system also running QA1 coilovers
WHEELS / TIRES / BRAKES: 225/45/r17 BFG KDW up front, 295/35/r18 BFG KDW in the rear.
INTERIOR: Sparco steering wheel and racing seat along with G-Force seat belts.
SPONSORS: EXOshop, Letourno service de pneu, Amsoil Yvan Bernard, KSK Clothing, Slow Cow, Cimota, Atelier Non Tech, Lloyds Transport, Transport John et Peter, Autodrome Montmagny, Napa Piece D'auto Alain Cote, Bar la Broussaile , Leblanc Autocentre ,Soprem