Written by AND PHOTOGRAPHY BY JEREMY ALAN GLOVER | 14 August 2013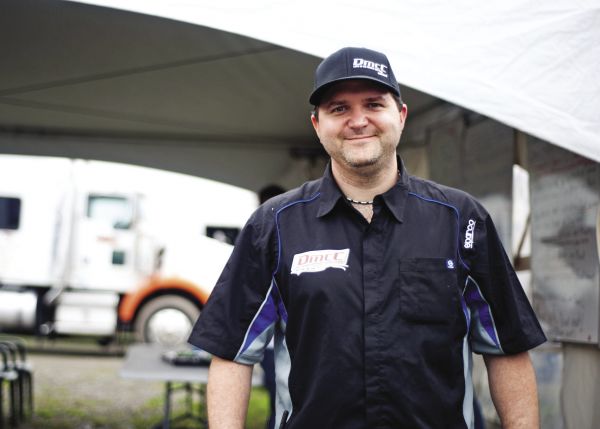 Drifting has come a long way since it first became popular in Canada. The DMCC series has been getting bigger every year despite the economy, lack of sponsors, etc. But former DMCC President Eric Belec has been at the forefront of helping the series continue to grow and be the success it is.

How did you first get started in drifting?
EB: I first attended a drift demo at Autodrome St-Eustache back in October of 2004. Where Marco Santos and Haig Kanadjian demonstrated their skills and about 15 other "drifters" had ?a mini contest where they tried to drift around cones – and most could not even link the infield, which by today's standards is so easy. I was running Onderground-Design, the biggest body kit warehouse and distributor in Canada. The drift cars that were around were not all that pretty and I felt I could help out, so I sponsored a few of the drivers to help their cars look more like the competition cars they are. In 2005, I sponsored the series (called DM1 back then) and I was the sole sponsors beside Torco Oils.
In 2006, I sponsored the series again but had to pull out mid-season due to financial issues with the business – so instead I started my own drifting team. The team was branded with my business name and consisted of JF Chiasson and Kevin Grenier. I also was the manager of the team and took on all tasks, from sponsorship proposals to sourcing out transportation. During this time I also started the DriftThing Nights, which is now the biggest drift practice session that takes place almost every weekend at Autodrome St-Eustache. So far it has completed 250 events and had over 400 drivers attend and help master their skills.
In 2009 I had to let go of the drift team as I purchased the DMCC series. I felt like I could make positive changes and help the series get even bigger. The previous owner did a great job but I had the drive to make it bigger and be proud of making it the biggest drifting series in the country. I had invested every cent to my name to make this series as big as we know it today.

What were some of the hardest moments being in charge of the DMCC?
EB: As an event promoter you want to be successful at everything you set out to do. I have to say the hardest moment in my career was the Downsview Park event in 2009 in Toronto. Trying to form partnerships with businesses as a motorsport many people didn't know about ended up being very expensive. We weren't able to catch any deals. From grandstands to cement blocks, we formed the race track out of nothing. Not to mention the condition of the cement was so terrible that we were constantly fixing it. We would lose about $100,000 every time we would come into Toronto. I really wish there would be a drift-ready race track near the centre of Toronto so we could make ?a huge event in Ontario. There is Canadian Tire Motorsport Park, but it is pretty far and we don't get the same attention from the crowd and media as we do in Quebec.


What are some of your best moments?
EB: I have two best moments; first was at the Montmagny event in '09 – it was my first event as promoter. The weather could not have been better, and the event was so packed we almost couldn't let any more fans in. The main event had some of the best tandems of the whole season too, so it just made it a great moment in general.
Second would be last year at the Victoriaville round. We had over 10,000 people attend – the street parade was a hit, the competition was insane and the weather was great too. All that in a facility we turned into a international-sized race track from the ground up in less than ?a week. As for the rest of the year it is a empty snow dump. It was such personal satisfaction that it made so many people happy by hosting ?a drifting event in their city.

Do you still have ideas on how to make the series even bigger?
EB: Of course I do! I can do anything I set my mind to, as long as the budget is there to support it. I want to have an event in all the biggest cities in the province where we would have total control over everything like we do in Victoriaville; one big event in Montreal with all the local transportation (subways, buses, etc.), Quebec City, Toronto, Victoriaville, Ottawa and Saguenay. We have knowledge on how to transform an empty parking lot into a crazy drift track that can host 25,000 fans, it's just ?a matter of time before we pull it off. We ?already have great plans for 2014, but we have to take things one step at a time. It has been my motto since I started doing business at the age of 19 (I'm 34 now... ouch!). I am a visionary and I know how to achieve my goal. I thank my mom for teaching me this.

What DMCC accomplishment are you most proud of?
EB: I am most proud that, despite the drama and struggles since 2004, I have been able to stay the same person. It is far from being easy and is more than a full-time job, taking anywhere from 70 to 90 hours a week. I always do business with respect and honour to everybody ?I deal with. If a deal is good for both parties then we are all happy and the business is easier the next event. Making friends in your business is always key in my book. I can say that I respect everybody involved and I am happy to see others being successful because of us. Even if people are trying to abuse your generosity, always stay focused on your own goals and don't let the rest bother you. As promoters we need the very best to make our event successful. It's not a king of the hill type of game.

What are you plans now that you are not the president of the series?
EB: My plan is to continue my mission. The group that purchased DMCC has no experience with the operation of a drifting event, especially not the size of DMCC. I have to train them to ensure everybody I work with knows what to do and can master every aspect of our sport and continue the vision I first had when I bought DMCC. I know everything about drifting, marketing and promotions, except actually drifting – I am a promoter after all – so I can be a very valuable asset in the future of DMCC. If that does not end up working out I have other plans to start some non-car events. I am not worried about 'After DMCC.' I will either create other events or transform those that need help to succeed.