25 October 2012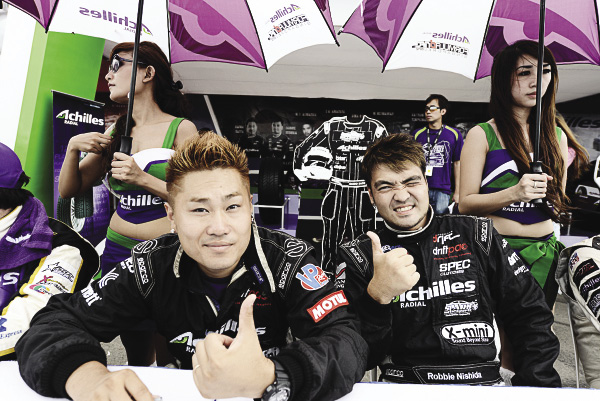 Although Achilles Radial is a new sponsor to Formula D in the U.S. this year, they are far from new to drifting. In fact, Achilles is a longstanding sponsor of the Formula D Asia series, the same series Daigo Saito won last year. After his success in Asia, Achilles decided to support Saito's efforts in Formula D's U.S. series and brought his teammate, Robbie Nishida, from Asia over with him to compete. The team is managed by Bridges Racing, which ran Robbie Nishida in its S13.5 last season as well. This year, the team is aiming to make an impact on the championship. At press time, Saito sat in second place overall while Nishida had cracked the top 16, evidence the team has the tools to compete at the highest level in Formula D.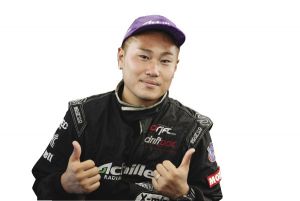 Daigo Saito
Car: Achilles Lexus SC430
Hometown: Tokyo, Japan
Best Finish: 1st – Palm Beach, FL
Current Championship rank: 2nd overall
Current Sponsors: Achilles Radial, CX Racing, Turbo by Garrett, Esperanza, Drift Monkey, Neo Synthetics, HPS Hoses, Drive energy drink, Portland Speed Industries
Daigo Saito is likely the most experienced rookie ever to drive in Formula D. After winning the D1 Japan championship in 2008, D1 USA championship in 2009 and the Formula D Asia championship in 2011, Saito entered the 2012 season with more tandem experience than possibly any active FD driver. While his qualifying results at the beginning of the year were nothing to write home about, his ability to stay close to his tandem opponents won the judges over as he made the top four in the first four events of the season, including a win in Florida and podiums in Long Beach and Atlanta. Saito has been seen in the pits at previous FD events talking to teams and potential sponsors, but has stated privately he didn't want to enter Formula D until he knew he had a package that was capable of winning. Saito has proved he has that package this year and will likely be a championship contender for several years to
come.
Robbie Nishida
Car: Achilles Lexus SC300
Hometown: Tokyo, Japan
Best 2012 Finish: 4th – Las Vegas, NV
Current Championship rank: 15th Overall
2011 Finish: 34th overall
Current Sponsors: Achilles Radial, Turbo by Garrett, Neo Synthetics, HPS Hoses, Brian Crower, Megan Racing, Portland Speed Industries, Designcraft Fabrication, Eat Sleep Race clothing
Robbie Nishida is the experienced FD statesman of the Achilles team. Nishida started the season in Long Beach driving his trusty S13.5 while his SC300 was still being built. It didn't take long to get used to the new car as he earned a fourth place finish in Vegas. Nishida previously finished in the top 10 of the final standings in both 2008 and 2009, including a podium at the 2008 Seattle event, proving he can compete with the top drivers. As Nishida gets more comfortable in his SC300, expect him to be a regular top-eight finisher as well as become a mainstay in the top 10 standings. Nishida also competes in the FD Asia series alongside Saito, giving him more seat time burning Achilles radials.
While Nishida and Saito have been battling it out in front of the cameras and fans in the United States, a similar battle has been waged in Asia as well. Achilles Tire first got involved with FD via the FD Asia series, and both Saito and Nishida are in their second season competing in FD Asia. Daigo is not only the defending FD Asia champion but has won both of the FD Asia rounds this season, putting him well ahead of the pack in the points standings. Nishida earned a top 16 at the first event in Malaysia and a top four finish in Singapore, with just one more round to go in Indonesia at the time of this writing. Sitting in seventh place overall entering the final round, Nishida is less than 30 points behind second, bringing the potential for the pair to sweep Asia in a first-second finish.
Current FD Asia Points Standings:
Ranking Driver: Car# Car Points Total
1 Daigo Saito 1 Achilles Tire IS250C 218
2 Tengku Djan 12 Drive M7 S13.5 155
3 Rio Saputuro 210 GT Radial Cefiro 154
4 Max Orido 55 RS*R Supra 153
5 Emmanuel Amandio 30 Achilles S15 141
6 Hanizam Bin Hamzah 72 Goodyear S14 133.5
7 Robbie Nishida 31 Achilles Chaser 129.5
8 Dika CH Hermawan 216 GT Radial S13 124.5
Here's a quick glance at their FD Asia cars:
Nishida's Toyota Chaser is similar to the Chaser Saito has driven in D1GP both in Asia and in the now-defunct U.S. series for years. Pushing 550+ hp on a 2JZ motor with a similar power band to his FD USA SC300 and a suspension setup that both drivers know well, the car is easy for Nishida to drive. His biggest issue was simply the luck of the draw, running into top-qualifier Tengku Djan in the top 16 at Malaysia and losing to Saito in the top four at Singapore. Had Nishida earned an easier draw, there's no reason he couldn't be higher in the standings.
Saito's Lexus IS250C closely mirrors his US-spec FD car, with a similar wheel base, power plant and suspension configuration. Both the FD Asia IS250C and the FD USA SC430 were built around the same time by Saito and his crew in Japan and both shipped to their respective series with 1,000+ hp on tap ready to eliminate any potential competitors. With his two event wins this season, Saito has now won six consecutive events in the FD Asia series dating back to the first event he entered in 2010. Always looking for a challenge he's been anxiously waiting for a driver capable of ending his reign of terror in the FD Asia series.