Written by & Photos: Giancarlo Pawelec (AutoMotoFoto.net) | 21 October 2011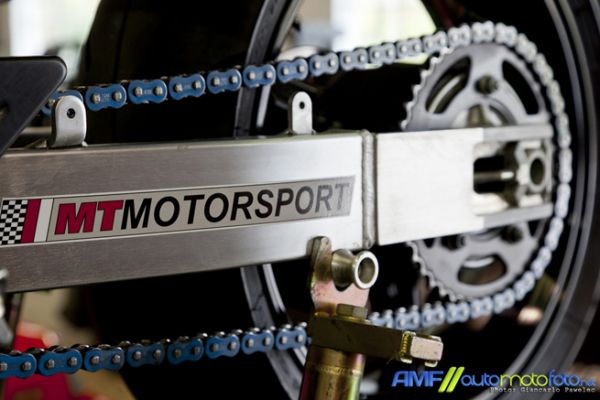 Competition drives innovation – this is fact. As a new kid on the block, MT Motorsport based in Richmond Hill (just north of Toronto), Ontario, Canada is making waves in the tuner and racing scene alike with their unique high horsepower builds and ability to take make an intangible vision into reality. While most shops would turn away customers for their radical ideas like fitting a Corvette LS1 into a little Miata or turbocharging a 600cc sport bike, MTM makes it happen.
Started back in 2010 by Matthew Savini and Tim Hillier, MT Motorsport began as a side hobby / business for the pair of gear heads. Their combined experience as automotive and motorcycle technicians spans over two decades and includes a broad knowledge in metal fabrication, product development, testing, dyno tuning, engine building, full race car preparation, and vehicle maintenance servicing. Despite being a new contender amongst the surplus of performance shops in the Greater Toronto Area, let alone Canada, once thing is for certain – the passion for motorsports fuels the MTM crew and with their pursuit of perfection, it is to no surprise that they're making a name for themselves as the go-to guys this early on.
The exterior of MT Motorsport is discrete as are the machines the come out of this shop, until you look under the hood. No flashy signs, no "MT Motorsports Employee Parking Only" signs, no unnecessary showroom space – just a true shop with all the essentials in it and a group of professional technicians and fabricators that always exceed their client's expectations.
Upon entering the front door at MT Motorsport, normally you'd be greeted by either Matt or Tim with big smiles and a cheerful attitude. Unfortunately, but thankfully there is no dolled-up busty blonde female to act as an overpaid greeter here – this is a true race / fabrication shop, remember? In the foyer / lounge area, one can immediately spot a Ducati race bike sporting the #1 plate, which is always a good thing. If that doesn't keep you entertained or drooling, than there are products that they carry on display and a variety of motorsports related literature. Gotta love the red accents in the space, reminds me of a make-over show.
In the front foyer, MT Motorsport has a display of products from lines that they carry that include Motul, AMSOIL, Redline oils, Royal Purple, Carbotech brakes, ARP, Wilwood, K&N, Cobb, AEM, Maganflow, KONI, Garrett, MSD Ignition, Vibrant, Energy Suspension, StopTech brakes, Cometic, Fidanza, Eibach and much more. If there's a part that you want, they can get it – it's that simple.
The office is located just after the foyer to the shop. In here, Matt performs his magic with electronics, custom engine management systems and AutoCad design. Furthermore, it is evident that MTM's passion is in all things racing – be it motorcycles or cars – by way of posters and racing gear on display. When they're not busy working on a client's car or project, they're surely checking out AutoMotoFoto.net daily – just saying.
Once through the foyer and office, you come to a place where MT Motorsport's magic happens – the shop. At the time of this shoot, there was an array of vehicles present including a twin turbo LS1 Miata, a 200whp '87 Suzuki Forsa, '65 Chevy Panel Van getting ready for an LS1 swap, a turbocharged GSX-R600, a Ducati 900SS race bike, an Infiniti G37 getting ready for a 4.2-litre twin turbo engine and heading to SEMA, a BMW E36 race car and a 300hp 1986 Maserati Biturbo! I have never been to any shop with such an assortment of vehicles and custom fabrication as this, truly an impressive sight.
One of the notorious MT Motorsport demo cars, this white '90 Mazda Miata. Unlike any other Miata be it in Canada or internationally, this little "female" roadster has the heart of a lion – a Corvette type of lion that is. Toss aside was the sewing machine engine from factory in way of a GM LS1 V8 matted to twin T25 turbochargers. MTM used their signature Megasquirt 3 engine management system for a horsepower tune of 500 at a non-intercooled 7psi of boost. The modifications didn't stop there, Tim and Matt swapped in a set of Koni Race coilovers and Wilwood big brakes to complete the package. The entire underside of the vehicle has also been structurally reinforced with custom cross braces. Thankfully, I had an opportunity to experience this V8TT rocket during a short rubber-burning test drive that kept me smiling for hours later. Surprisingly, the car never felt sluggish despite it having a V8 replacing the factory four banger and any chance of over-steer is easily managed.
This little rocket is in fact Tim's pride and joy, although he calls it his beater. It is a 1987 Suzuki Forsa that has been stripped and tweaked. Under the hood is a 3-Cylinder, 1-litre engine that has a custom turbo manifold, IHI RHF5 turbocharger and Megasquirt 2 engine management system allowing it to put down 200whp at 25psi of boost! Yes, you read correctly – this engine is not much larger than that on mopeds and has the power output of a tuned Honda K-series! If that's not enough to choke on your breath as you read this, the poppy red Suzuki weighs in at only 1500lbs – that's as much as a Sprint Cup car. Gotta love the doughnut-sized Hoosier slicks all around as well as the pristine condition of the bodywork, a true testament of their passion and love for motorsports.
A VQ37VHR block stripped and ready for some surgery. Rumor has it that this mild mannered V6 will be stroked to a 4.2-liter and get some boost treatment. The monster twin turbo engine will then be replacing the current power-plant in the matte black G37 parked in the shop.
Something that one would find at MT Motorsport unlike other performance / fabrication shops are motorcycles. With more than 10 years of experience in the motorcycle repair and customization business alongside the automotive work, there is little that can't be done regardless of the project. In the foreground is a boosted Suzuki GSX-R600 (more on that later) and further back is an MTM race-prepped Ducati 900SS track bike.
Something for which is rarely seen in the motorcycle world, a turbocharger! The blue 2003 Suzuki pictured earlier and above is fitted with an MT Motorsport one-off turbo kit. The snail kit consists of a custom fabricated intake manifold, exhaust system, T25 turbo, Megasquirt Engine Management, custom fitted AEM gauges in the dash and an 8-inch stretched swing arm. This boosted Suzuki crotch rocket puts down an insane 150hp at the wheel – yes, singular, not plural. The power to weight of this motorcycle is similar to that of a Formula 1 car, resulting in this bike able to lay the smack down on 1,000cc+ competitors.
In the workshop area, Tim Hillier (partner and lead fabricator) puts the wheel to the steel. MT Motorsport's strength is based around custom fabrication and one-off parts made from any metal – aluminum, stainless steel, titanium, etc. Their dedication and attention to detail especially with metal work is something on the lines of automotive art and yet functional.
At the back of the shop sits two awesome Euro cars. Up top is a '98 E36 BMW race car (Motul GT Sprints Championship GT2 contender) packing an M50B32 Euro M3 engine swap, JRZ shocks, an MT Motorsport tuned DTA standalone engine management system and custom wiring harness. Parked below the touring car is a true car enthusiast favorite, the Maserati Biturbo (1986). Like all things at MT Motorsport, the Italian trident got an update to the 21st century in way of a Megasquirt 2 standalone management, coil on plug conversion, and an MT Motorsport custom stainless steel exhaust. This revived Biturbo boosts to 15psi and plants 300hp out of the 2.5-litre twin turbo V6-engine!
In the office area of the shop, MT Motorsport's electronics wizard  and partner Mathew Savini could be found drawing diagrams, designing parts on AutoCad or as in this case soldering ECU circuit boards. As specialists in engine management systems (Megasquirt, HP Tuners, AEM, Haltech, DTA, Vems, etc), the MTM crew flourish in the developing, customizing and tuning of various standalone setups.
A back to front shot of the shop area complete with nearly 3,000-horsepower and everything from Italian to German to Japanese all under one roof! Did I mention they like boost?
A big thanks to the crew at MT Motorsport for letting AMF get a glimpse into their world. Regardless of your budget, vehicle or style it is without a doubt that MTM provides what most shops in Ontario if not Canada can't – true performance goodness! If their fabrication skills don't put a smile on your face, then maybe their radical projects on display will.