26 September 2011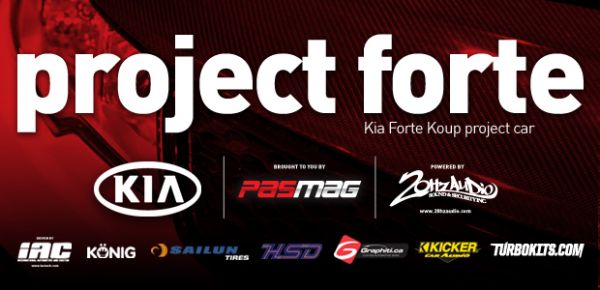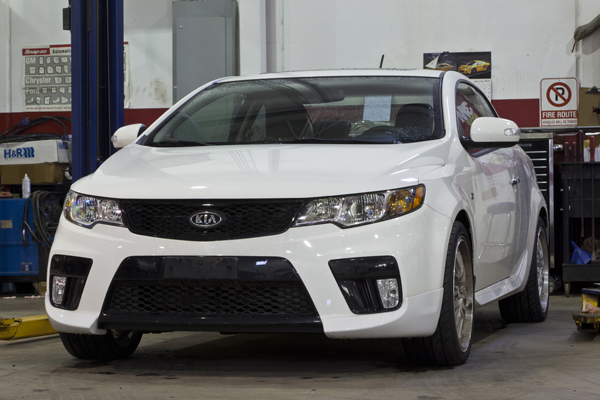 From factory the KIA Forte packs a decent punch, however there is never any harm in bumping up the horsepower while making some beautiful noise thanks to an aftermarket exhaust upgrade.

Below, is a step-by-step explanation on how the KIA Forte Koup went from having a nice exhaust note to something fierce, thanks to a TurboKits.com dual-tip cat-back exhaust system.

Tools:
- 19mm Socket
- Ratchet
Preparation:
- Line up parts for the exhaust system and check for necessary hardware in package.
Step 1: Prepare vehicle for lifting

- Get car positioned for the hoist
- If car is too low for the hoist arms, raise the back end with a jack
---
Step 2: Remove two (2) rear muffler bolts
- Loosen muffler bolts and dislodge muffler
- Remove hangers from rubber bushing
---
Step 3: Remove two (2) bolts behind the catalytic converter
- Using the 19mm socket and ratchet, remove the two (2) bolts holding the catalytic converter to the mid-pipe.
- Remove two (2) rubber hangers and drop the mid-pipe

---
Step 4: Test fit all exhaust pieces
- Place all exhaust pieces together and test fit and secure using rubber bushings.
---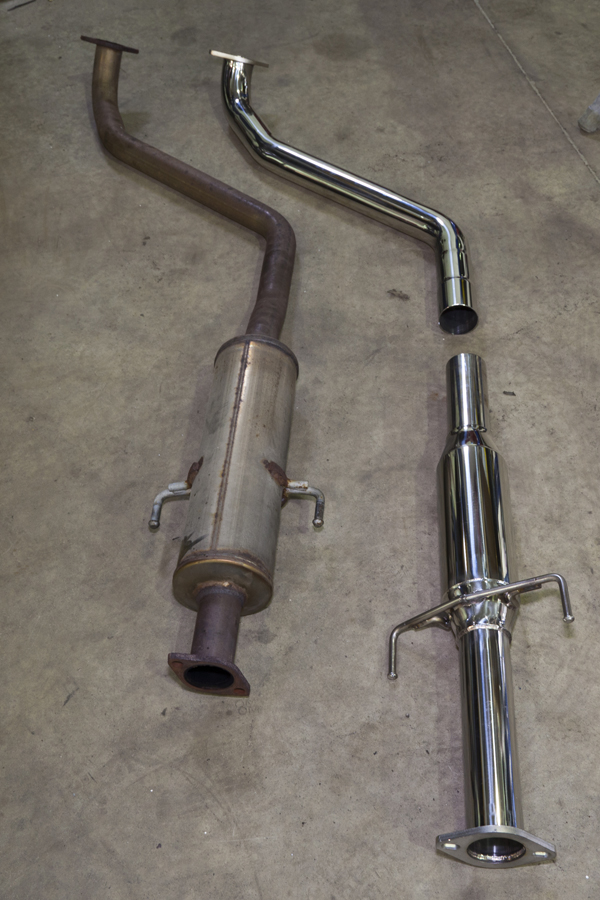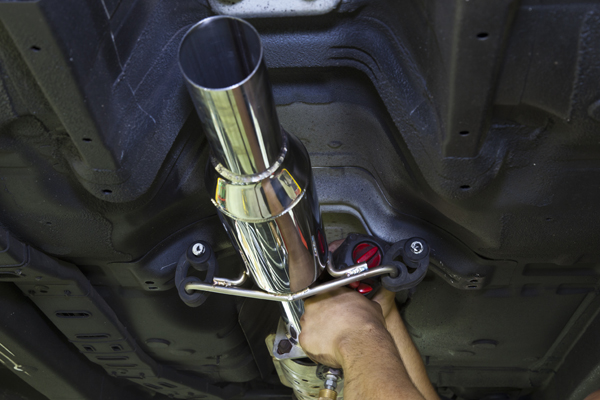 Step 5: Installing the TurboKits mid-pipe

- Install the TurboKits mid-pipe using the two (2) original bolts and flange gasket from the factory exhaust system.
- Mount the two (2) mid-pipe hangers into the factory original location and hand tighten (for now).
---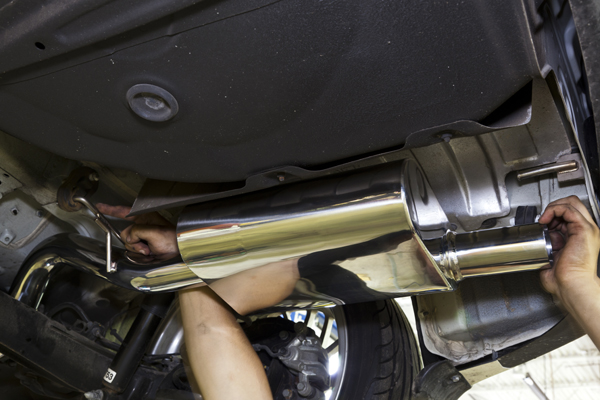 Step 6: Installing the TurboKits muffler
- Install the TurboKits muffler by securing the two (2) hangers to the rubber bushings.
---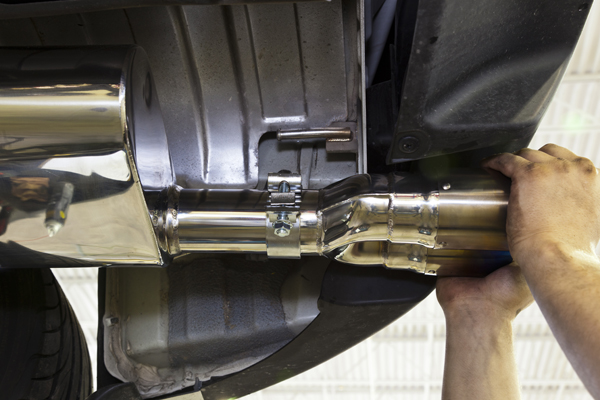 Step 7: Installing the mid-pipe extension

- Install the mid-pipe extension between the mid-pipe and muffler by connecting the flanges together at back and the exhaust clamp at front.
---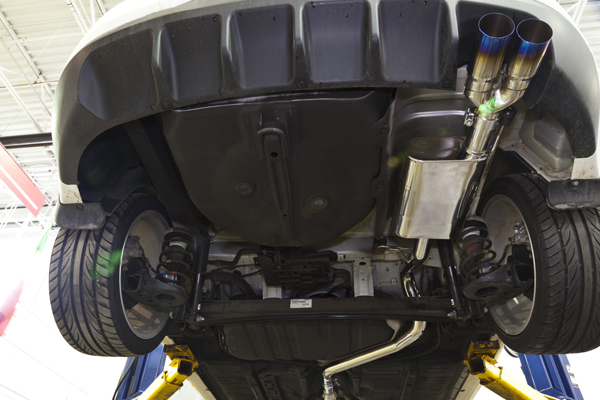 Step 8: Secure exhaust install
- Line up all the exhaust pieces and tighten with 19mm socket and ratchet, assuring that no piece is able to move.
---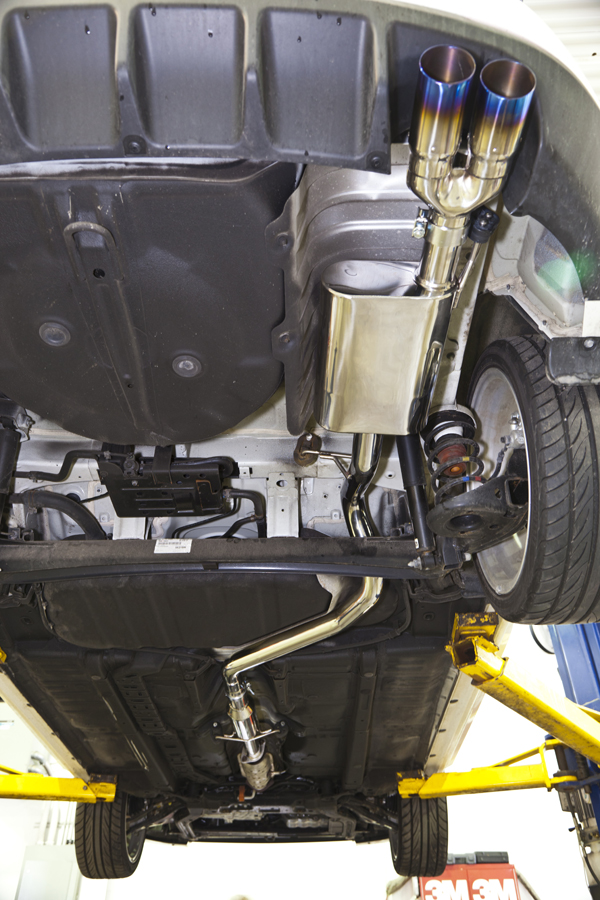 Step 9: Test fit dual exhaust tips
- Place dual exhaust tips over muffler exit and adjust until there is enough clearance from the rear bumper.
- Use the provided clamp and tighten with ratchet until secure.

---
With the KIA Forte Koup boasting a new titanium-looking dual tip exhaust system, start the engine and let it run so that the heat from the exhaust gas will tighten any possible gaps between the new pieces and flanges.