20 July 2011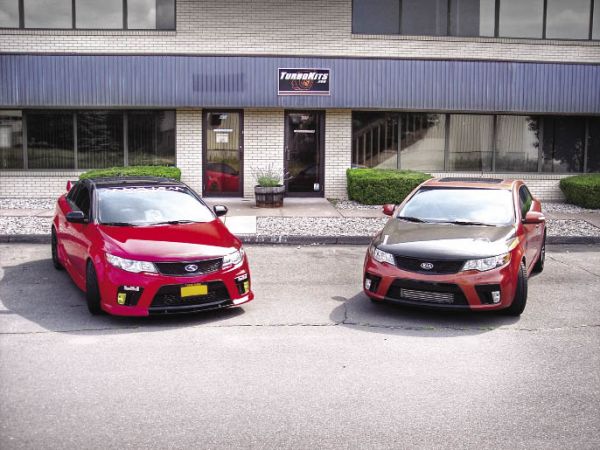 In an effort to "go green", many automotive manufacturers are turning to the use of turbochargers to meet fuel, pollution, and EPA restrictions set forth by today's society. In the past, finding a balance between efficiency and performance meant lighter cars, smaller motors, and 120 HP… not nearly enough oomph to get a driving enthusiasts' heart pumping!
Thankfully, those days are over. Mitsubishi, Subaru, BMW, and Ford are a handful of manufacturers releasing new vehicles that are not only exceeding fuel and emission requirements; they are doing it with the same, if not more power and performance than their larger displacement competition. The introduction of the turbocharger, paired with more elaborate fuel and engine management systems, is driving HP and MPG numbers to new levels.
Feeling like your stock vehicle could use a performance "makeover" and you're not ready to pony up for the cost of a new ride? Looking for the highest HP gain without breaking the bank? Great news! There is a solution to that lack of power and that comes in the form of a Turbo Kit.
Turbo Kits are packages that include the components needed to install a turbocharger onto a naturally aspirated (non-turbo) motor. In my last tech article, I discussed how to properly match a turbo to meet both the needs of your HP goal and engine size. (RR – did we run a tech article for Jesse as mentioned?) Turbo kit manufacturers take that information and use it to supply the proper turbo to be used with their turbo kit. Granted, most turbo systems have turbo upgrade options for even bigger HP gains, but those are usually left for customers looking to extract the optimum power from their build.
Now that we have decided installing a turbo kit onto your vehicle is a smart next step, how do we go about doing it? What is needed to install a turbo onto your car? How much is this project going to cost? My advice (naturally) is to contact the professionals at TurboKits.com. They can walk you through the process, make some suggestions as to what upgrades you should consider, and put a package together to meet your budget.
Most complete, reputable turbo kit packages will include parts designed to fit the specific vehicle the system is to be installed on. All of the intercooler piping, manifold, down pipe, fuel system upgrade, etc is supplied and has been tested to operate properly on the platform to which it will be fitted. WARNING: There are "turbo kits" available from some stores that say they are application specific, however, if you take the time to do some research, the kit you are ordering for your Honda Civic is the same kit they are offering for your neighbor's Jeep Wrangler. We all know those kits are a nightmare to install!
Let's say we are looking for a turbo kit for a Nissan 350Z. There are many options out there! Some single, some twin, some "tuner" (no fuel system) turbo kits available, where do you start? First, we suggest determining a realistic budget for your build. Consider the cost of the kit, think about whether or not you are going to install it, as there may be labor costs associated, and finally, consider the cost of tuning or DYNO time after the car is up and running turbo. Many of the 350Z turbo kits we have available run in the $5,000 plus range. The initial cost of the kit will consume most of your budget; however, you will need some extra pennies left over for the install charges. Labor times will range depending on the kit you choose, but we will use a $1500 install cost as a place to start. More and more kits are coming "pre-tuned" direct from the manufacturer, but as a precaution, we always recommend taking your vehicle to a local tuning facility to double check the install and make sure the tune is uploaded properly to your vehicle. Some final adjustments after the kit is installed for the optimum reliability and performance may be a possibility.
| | |
| --- | --- |
| | |
Let's recap. The kit cost is $5,000. The Install cost is $1500, and the DYNO time is going to run us $250. So far, we are going to be spending $6750. While that may sound like a hefty bill, there is not an alternative option available that will offer more HP gains per dollar. Many will say they have a much larger budget to work with, and in that case, more options become available.
The second aspect we need to consider while choosing a turbo kit is the amount of Horse Power we are looking to achieve once the kit has been installed. Here leads us to another aspect we need to consider. Most auto manufacturers will rate horsepower at the crankshaft or flywheel. While this number will yield the highest HP figures, it is not taking into account for HP loss through the drive train. On many vehicles, an 18%-20% loss can be seen from what is called flywheel HP to the actual amount of power the motor is putting to the pavement. In this case, we call it wheel HP. In the last tech article, I discussed realistic HP gains we can expect to achieve from an internally stock power plant. In the case of our 350Z, the motor is rated at 287 flywheel HP from the factory, and with the complete turbo kit installed, we will expect to see that HP figure jump to the 450 HP neighborhood. A gain of 163 HP on an otherwise stock vehicle isn't too shabby! Again, referencing our working budget, if we have additional finances available, a much higher HP gain can be achieved.
If you were to log onto www.turbokits.com, you would notice that there are a few kit options available that provide this HP gain. A third piece to the puzzle is the choosing whether to go with a single turbo set up or opt for the twin turbo kit. Although this option is available for the 350Z, many vehicles, especially with f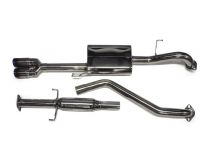 our cylinder power plants, do not have the twin turbo option available, so that makes this next decision easy!
If optimum spool time and throttle response is your goal, a twin turbo system utilizing two smaller turbochargers would be the kit to consider. The limited amount of exhaust gas energy the smaller units require to build boost, makes them the best option for lower end HP and TQ gains. While they will provide impressive top end HP figures, the upper RPM range is where a single turbo system will really shine! The larger single turbo tends to sacrifice some low end grunt, but will make up for that lesser low end efficiency as the engine really starts to breathe.  Price is an added factor when choosing these kit options as well. Due to component cost, a twin turbo system will run a few extra bucks to purchase and you can expect the labor cost for install to also stretch the budget. Since we are comfortable with the $6750 budget we laid out for ourselves, a single kit is our best option.
We now know our budget, we know what type of kit we will purchase, but how do we know which specific kit to go with? Now here is where there is more flexibility. Some choose a kit based off their favorite brand of turbo, others choose a kit for the tuning options; some even choose a kit by what blow off valve is supplied! Those are all considerations that will have to be made, but our recommendation is to weigh ALL of your options.  Pick a kit that is constructed of high quality components, make sure it includes all of the hardware, lines, fittings, couplers and clamps needed for install. Sourcing these important parts from your local hardware store is not normally an option. If you are considering a "tuner kit", make sure you contact your local tuning facility to make sure they have the
means of actually tuning your car once the turbo is installed. If the cost of a custom tune is too high, you may want to consider a kit that comes with an engine management system that offers a pre-tuned base MAP to get you off to a good start. It is more and more common to see kits coming with ECU flashes or "chips" that completely take care of the tuning aspect during install.
Lastly, especially if you plan on doing the install yourself, make sure the kit is designed specifically for your vehicle. The manifold, down pipe, intercooler, piping, and fuel/management upgrades are the major components in a turbo kit designed specifically for a particular model vehicle. Sure there may be other cars out there that share the same motor, however, that does not mean the majority of the turbo system components will fit properly in that different body style. If you understand what necessary modifications are required to get it to work, and you have the ability to make those adjustments, adapting a turbo kit to fit your vehicle may be an option.
Advancements in turbocharger technology are consistently increasing the efficiency, reliability, and performance capabilities of today's turbo offerings. While purchasing a new turbocharged vehicle from your local dealership may not be "in the cards", tuning your current vehicle to a higher level of performance with the installation of a turbo kit is surely a viable option.  Turbo kit manufacturers are becoming more "in tune" with the wants and demands of their customers. Offering a complete bolt on kit that provides a solution for tuning and upgraded fuel components is surely the goal of TurboKits.com. Please take the time to research your options before you decide on a kit to buy, and equally important, who you will buy it from. A quality, properly installed turbo kit will provide you with many years and thousands of miles of boosted bliss!