Written by Garry Springgay // Photos By: Manufacturers | 26 August 2008
Page 2 of 2
Subwoofer
After the doors have been upgraded to the level you chose, probably the next most popular upgrade is to add some bass. Even the high end component speakers won't substitute for a real subwoofer. With a bunch of room available in the extended cab, you could go the old school route and build or buy a large enclosure with as many woofers as you can fit or afford, but that means you have to give up the use of all that space. I prefer one of the other more ergonomically adept solutions, which allows you to still use that space for cargo or passengers. Again, your choices are dependent on what you are looking for. If you want a ground pounder and don't care about losing the space, you'll find dozens of companies who will be happy to sell you a pre-built, professionally designed subwoofer enclosure, complete with terrific subwoofers. Or maybe you have a favorite brand of woofer, and want to build your own unique custom enclosure, and that's cool too.
But if you are like most of us, and occasionally need to carry a couple of people and their associated stuff, you may think a heavy duty woofer system isn't in the cards. But thanks to companies like JL Audio and MTX, who realize many folks need the space and the bass, there are custom designed vehicle specific enclosures that retain 95% of the original functionality, and still provide solid, serious bottom end for your tunes. For the F-150, I like the MTX Thunderforms (powered versions around $550 USD) or the JL Audio Stealthboxes, (around $750 USD) depending on your budget and your level of desired performance.
MTX Thunderforms
For the majority of folks on a budget, the self powered MTX design is easy to install and a variety of inputs allow easy integration into your vehicle's sound system. The package even includes a 20' power harness for the built in 200 watt Class D amplifier. Another nice feature on the amplified MTX enclosure is their remote mounted Electronic Bass Control (EBC) which lets you adjust the bass level from the driver's seat. The MTX enclosure uses high-density polyethylene resin as the structural material, this special resin has high mass and provides a strong, low resonance sealed enclosure. Pumping out the bass is handled by a Thunder 4500 series 12-inch woofer. Already have a bass amp? The MTX design can be purchased with or without the built in amplifier.
JL Audio Stealthbox
Alternatively, if you have the budget, the JL Audio solution is
a bit more sophisticated and smaller, but it doesn't give up anything in terms of performance and output. Constructed one at a time by hand, the JL Stealthbox's fiberglass enclosure incorporates a more efficient ported design, and uses a high performance JL Audio 10W3 series 10-inch woofer. The more compact JL system is more money, and is not available in a self powered version, but the output is excellent in both volume and sound quality. In fact neither of these designs compromise in performance, they both deliver strong low bass that's tight, and hard-hitting.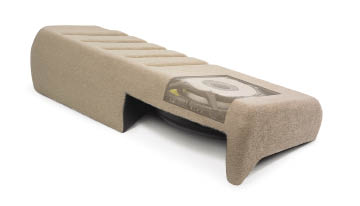 AMPLIFIERS
When it comes to power, there are all sorts of crazy numbers out there, so I like to recommend an amplifier brand that uses the CEA-2006 standard to rate their products output power. This way you know you can make real comparisons between the various choices. Buy an amp that roughly matches the upper power handling range of your speakers, and don't be concerned if it even exceeds it by a bit. Remember, how much power the amp puts out is controlled by you, and the volume knob! Another thing to be aware of is how the amp performs from a thermal perspective, because many truck amps are destined for small spaces under a seat or crammed in a tight spot where airflow isn't optimal. This bit of info is best gleaned from a knowledgeable dealer, or checking out online or magazine reviews of an amp to see if it has frequent thermal complaints. There are literally dozens of great amplifiers out there, so I'm sure you won't have any problems finding a brand that best suits you and your budget. When choosing an amplifier, look for good power, good signal to noise ratio, features like crossovers and EQ, and of course a good warranty never hurts.
SOURCE UNITS
Replacing the factory head unit is probably the last step in building your system, unless you need additional features like MP3 playback, iPod connectivity, GPS navigation, Bluetooth, HD Radio, iTunes tagging, or all of the above! Regardless of the features you want, look for a head unit that is easy to use, and doesn't require a lot of attention during driving. You should be able to turn the volume up and down, and change tracks or stations without ever looking at it. When you do look at it, make sure the display is clear and doesn't wash out in bright sunlight. Another thing, all iPod interfaces are not created equal, so make sure you get a real demo of how that works before you buy. And regardless of what the salesperson says, there are no 200 Watt head units. Again, look for brands that use the CEA-2006 standard, for honest power numbers if you plan to use the built-in amp.
As you can see, there are definite reasons to change out the factory head unit. But keep in mind that from a purely sonic perspective, the amount of difference upgrading the head unit will make is the smallest difference per dollar spent, so that's why I generally leave it alone until the more important items have been upgraded first. The F-150 will accept single or 2DIN chassis sizes, so again you have copious amounts of choices, and the cost can range from around $200 bucks to over $2,000… Isn't it nice to have choices?
LAST WORDS
As always, make sure your new equipment is connected and protected with high quality cables, fuses, and distribution blocks. I have had good success with the Stinger and Scosche cable kits and adapters, and they both make kits in various quality levels and for specific application requirements. So there you have it, the logical steps to putting some bumpin' tunes in your pickup truck on a budget. And if I see you doing a burnout with it, make sure you have the tunes cranked up too!
www.pioneerelectronics.com

www.mtx.com
www.jlaudio.com
www.bostonacoustics.com