Written by Dave Pankew | 18 June 2010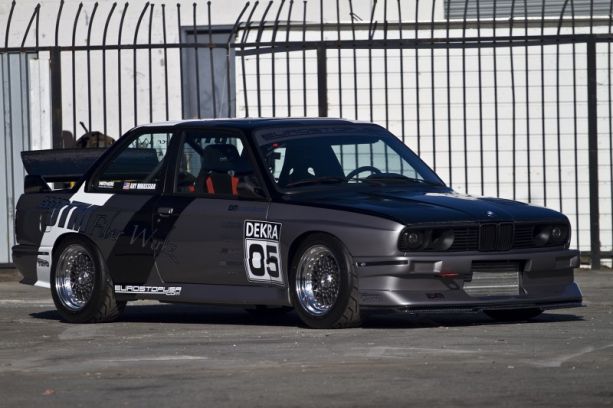 Written by Dave Pankew | Photos by Brian Fross
We all look for deals when it comes to cars and parts to make them go fast. I highly doubt anyone would bring a $500 car to SEMA, but that is just what this car's builder did. Owner Ary Minassian of Northridge, CA wanted to build up an E30 to promote his business, EuroStop USA. But at the same time, he didn't have the budget to build a project with the money most SEMA cars swallow up. He had to be resourceful and clever to meet budget concerns and have a car that attracted attention.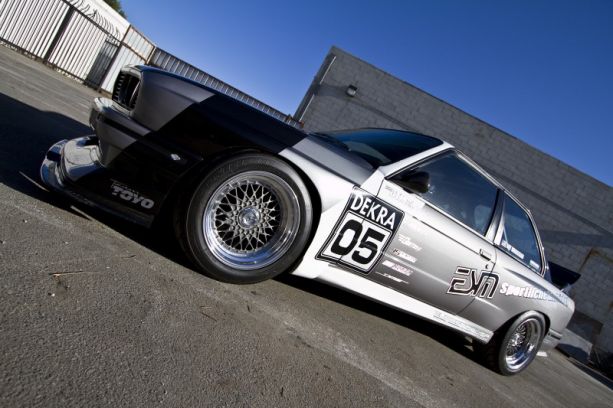 "I found this car on Craigslist for about $500.00 bucks." said Minassian. "I went to look at the car and it looked like complete pile! But I knew it had potential for what I had in mind. After a few months, I decided I wanted to go crazy and started the body work M3 widebody. After taking the car to SEMA 2008, a year passed and I changed up the car again for the following year. I changed the hood truck and wheels and added all the race decals. I can't stop. People say I'm obsessed, but it's just what I love to do!"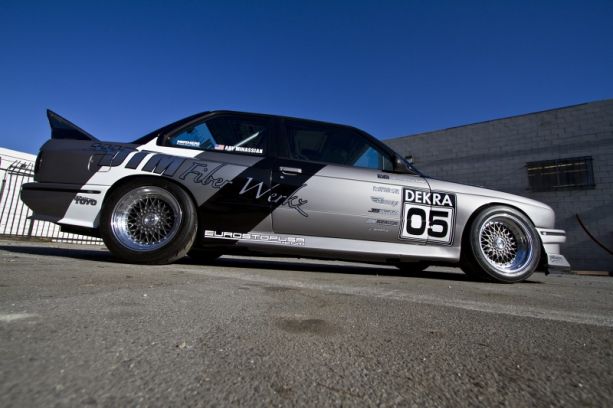 With cost in mind, everything was examined to see if there was a better alternative. The engine build began as a healthy 2.5L M20 motor with fresh gaskets, ported heat and ARP studs. A custom turbo setup was made around a Garrett T3/T04E turbo with a 50-trim. Since there really are no mass market kits for this motor everything was custom. The intercooler, the piping and even add-ons like the catch can and filter relocation kit were all done on a budget.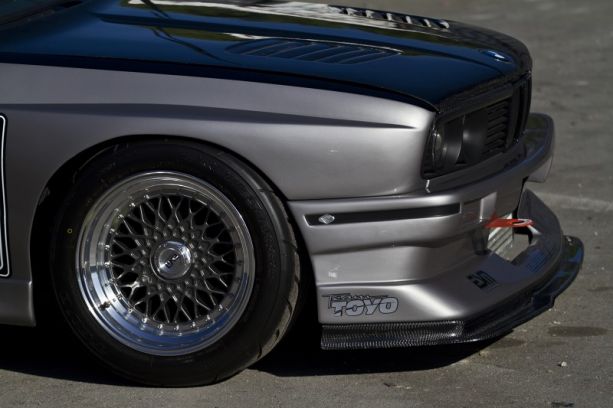 The suspension was critical to get the right stance and put some athleticism back in this 22-year old. A set of adjustable KONI dampers were added with some heavy rated springs for ultimate handling. A set of camber plates were added to dial-in the camber and custom polished strut bars tied it all back up. To put it down to the ground, Minassian gave up trying to find original BBS wheels and went for the next best thing, ESM 002 alloys in 16x9-inch with a negative offset. A set of Toyo R888s in 245/45R16 all around maintain stupid amounts of grip on the track and street.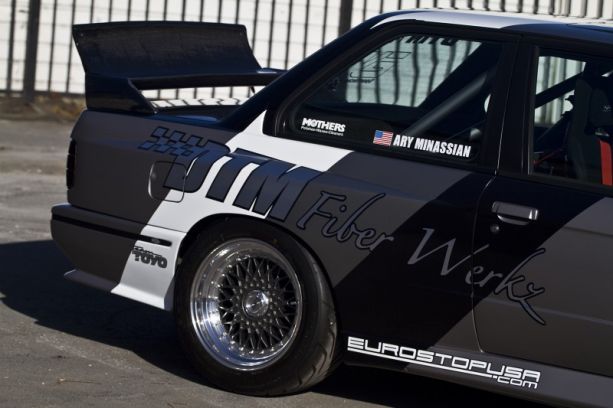 The attention turned to the exterior where the dirty-E-30 had to shine at SEMA. Minassian started by contacting DTMFiberWerkz.com for literally everything he could find for the E30. He ordered an entire GTR widebody kit complete with the M3-style fenders that are a full 2-inches wider than stock. A carbon fiber splitter, trunk and mirrors were added to complement the flap wing and eyelids. From there Minassian installed some of his own gear including a EuroStop: CF hood, CF sunroof and the trademark highbeam intakes.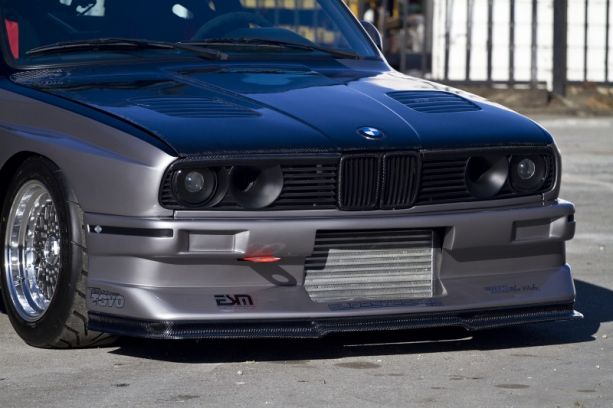 The interior of the project maintains many of the classic E30 interior parts. If you have ever owned one of these machines, you will know the interior was light years ahead of its time. Only Audi rivaled BMW interiors for years until the rest of the world caught up. The console has been replaced with a DTMFiberWerkz.com but the balance is mostly BMW. The original seats were predictably destroyed and had to be replaced with some hardcore holders like the NRG carbon fiber race buckets with matching NRG harnesses. The whole ensemble is surrounded by a custom 6-point cage, which is color-matched and features a camera mount.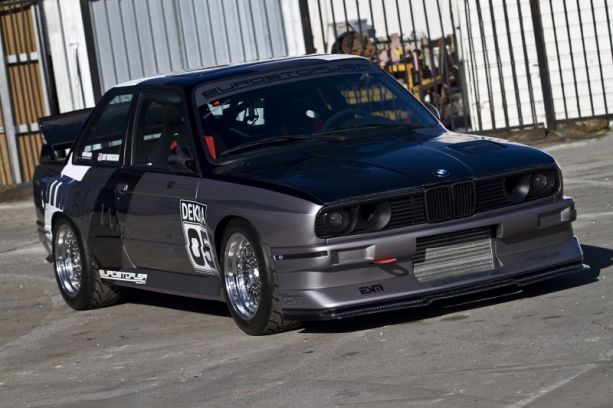 For a project that costs fractions of your average SEMA build, we have to hand it to Minassian. His creativity and hard work paid off because the car got noticed two years in a row even though it was the same car. We look forward to seeing what EuroStop has cooked up for us at SEMA 2010!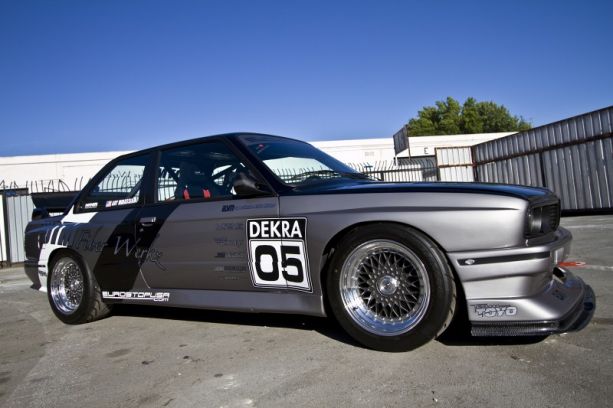 ESSENTIALS
Owner: Ary Minassian
Location: Northridge, CA
Vehicle: 1988 BMW 325iS
Power: 300whp (est)
Engine: BMW 2.5L M20 Inline-6
ENGINE MODIFICATIONS
Garrett T3/T04E turbo 50-trim
ARP head studs
MLS head gasket
Custom equal length tubular turbo manifold
Custom FMIC and custom piping
Painted intake manifold and valve cover
Aluminum Radiator
ENGINE MANAGEMENT
Megasquirt2 ECU
WHEELS, TIRES, BRAKES
ESM 002 Alloys 16x9-inch
Toyo R888 with 245/45R16
SUSPENSION
Koni adjustable dampers
Custom spring rates
Front adjustable camber plates
Front and rear polished strut bars
EXTERIOR
Bodywork by EUROSTOPUSA.com
DTMFiberWerkz.com widebody kit:
M3 style fenders, rear bumper, front bumper
Carbon fiber splitter
Vented carbon fiber mirrors
Carbon fiber trunk
Gurney flap-wing
Eyelids
EUROSTOP (Carbon fiber sunroof, Carbon fiber hood with custom cutout, Headlight high beam air duct inlets)
INTERIOR
NRG carbon fiber racing seats
NRG harnesses
NRG carbon fiber shifter
Custom 6-point roll cage color matched to car with camera mount
DTMFiberWerkz custom carbon fiber center console
Autometer gauges
SHOUTOUTS
Eurostopusa.com
Autohaus
DTM Fiberwerkz
ESM wheels
NRG Innovation
Groma Race Fabrications
JS Design
Richard Reyes