Written by Dave Pankew Photos By: BP Imaging | 22 March 2010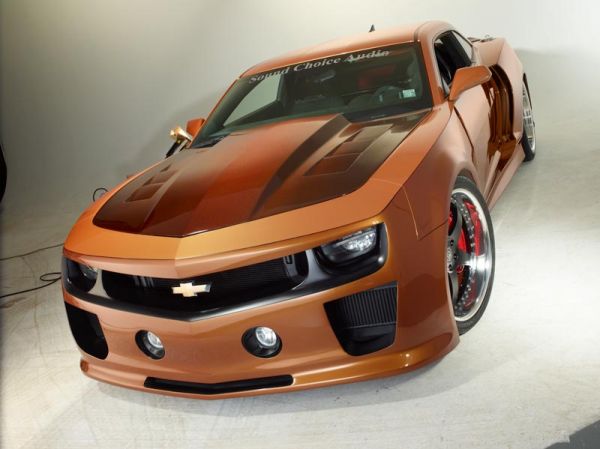 When you think of automotive tuning hubs in North America, some areas immediately come to mind; Los Angeles, Toronto, South Florida, the Tri-State area and a few select markets. We don't hunt for features in Salt Lake City or Omaha for a reason, although we actually have bagged a couple from those areas. Another one of those under the radar areas appears to be Greater Buffalo, but every once in a while you do find some gems. Grand Island, NY resident Mark Abate's new Camaro RS is definitely one of them.
When the decoding of the direct injection system is complete, Abate estimates the power to be around 550whp on pump gas with 500lb-ft of torque.
That's right – it's an RS with a V6 under the hood. Abate wanted to circumvent the V8-powered SS route that every other builder was taking and go the road no one was driving. More importantly, Abate was dedicated to putting the legendary Camaro back into the limelight with a new twist. "I chose the 2010 Camaro because I wanted to be a part of history," says Abate. "The Camaro is one of the most known performance cars of all times. When they stopped making the Camaro in 2002, I felt like someone shot my dog. The domestic performance king was gone. Now that GM has come to their senses and brought back the Camaro, I knew the world would be watching to see how it performs in the market. Myself and SCAP went to great lengths to build our 2010 Camaro and called it 'heritage' as a tribute."

No Camaro is complete without some cajones under the hood and Abate was bent on making the 3.6L V6 a true performer. The formula came to light when Abate spec'ed out twin Turbonetics turbos sitting on SCAP custom tube headers. The headers have a pair of Turbonetics wastegates hanging off them before the exhaust heads into a Vibrant / SCAP system. On the chilled side, the intake is a custom SCAP setup with Vibrant air filters. The compressed air heads into a custom Spearco intercooler, where it is vented by twin Turbonetics blow-off valves before hitting the split SCAP intake manifold.

When the decoding of the direct injection system is complete, Abate estimates the power to be around 550whp on pump gas with 500lb-ft of torque. That kind of power is going to give the factory 6-speed box a real work out but Abate maintains it can handle it. The clutch however, had to be replaced with a Clutchmasters unit and a matching lightweight aluminum flywheel.

The high impact part of the build here is definitely the custom widebody. The car turned loads of heads at SEMA '09, causing a ruckus at the photography studio that emptied area offices as soon as it came off the trailer. The widebody is not some off the shelf kit, nor is it a huge fiberglass and bond experiment, but is instead an all-metal fabrication by Brandon Gorchek, Cody Carpenter and Steve Hodgins at SCAP. The track has been widened to 4-inches up front with 6-inches of more track in the backyard. The bumpers have been modified to match the widened fenders and provide a massive opening for the front mount intercooler. The team at SCAP added a Seibon carbon fiber hood and the entire project was covered with a custom BASF color by Brandon Gorchek at SCAP. Finally, Abate sourced out some new release 1969 Camaro tail lights and fitted them with LEDs for a modern touch.


THE ESSENTIALS
Owner: Mark Abate
Location: Grand Island, NY
Vehicle: 2010 Camaro RS
Power: 550whp with 500lb-ft (est.)
ENGINE
Chevrolet 3.6L V6
ENGINE MODIFICATIONS
Turbonetics custom turbos
Turbonetics wastegates
SCAP headers
Vibrant / SCAP exhaust
Vibrant air filters
Spearco intercooler
Turbonetics blow-off valves
SCAP intake manifold.

DRIVELINE
Clutchmasters clutch
Clutchmasters lightweight flywheel


WHEELS, TIRES, BRAKES
iForged Avus wheels
F: 22x9.5-inch
R: 22x12.5-inch
Pirelli P Zero
F: 285/30R22
R: 335/25R22
AP Racing
6-piston/16-inch
4-piston/15-inch


SUSPENSION
Pedders full coilover system


EXTERIOR
SCAP metal widebpdy
SCAP bumpers
Seibon carbon fiber hood
1969 Camaro LED tails
BASF custom paint


INTERIOR
SCAP black suede with red stitch interior
Yonaka seats
Sparco steering wheel with quick release
Sparco carbon fiber shift knob


AUDIO / MULTIMEDIA
Azentek headunit
Massive Audio NX4 4-channel amp
Massive Audio N3 mono amp (2)
Massive Audio DC10 subs (2)
Massive Audio CK6 III (2)
Stinger battery
Stinger fuse block
Stinger wiring
The new bodywork could accommodate some fierce wheels and tires. Abate decided on the iForged Avus in a 22x9.5-inch front and a healthy 22x12.5-inch in the rear. The Pirelli P Zero front tires measure 285/30R22 and the rear Pirellis are a supercar-esque 335/25R22. The correct stance was achieved using a Pedders full coilover system.The brakes are from elite UK manufacturer, AP Racing who supplied the project with a 6-piston/16-inch front and a 4-piston/15-inch for extreme stopping power.

The interior took many late nights to complete but the results speak for themselves. The team at SCAP installed a custom black suede and red stitch ensemble virtually everywhere including the Yonaka seats. The steering wheel was replaced with a Sparco carbon fiber unit and a quick release to match the Sparco shift knob sitting atop a Hurst Short Shifter.

From there the team did what they do best, audio and multimedia. At the heart of the innovative Azentek headunit pumping signals through Stinger interconnects. The mids and highs are pumped through Massive Audio NX4 into Massive Audio CK6 III speakers. The lows are powered by twin Massive Audio N3s driving their own Massive Audio DC10. The system is lit up by a trunk mounted Stinger battery, power wire and fuse block.

Abate brought his SCAP Camaro to SEMA with a load of competition and held his ground. It didn't win any awards, but definitely won the respect of Camaro fans and the satisfaction that his V6 twin turbo is the only one of its kind