Written by Adam Gordon. Photography by Christopher James | 02 July 2018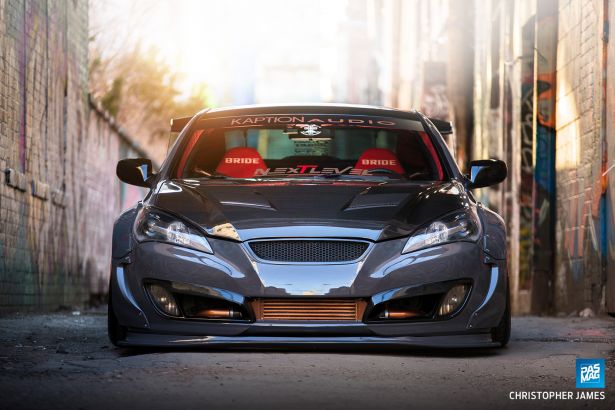 Have you ever felt like you were in a rut? Like the same old day-in, day-out routine is starting to wear you out? For Luigi Saullo, that rut was the same old modified Honda. Having spent most of his teenage years doing the standard modification to Hondas in the garage, Saullo eventually got bored. When he expressed his boredom to one of his co-workers at PartSource, he was met with some advice that stuck. "Find a new platform – something different." It didn't take long before he did just that.
Casting aside the naysayers who said things like "it's just a Hyundai," Saullo found himself admiring the new Hyundai Genesis coupe. As an affordable, sporty, and RWD platform loaded with features, it was hard not to take notice. "I knew this would be a platform that was going to grow and develop in the next 5+ years," he tells us. "I wanted to see where it went, and have fun building something different."
We know now that Saullo's prediction was on point. Aftermarket support for the Genesis coupe platform hit the industry like a tidal wave in the wake of all the new Genesis owners looking to modify something new. His initial struggles in the early stages of the build came from the lack of aftermarket support in the early stages, leading him to some custom fabrication before the aftermarket caught up to his pace. The custom fabricated work, combined with the aftermarket offerings that came years after, work together to create something truly unique.
Full feature of Luigi Saullo's 2010 Hyundai Genesis Coupe can be seen in PASMAG #149. Click here to order.