Written by Adam Gordon. Photography by Christopher James | 14 August 2018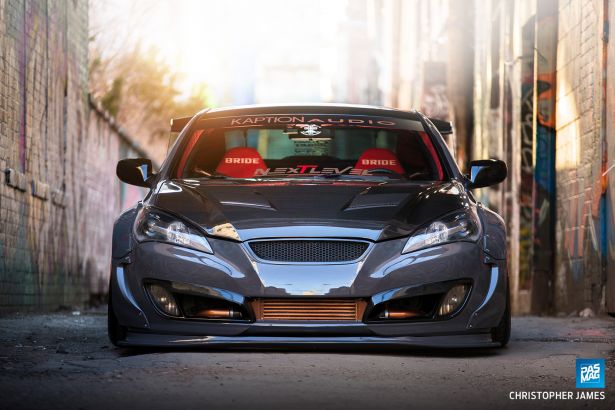 Have you ever felt like you were in a rut? Like the same old day-in, day-out routine is starting to wear you out? For Luigi Saullo, that rut was the same old modified Honda. Having spent most of his teenage years doing the standard modification to Hondas in the garage, Saullo eventually got bored. When he expressed his boredom to one of his co-workers at PartSource, he was met with some advice that stuck. "Find a new platform – something different." It didn't take long before he did just that.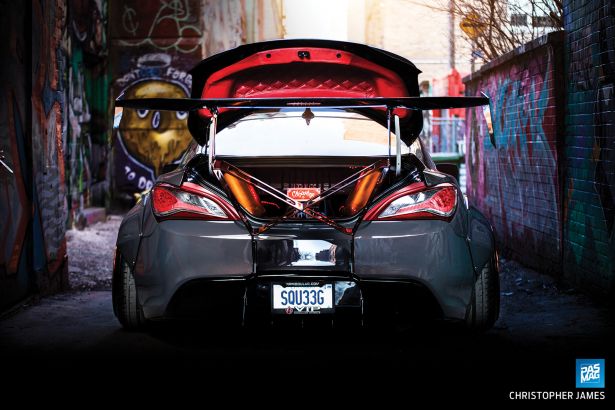 Casting aside the naysayers who said things like "it's just a Hyundai," Saullo found himself admiring the new Hyundai Genesis coupe. As an affordable, sporty, and RWD platform loaded with features, it was hard not to take notice. "I knew this would be a platform that was going to grow and develop in the next 5+ years," he tells us. "I wanted to see where it went, and have fun building something different."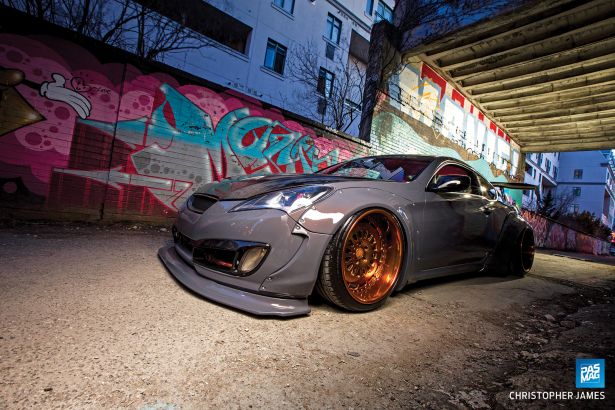 We know now that Saullo's prediction was on point. Aftermarket support for the Genesis coupe platform hit the industry like a tidal wave in the wake of all the new Genesis owners looking to modify something new. His initial struggles in the early stages of the build came from the lack of aftermarket support in the early stages, leading him to some custom fabrication before the aftermarket caught up to his pace. The custom fabricated work, combined with the aftermarket offerings that came years after, work together to create something truly unique.
Growing up watching SPEED channel and other DIY television shows, the affinity for modifying and DIY work started young for Saullo. As information began to stick in his head, his cousin introduced him to hobby RC cars. The modular nature of the RC cars, with their miniature coilovers, driveshafts, and gas engines, was the final catalyst. Saullo was hooked for life. After building a pair of Hondas – the very same ones he grew bored of over time – the groundwork had been laid for a promising rise to new projects. The day his Genesis came home, he was already looking towards its future.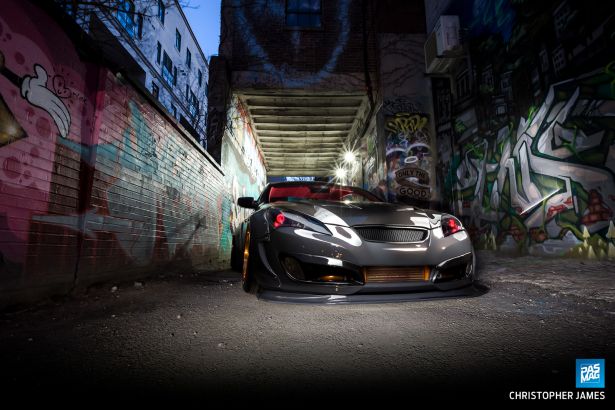 "I think the biggest challenge to modifying the Genesis Coupe was the fact that there was little to no aftermarket support for the first few years of owning the vehicle. Many of the parts had to be custom made or fabricated to work," he says, thinking back to the hours spent brainstorming and researching modification methods. "To compare to the Honda platforms I was used to, you couldn't just walk into a performance shop, or look in some catalogue to buy every upgrade imaginable. You wanted engine work done? Fabricate it yourself. Want to make a front lip, or exterior upgrade? Time to learn to fiberglass. Nothing came easy, and you had to think out of the box."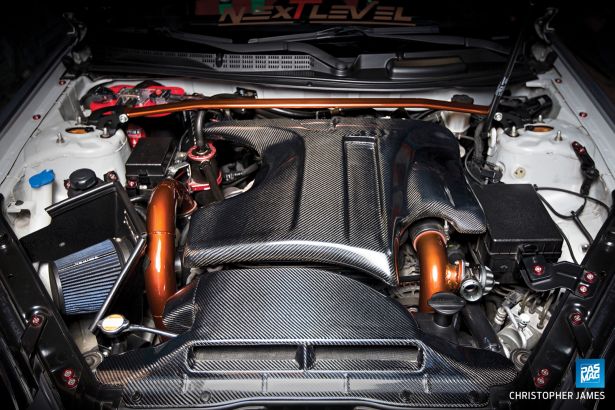 Thinking outside the box is exactly what he did, having made the custom fiberglass front lip and rear diffuser himself. Custom intercooler piping was in order as well, forming the Cognac Copper painted air induction highway for his Evo IX upgraded turbo setup with a modified wastegate and GReddy Type S BOV. As the aftermarket began to catch up, Saullo took advantage, sourcing more parts to complete his show-worthy aesthetic. An HKS carbon fiber engine cover was the final step in making his engine bay a real show-stopping aspect of the build.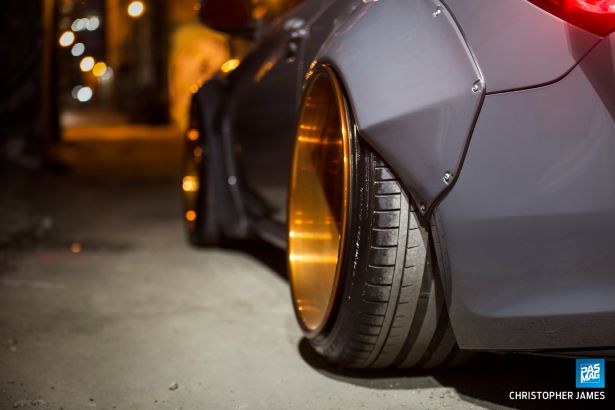 Once he was happy with the power output (285 whp/320 lb-ft, in case you're wondering), it was time to bring the rest of the car's appearance up to speed. The car has been through several iterations, but seems to have settled – for now at least – on a stunning combination of AutoFlex's Rame Grey with Cognac Copper accents, which looks wildly aggressive over Canada's first REMAKE Genesis coupe widebody kit with a chassis-mounted wing from Street Faction. Modernizing his 2010 coupe is a set of redesigned 2013 Genesis taillights, as well as custom painted headlights with demon eyes.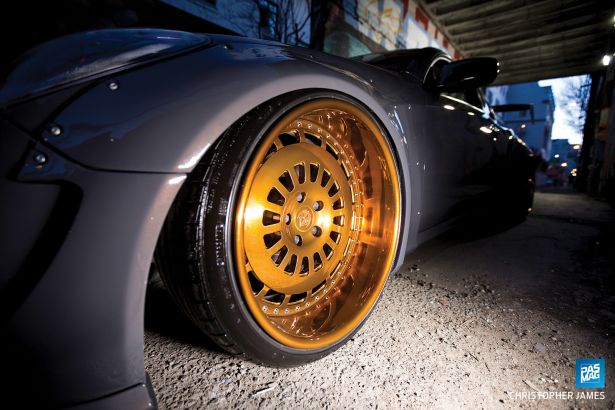 Chasing that perfect show car stance, Saullo set his sights on air suspension. Tucking the lips of those massive 20-inch VIP Modular VX210s right to the widebody fender flares is a combination of Airforce struts and an Air Lift Autopilot V2 management system. Despite the show-inspired air setup, there is also a full Parts Shop MAX suspension upgrade kit under there, as well as a UniqPerformance rigid collar kit, 6-piece underbrace kit, and a Whiteline front sway bar. Needless to say, handling has been vastly improved. With Falken FK543 tires wrapped around the VIP Modular wheels, and a Brembo BBK with StopTech rotors to boot, this show car can still be put through its paces.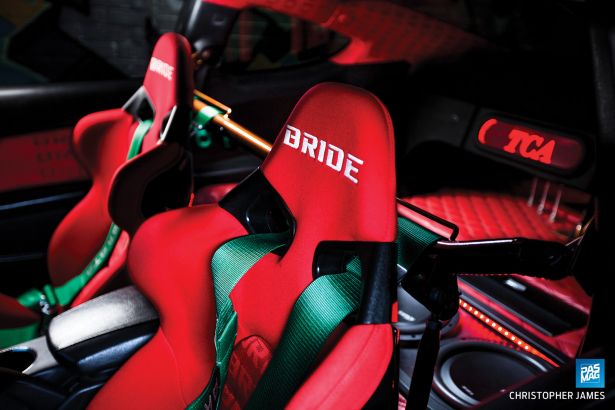 Inside, in addition to following the theme set by the exterior, it's all about comfort. A pair of red Bride Cuga seats with Takata Drift III 4-point harnesses keep Saullo and his passenger snug, and a custom red Bride headliner with matching wrapped pillars keeps the interior upholstery looking uniform. Taking things to an even classier level is some diamond-stitching in a matching red. Both the floor mats, and the custom trunk setup are finished in the diamond-stitching from JM Upholstery in Toronto.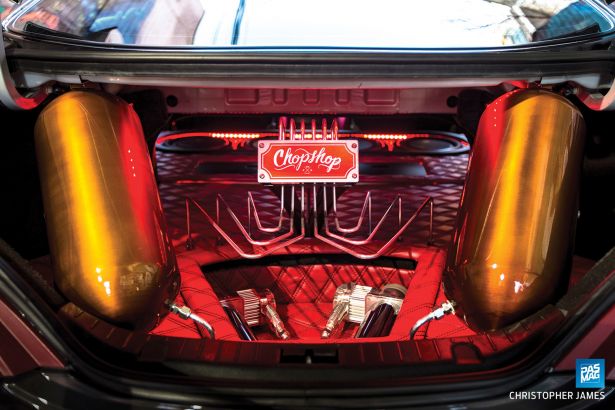 That aforementioned custom trunk setup is one of the build's highlights, and can be found proudly displayed in an open trunk at most shows. The custom enclosure covers the expanse between the deleted rear seats to the trunk, playing host to both the air suspension internals, and a full Kaption audio system which includes four 10-inch subwoofers, two component systems, and two amplifiers, tied together with a Stinger and Kaption audio wiring and distribution system.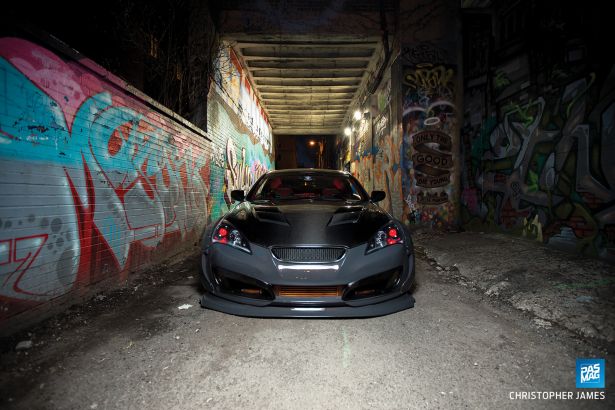 All in, the build makes for an incredible show vehicle. For the last three years, Saullo has been undefeated in any KDM/Genesis Coupe judging classes he has entered in the Toronto area, and has taken home multiple Best in Show awards, interior awards, and wheel awards. By getting started on the platform early, and committing to some custom work to make the dream come together, Saullo has put himself in a winning position. Having joined the prestigious NextLevel car club and risen to the VP position in the club, Saullo is a regular in the show scene. If you're building a Genesis coupe in the Toronto area to take home trophies, you're going to need to bring the heat.
ESSENTIALS
Owner: Luigi Saullo
Vehicle: 2010 Hyundai Genesis
Location: Vaughan, ON
Engine: Hyundai Theta 2.0L Turbocharged I4
Horsepower: 285 whp
Torque: 320 lb-ft
Club: NEXTLEVEL
SOCIAL
Facebook: Luigi Saullo
Instagram: @thesqueeg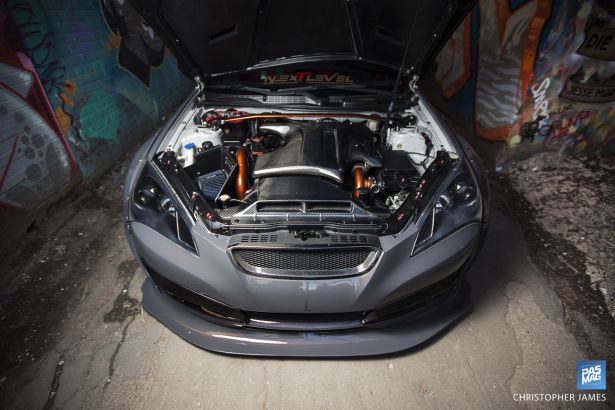 ENGINE
SFR custom stage 2 tune
RMX carbon air duct
Custom red engine bolt dress-up kit
HKS carbon engine cover
Custom intercooler and piping coated Cognac Copper
GReddy Type S BOV
EVO IX turbo upgrade
Modified wastegate
550cc Deatschwerks fuel injectors
DeatschWerks DW300 fuel pump
Mishimoto oil catch can
Tejima short ram intake
Custom red engine bolt dress-up kit
N2MB WOT box
Defi Tuner boost gauge
A'PEXi wideband/turbo timer
SprintBooster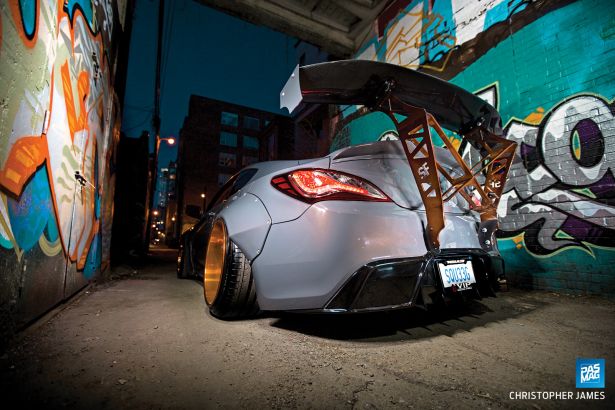 EXHAUST
3-inch custom straight-pipe exhaust
Vibrant muffler
DRIVETRAIN
Competition Clutch Stage 4 clutch/flywheel
System Upgrade short shifter
LSD differential
WHEELS/TIRES/BRAKES
VIP Modular VX210 wheels – 20x12 (f), 20x14 (r)
Falken FK543 tires – 245/45/20 (f), 285/30/20 (r)
Brembo BBK
StopTech (pads, rotors)
Stainless steel brake lines
CHASSIS/SUSPENSION
Airforce air suspension struts
Air Lift Autopilot V2 management
Parts Shop MAX suspension upgrade kit
UniqPerformance (rigid collar kit, 6-piece underbrace kit)
Whiteline front sway bar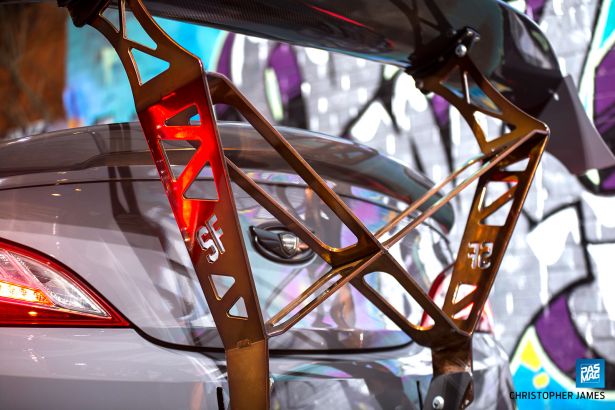 EXTERIOR
REMAKE Genesis coupe widebody kit
Custom (fiberglassed front lip, fender modification, fiberglassed rear diffuser, license plate relocation, painted headlights w/ red demon eyes)
Custom AutoFlex "Rame Grey" w/ copper metal flake
3M clear bra (hood, bumper, side skirts)
VIS Racing (carbon fiber fog light bezels, carbon fiber terminator hood)
Hyundai Performance GT spec rear spoiler
StreetFaction chassis-mount wing
2013 Genesis coupe tail light conversion
Korean wing badge conversion
Fog light bezel modification
15/20% window tint
Independent fog light DRL mod
4500K HID headlight/fog light bulbs
INTERIOR
Bride (Cuga seats, red headliner, wrapped pillars)
Custom (Napa Leather diamond stitched floor mats, color-matched Flossy shift knob, air management controller enclosure)
Takata Drift III 4-point harnesses
Cipher Auto harness
Defi blue racer gauge
A'PEXi (wideband, turbo timer)
Diode Dynamics stage 3 LED interior lighting kit
Custom trunk setup for air suspension
Dual VIAIR 444c compressors
Custom hardlines
Red Napa Leather diamond stitched (floor, trunk lid)
Dual 3-gallon Standard Suspension seamless air tanks
MOBILE ELECTRONICS
Custom head unit relocation kit w/ Magellan 7-inch GPS
Kaption Audio 570-SQLFW10D2 subwoofers (4)
Kaption Audio 570-SRXC652 component speakers (2)
Kaption Audio 570-DZR1200X1 mono amplifier
Kaption Audio 570-AZR400X4 4-channel amplifier
Stinger/Kaption wiring and distribution system
Full custom trunk enclosure
SPONSORS
Nextmod, Royalty Auto Spa, Kaption Audio, Smart Automotive, VIP Modular, Tire Connection, Roro Designs, JM Upholstery, Uniq Performance, Automotive Envy
Full feature of Luigi Saullo's 2010 Hyundai Genesis Coupe can be seen in PASMAG #149. Click here to order.