Written by Micky Slinger. Photography by Paul Delapena | 18 June 2018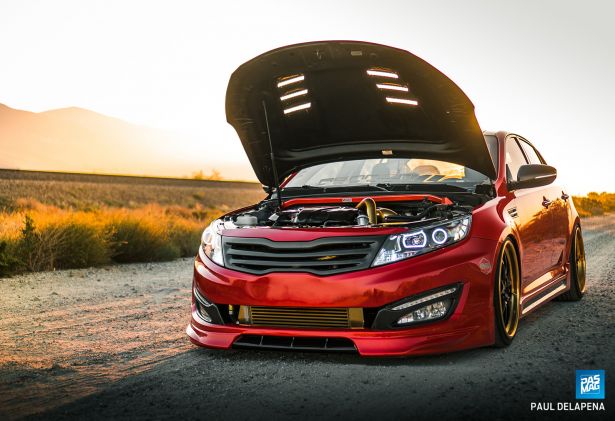 Since 2000, the Kia Optima (also the Kia Magentis, depending on where you live) has become so much more than a spin-off of the Hyundai Sonata. All the way up until the 2010 model year, the Optima has been a cheaper, underwhelming platform compared to the other entry-level luxury cars that it desperately tried to compete against in North America, but with a European injection from ex Volkswagen Auto Group designer Peter Schreyer, Kia's four-door would finally become a viable player. This move also introduced the Korean sedan to enthusiasts, who are always hungry for a new platform to build upon.
One such enthusiast is Sunny Suravarapu, who was in the market for something new back in 2014. Deciding between an Infiniti G37 or a convertible BMW 335i, but not able to find one in the spec he wanted that fit his budget, he started looking outside the box. That's when he spotted an ad for a 2013 Kia Optima that he couldn't ignore. The last 2013 left at the dealer, which had already been lowered and had an aftermarket exhaust added to make it that much more enticing, left the lot and came home with Suravarapu, where he would transform it further.
Full feature of Sunny Suravarapu's 2013 Kia Optima can be seen in PASMAG #149. Click here to order.