12 October 2016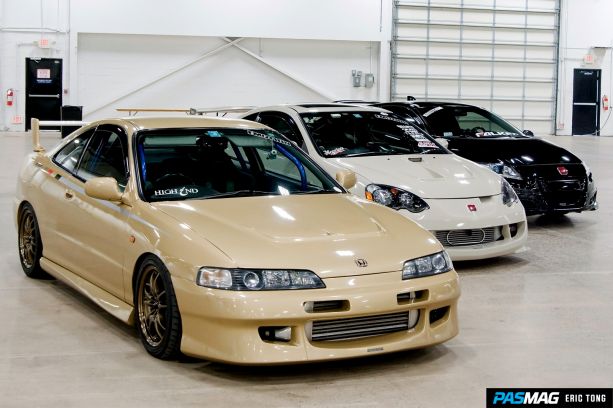 In the North American Honda community, there are few names that resonate among the hardcore enthusiasts the way that Team Emotion does. Recognized across the American tuner landscape as one of the highest quality exclusive car crews in the game, the team has garnered quite a reputation for themselves thanks to a powerful show presence and a healthy amount of awards.
The club formed originally in 2004, when a small handful of like-minded Honda enthusiasts led by Harry Nguyen came together with a unanimous goal: to create a car club that places a strict emphasis on quality over quantity and shake up the status quo of the show scene with a tight-knit crew. It wasn't long before they accomplished that goal, partially thanks to their devotion to incredible build quality and careful selection of aftermarket modifications.
After dominating performances in show after show, the crew began to gain some recognition, especially among admiring Honda fans who took inspiration from the team's cars. Magazine covers and features proceeded shortly afterwards, propelling the group into the automotive spotlight. By this time, Team Emotion became a recognized and frequently talked about part of Honda culture and lifestyle in the United States.
The crew's 45+ car roster features a wide variety of different Honda and Acura models and generations, each different in their own way. While each car differentiates itself, many of the team cars share certain mods and build aspects. Perhaps the most immediately noticeable feature among all of the cars featured here is a uniform set of Mugen MF10 wheels, uniting the crew in the eyes of show spectators with a common element. Each member shown here also has a spare tire mounted on an extra MF10 wheel, proudly displayed in their trunk setups.
The wheels are just the beginning of the Mugen love. With an emphasis on high quality parts, it's no surprise that all members of the crew equip their cars with some form of Mugen aero. "We all like quality parts and never have issue with fitment. All Mugen aero parts have been tested in a wind tunnel," explains Kiet Hong, one of the group's early members. "You get what you pay for." The title "Mugen Kings" has been used to describe the club on more than one occasion.
Ultimately, what really unites Team Emotion is a genuine passion for cars, creativity, and quality. Hong shares some enlightening words in closing. "This team is very diverse – as you view our roster, notice the wide variety of vehicles. Along with the variety of vehicles comes the different personalities and cultures, but the one thing we share is the love for the scene." It is that kind of respectful and admirable attitude, in addition to some truly cool cars, that helped propel them into the spotlight where they belong. #pasmag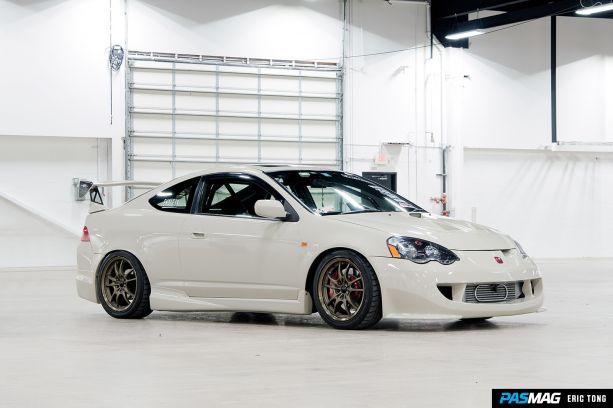 ESSENTIALS
Owner: Kiet Hong
Vehicle: 2002 Acura RSX Type S
Location: Boston, MA, USA
Engine: Honda K20 2.0L I4
Horsepower: 566 whp
Torque: 372 lb-ft
ENGINE
Full Race (manifold, down pipe)
Garrett 35R BB turbo
Custom (titanium intercooler piping, intercooler, fuel return line)
HKS (air suction funnel, super sequential BOV)
Tial wastegate
Hondata (K Pro EMS ECU, intake manifold gasket)
RBC intake manifold
Bosch (external fuel pump, 1000cc injectors)
Walbro internal fuel pump
AEM (fuel pressure regulator, fuel rail)
Carbing (oil catch, reservoir tank)
Mugen (oil cap, thermostat, fan switch)
JDM DC5 R (valve cover, spark plug cover)
Darton sleeves
Wiseco pistons
Crower rods
Supertech (valves, dual valve springs, retainers)
Cosworth bearing
Koyo (radiator, fan)
NX intercooler spray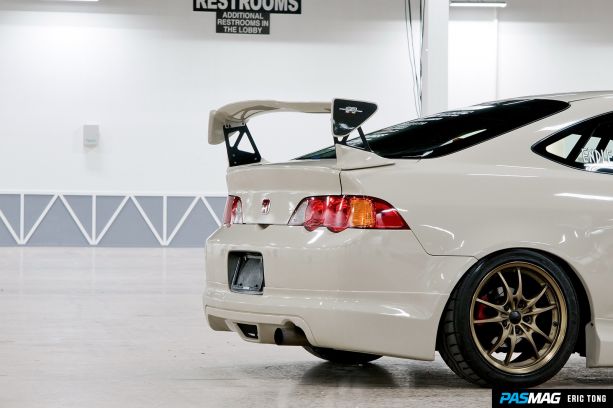 EXHAUST
Custom titanium straight pipe exhaust
DRIVETRAIN
Competition Clutch (clutch, lightweight flywheel)
Driveshaft Shop 500hp axle
WHEELS / TIRES / BRAKES
Mugen MF10 wheels – 17x8+45 (f/r)
Falken Azenis RT-615K tires
Mugen lug nuts
Endless 6-pot 2-piece BBK (f)
Power Slot cross-drilled rotors (r)
StopTech stainless steel braided lines
CHASSIS / SUSPENSION
Tein HA coilovers
Mugen front strut bar
Cusco (side bars, cross bar)
Carbing (6-point roll cage, rear lower strut bar)
J's Racing (C-pillar bar, engine damper)
EXTERIOR
Mugen (complete body kit, hood, rear wing, carbon fiber plate cover, fuel cap cover)
JDM (front windshield, folding mirrors, door visor, black housing headlights, side markers)
Ignited Performance 8000K HIDs
BASF Khaki paint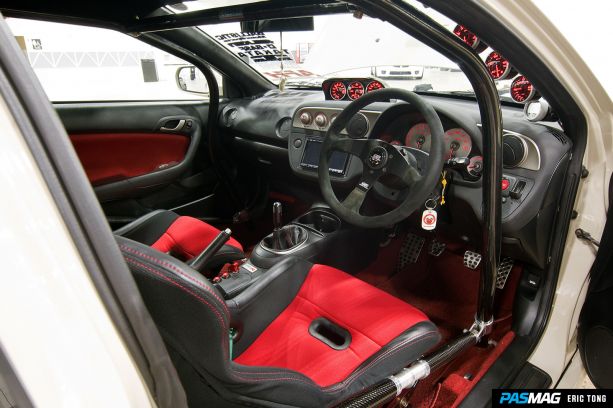 INTERIOR
Mugen (SI-R seats, Racing III steering wheel, e-brake lever cover boot, shift knob)
Takata 4-point harness
Type R rear back seat
Bride headliner
JDM (complete console, e-brake, pedals, rest pedal, road flare, coin holder, engine start button, Type R red carpet, Type R red floor mats)
Defi (BF gauges, triple gauge pods)
Blitz SBC ID boost control
AEM UEGO
Ignited (toggle switch, purge button, nitrous button)
AUDIO / MULTIMEDIA
Pioneer Avic-Z2 7-inch monitor w/ DVD player
MB Quart (6x9 premium components, 6x9 reference two-way speakers)
Rockford Fosgate Punch DVC He2 subwoofers (3)
SPONSORS
Ballistic Motorsports, Competition Clutch, Falken Tire, Takata, BASF,Fizz Auto Sports, Harry's Autobody, Ahkparts.com, Delacruz Motorsports, Endless USA, Meguiars
ESSENTIALS
Owner: Chris Rios
Vehicle: 1994 Acura Integra
Location: Washington, DC, USA
Engine: Honda B18C1 2.0L I4
Horsepower: 552 whp
ENGINE
CP (pistons, piston rings)
AEBS sleeves
Venom intake manifold
BDL Industries throttle body
Custom 3-inch titanium charge pipes
Mugen (valve cover, reservoir socks, radiator, gen 1 exhaust)
Garrett Big Kahuna turbocharger
HyTech turbo manifold
GReddy BOV
Tial wastegate
Inline Pro (fuel rail, connecting rods)
Injector Dynamics 1300cc injectors
Hondata (S300 ECU, coil pack conversion)
Full Blown Performance dual pump fuel injection
Aeromotive fuel regulator
Walbro fuel pumps
A'PEXi GTR intercooler
EXHAUST
Custom titanium straight pipe exhaust
DRIVETRAIN
Integra Type R transmission
Driveshaft Shop axles
Mugen LSD
Competition Clutch (twin-disc clutch, flywheel)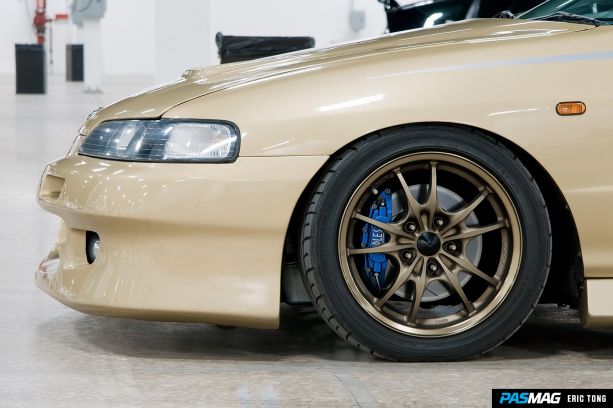 WHEELS / TIRES / BRAKES
Mugen MF10 wheels – 16x7 (f/r)
Dunlop Direzza DZ101 tires – 215/45-16 (f/r)
Endless front BBK
Mugen (rear brake rotors, brake lines)
CHASSIS / SUSPENSION
Mugen (NZ coilovers, front and rear strut braces)
JDM Type R sway bars
Cusco roll cage
EXTERIOR
Mugen (body kit, front bumper, sideskirts, rear wing, hood, gas cap)
INTERIOR
Mugen (S1 front seats, formula shift knob, boost gauge, cluster)
FG360 steering wheel w/ pad
JDM Type R (rear seats, carpet, door panels, pedals)
SPONSORS
High End Performance, Atlantic Motorsports, Ballistic Motorsports, Tempest-racing.com, Performance Bodega, Competition Clutch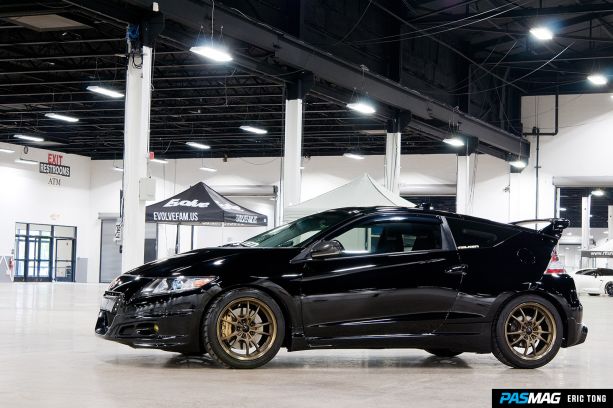 ESSENTIALS
Vehicle: 2011 Honda CRZ
Owner: Marc Ducrow
Location: Boston, MA, USA
Engine: Honda LEA 1.5L I4
Horsepower: N/A
Torque: N/A
ENGINE
Mugen (carbon fiber intake box, oil cap, radiator cap)
J's Racing cooling panel
HKS radiator shroud
ARP hardware
EXHAUST
Mugen Delta-Tip cat-back exhaust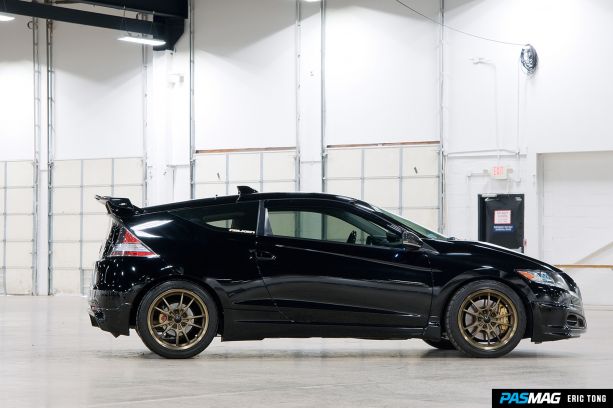 WHEELS / TIRES / BRAKES
Mugen MF10 wheels – 17x8+45 (f/r)
Falken Azenis tires – 225/45-17 (f/r)
Mugen (lug nuts, monoblock front calipers, race front brake pads, sports rear brake pads, slotted rear rotors, stainless brake lines)
Custom front rotors
CHASSIS / SUSPENSION
Mugen 5-way adjustable suspension
J's Racing rear shock tower bar
Spoon Sports motor rib
EXTERIOR
Mugen (front lip, front grille w/ LEDs, side skirts, rear diffuser, rear spoiler, rear LED fog light, hybrid badge, carbon fiber side mirror covers, hydrophilic side view mirror glass)
OEM Honda window visors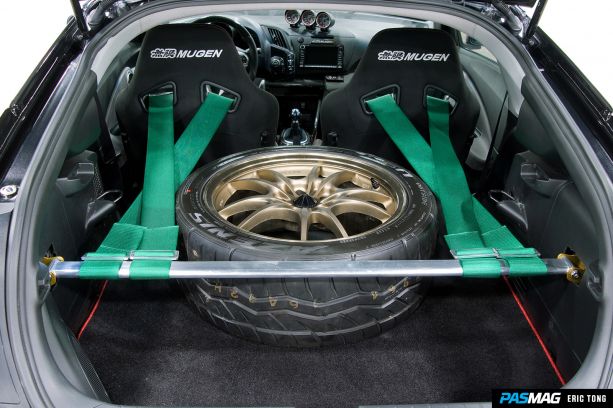 INTERIOR
Mugen (MS-Z front seats, carbon shift knob, carbon fiber rear mirror cover, trunk mat, Assist oil temperature meter, Assist oil pressure meter, Assist water temperature meter)
Takata 4-point harness
Backyard Special shifter surround
SPONSORS
Ballistic Motorsports, Falken Tire, Fizz Auto Sports
Contributor: Eric Tong