26 August 2016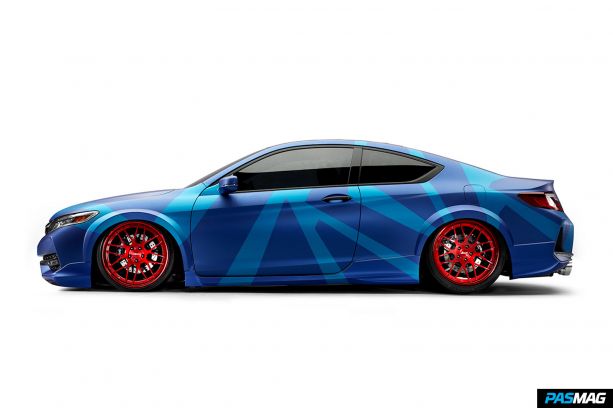 The Accord+ project was a collaborative effort between Honda Canada, PASMAG, and a handful of carefully selected partners. The idea behind the collaboration, at its most basic level, was simple: Transform the newly redesigned 2016 Honda Accord into a jaw-dropping showpiece to be displayed at a variety of automotive events throughout the year.
With an emphasis on blending form and function, the PASMAG team reached out to our partners in order to source or create modifications of the highest quality available for Honda's versatile Accord platform. Through this initiative, we intended to stay true to the Accord's 40-year history of cutting-edge automotive prowess with the help of reputable shops and brands.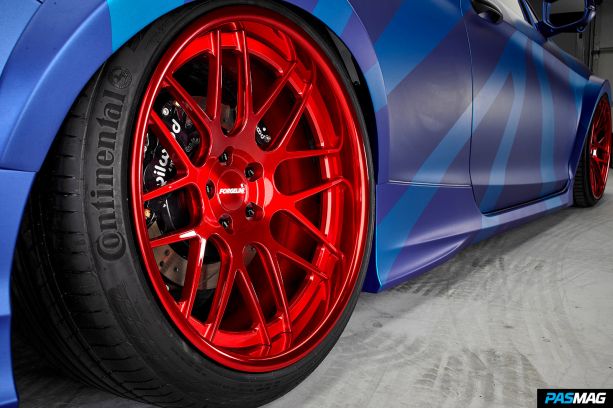 We needed to set the car apart in all aspects, so we started at the ground level. Continental Tires supplied us with a fresh set of their ExtremeContact DWS tires, which boast improved grip and braking in all weather conditions, improved mileage, and an industry-leading level of roll resistance. Continental's rubber wraps around a 20-inch set of DE3C wheels from Forgeline's Concave series, which were painted Transparent Metallic Red to make a bold statement in line with the design goals of this project.
Tucked behind those shiny red Forgeline wheels is a custom big brake setup from Wilwood Engineering, which in addition to having incredible stopping power, also came with an e-brake kit that was integrated into the OEM system on our Accord. The brake setup extends to both front and back axles, and was installed professionally by Defcon Racing in Thornhill, Ontario. Defcon racing was also responsible for the mounting of our wheel and tire package, as well as the installation of the Nitrous Express Stage 1 EFI nitrous system in the trunk.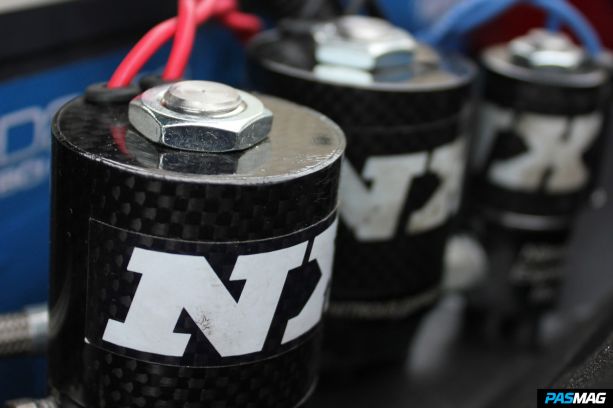 The Nitrous Express system isn't the only thing that the trunk of this Accord hides away. The crew at 20Hz Audio & Security, a Toronto-based shop famous for audio projects and installs of epic proportions, took care of our full JL Audio system trunk setup. The install consists of two 12TW3-D4 12-inch subwoofers, C3-650 component and tweeter sets, and the XD1000/5v2 amplifier, which delivers 1,000 watts of clean power to the entire system. 20Hz also helped us achieve a killer exterior look with custom-fitted fender flares, giving the Accord some widebody stance.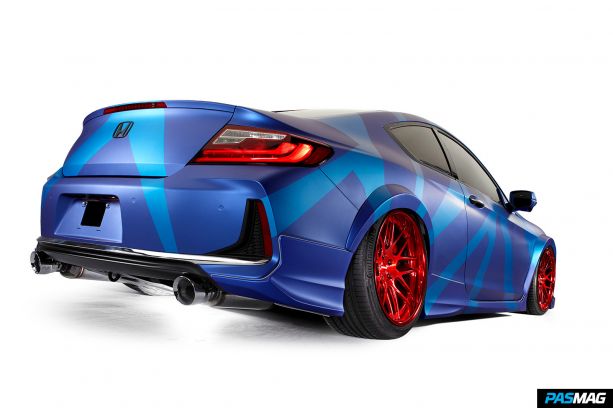 The flares are just one of a handful of modifications made to bring our Accord+ to showworthy levels. Once we had our body shape figured out, the car was off to JD Graphics for an off-the-walls wrap. We knew a single color change wasn't going to be enough to properly highlight the transformation the car had gone through, so we brought some ideas to the folks at JD who have had years of experience designing custom wraps, and drove away in a two-tone blue layered design. Finally, it was off to the Air Assisted crew to install Air Lift's newest kit for the ninth generation Accord – the final piece of the puzzle to bring this car together with showroom stance and drivability.
The end result of our efforts, and the hard work of our partners, is a show-worthy Honda Accord, dubbed the Accord+. The car travelled around the country, drawing a crowd and impressing audiences at both manufacturer and aftermarket-based shows. Staying true to the Honda tuner scene, we built an eccentric, exciting car that blends form and function with ease and showcases what modifying a Honda is all about. #pasmag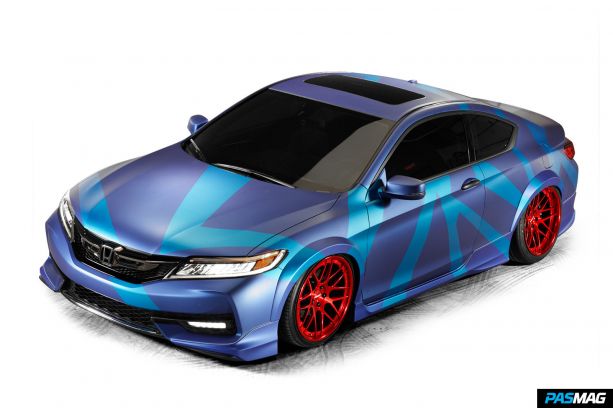 ESSENTIALS
VEHICLE: 2016 Honda Accord Coupe
ENGINE: Honda J35Y2 3.5L V6
HORSEPOWER/TORQUE: TBD
Built By: PASMAG, Defcon Racing, 20Hz Audio & Security, Air Assisted, JD Graphics, Wheels Direct
Location: Toronto, Ontario, Canada
ENGINE
Mishimoto (oil filler cap, radiator cap, 480cc oil catch can, aluminum coolant reservoir tank, universal oil cooler kit)
K&N Typhoon cold air intake
Nitrous Express (nitrous bottles (2), purge kit, 6-cylinder EFI system)
Hondata FlashPro ECU tune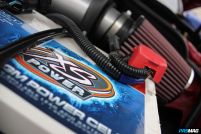 EXHAUST
Magnaflow Street Series 2.5-inch cat-back exhaust system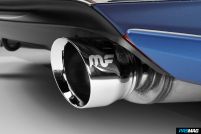 CHASSIS/SUSPENSION
Air Lift Performance (Performance Series air suspension kit, 3P air management)
SPC Performance rear adjustable control arm kit
WHEELS/TIRES/BRAKES
Forgeline DE3C concave wheels – 20x10 +46 (f), 20x11.5 +26 (r)
Continental ExtremeContact DWS tires – 225/30 R20 (f), 275/35 R20 (r)
McGard custom "PASMAG" engraved lug nuts
Jspec Performance 30-mm hub-centric wheel spacers
Wilwood (big brake kit, parking brake)
EXTERIOR
Honda aero kit
20Hz custom fender flares
JD Graphics matte blue wrap
INTERIOR
GlowShift Black 7 Color Gauge Series (nitrous pressure, air pressure, voltmeter)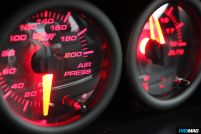 MOBILE ELECTRONICS
JL Audio (FiX-82 OEM integration, 12TW3-D4 12-inch subwoofers up to 400 watts RMS (2), XD1000/5v2 5-channel amplifier, C3-650 6.5-inch convertible component/coaxial speaker system (2))
XS Power battery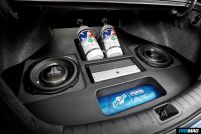 PARTNERS
Air Assisted, Wilwood, Continental, Defcon Racing, Forgeline, Hondata, JL Audio, K&N, Magnaflow, 20Hz Audio Sound & Security, Velocity Autobody, Air Lift, XS Power, Mishimoto, SPC Performance, GlowShift, McGard, Nitrous Express, JD Graphics