Written by Adam Gordon. Photos by Jeremy Alan Glover | 24 May 2016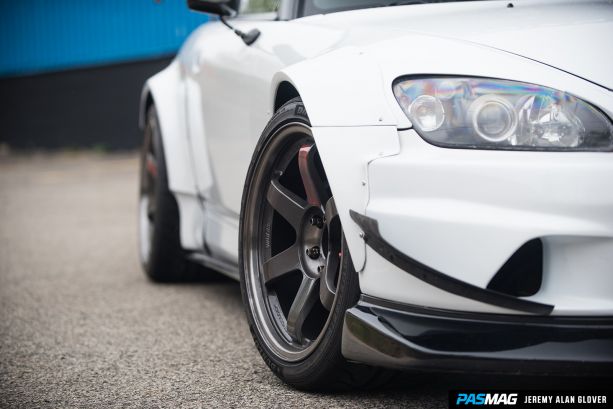 Alan Phan built his Honda S2000 as a track weapon that still carried the aesthetics of a street-driven show car. His affinity for the Honda brand started with his old Acura RSX, a popular starting point for many Honda enthusiasts. He soon knew the S2000 was to be his future ride, and a few short years later, Phan has built his S2000 into a force to be reckoned with on the track.
No build is without its challenges, and few have been on the receiving end of as much grief as Alan.
"After the first month of owning the car, my F20C blew up on the way to storage," recalls Phan, thinking back to the days when things just wouldn't go his way. "The following summer at a track day the car caught on fire."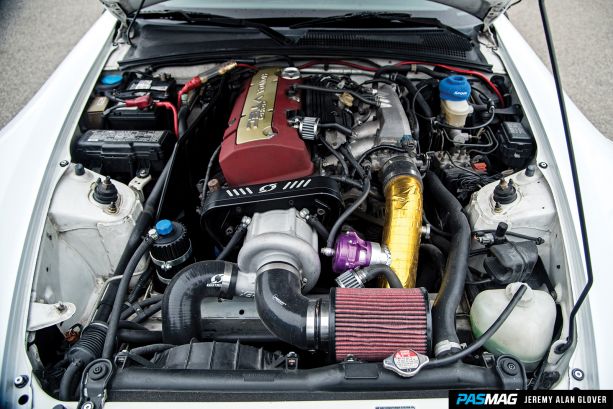 Of course, overcoming adversity is what separates the serious racers from the fairweather enthusiasts. This past summer, the car underwent a full respray in preparation for its rise to glory. Two years after starting the build, Phan has one seriously cool S2000, which makes plenty of power. With the help of a Kraftwerks V2 38-91 supercharger and other related go-fast goodies, power output is bumped up to a healthy 460 horsepower with 350 lb-ft of torque, which sounds pretty nice coming out of the J's Racing 70RR exhaust. Those big tires and Spoon Sports brakes aren't just for show, either. This hardtop Honda hits the track circuit on a regular basis.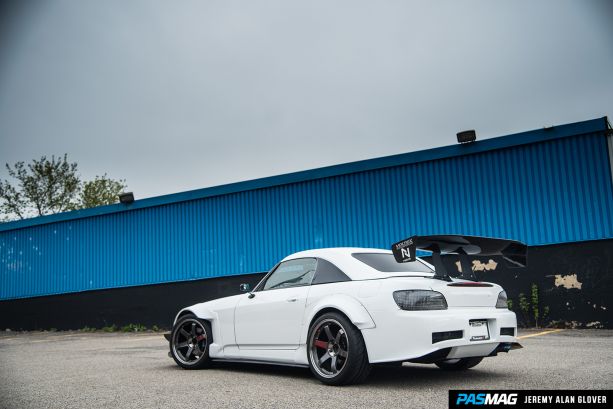 Aero and overall looks are improved thanks to a combination of Voltex, J's Racing and Circuit Garage body parts, and the rear end receives an update with xPrototype LED taillights and a 1600mm swan-neck wing from Voltex. The white and black "Stormtrooper" look, which looks even better with the Lexus LFA Pearl White paint, works really well with this car, especially on the Volk TE37s.
Phan extends his thanks to friends who helped him along the way, Nextmod for being able to rush his parts, as well as thanks to Lombardi Racing and Naizo Garage for installations and tunes.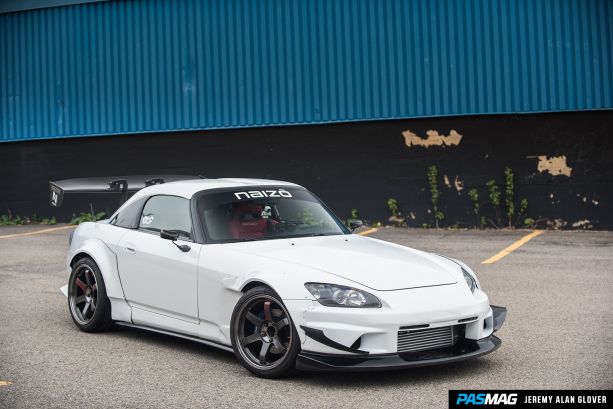 #TBGLIVE WINNER | HIGH SOCIETY MTL: SPRING BASH (NAPIERVILLE, QC)
74% OF THE POPULAR VOTE
@tunerbattlegrounds @highsocietymtl
ESSENTIALS
OWNER: Alan Phan
VEHICLE: 2000 Honda S2000
LOCATION: Dollard-des-Ormeaux, Quebec, Canada
ENGINE: Honda F22C 2.2L Inline-4
HORSEPOWER: 460 whp
CLUB: Nextmod, Naizo
SOCIAL
Facebook: Alan Phan
Instagram: @yodisbealan
ENGINE
Kraftwerks (V2 38-91 supercharger, intercooler, air filter)
Tial blow-off valve
Walboro 255 fuel pump
Injector Dynamics 1000cc fuel injectors
Vibrant hoses
NGK spark plugs
EXHAUST
J's Racing 70RR exhaust
Vibrant Ultra Quiet resonator
DRIVETRAIN
Exedy clutch
AP1 transmission
CHASSIS/SUSPENSION
Spoon Showa coilovers
Spoon (12k front springs, 16k rear springs)
J's Racing front ball joints
SBC rear camber joints
WHEELS / TIRES / BRAKES
Volk TE37 SL wheels – 18x10.5 +22 (f/r)
Dunlop Direzza II tires – 285/30 R18 (f/r)
Spoon Sports 4-piston brake calipers
Hawk HP Plus brake pads
INTERIOR
Honda Integra DC5R Recaro seat
Bride RO seat rails
ARC Style shift knob
Nardi Deep Corn 350-mm steering wheel
PERFORMANCE ELECTRONICS
AEM UEGO AFR gauge
Prosport gauges (oil temp, oil pressure)
EXTERIOR
Voltex (Street bumper, custom canards, 1600mm swan-neck wing)
J's Racing rear bumper
Circuit Garage fenders
Aero Fiber carbon fiber side diffusers
Honda S2000 AP2 headlights
xPrototype LED taillights
Extended 30mm front flares
Custom bumper extension
Rockstar Garage Mugen-style hardtop
Lexus LFA Pearl White paint
MOBILE ELECTRONICS
Sony Xplod head unit
Contributors: Jeremy Alan Glover