Written by Adam Gordon. Photos by Kevin Choi | 06 June 2016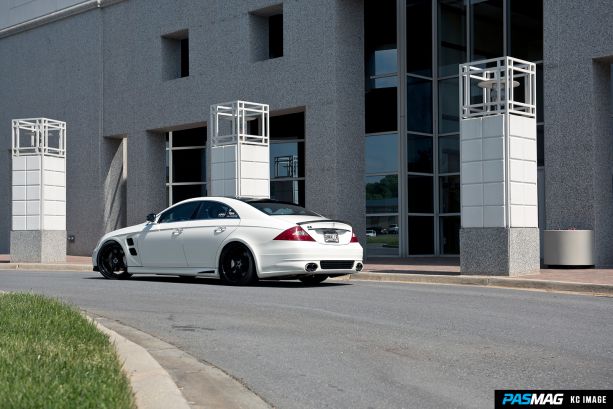 "That will never work." Words that could stop many a project in their tracks. Unless, of course, you're Brent Khelawan, in which case those words serve only as further motivation. Perseverance is no foreign concept to Brent. After a motorcycle accident almost cost him more than a mangled bike, he pick up his 2006 Mercedes-Benz CLS500, the building of which, he says, played a big part of helping him through his recovery.
The CLS500 was chosen mainly because of its groundbreaking four-door design that shook the world of even the harshest of critics. Its elegant design drew Brent in, but what really drove it home was the potential he saw for a wild project that had never been done before. For people like Brent, stock is never good enough, so it wasn't long before he had plans to change the game.
The stunning design of the CLS500 needed some tweaks in order to steal the show. A rear bumper, side skirts, some fender flares with carbon fiber inserts and a super-sleek carbon fiber lip spoiler from Lorinser paired with a Wald front end gave the car a drastically new look, adding a hint of aggressive sportiness to the sleek German saloon. A liberal dose of carbon fiber was chosen to accent the Alabaster White exterior, with carbon fiber side mirrors and some really cool one-off headlights with a carbon fiber inner bezel prepared by IGT Automotive.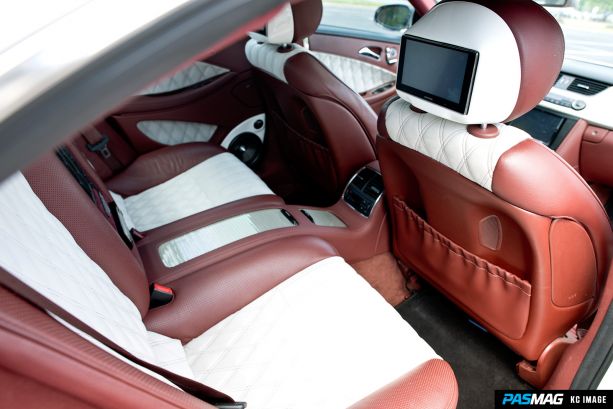 Chasing the idea of having a full blown show car, an interior overhaul would also be necessary. With some help from Idealistic Design in New Jersey, the interior was reupholstered with a combination of platinum silver and burgundy Ultrasuede with a double-diamond stitching pattern. The carbon fiber accented theme continued inside, with custom silver carbon fiber overlays dressing up all wooden interior components.
No show car is complete without a proper audio setup, and proper is the name of the game for this build. An Alpine INE-928HD 8-inch head unit is matched to an impressive full Kicker speaker system, consisting of two 12-inch L7 subwoofers and eight Kicker QS component speakers placed throughout the interior door panels and back window area. To top it all off, a limited edition black Nintendo Wii is paired to an Alpine DVD player, as well as monitors on the headrests and in the trunk.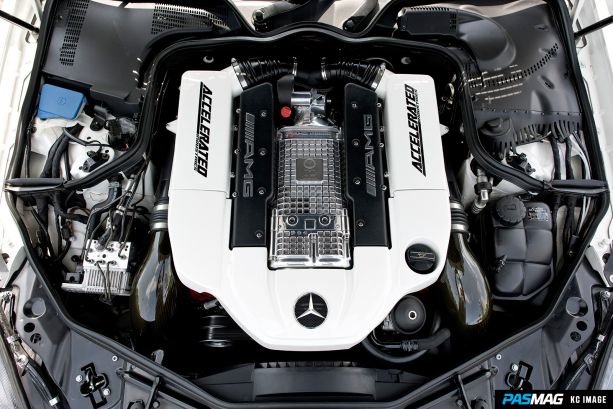 With the car's style accounted for, performance was the next step, and Brent had an unconventional engine swap in mind. The M113K engine, courtesy of a 2005 Mercedes-Benz E55, was the powerplant of choice. When the idea was pitched to several local shops and builders, they dismissed and laughed at the idea. Little did they know, they were only adding fuel to his fire. When asked about his inspirations and influences in the build, Brent casually extends his thanks to the companies who told him that his motor conversion would never work.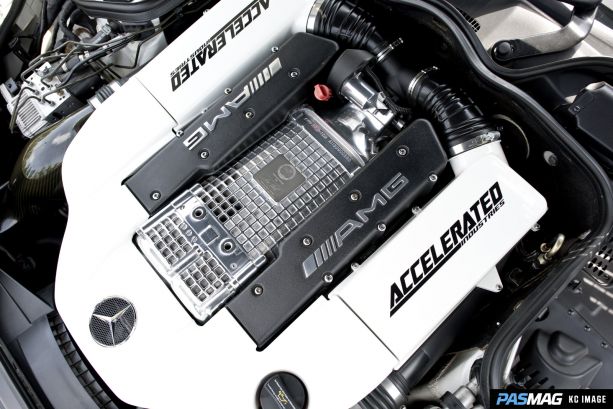 Of course, the doubts from others were not without merit, and the engine swap was indeed the most challenging part of the build. But with some help from expert fabricator Rudy Compart of Accelerated Industries, the deed was done. Rudy flew from Illinois to Brent's garage in Maryland to custom wire a specialty harness for the new (or old, depending on how you look at it) ECU and motor over the course of a weekend, allowing it to function properly with all components, including the Eaton twin screw supercharger. With all components ready and working, the CLS500 is up to a respectable 440 horsepower and 505 lb-ft of torque at the rear wheels. Not bad numbers for a purely show-built car! Brent and his CLS500 continue to take East Coast shows by storm with a fresh combination of performance, aesthetic and electronics modifications on an uncommon platform with an even less common engine swap. Brent tells us he has plans for even more mods through upcoming seasons. We'll have to wait and see where this bespoke Mercedes-Benz build goes next.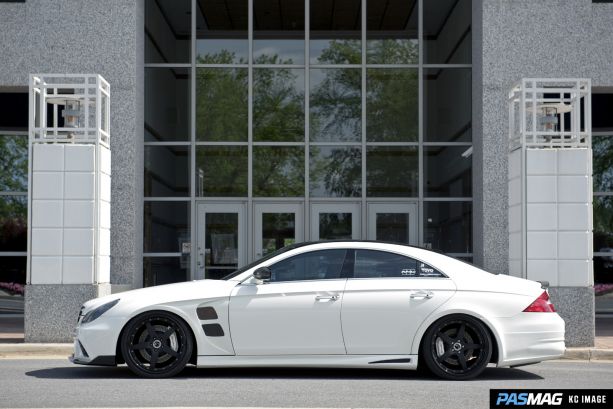 ESSENTIALS
2006 Mercedes-Benz CLS500
OWNER: Brent Khelawan
LOCATION: Bowie, MD
BUILT BY: Eliazir Chavez, Idealistic Design, APAC, Accelerated Industries, IGT Automotive
ENGINE: Mercedes-Benz M113K 5.4L
HORSEPOWER: 440 whp
TORQUE: 505 lb-ft
CLUB AFFILIATION: True Precision
SOCIAL
Facebook: Brent Khelawan
Instagram: @khelawanb
ENGINE MODIFICATIONS
Eaton twin screw polished supercharger
Carbonio carbon fiber intake w/ K&N air filter
Custom wired E55 ECU
EXHAUST
Zury Fabrications (Custom exhaust, downpipe, mounts)
Kleeman headers
Lorinser exhaust tip
CHASSIS / SUSPENSION
Renntech adjustable module on OEM air ride
WHEELS / TIRES / BRAKES
COR Concord wheels – 20x9 (f), 20x11 (r)
Toyo Proxes 4 Plus – 255/30/20 (f), 295/25/20
Brembo brakes – 6 piston calipers (f), 4 piston calipers (r)
15-inch, 2-piece drilled rotors
INTERIOR
Custom silver carbon fiber dash overlay on interior wood components
Ultrasuede reupholstering
Silver carbon shift knob
Custom hand-made DTM style steering wheel
AMG gauge cluster conversion
Platinum silver w/ burgundy ultrasuede double diamond stitch (seats, door panels, headliner)
EXTERIOR
Lorinser/Wald combination body kit
Wald (front bumper, Black Bison front bumper LEDs)
Lorinser (rear bumper, fenders w/ carbon fiber inserts, spoiler w/ custom carbon fiber overlay)
Carbon fiber side mirrors
Custom carbon fiber overlaid headlights
Alabaster White paint
MOBILE ELECTRONICS
Alpine INE-928HD 8" head unit
2 Kicker IX1000 sub amps
2 Kicker IX500.4 midrange amps
2 Kicker 12-inch ported L7 subwoofers
8 Kicker QS component speakers
2 XS Power deep cycle batteries
Ohio Generator modified alternator
Limited Edition Black Nintendo Wii w/ custom red LED CS gateway
Alpine DVD player
Alpine touchscreen rear monitors installed in headrests
9-inch Eiger Vision trunk monitor
Infinity mirror trunk floor
SPONSORS
Kicker Audio, Ultrasuede, Toyo Tires, Directed
Contributor: Kevin Choi (KC Image)