Written by Anna Brown. Photography by Jeremy Alan Glover | 12 October 2015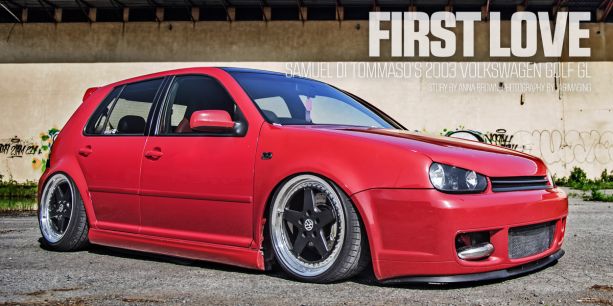 Samuel Di Tommaso got into car modifications as so many of us do; his friends were into it and so he gave it a try. To hear Samuel describe it, his modifications started out simply enough with wheels, suspension and a subwoofer the passion grew from there.
He purchased this Golf GL in 2005, but it wasn't until 2007 that he began to modify it. What began as a hobby with friends, grew into much more. In fact, Sam is so dedicated to this car, which he describes as his "first love," that he rebuilt it from scratch after the interior caught fire.
The fire, which happened in 2012 while he was working on welding the shaved engine bay at a friend's house, could easily have scrapped the car entirely. But for Sam, the better choice was to strip it and do a full makeover. For the rebuild, he chose parts based not on brand, but on quality. Sam estimates he spends about $5,000 a year on parts, and is so happy that he has been able to create a finished product of this caliber.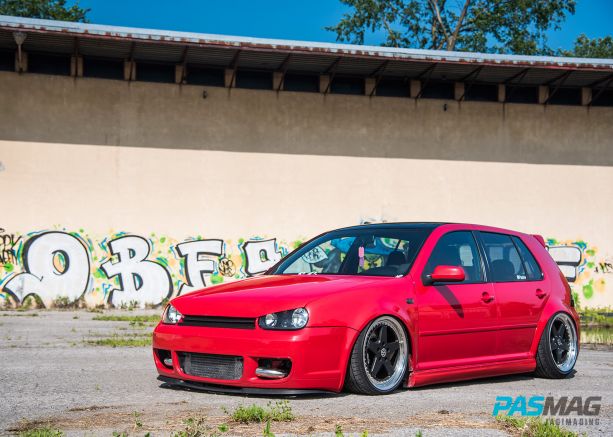 #TBGLIVE WINNER: 2015 EUROKRACY, CIRCUIT ICAR, MIRABEL, QUEBEC, CANADA
53%OF THE POPULAR VOTE
ESSENTIALS
2003 Volkswagen Golf GL
LOCATION: Laval, QC
CAR CLUB: SoClean. Clique.
ENGINE: Audi 1.8L Turbo 20VI-4 (2001 Audi TT)
HORSEPOWER: 221 HP
TORQUE: 240 LB-FT
ENGINE
Integrated Engineering (1.8T 20V valve springs / retainers, connecting rods)
K04-022 turbocharger
Vibrant Performance intercooler
HKS SSQV2
Unitronic air filter
APR (Stage 2+ ECU, motorsport inlet pipe)
Bosch 4-bar fuel pressure regulator
Audi TT 225 fuel injectors
EXHAUST
Magnaflow (for 1967 Firebird)
Custom down-pipe
MOMO Corse exhaust tip
DRIVETRAIN
DXD Racing Stage 2 daily clutch
2004 VW TDI transmission
WHEELS / TIRES / BRAKES
Weds Adula wheels with custom lips –18x9+20(f),18x11+15(r)
Zeta ZTR10 tires – 225/40R18 (f/r)
20th Anniversary GTI vented / slotted / drilled front rotors
2002 Porsche Boxster 4-piston front calipers (polished)
ABS delete with Jegs proportion block
Custom brake lines
Haggar Fab custom brake fluid tank
CHASSIS / SUSPENSION
Air Lift Slammed Series front suspension with Management V2
Hardlines trunk set up by Intech Performance
Firestone Air Ride bags (f/r)
Bilstein rear suspension
Prothane bushings
VF Engineering motor mounts
Neuspeed front strut bar
Shaved engine bay with 1-pc. firewall and notched frame
EXTERIOR
2004 Golf R32 front and rear bumpers
GTI 337 side skirts
FK badgeless grille
Custom bozer hood, widened quarter panels and rear bumper
Modified Extreme Auto Design spoiler
Black Forest Industries black e-code headlights
Hella Magicolour black taillight housings
Upgraded lighting
INTERIOR
2011 Audi S4 (shift knob, seats)
2014 Audi S4 steering wheel
MOMO Corse F16 shift boot
42 Draft Design A-pillar mount
Auto Meter Cobalt gauges
Custom (instrument cluster, headliner, chrome vent grilles / commands)
MOBILE ELECTRONICS
Pioneer AVIC-V930BT head unit
Soundstream (Picasso 1.500d sub amp, Tarantula T5 subwoofer, Tarantula 6.5-in. mid-range speakers)
Sealed custom enclosure inside spare tire well
SPONSORS
GAB Eurosport
Intech Performance
Transbec DAI