Written by Jacob Leveton | 14 October 2014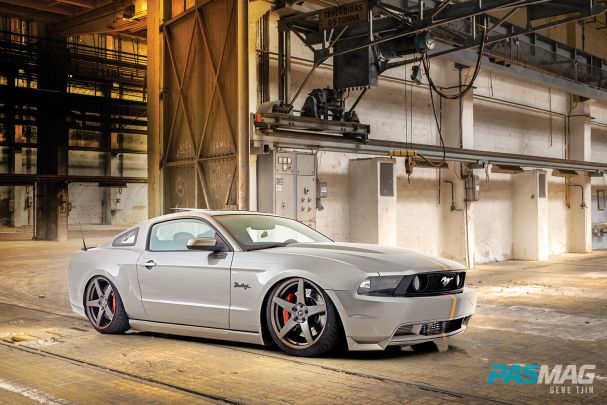 Written by Jordan Lenssen | Photos by Gene Tjin
Neil Tjin's tuning experience stretches across generations, starting with the beloved Bomex body kits that started the tuning revolution in the mid-1990s. His work has been seen on countless builds that have adorned the pages of many magazines, and stolen the imagination of thousands of onlookers at SEMA.
His ability to translate his vision into the real world has seen him lead major projects from several automotive manufacturers, including Honda, General Motors, Scion and, most recently, Ford. Working with the latter we've witnessed several intriguing builds, including the first project of Tjin's Ford chapter — the 2011 Tjin Edition Mustang GT.
After building his monstrous, army green Chevy Camaro in 2009 (winner of the GM Design Award, Best in Show at SEMA), Ford had its sights set on Tjin as one of the first builders for its SEMA projects. The 2011 Mustang marked the first time Ford fitted the fifth-gen GT with a 5.0 powerplant, and the company wanted someone that would be able to capture both the SEMA crowd and the Mustang's raw, innate power.
Tjin's baseline was a good one to begin with. In base form, the rear-wheel-drive GT already puts out an impressive 412 base horsepower and a tire-melting 390 lb-ft of torque at 4,250 rpm. Given Tjin's close relationship as Marketing Director with the Air Power Group and Vortech Superchargers, it only made sense to increase those numbers exorbitantly.
"There are two cool things about this build," Tjin says. "I was the first builder for Ford and the new Mustang, and the serial number on the blower is 002, which is actually the first [production] supercharger for the new 5.0L [Coyote] motor... It is also a limited edition because it's the Black Series."
While a power increase was expected, it was Tjin's overall vision that first caught the Ford brass off guard, with a custom Axalta (formerly DuPont) Samurai Gold paint scheme, off-center racing stripe and, perhaps most surprising, an Air Lift digital air suspension setup.
"Now, air management is completely different with what AccuAir and Airrex is doing. Back then, it was Air Lift and a couple of the modern muscle companies, but to be honest, we did it to be different. I did it on my G8 in 2008 — people think it's all about hydraulics, low riders, but it's changed. My G8 had 600 horsepower and was on air, the green Camaro had almost 800 horsepower and it was on air."
Although it took some convincing, Tjin got Ford's blessing to move forward due in no small part to the positive reception his past projects have received.
"It was my first pitch with them, so I wanted to keep it really clean and simple, following our typical transition builds," he explains. "We did step outside the box a little — it doesn't have the traditional Mustang lines — it was more Lamborghini style with the two-tone orange and gray with the stripe off to the side."
It's Tjin's attention-to-detail that really sets him and this Mustang apart from the rest. The paint chip was selected and his painter, Luis of L&R Auto Body, matched the color and sent it to Axalta — just for this car. The stripes aren't vinyl, and the Forgestar wheels were sent away for paint matching. The pinstriping and Tjin Edition emblems on each wheel match the orange employed in the race stripe, trunk-mounted air tanks and Tjin Edition Status leather race seats and shift boot — all customized by the Tjin Edition team. Even the Baer brake kit received the fiery hot swatch.
To give the new 5.0 a bit of throwback flavor, Tjin opted for a set of '69 fender badges that he flush mounted into the existing fenders.
"It's just something different — more hot-rodder, street-rodder style. We traced the emblem, cut it out of the fender, replaced the metal behind where the emblem sits and connected it."
All of this combines for a pretty neat package that instantly made it one of the most versatile performance/show Mustangs around.
The 20th anniversary Vortech V-3 Si-Trim centrifugal supercharger and Nitrous Express system pushes the stock 412 horsepower to a blistering 656 and, while this might appear to be a massive departure for the Mustang, thanks to a set of American Racing headers and MagnaFlow Performance Exhaust, it's a V8 with a rumble that harkens back to the pinnacle of big block American muscle in the '60s and '70s.
The entire Vortech system is also capable to withstand future engine upgrades if needed, up to 22 psi of boost, a maximum spool of 52,000 rpm and 775 horsepower through a 3.5-inch inlet.
In show mode, the Air Lift digital suspension brings the 'Stang down far enough to scrape the undercarriage, but Tjin insists that, in combination with the Eibach sway bars and a few fabrication adjustments, the air system is surprisingly capable and can handle all 656 horses from the Coyote V8.
"It literally levels the car," Tjin says. "Even if you've got big power and the car launches, it's got all the controls built-in, so that whole notion of air [not working well] with horsepower — that's gone out the window."
"On this car, we did have to work with MagnaFlow and Unique Fabrication to tweak the exhaust tubing, because it used to sit underneath the axles and the car couldn't go as low in the back. So we re-ran all the exhaust piping to go above [the axle], and that also gave us another inch-and-a-half of travel."
Tjin's first Mustang effort opened the door to a longstanding relationship with Ford that has led to two more Mustangs (inset), and 12 projects total. Currently, his team is working on a hulking new project, but it's two 2015 Mustang projects we can't wait to hear about. "[We've] got something in the works for UTI and something for Vortech. But I can't say much more!" he quips. And for now, that'll do just fine.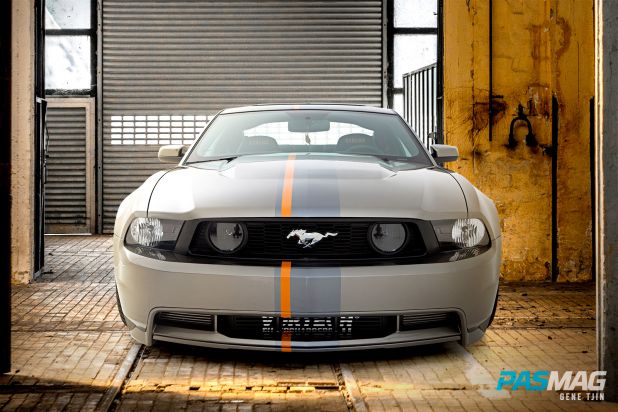 ESSENTIALS
2011 Tjin Edition Ford Mustang GT

Built by: Tjin Edition (Neil Tjin), Unique Fabrication
Horsepower: 656 hp
Torque: N/A

ENGINE MODIFICATIONS
Vortech V-3 Si-Trim centrifugal supercharger with air-to-air charge cooler
Nitrous Express system with carbon bottle
Royal Purple products

EXHAUST
American Racing headers
MagnaFlow performance exhaust

DRIVETRAIN
S.P.E.C. clutch

CHASSIS/SUSPENSION
Air Lift digital suspension
Eibach sway bars

WHEELS/TIRES/BRAKES
Forgestar Concave CF10 paint-matched wheels – 20x9 (f), 20x10 (r)
Falken FK-452 tires – 255/35 R20 (f), 295/30 R20 (r)
Baer big brake kit

EXTERIOR
Axalta Dupont (Samurai Gold paint, orange and gunmetal accent lines)
Styles pin striping
Tjin Edition body kit
Unique Fabrication rear spoiler
Webasto sunroof
Smoothed side markers
Flush mounted retro Mustang emblems
Custom Tjin Edition emblems by Third Shift Studios
Matte black body accents
Trent's Trick Upholstrey billet bolt kit
Light Wurkz LED headlights /taillights
Ignited HID lighting
Paint and body by L&R Paint and Body

INTERIOR
Escort 9500ix radar detector
GlowShift gauges
Custom Orange and black leather interior
Status Racing (Tjin Edition racing seats, 5-pt. harnesses)
Innovate OT-2 unit
Azentek Smart Mirror
Unique Fabrication harnesses bar
Recaro child seat
ACE Steering Wheel

MOBILE ELECTRONICS
Image Dynamics Audio (amplifiers, subwoofers, mid-range speakers, tweeters)
Pioneer head unit
Scosche (trim panel, wiring)
Braille battery