Written by Dave Pankew | 07 December 2009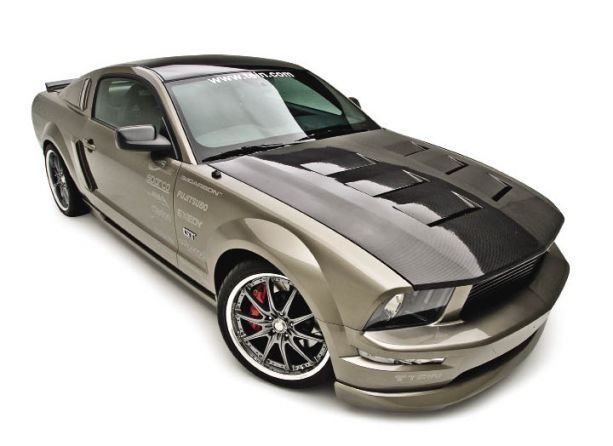 Written by Dave Pankew / Photography by RCH Designs
The name TEIN, stands for TEchnical INnovation and not many people know that. Their mascot is also a gangster-looking damper with an external reservoir and eyeballs – not many people know that either. I've rarely met anyone who pronounced the company's name right either, so for the last time repeat after me "TAIN" (it rhymes with gain).I could go on and on about what people don't know about this impressive Japanese suspension manufacturer, but we only have some much time and Google is your friend. I would like to focus on one of the more recent misconceptions about TEIN, as they manufacturer a solid line up of suspension parts for domestic performance cars too.

It all started a few years back during a visit to the TEIN USA office in Downey, CA. We always look forward to checking out their usual roster of sweet Japanese cars around the shop, painted in TEIN trademark green, white and black. But when we spotted a large dark car parked in the corner that was much bigger and more sinister looking, we knew it was something different. Marketing Manager Philip Chase informed us it's a Dodge Charger SRT-8 riding on a prototype set of TEIN coilovers. We couldn't believe our eyes and ears, but it makes sense to share their suspension expertise with the domestic tuning world. Since then they have released and expanded the application list for the domestic market and even built this new Mustang to promote the brand and prove they want a serious piece of the domestic enthusiast pie.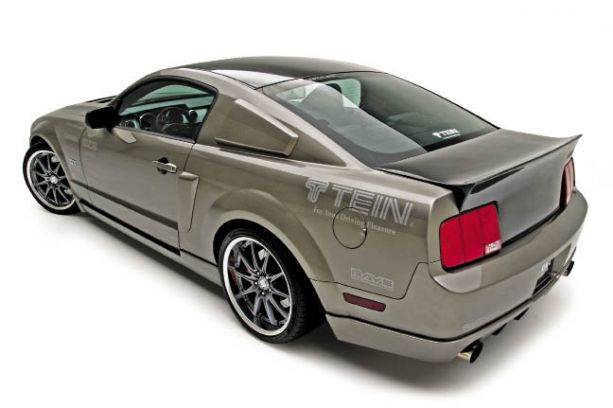 The mission was to take a stock Mustang GT to the next level with road hugging-like handling and super solid suspension. The process began developing the TEIN Type FLEX coilovers for this modern muscle car. With increased spring rates and adjustable dampening, this is one of few coilovers available for the car and is even fitted with the EDFC electronic dampening controller, which is the only one of its kind on the market. TEIN then contacted BMR for all of their other suspension gear to bring the package tightly together. A set of rear BMR upper A-arms were added along with poly bushings to compliment the lower control arms with poly bushings and uppers with spherical rod ends. An adjustable pan-hard bar was added along with an anti-bump steer kit. The control arm relocation brackets and tubular under brace round out the suspension modifications. The unique project soon had a host of fellow JDM brands and parts making their way into the Mustang's transformation.
The wheels and tires were critical to keeping the car in line. A set of Volk Racing GT-F 19-inch forged wheels were picked up with a 19x8.5-inch front and a rear measuring 19x9.5-inches. The rollers were shod in Continental Sport Contact 3 tires 255/35R19 (front) and 275/30R19 (rear). Behind the spokes you'll find a Wilwood 6-piston big brake kit up front and a 2-piston rear kit with performance pads and stainless steel lines.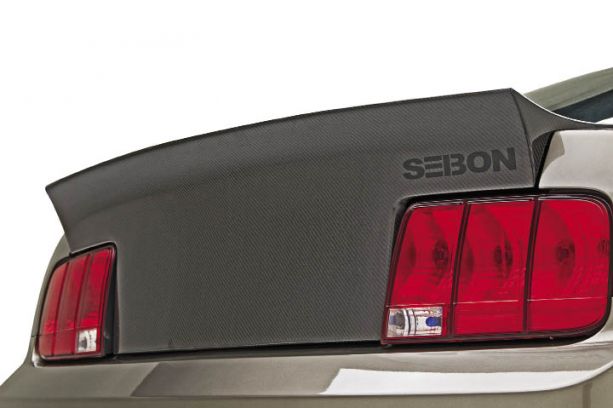 When it came to the look of the Mustang, you know an aftermarket brand like TEIN couldn't roll stock. A 3-peice 3D Carbon GT Styling Kit was added along with 3D Carbon Side Vents and Scoops. A Seibon carbon fiber vented hood was added along with an OEM-style trunk and carbon fiber rear spoiler. A Roush 9-row billet grille was added and the look was set off with S&A Design in Euphoric Design.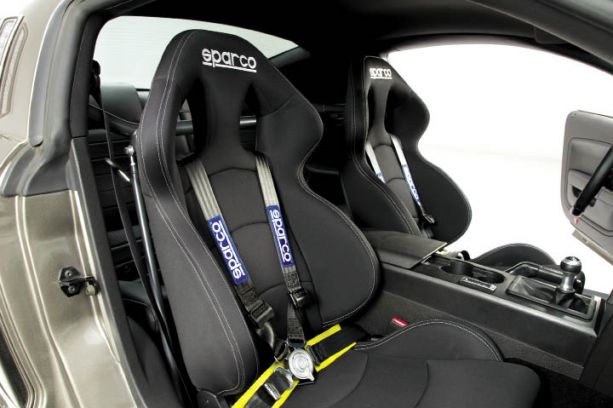 Inside, TEIN turned to their partners at Sparco to complete the form and function. A set of Sparco Chrono seats were added along with Sparco 4-points attached to a matching harness bar to keep occupants strapped in.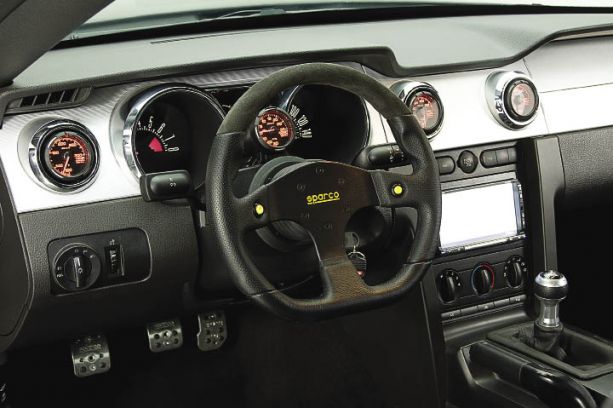 The steering inputs are made with a Sparco Mugello wheel, while the pedals and shift knob are also upgraded to Sparco units. Of course, as a distributor of Defi in the USA, TEIN rolled out Red Racer gauges to keep tabs on the engine including: boost, oil pressure and oil temperature. For the audio side of things, TEIN stuck with Clarion for a double-DIN LCD unit, component speakers, subs and amplifiers.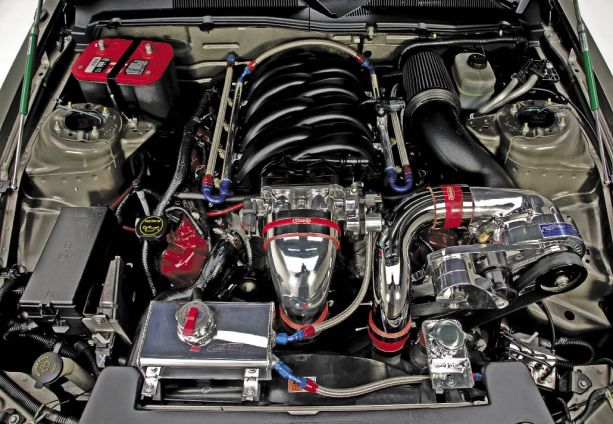 Under the Seibon CF lid is a menacing iteration of the big 4.6L V8. Producing 496whp, the V8 has been force fed with a ProCharger that chills the air with an intercooler. Exhaust is dumped into JBA long-tube headers and a Japanese-made Fujitsubo 3-inch stainless exhaust system.
With a larger pump, injectors, billet fuel rails and upgraded lines this Mustang has enough fuel to feed the eight cylinders. The driveline is also upgraded with an Exedy Stage 2 clutch and flywheel combo to hold the new found power. The torque also heads in to the rear end where a Torsen T2 LSD is matched with Ford Racing 3.73 gears.
When the dust settled, TEIN took this car to their closest track at Buttonwillow Raceway and put it through their ultimate torture tests. As with all of their products, every suspension logs 1000s of detailed miles on and off track in prototyping before hitting full blown consumer production. If this Mustang serves as any indication, TEIN has totally transformed a strong domestic contender into a very dangerous track car that will put the hurt on many lightweight imports.
THE ESSENTIALS
Owner: TEIN USA
Location: Downey, CA
Vehicle: 2005 Mustang GT
Power: 496whp
Engine: Ford 4.6L V8
ENGINE MODIFICATIONS
ProCharger SuperCharger w/ Intercooler
Fuel sys. Upgrade including pump and injectors
JBA 3" Long Tube Headers
Fluidyne Aluminum Radiator
Canton Aluminum Coolant Reservoir
Aluminum Power Steering Tank
Hose Techniques Silicon Hoses
Custom colored valve covers
Billet Fuel Rails
Upgraded fuel lines
Optima Red Top Battery
Polished SuperCharger, bracket, piping, alternator, T-clamps, throttle body
EXHAUST
Fujitsubo Custom Cat Delete
Fujitsubo Custom 3"Stainless Steel Exhaust
DRIVETRAIN
Exedy Stage 2 Clutch and Flywheel
Ford Racing 3.73 Ring and Pinion Gear
Torsen T2 Rear Differential
SUSPENSION
TEIN FLEX Coilovers
TEIN Electronic Damping Force Controller
BMR Non-Adj. A-Arms with Poly Bushings
BMR Adj. Lower Control A-Arms with poly/ rod ends
BMR Adj. Upper Control Arms w/ Spherical Bearings
BMR Adj. Pan Hard Bar
BMR Tubular K-Member
BMR Bump Steer Kit
BMR Upper Panhard Rod Support
BMR Control Arm Relocation Brackets
BMR Tubular Under Brace
EXTERIOR
3D Carbon GT Styling Kit - 4pcs.
3D Carbon Side Vents and Scoops
Seibon CF Vented Hood
Seibon CF Trunk w/spoiler
Roush 9-row Billet Front Upper Grill
Decals by S&A Design and Euphoric Design
WHEELS / TIRES / BRAKES
Volk Racing GTF 2-piece Forged; 19x8.5-in +35 (f), 19 x 9.5-in +36 (r)
Continental - Continental Sport Contact 3 (CSC3); 255/35/19 (f), 275/3/19 (r)
Wilwood 6-piston Front Big Brake Kit
Wilwood 2-piston Rear Brake upgrade w/ E-Brake
Impulse Engineering front brake brackets
Stainless Steel brake lines
Performance Pads for front and rear
INTERIOR
DEFI electronic gauges
Red Racer series ( Boost, oil temp., oil pressure)
Roush AC vent gauge pods
Sparco Chrono seats
Sparco Mugello steering wheel
Sparco shift knob
Sparco pedals
Sparco 4-point 2" belts
Sparco Harness Bar
CAR AUDIO / MULTIMEDIA
Clarion Double-DIN DVD Head Unit w/Navigation
Clarion component speakers