27 November 2012

Written and Photography by Jacob Leveton
How does a '95 EG Civic manage to compete and win car shows in this day and age? J.P. Cao has the answer.
When Cao first bought his EG Civic – a 1995 Honda Civic Hatchback – it was a huge accomplishment. As a high school student a first car is always something to celebrate but for Cao it was even more special as it was the first car his family had ever owned. Over the past 12 years, the car has gone through several evolutions and the current iteration has earned Cao top honors at several shows and events in Southern California, catching our eye to do a feature on it.
One of the most notorious aspects of Cao's build is the engine bay. What started with a single-slam D-series motor now contains a turbocharged B18B non-VTEC motor out of an Acura Integra LS. The turbocharger is a Garrett T3/T4 ball bearing unit mated to a custom Sparks Racing exhaust manifold and feeds air through a huge Turbo XS front-mount intercooler and BLOX Racing intake manifold. Many components of the system have been plated in copper including the intake piping, the three-inch velocity stack, part of the Greddy Type RS blowoff valve, and the custom shaved valve cover. Several trim pieces including the Password JDM strut tower bar, several brackets, the Carbing oil catch can, and the front radiator trim piece are also treated with a copper finish. All around the engine bay, any extra holes were shaved before sprayed to match the exterior of the car, and all wiring was tucked with a custom Rywire engine harness. Several parts including the STR fuel rail, Koyo radiator, T1R radiator cap and oil cap, and Tial wastegate were polished for a balance of contrast. Password JDM dress-up bolts replace nearly all OEM hardware, a nice touch that shows exactly which bolts have been turned in the bay. When it comes to attention-to-detail, this engine bay is the epitome of it.
From the outside, it's quick to tell that this isn't your standard paint job. After initially painting the car in the classic Championship White hue to match the JDM-inspired theme from a previous generation of the car, Cao wanted to pick a color that was different and stood out. A custom House of Kolor Kandy Rootbeer mix was put together and laid over all the body panels, including the carbon fiber doors, hood, trunk, Spoon front lip, and Spoon rear wing. Raw carbon accents were added in the form of bumper canards, fender flares, mirrors, and bumper blockoff plates to help add to the overall theme. At different angles, the car may appear burgundy, brown, black, or purple. This effect was desired by Cao, making his car stand out from the floods of Civics on the streets. Under the fenders, the car currently sports a set of 15 x 7 Enkei J-Speed wheels on 205/50/15 Toyo R888 tires, although the car has seen no less than 10 different sets of wheels over the years.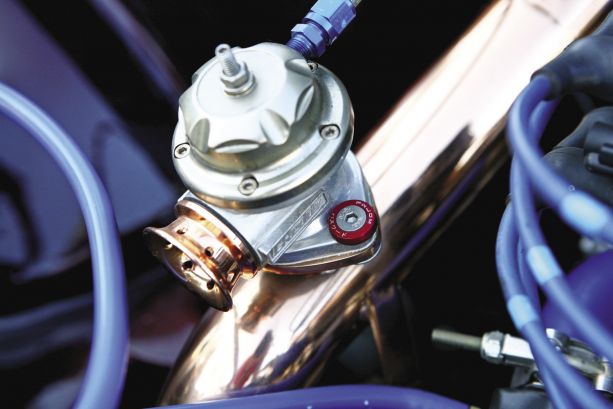 Inside, the car is a "business-only" setup. Creature comforts like a stereo, sound deadening and even HVAC controls have all been removed. All exposed metal was painted in the same Kandy Rootbeer hue as the outside while blockoff plates for the center console were custom made and wrapped in Louis Vuitton fabric. Engine vitals are monitored by a trio of Greddy gauges on the A-pillar while the custom red-upholstered carbon fiber seats and matching red harnesses add a pop of color against the mostly-dark interior.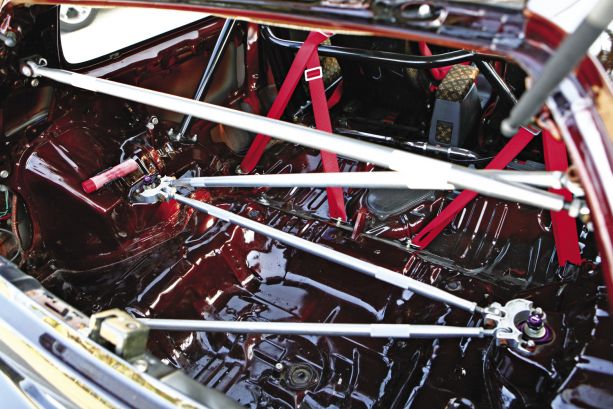 In the trunk, an EM Racing Z-bar setup helps with chassis stiffness, while the Autopower roll bar keeps the passengers safe.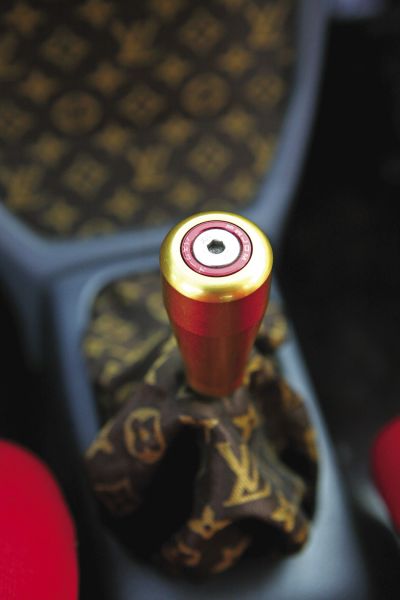 Steering and gear inputs are handled by a Momo steering wheel and Password JDM shifter respectively with accents in a gold hue which seem to match the Louis Vuitton material. On paper all of this sounds like a stylistic wreck but in reality everything looks clean, reformed, and well thought-out.
Since Cao's Civic first caught our eye, the car has gone through a few sets of wheels and earned numerous trophies including Best Engine Bay, Best EG, Best Paint, and even Best of Show at many different events. After 12 years, the current state of the car is definitely the most wild but also the most refined at the same time. It has set a new standard for builds in the always-innovative Southern California scene, pairing up many styles that hadn't been used together before. As the car continues to evolve we can only expect the unexpected putting it into the rare class of unforgettable vehicle builds.
ESSENTIALS
Vehicle: 1995 Honda Civic Hatchback
Location: Long Beach, CA. USA
Owner: J.P. Cao
Engine: 1.8L B18B Turbocharged
ENGINE MODIFICATIONS
Garrett T3/T4 ball bearing turbocharger
Turbo XS LARGE front mount intercooler
Koyo Radiator
Greddy (Type RS Blow off valve, breather tank overflow)
Tial 38 mm wastegate
Custom (Three-inch velocity stack air filter, three-inch copper piping air intake)
Samco hoses
Innovated stage 2 race engine mounts
Blox intake manifold
STR 38 mm throttle body
BDL Industries fuel rail
Sard Stand alone FRP fuel pressure regulator
Walbro 255 fuel pump
RDX 410cc Injectors
Marshall liquid fuel pressure gauge
Buddy club cam gears with custom web cams
NGK (spark plugs, ignition wires, distributor, coil)
Rywire.com grounding system
Micro polished LS crank
H beam custom rods
9:1 compression Custom pistons
Golden Eagle head gasket
ARP Bolts
Carbing oil catch tank
T1r oil and radiator caps
EXHAUST
Blox racing three-inch muffler
Sparks Racing equal length turbo manifold
Custom three-inch open down pipe
2.5-inch charge pipes
Sard hard rubber hanger mounts
DRIVETRAIN
ACT extreme pressure plate
ACT Street lite flywheel
Driveshaft shop axles
OEM ITR LSD
CHASSIS / SUSPENSION
D2 Racing 36-way adjustable coilovers
SRR rear lower control arms
ASR subframe brace with Type R rear sway bar
Skunk2 front and rear camber
Blox rear trailing arm spherical bushing and tow adjustment
Carbing front lower tie bar
Rigid three-point front strut bar
EM Racing rear strut bar
Energy Suspension urethane bushings
OEM ITR sway bars
SRR control arms (f/r)
WHEELS / TIRES / BRAKES
Enkei J-Speed wheels - 15 x 7 (f/r)
Toyo R888 Tires - 205/50 R15 (f/r)
Work lug nuts
Brembo crossed drilled slotted rotors
Earls stainless steel braided lines
Rear disc brake conversion
EXTERIOR
House of Kolor Kandy Rootbeer stage 3 paint job
Spoon (front lip, duckbill wing)
Lockhart Phillips carbon fiber side mirrors
Carbon fiber (hood, trunk hatch, doors, custom fuel gas door, custom side corner lights, custom rear under body diffuser, block off plates)
R Crew canards
DPK carbon fiber fender flares
JDM (bumpers, door visors, fenders, complete glass, thin side moldings, and taillights)
Password:JDM (front tow hook, remote battery terminals and a exterior battery main kill switch)
INTERIOR
Custom wrapped Louis Vuitton interior
Carbon fiber bucket seats with five-point cam lock harness
Autopower six-point with optional door bar roll cage
Momo race steering wheel
Sparco quick release and hub
Password:JDM (shift knob, shift boot, race plate floor matts)
Greddy white face gauges (boost, oil pressure, EGT)
Sard Trigger boost controller
EM Racing "Z" bar set up
JDM SiR2 Gauge Cluster arm rest and center console
Autometer gauge pod
A'PEXi turbo timer
F1 spec carbon fiber seats
SPONSORS
Rywire.com, JHPUSA.com, Weaksauceprts.com, The Chronicles, Stickydiljoe.com, Passwordjdm.com, Long Beach Clothing, West Wing Clothing, Lavish Clothing, Kleenest Culture Clothing