25 October 2012
Page 1 of 2

Take a brand new Scion FR-S, mix in a 600-hp Cosworth race engine, a large portion of the GReddy parts catalog and top it with Formula Drift superstar Ken Gushi and you've got a recipe for out-of-the-box success!
---
The all-new Scion FR-S is without a doubt a legend in the making. Scion's first rear-wheel drive platform is the result of a collaboration between Toyota and Subaru that has stormed onto the import tuner scene since hitting dealerships in June. Thirty years from now, you will be one of those old guys sitting at a classic car auction telling people how you remember when the Scion FR-S was brand new. This particular Scion FR-S will be the one fetching an outrageous price as it rolls across the auction block because this is the first one in the world to be made into a professional drift car. Built by tuning juggernaut GReddy USA and piloted by Formula Drift pro Ken Gushi, the GReddy Performance X Scion Racing Drift FR-S is already sliding its way into the history books.
GReddy USA hooked up with Scion Racing to build this very special FR-S drift car in secret at GReddy's U.S. R&D center while the rumor mills started to buzz about who would be the first to bring the exciting new sports car to Formula Drift. "The goal was to build a safe, reliable, but competitive car for our driver Ken Gushi," says Mike Chung, GReddy USA. "That said, we didn't want to go overboard from the start and were careful not to take away too much from the great Scion FR-S platform."
Two months before the first FR-S even hit the dealerships, the GReddy Performance X Scion Racing Drift FR-S made its competitive debut at the 2012 Formula Drift season opener in Long Beach. Gushi and team came out swinging in the debut event, making it all the way to the Great 8, which is a daunting task for any competitor, let alone one with a completely new platform. So, what makes this car so good? Why has it already been able to knock on the door of a podium finish at the highest level of professional drifting? Let's take a peek and see what makes this Scion FR-S tick.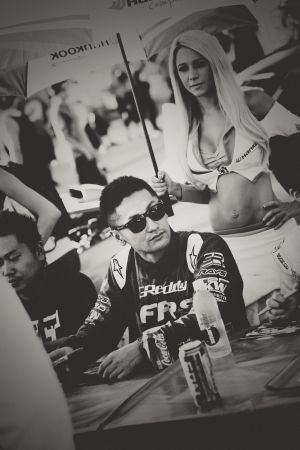 Drifting is all about plumes of tire smoke and shards of spent rubber tearing from tortured tires. To achieve this you need big horsepower and, thanks to GReddy and Cosworth, this FR-S has it!
Under the hood is the heart of a monster in the form of a Cosworth CS600 long block racing engine that pumps out 600 hp and 500 lb-ft of torque. The powerplant is based on the 2.5-liter Subaru EJ25 four-cylinder Boxer engine normally found in the Subaru STI. The EJ25 is a close cousin to the Toyota 4UGSE boxer engine found in the factory FR-S ,which is simply a Subaru FA20 with a Toyota engine code.
The impressive horsepower numbers are achieved by way of two significant power adders; a GReddy TD06H-25G turbocharger and a NOS direct port nitrous kit programmed to come in from 3,500 to 6,000 rpm. Fresh air is fed through a custom GReddy air intake and R-Spec type 24-tube-and-fin intercooler before getting shoved through a Cosworth intake manifold and into the engine. Fuel is delivered via a GReddy fuel pump and Cosworth fuel rail where it meets the compressed air in the cylinder. GReddy spark plugs ignite the explosive mixture and spent exhaust gasses are propelled out of a GReddy GBD SUS header, down-pipe and custom exhaust.
The byproduct of all of this controlled violence inside the engine is horsepower, which is delivered to the tires through an Aasco clutch and flywheel housed in a G-Force four-speed GSR dog-ring transmission and OS Giken Super Lock limited-slip-differential.
Aside from horsepower, the other essential component to any top level drift car is control. The GReddy Performance X Scion Racing Drift FR-S achieves this through a set of KW Suspensions V3 coil overs that feature quick and easy adjustability and customization for use on different tracks. Body roll is controlled by a set of custom sway bars while flex and deflection within the suspension under heavy load is controlled using custom bushings. GReddy original front and rear control arms allow for optimal alignment settings while steering angle modifications have been performed to allow driver Ken Gushi to get the car even more sideways then what's possible with a factory FR-S.
Perhaps the most essential component for control when purposefully sliding a car sideways at speed is the tires. The GReddy Performance X Scion Racing drift team uses the Hankook Ventus RS-3 tire, which provides race car-like levels of grip and control from a commercial street tire, not to mention the all-important thick cloud of smoke. The superstar Hankook street tires are wrapped around a set of Ray's Engineering Gram Lights 57DR wheels in staggered sizes with 17s up front and 18s in the rear.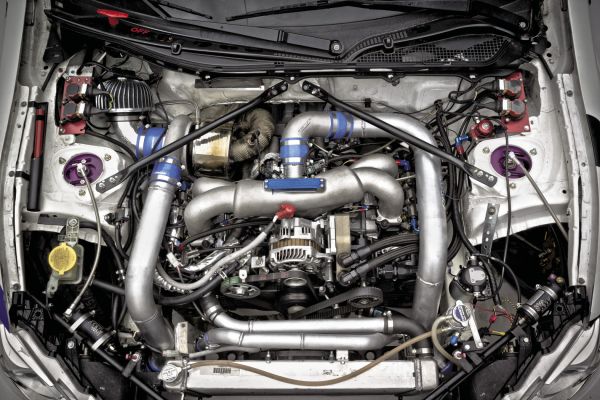 The 2013 Scion FR-S looks gorgeous right off the showroom floor, so when it came to design the look of the GReddy Performance X Scion Racing Drift FR-S, the team decided to stick with a simple and functional wide body kit that doesn't detract from the factory body lines. GReddy USA collaborated with styling Guru Jon Sibal and MV Design to dream up and create a unique new body kit, which includes wider front fenders, rear over-fenders and new front and rear bumpers.
The striking graphics livery is also designed by GReddy and Jon Sibal, though it execution comes courtesy of Spin Imaging. As for aerodynamics, the team uses two different spoilers that can be swapped out depending on the speed of the track they're competing at. For high-speed courses, a new APR Performance single plane carbon fiber GT wing is used for maximum downforce while a low Five:AD trunk spoiler is used at lower speed courses where downforce isn't as much of a factor. Diamond Lighting Technology HID LED headlights finish off the exterior modifications.
Inside, the FR-S is Ken Gushi's office and, like many race car driver's offices, it features a minimalist approach to design. A custom FD-spec roll cage surrounds and protects Gushi from the roll-overs and hard impacts often seen in Formula Drift competition. A pair of Sparco EVO racing seats provide a place for Ken and the occasional lucky guest to plant themselves in for a wild ride while Sparco racing harnesses keep them in place. When sitting in his seat, Gushi peers through a Sparco steering wheel at a Cosworth digital dash where he receives vital information on the car's performance. The Cosworth unit is nestled into the factory FR-S dash, which features a multitude of custom panels, switches and buttons, including a classic throwback arcade game button used to fire up the engine. Stylish custom stamped floor boards, billet e-brake handle and GReddy Super Light shift knob complete the rest of the details to the drift car's interior.
Nearing the end of the season, the team's best in 2012 is a fourth place finish from round five in Seattle. And, though this car's history is just beginning, it is already chock full of excitement! Building a brand new competitive drift car using an entirely new platform is no easy task. Keeping the build a secret is even harder, but the team assembled at GReddy USA has had a winning attitude since the beginning, which has resulted in early success and a bright future ahead.
With an innate attention-to-detail, excellent team management and the driving skills of Ken Gushi, it's no surprise the GReddy Performance X Scion Racing Drift FR-S is quickly making a name for itself among the top Formula Drift ranks, having made it into the Top 16 at all but one event in the 2012 Formula Drift season (as of the press time, the final event hadn't taken place). With a full year of development under its belt, we can't wait to see what Gushi and the GReddy Performance X Scion Racing Drift FR-S have in store for us in 2013!