13 September 2011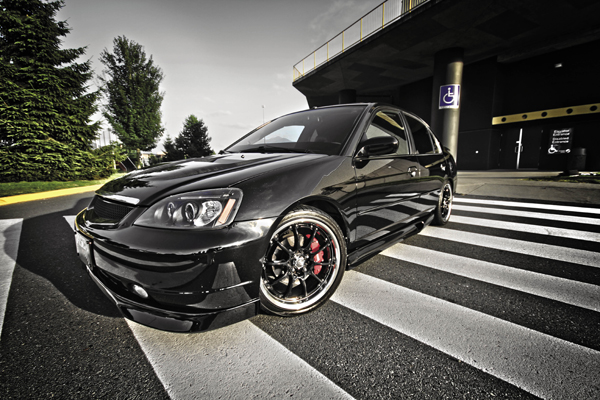 Randy St-Cyr of Chilliwack, BC owns this 2003 Honda Civic, and has chosen to make it a showpiece for the car audio team at the Future Shop store where he works. Future Shop is well known for their car audio products, but less so for their ability to turn out competition ready vehicles – St-Cyr's goal was to change that perception with this build.
He began the project with a phone call to Frank D'Angelo at Pioneer Canada for some help with the audio gear for the car. Frank was happy to step up to the plate with a mix of Pioneer's Stage 4 products.
The heart of the system is a Pioneer DEX-P99RS source unit. While looking aesthetically clean, the P99RS packs some serious capabilities – a stereo 31-band equalizer, 4-way electronic crossovers, ¼-inch step time alignment with Auto-EQ and state of the art sound quality thanks to precision timing technologies and premium components. St-Cyr reworked the factory radio location to provide a central focal point for the installation. Even the heater controls were relocated to the bottom of the center console. The newly finished panel was wrapped in white Alcantara. To the right of the source unit, St-Cyr made a home for a Pioneer AVD-W8000 8-inch LCD monitor. The dash was wrapped in black Alcantara while apart in order to carry the theme forward.
Moving outwards, you'll notice a set of customized A-pillars. Pioneer TS-T031PRS tweeters were moulded in just below eye level. This location reduces reflections and can help to produce a focussed and detailed soundstage. The top of the dash was reworked, and at either end a mount was made for Pioneer TS-S101PRS midrange speakers. Finally, down in the factory door speaker location, St-Cyr mounted a set of Pioneer TSC-700PRS mid-bass drivers. The front stage is powered by two Pioneer PRS-A900 4-channel amplifiers. One amplifier actively powers the midrange and tweeters, while the other amp is bridged to two channels to power the mid-bass drivers.
The remainder of the interior was treated to extensive upholstery work by Custom Creations in Chilliwack. The seats, roof and door panels were all reupholstered in black Alcantara. Custom door inserts and accessories from Momo and Ractive complete the interior.
At the other end of the vehicle is a trunk that's been heavily reconfigured. Immediately visible are four 12-inch Pioneer TS-W3002D4 subwoofers. The drivers are installed in a vented enclosure to maximize output, and are fed more than 1,000W from a Pioneer PRS-D1200SPL amplifier. Surrounding the subwoofers is airbrushed fibreglass with a perfectly-executed bold lighting theme. The amplifiers are mounted in the floor of the trunk and protected by a Lexan window. Multi-colour LED strips light up the sides of the amp rack.
Supporting the audio system is an Optima Red-top battery, a 200 Amp Stinger circuit breaker, Streetwires speaker wire and interconnects and a Team Shadow SPL 180 Amp alternator. To make the car as quiet as possible, St-Cyr installed seven cases of Dynamat Xtreme and seven cases of Dynaliner damping material.
Having a car that sounds good is cool, but it also has to look the part. St-Cyr put some effort into the cosmetic and performance side of the vehicle as well. He installed a Kaminari body kit and a ViS Extreme GT carbon fibre hood. Both were painted to match the rest of the car by Save On Collision in Abbotsford, BC. A TYC HID light kit, Varad Strobe lights and an LED undercar kit make sure the car attracts attention in the evening.
Akita AK-5 17x7-inch wheels wrapped in Toyo Proxes 4 205/40 Z-rated rubber keep the car on the road and Hawk brake pads help to bring it to a stop. KYB struts were mated with Sprint Performance Springs to alter the ride and attitude of the vehicle.
The little 1.7 D16 was treated to a Ractive intake and NGK Double Iridium spark plugs ensure the fire is lit deep within the engine. A DC Sport chrome muffler was pieced to a Borla center section to offer easy passage of exhaust fumes.
What have the 200-plus hours of hard work garnered St-Cyr? Plenty of hardware. Among the accolades he has collected are first place finishes at the IASCA Western Canada finals and the DTP event in Vancouver. St-Cyr has numerous firsts from IASCA and USACi events, and said that he drives up to 1,700km to attend events. St-Cyr built the car after hours, and when you consider that he had to drive the car home each evening, the results are even more impressive.
---
Essentials // Owner Randy John St-cyr • Location Chilliwack, British Columbia, Canada • Vehicle 2003 Honda Civic
Engine // K&N Filter • Ractive Air intake • NGK Double Iridium Platinum Spark Plugs EXHAUST SYSTEM // Borla Exhaust Manifold • DC Sport Headers • DC Sport Chrome Muffler ENTERIOR // Kaminari Ground Effects • Type R Style Sport inserts • VIS Extreme GT Carboon Fiber Hood • Bosh HID Kit • Varad Lightings Wheels / Brakes / Suspension // 17x7 Akita AK-S Wheels • 205/40 R17 Toyo Tires Proxy 4 •2-Piston Hawk Performance Clipers • Front & Rear KYB AGX Struts • Sprint Performance Suspension • Reative Sway Bars Interior // MOMO Shift Knob • MOMO Steering Wheel • MOM E-Brake Handle • Ractive Pedals • Alcontera Roof, A & C Pillars • Custom Creations Shift Boot • Custom Creations E-Brake Boot
Audio // Pioneer DEX-P99RS Head Units • Pioneer PRS-D2000SPL Sub Amps • Pioneer PRS-A900 (x3) • Pioneer AUD-W8000 Multimedia Reciever • Pioneer TS-W3002 D2/D4 Subwoofers (x4) • Pioneer TSC – 720 PRS Mid Bass Speakers (x2) • Pioneer TS – S101 PRS Mid Range Speakers (x2) • Pioneer TS – T031 PRS Tweeters (x2) • Optima Red Top Battery • Stinger 200A Front Fuse holder • Streetwire Main power wire • Streetwire Distribution Blocks • Team Shadom SPL 180A Alternator • Dynamat Shout-Outs // Paul Niwranski, Derek Friesen and my beautiful wife Debbie. Also a huge thank you to my sponsors and the people who have contributed to the build with product, or time.. Future Shop, OK Tire Chilliwack, Pioneer Canada, Norm Ross,and Shaun at Save On Collision Abbotsford.